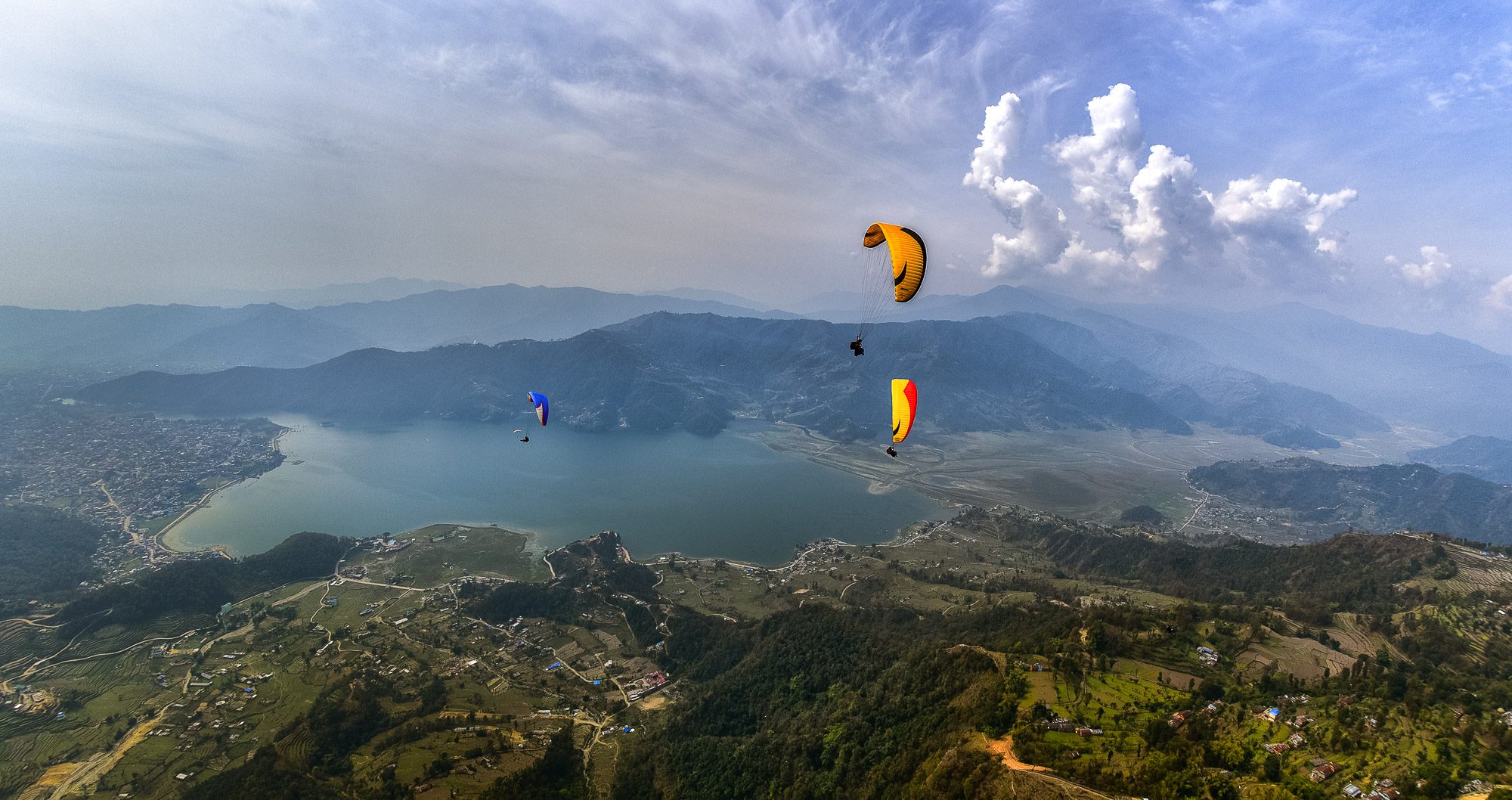 There's certainly a reason why Pokhara is a top traveling destination for tourists, national or international. However, suppose Pokhara is a destination you wish to travel to in the near future. In that case, you'd be surprised to learn about all the exciting activities in Pokhara you can indulge in while there.
Hearing about all the beautiful lakes, amazing hotels, and the clean city along beautiful hills and mountains might look mind-boggling for oblivious thrill-seekers.
Additionally, choosing between rafting, hiking through the surrounding hills, sunset and sunrise, seeing from various hilltops, trekking, cycling throughout Pokhara valley, boating in various lakes, paragliding from Sarangkot, chartered flying, sightseeing, or bungee jumping might seem hectic.
All the activities mentioned above feel extremely exhilarating while planning for a trip to Pokhara and its surrounding area, which, to be honest, are exciting and enchanting.
But, since you can't spend all your time out of your work or hometown, you must plan the best activities that'd be worthwhile.
Booking a tour guide or arranging for an activity planner might be a good option but might cause unnecessary expenses. Therefore, in order to minimize your travel expenses, we have put a little effort into you and chosen the best activities that'd make your trip productive and enjoyable.
So, here are five of the top activities to partake in Pokhara for the best experience.
Paragliding in Pokhara
The first activity in this list is the most obvious one. Even people who've never been to Pokhara might have heard about the joy of flying in Pokhara's sky via paragliding. And, there's a good reason for its popularity.
Flying in the beautiful sky of Pokhara while hundreds of thousands of people spend their daily lives below on the ground would surely be exhilarating. Paragliding allows people to experience the world through a bird's eye and fly in between the clouds.
In Nepal, if you wish to indulge yourself in paragliding, there's only one place for that. That's from the hilltop of the beautiful Sarangkot hill in western Pokhara. Nonetheless, this natural spot is the most suitable one for a great takeoff.
When you get to a certain elevation, you will be able to see the beautiful Pokhara valley alongside all the pleasant and luscious hills with greenery all over them. Not to mention that you'd be able to view the mighty Phewa Lake in its full glory.
Despite these natural attractions, here are a few more of reasons why you should partake in paragliding:
Availability of expert and professional paragliding guides
Beautiful scenery
Best quality tools and equipment
For rare, thrilling moments
Top-class safety guidelines
Affordable and high value
So, if you were on a fence, be sure to add paragliding to your to-do list.
Lake Boating and Sightseeing
Pokhara, along with its sister city of Lekhnath, which lies within the Pokhara valley, is also called the city of lakes. Furthermore, these lakes are famous for their beauty and the enchanting view they provide. And a great way to take in these lakes' beauty and richness can be through boating in the lakes themselves or sightseeing the surrounding area.
The conservation committee of the two beautiful Phewa and Begnas lakes has arranged for a great boating infrastructure. From affordable to luxurious boats available to rent and use, you can make a whole day out of these lakes with your friends and family.
You can visit the gorgeous Pame region or the multiple picnic spots on the opposite side of Phewa Lake. Additionally, Phewa Lake consists of Barahi Temple in the center of the lake, which thousands of religious people visit yearly and can only be reached by boat.
Similarly, you can travel to Majhikuna village, which lies on the opposite shore of the Begnas Lake, via a boat and enjoy the delicious fish from the lake itself caught by the local fishermen.
Though two of these lakes allow luxurious boating services, six of the rest lakes lack the luxury of the first two. Nonetheless, this insufficiency is fulfilled by the beautiful trees surrounding the lakes and the hospitality provided by the local people. Thus, be sure to visit these lakes when in Pokhara.
Bungee Jumping
During dry seasons, bungee jumping is an enthralling adventure sport that everyone should try once in their lifetime. With breathtakingly beautiful locations, Pokhara offers exceptional bungee jumping locations in places such as Hamja, where you can feel amazing adrenaline flow in your body that you'll always have in your memory.
There are multiple bungee jumping spots in Pokhara. But, it's only allowed for people above 18, so if you have kids with you, better keep them waiting until they grow up.
Additionally, bungee jumping is an affordable activity where about 4500 rupees can be enough for a jump.
Ultralight Flight
When in Pokhara, the view of Mount Machhapuchre, along with the mountains in the Annapurna range, provides your eyes with a glimpse of heaven. But, if you spend a bit more money, you can admire the Himalayas from a much closer range and with a much better view.
With Ultralight flight booking, you can ride on a small plane that provides you a tour of all the mountains mentioned earlier from a much closer distance. Furthermore, this flight, cheaper than mountain flights, allows the traveler to enjoy the view of settlements and the green hills and houses in Pokhara valley from a bird's view.
While extremely safe, ultralight flights provide a personalized experience that cannot be duplicated anywhere other than Pokhara.
Cycling
An underrated activity that suits the landscape of Pokhara is cycling. Multiple hills, as well as the beautiful blacktopped roads throughout Pokhara city, are perfect for day-long bicycling trips.
Furthermore, with bicycling packages available for multiple individuals throughout Pokhara, getting a hold of a few cycles can be equally convenient.
Bicycling Routes in Pokhara
If you really look into it, there are more than 30 amazing biking routes within the Kaski district. But, since the routes around Pokhara city are just as enthralling as any other, here are a few of the best routes in Pokhara.
Around Phewa Tal: If you decide on the trip around the beautiful Phewa lake, it'd be about 28 km long. Renting bicycles is easily accessible throughout multiple shops or lodges around the lakeside area. Moreover, when you take this trip, you can enjoy the enchanting view of Phewa Lake from all sides.
Lovely Hill and Methlang: The ride around the lovely hill and Methlang can be a nice morning ride with a good mix of dirt road and single tracks. Furthermore, this 20-25 km trail has paths from an elevation of 460 m to 1100 m from sea level.
Downhill biking from Sarangkot: As mentioned earlier, the luscious Sarangkot hill consists of a mesmerizing view of the whole Pokhara valley. So, while riding downhill from the hill, you can enjoy the fresh air while having a great view of people flying in the sky above you on the way to Phewa Taal.
If you had a certain time limit for your visit to Pokhara, the activities mentioned above would all be worth your precious time and money. Although you enjoy these adventures and want more, there are always more activities in Pokhara and basically many amazing things available to do in Pokhara.