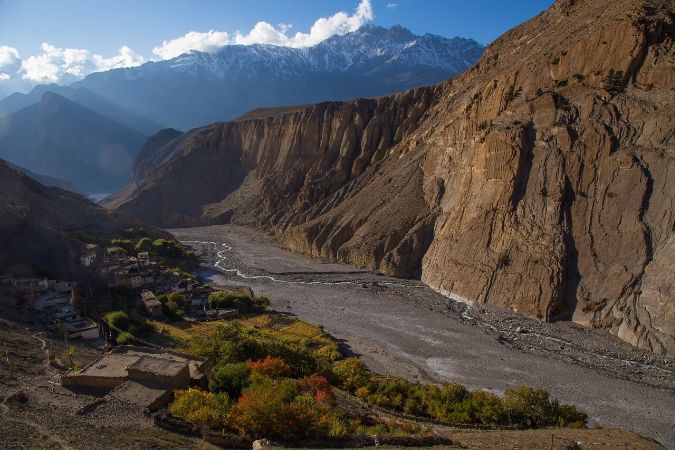 It is also important to note that trekking in Nepal is not just about the trek to Everest Base Camp. Not only does the Annapurna region offer plenty of options for you, but also the Dolpo, the Manaslu, and the Annapurna region. Are you ready to go discover the natural beauty of Nepal? If so, you're going to love trekking in one of the world's most gorgeous countries, so get your hiking boots on and get going.
Why go Trekking in Nepal?
Thousands of years before trekking became a word and an industry was created for hiking, people were already hiking in Nepal. The awesome hiking trails in the Himalayas are essential to getting from village to village. With so many trekking options available, Nepal can be called the Mecca of world trekking. You can climb the equivalent or an improvement on Kilimanjaro, hike the W-Trek in Patagonia, and walk the Camino de Santiago.
Despite all of that, trekking in Nepal will never compare. Nepal hosts the world's roof, boasting many peaks just as breathtaking as Mount Everest. Hiking trails in Nepal will give you the opportunity to explore them all.
In Nepal, you will be able to see the Annapurnas, Kangchenjunga, Lhotse, Makalu, Cho Oyu, and the utmost majestic Mt. Manaslu. You will be able to reconnect with nature. It is not just the mountain peaks that make Nepal one of the most popular trekking destinations, but also flora and fauna found there. It is home to nearly 6500 flowering plants, 2500 species of vascular plants, and 130 endemic species. Rhododendrons are Nepal's national flower, and you are certain to see a lot of them as you hike through the Annapurna Region. You will also encounter beautiful animals such as musk deer, Himalayan black bears, and one-horned rhinoceroses.
What time of year is best to trek in Nepal?
In Nepal, just like many other parts of the world, there are four distinct seasons. The winter season, spring season, summer season, and autumn season each have their own advantages. Therefore, there is no definitive answer to the question concerning the best trekking season. Whatever the case, you can choose your preferred month for your Nepal visit based on the seasons.
Spring from March to May
Spring is a popular season for trekking holidays in Nepal because the temperatures will be warmer, the temperatures will be steadier, and the blossoms will start to appear. There will be plenty of climbers around Everest Base Camp as the climbing season for Mount Everest starts up. 
Temperatures will fluctuate between 16 degrees and 23 degrees Celsius throughout the day. The hotter evenings will make your trek more enjoyable, and fewer trekkers will be on the trail than, for example, during the fall. If you are considering the Annapurna Circuit Trek, this is the time for you. The Rhododendron in full bloom is an obvious point of interest in spring, but you can also spot the most delightful feathered creatures in the Langtang Valley.
Summer from June to August
It gets warm in Nepal during the summer, despite the fact that you may not expect it when looking at snow-clad mountain peaks. Truth be told, the weather will be damp since late spring, meaning that monsoon is on the way. As a result, there are not many trekking enthusiasts heading to the Himalayas at this time of year. The rains wash away scaffolds, trails can become extremely dangerous, and the roads are clogged with traffic.
Despite the fact that it tends to be hard to get around during summer, the Upper Mustang Trek is an excellent option since it is generally dry throughout the region. This time of year, the Dolpa district with the Upper and Lower Dolpo is likewise an extraordinary option.
Autumn or Fall from September to November
In Nepal, fall is an excellent time for trekking due to the fantastic weather conditions. As the temperatures gradually drop, there might be a few flakes of snow on the peaks in the higher elevations.
Fall is the best time for trekking. It's very popular at this time of the year. Temperatures range from 22 to 27 degrees Celsius during the day, and evenings are cool. In September, I'm afraid you'll have a bit of a reminder of Monsoon Season, and it might rain in torrential amounts. There can be some difficulties crossing the High Passes, but in general, you should not have any problems. As October approaches, your way will be clear. There will be less rain, and it will be a great time to visit Nepal.
The celebration of the end of the monsoon season, Indra Jatra or Yenya, occurs in late September or early October. These unique festivals offer a different perspective and level of experience in Nepal.
Winter from December to February
With snow, particularly in Nepal, winter presents a number of challenges for trekking. However, winter can be an amazing season for trekking, especially at higher altitudes. Under the cover of snow, the beauty of fall is tucked away, and trekkers head to the Himalayas to explore trails on lower levels and experience the mountains in all their moods.
Since there are fewer trekkers and the view is spectacular, this is an extraordinary option for trekkers who want to enjoy the most authentic Himalayan experience. Ghorepani Poonhill Trekking, which is also called Annapurna Sunrise Trekking, is one of those treks that is absolutely justified, regardless of how difficult it is in winter.
Furthermore, if you want a guide to the best trekking destination as compared to the best time to visit them, we've got you covered. 
Everest Base Camp Trek: From the end of March till the end of May, and from the end of September till the end of December.

Everest View Trek: The months of February until the end of June, September until the end of December.

Ama Dablam Base Camp Trek: From March to May and from September to December.

Gokyo Valley Trek: From February to June, September to December

Annapurna Base Camp Trek: From March until the end of June and from September until the end of December.

Annapurna Circuit Trek: From March until the end of June, from September until the end of December

Ghorepani Poon Hill Trek: From February through December.

Jomsom Muktinath Trek: The months of February until the end of June, September until the end of December

Mardi Himal Trek: September through December, March through May.

Upper Dolpo Trek: From March until the end of November.

Upper Mustang Trek: From March until the end of November.

Langtang Valley Trek: From March until the end of June and from September until the end of December.

Manaslu Circuit Trek: From September to December and from March to June.
Cost includes:
Arrival & Departure transport via private Car/Van/Bus.

Three meals per day throughout the Trip(Breakfast, Lunch & Dinner)

Accommodation during the trek.

Nights' accommodation in Kathmandu with B/B.

Guide and a porter with Insurance, food, and accommodations.

Sightseeing in Kathmandu or Pokhara valley with a car and tour guide

First Aid kit.

Trekking permit (Conservation fee).

TIMS card (Trekking information management system) is like a permit.

All needed government tax/vat.
Cost excludes:
International Airfare.

Your travel insurance.

Sightseeing entrance fees

Nepal Visa fee (US$ 50 for 30 days and US$ 30 for 15 days; you should get a visa open your arrival)

Any kind of drinks, items of personal expenses like hot shower, battery charge, telephone, missing meal, WIFI Porters, etc.

Tips for Guide and Porters
After you've enjoyed the thrilling and joyful experience, you can choose whether to visit other beautiful places in Nepal or head back home. No matter what you choose, we hope you have a fantastic time.
We can accommodate group tours for this trip; however, you may also opt for a private tour according to your liking. We can arrange private trips at any time of the year at any date of your choosing. Please let us know.
Furthermore, When you are ready to start your Nepal trekking adventure, it is time to begin thinking about what to pack. If you are ready to book but aren't sure when is the best time to trek or what to stay in, Pokhara Info has got you covered. You can figure out these queries through our site. We can be found on Facebook, Instagram, and other social media sites. Thank you for visiting!