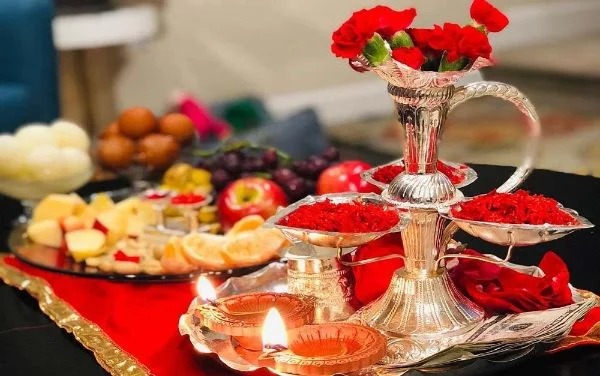 Dipawali, otherwise known as the Festival of Lights, is a huge deal in Nepal – it's a time to celebrate, get together with family and friends, and remember the triumph of good over evil and light over darkness.In India, Dipawali is celebrated with the common name of Diwali.
Festival of Lights
At Dipawali, houses and roads are decked out with gorgeous lanterns and lights, and everyone's dressed up in their finest clothes. It's also a time for all the traditional customs and rituals, like igniting diyas (mini clay lamps) and saying prayers to the gods.
During Diwali, people create stunning Rangoli designs at the entrance to their homes and businesses, which are thought to bring good luck and prosperity. These intricate designs are made with coloured rice, flower petals, and powder.
Overall, Dipawali is an amazing time of rejoicing for the people of Nepal. It's an opportunity for families and communities to come together and observe their cultural customs, and recognize the victory of good over evil and light over darkness. It's a truly magical and unforgettable experience!
Rangoli
Diwali is awesome and Rangoli is a huge component of it. It's like this incredible, detailed art made with rice, flowers and powder that you can see in front of homes and shops. It's especially well-loved in Nepal.
Rangoli is often thought to bring good luck and wealth and is a major part of Diwali celebrations. People, especially women and children, spend hours or even days making these intricate designs.
Rangolis have a lot of significance; they remind us that we're all connected and should strive to stay peaceful and in harmony with each other.
Rangoli adds to the festive vibe of Dipawali, with its bright and colourful designs bringing joy and happiness to the streets and homes. It really adds to the feeling of celebration and excitement that Dipawali brings!
At Dipawali, folks in Nepal get the chance to come together and make something truly amazing. It's a way of showing reverence for their traditional culture and customs.
Food and Dishes
Dipawali is great 'cause you can chow down on all the yummy grub! Every part of India has their own unique dishes, but some of the top picks include sel roti (a deep-fried doughnut kinda pastry), barfi (the most scrumptious fudge eva), and kachaudi (a savoury snack made with lentil flour that's super-tasty).
Along with all the classic eats, Diwali is the perfect time to indulge in your favorite sugary delights. Some popular options include ladoos (flour and sugar balls), halwa (semolina sweet) and jalebi (a fried treat that's soaked in syrup).
Getting together over some yummy grub is always a good time. Dipawali is a great excuse to hang out with family and friends, so make sure you use it! It's the perfect time to catch up with each other, exchange some laughs, and show your loved ones that you care.
In Nepal, Dipawali is a wonderful time to spend with loved ones and friends while commemorating the victory of good over evil and light over darkness. It's fun to embrace all the customs that go along with it and get into the triumphant holiday attitude.
Enjoyment
People come together to celebrate Dipawali by sharing delectable foods and sweets, as well as gifts and well wishes with their loved ones. Families and communities should gather during this time to celebrate the joy of the holiday.
Along with eating and giving presents, Dipawali is a time for traditional rituals and practices, like lighting diyas (clay lamps) and giving prayers to the gods. These activities help people feel a sense of togetherness and get in touch with their cultural roots.
At Dipawali, Nepalese people get to hang out with their families and friends, celebrate their culture, and bond through shared experiences and traditions. It's a really special and meaningful time for everyone!
If you want to visit Nepal, take tours and enjoy festivals such as Dipawali, we have got you covered.
If you finally decide to visit Nepal, we have got you covered.
After you've enjoyed the thrilling and joyful experience, you can choose whether to visit other beautiful places in Nepal or head back home. No matter what you choose, we hope you have a fantastic time.
We can accommodate group tours for this trip; however, you may also opt for a private tour according to your liking. We can arrange private trips at any time of the year at any date of your choosing. Please let us know what your preferred travel dates are so that we can accommodate you.