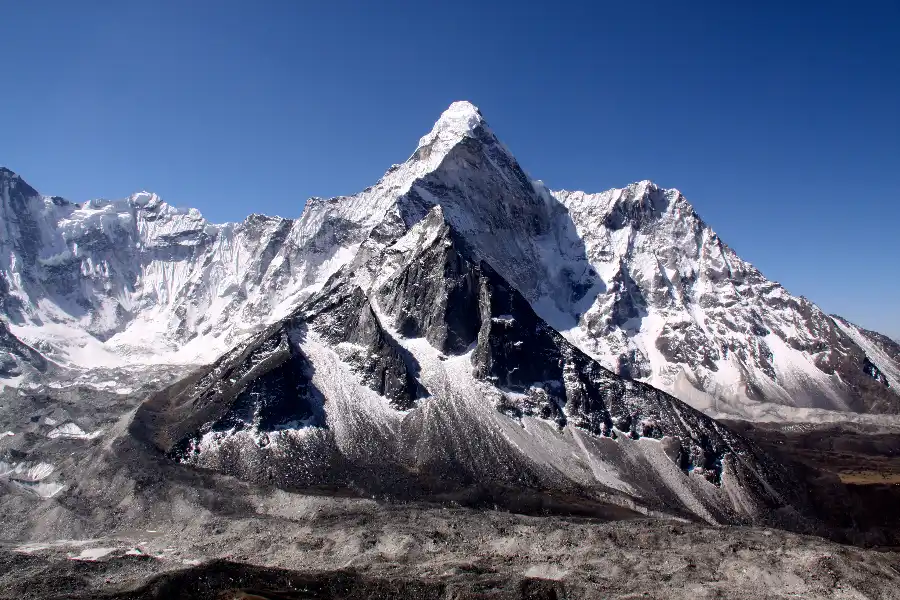 What's the food like during the Everest Base Camp trek?
The cuisine along the trail to Everest Base Camp is satisfying and straightforward. Since all food needs to be transported to guesthouses by yaks or people, the availability and cost of food become more limited as you ascend. The most common meal on the trail is Dal Bhat, often accompanied by a small portion of cooked or pickled vegetables.
Dal refers to lentil soup, and Bhat is rice. It's a filling and delightful dish, and the best part is that you can have unlimited servings! While you can find Western-style food like pizza, it's typically quite pricey. For breakfast, you'll usually have a variety of options such as noodle soup, porridge, fried bread, and eggs.
How can I help myself acclimatize once I am there?
Once you've arrived at your destination, how can you help yourself acclimatize? Your body needs time to adjust to the altitude, so be patient. This gradual adjustment will benefit you in the long run.
We understand this importance in our Itinerary by carefully managing the altitude increments and providing you with extra nights to acclimatize in Namche Bazaar.
How much walking can I expect to do each day?
During the trek, you'll typically walk for about four to eight hours per day, with some days being more challenging than others. Most of the trekking is done on well-established paths, but there are occasional rough terrains along the way. Some days will involve ascents and descents of 500 meters or more.
These factors, combined with the altitude, account for the variation in daily hiking time and distance.
Will altitude sickness affect me?
At Everest Base Camp, situated at an altitude of 5,380m/17,600 feet, it's common for travelers to experience some adverse health effects, regardless of their age, gender, or fitness level. Each person adapts differently to the altitude and thinning air. That's why we always take a slow and steady approach to the ascent, allowing your body to acclimatize and making your journey to the summit easier.
It's important to note that certain pre-existing medical conditions can worsen at high altitudes and may be challenging to treat effectively at lower elevations, which can lead to more serious consequences. Therefore, it's crucial to discuss any pre-existing medical conditions with your doctor before embarking on your trip.
What can I do to help reduce my chances of getting altitude sickness?
Wondering how you can reduce the chances of altitude sickness? Here are some tips to help your body acclimatize and avoid the discomfort:
Hydration is key. Drink plenty of water, aiming for at least four liters per day. You can also include tea or soups as additional fluid sources.

Stay away from alcohol, tobacco, and substances that hinder oxygen delivery to your body or cause dehydration.

Opt for small, frequent meals that are rich in carbohydrates. This provides your body with the necessary energy during altitude changes.

Take it easy and allow yourself regular breaks. When walking at high altitudes, it's essential to maintain a slower pace compared to what you're used to at sea level. Avoid overexertion.
What is the accommodation like?
During the Everest Base Camp trek, the most common style of accommodation is teahouses. These cozy establishments offer simple lodging with shared toilets and washing facilities. It's worth noting that the teahouses become more basic as you get closer to Base Camp. While the amenities may be modest, the breathtaking views of Everest and the surrounding Himalayas make up for it.
Some teahouses offer hot shower facilities for an additional fee, while others provide a bucket of hot water for your comfort.
Regarding electricity, some teahouses have charging facilities for your devices, and there might be paid WiFi available. To ensure you stay powered up, we recommend bringing a solar-charged portable charger along on your trek.
Do I need to bring all my own hiking gear?
We understand that not everyone may have all the necessary hiking equipment required for a trek in the Himalayas. Fret not! Kathmandu offers numerous shops where you can either rent or purchase hiking apparel, sleeping bags, and trekking poles.
While a few stores sell authentic brand names, it's worth noting that most shops offer knock-offs with varying degrees of quality. Don't worry, though—your trip leader will be there to assist you in renting or buying the items you require.
Are hiking boots necessary?
Having properly fitted, comfortable, and sturdy shoes is crucial and can greatly enhance your trip's enjoyment. It's essential to break in your boots before your trek by wearing them on training hikes or simply around the house. You wouldn't want the first time you wear your boots to be on the trail!
Where do we eat on the trek?
When it comes to meals during the trek, we want you to have the freedom to choose what you want to eat and when. Altitude and physical exertion can affect appetites differently, so we've decided not to include meals in our trekking package. However, our leaders will encourage group meals to foster a sense of camaraderie.
Typically, these group meals are held at the teahouses we use for accommodation. Rest assured, our local operations team has inspected and approved these teahouses. They are regularly tested and frequented by our travelers, guides, and leaders.
It's important to note that the teahouses we sleep in do not rely on travelers purchasing food and beverages for payment, unlike some independent travelers and operators.
At Pokhara Info, we directly pay the teahouses for the accommodation they provide to our groups. Any additional services they offer generate extra income for them.
How will I get clean drinking water?
Wondering about the availability of clean drinking water? No worries, we've got you covered! During your trek, it's important to carry two 1-liter water bottles that you can refill along the way. You'll also find boiled or safe drinking water available on the trail. However, it's advisable to have your own water purification method handy.
You can choose from filtered water bottles, purification drops/tablets, or even ultraviolet sterilization pens. These items are readily available at camping stores, select pharmacies, or you can find them online.
How do the porters work? Do I carry my own luggage?
The evening before you embark on your journey from Kathmandu, we'll provide you with a duffle bag. This bag will accommodate all the clothes and essentials you'll need for the trek (maximum weight: 10 kilograms or 22 pounds). Any excess luggage can be safely stored at our starting point hotel in Kathmandu.
Now, here's the good news! Your team of experienced porters will be there to lighten your load. They'll take care of carrying the duffle bags, along with the food and equipment required for the trail.
Just keep in mind that you won't have immediate access to these items during the day, as the porters will always be ahead of the group. As for you, you'll need to carry your own day pack, which should include water, a camera, sunscreen, a rain jacket, warm layers, hand sanitizer, and any other personal items you might need.
What should I pack?
Packing can be a bit overwhelming, but we've got your back. While it's important to refer to the specific packing recommendations in your Essential Trip Information, you can also find a general guide on our blog titled 'What to Pack for a Trekking Trip to Nepal.'