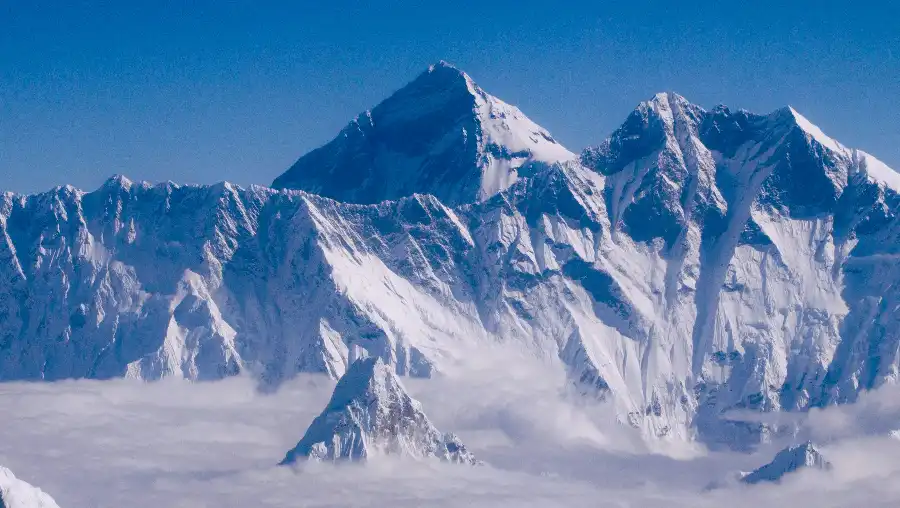 After visiting Nepal, everyone leaves with a smile and is eager to return from the moment you arrive. Exploring its towns and cities is a fantastic adventure. It has a captivating spiritual vibe and a place where you can become a true explorer. Nepal's outdoor activities and delicious food will unavoidably Fascinate you.
Here are the 10 best places to visit in Nepal, but before we get started, I hope you like heights.
Sagarmatha National Park
Sagarmatha National Park is a wildlife reserve that is well known to people for its location, which is dominated by Mount Everest in the Himalayas of eastern Nepal. Mainly, you can see a lot of Sherpa people in the national park's surrounding region.
Tourists have been flocking to the area over the years because of the stunning scenery and the adventurous trails for trekking and hiking. It's also a preservation site for rare species of animals and birds like the red Panda and the snow leopard.
The wildlife sanctuary stretches over 1,100 square kilometers. It is recognized as an imminent bird sanctuary by BirdLife International, making it a highly important tourist attraction for people who enjoy mountaineering and bird watching.
Pokhara
The tourist capital of Nepal is the second largest city in this Himalayan country. After Kathmandu, the town's highlight is its Lakeside, a boating paradise flanked by charming shops, dreamy cafes, restaurants, and pubs that make up this post-guard-perfect town.
This city is a beautiful contrast to the bustling lakeside. Pokhara, which is home to many beautiful historical temples, has Fewa Lake or Phewa Taal, a spectacular lake that borders Lakeside.
Fewa Taal flawlessly reflects the mountains that border it, making it a breathtaking photo opportunity. For adventure enthusiasts, Pokhara is a popular starting point for many treks in the Anna Hna range, as well as many paragliding and river rafting opportunities.
Kathmandu
Kathmandu is the capital city of Nepal, and we assure you this city's downtown is different from everything you know. The first thing that'll surprise you is the diversity of colors and aromas.
A unique mix that will quickly make you feel immersed in a different culture. And with a lot of mysticism, it's a very dynamic city. With exotic shops in the capital of this country, you will find a large number of temples. We recommend visiting the Swayambu Suppa, known as the Monkey Temple, and visiting Durbar Square.
Here you can view traditional, intact, and striking architecture. Kathmandu is a city that houses the most undamaged and prominent traditional architecture in the country. Finally, we recommend you visit Tamo, the place made for tourists and people. It's the place you need to go when you want to enjoy the nightlife in Nepal.
Nagarkot
If you're looking for peace, relaxation, and breathtaking views of the Himalayas, then you should take the time to visit Nagarkot during your stay in Nepal.
Nagarkot gives you one of the widest panoramas of the Himalayan ranges. Here you can spot eight out of the 13 Himalayan ranges from the comfort of your hotel. A worthwhile summer retreat of Nepali Indian and British royalty. This village rose to fame after tourists flocked to the area in recent years.
The idyllic village sits serenely in the midst of nature. The only sounds you can hear are the birds chirping and the breeze whistling through the pines.
Bhaktapur
This is one of the most beautiful places in Nepal, and it preserves some medieval buildings in exceptional conditions. Actually, the best preserved in terms of architecture, even topping Patan. You can discover a variety of temples, fares, and markets. At one time, it was the ancient capital of the country and a significant factor in the country's economy.
Nowadays, its streets have become the cultural center of Nepal, and you only have to see the many artists living within the city of ancient beauty to confirm it. As we said before, Bhaktapur has many temples. The most striking is the huge Nyatopola, with its five floors. It's the most important religious building since ancient times.
Baudha Stupa
Baudha is located on the outskirts of Katmandu. Here you can find an enormous manifestation of Tibetan culture. That's why it houses the largest stupa in Nepal. It's so significant that hundreds of pilgrims travel to it every day to walk around it in a Buddhist ritual.
But the true spiritual magic of this temple is that Buddhist worshipers also pilgrim to it every day to perform their walking ritual. This is where all the people go for peace of mind
Lumbini
Lumbini is the town where Buddha was born, and we all know that Buddha is one of the most recognized spiritual figures in the world. Being in Nepal and not visiting the place where Buddha was born means missing the true essence of Nepal's culture and diversity.
Here you can see the Maya Devi Temple, where the birth of Buddha is commemorated, and feel the energy of its sacred pond and tree. There is also the palace where Buddha lived and other places related to the life of Buddha. But Lumbini is not only a place with a great spiritual history. It's also a special place for nature and adventure lovers.
Chitwan National Park
In this stunning place within the heart of the jungle, you can see elephants and wild nature as one of the most significant parks in Asia. It's proudly located in Southcentral Nepal. It's famous for its jungle. Yes, but it also has forest areas and grassland planes.
The Bengal tiger prowls within its jungles. And if you're lucky enough, you may get to see one, just not up so close. You could enjoy a safari to see the animals sail in a canoe and take a ride on an elephant or oxen. Several endangered species and a wide variety of vegetation are protected in the park.
Janakpur
Janakpur, also known as the city of ponds, with more than 70 ponds that dot its very landscape. Here you can learn more about the ancient and revered Hindu God Ram. And its significance today, the Ram Temple is the main attraction in Janakpur. The pleasant weather and the grand and colorful festivities throughout the year.
The stunning architecture of the temples and the friendly locals make gen poor a favorite spot for tourists and pilgrims alike.
Patan
One of the most intriguing places to visit in Nepal is Patan, which also goes by the name of Lalitpur. It's a divine place to witness serenity and spirituality, brimming with stunning temples and picturesque landscapes.
Patan Durbar Square is the most famous place here, which houses beautifully carved temples, statues, and palaces. Within the premises of Durbar Square, one can visit Paton Museum to get an insight into the glorifying. Of Patan, you are now ready to embark on your journey to one of the world's most enigmatic and impressive countries.
What do you guys think about the list, and what do you like the most about this beautiful valley? If you want to visit Pokhara, we have got you covered.
After you've enjoyed the thrilling and joyful experience, you can choose whether to visit other beautiful places in Nepal or head back home. No matter what you choose, we hope you have a fantastic time.
We can accommodate group tours for this trip; however, you may also opt for a private tour according to your liking. We can arrange private trips at any time of the year at any date of your choosing. Please let us know. If you have the opportunity to go to Nepal, you now know which places to see first. Enjoy your experience, and have a safe journey.