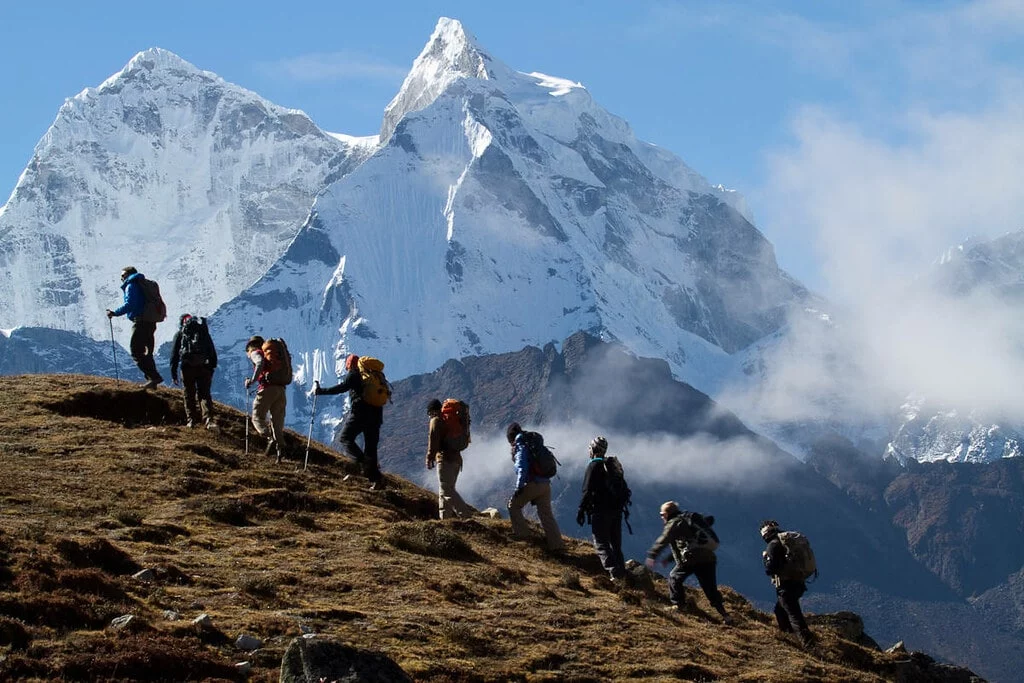 Nepal is a popular trekking destination for tourists. Many people visit Nepal to walk on classic trails, such as the Everest Base Camp and Annapurna Circuit. Most trekking destinations are located in the shadow of these famous trekking areas. While trekking in Nepal, you will walk through forests, pastures, rice terraces, and fertile lands. The trails of Nepal are famous for their diversity of landscape, flora, and fauna. Along the trails, you will also encounter local settlements and groups of different ethnicities.
Usually, trekking involves walking up and down hills on good or rough paths. Sometimes you are required to cross 3000 feet or carry a day pack for 900 meters every day. To fully experience Nepal and to enjoy your trek, you must have physical and mental preparation. It is exotic yet traditional and spiritually fulfilling at the same time. Nepal has its own culture, traditions, and language.
Getting ready for trekking in Nepal
Trekking at higher altitudes is anything but easy. As mentioned earlier, you need to prepare your body to walk for eight to ten hours daily on steep, rough terrain with a ten to twenty-pound backpack in all kinds of weather.
There is quite a lot of uneven terrain on Nepal's trekking trails. You will be trekking at lower and higher altitudes, under the hot sun, and at night. Hence, you should prepare extensively for trekking in Nepal. Training makes the trekking journey less challenging, safer, and more enjoyable. Hence, you should devote more time and effort to preparing for a trekking adventure. Mentioned below are some of the ways you can you're your body acclimatized to trek through both the harsh and simple trails in Nepal.
Altitude Training
In order to increase training, you should mimic elevation training. As we stated earlier, unless you live in the hills or mountains, it is nearly impossible to mimic the lungs of the Himalayas.
No matter where you go, if you cannot hike in the mountains, you can always go up and down stairs steps. But that's not important; what's important is that you simulate the same oxygen situation. The reason why you develop altitude sickness (AMS) is that you are depleted of oxygen. In addition to using an elevation mask, you can also use an altitude simulator, which simulates thin air by limiting your oxygen intake. This device is used by endurance athletes competing at high altitudes. Additionally, climbers benefit from it. When you go trekking in Nepal, there is absolutely no need to go that far, but if it eases your worries, you can do it.  
Make sure you consult a medical professional before making drastic changes to your lifestyle. Especially do so if you intend to mimic altitude trekking. As mentioned here, you can pre-acclimatize to high altitudes by performing altitude training before you go on a high-altitude trek. Here are a few altitude training techniques that you can include in your weekly training regime. 
Plenty of sleep:

 You should rest plenty during the trek. Sleep affects how your mind and body deal with the stresses of altitude. If possible, you should also practice sleeping outdoors on cold nights.

Go slowly:

 Trekking at high altitudes is one of the hardest outdoor activities and requires a lot of patience. Thus, there is no need to hurry; you can take your time to reach new heights.

Always Stay hydrated:

 While trekking, it is important to drink plenty of water to avoid headaches, improve blood flow, and have many other positive health effects.
Trek Specific Training
High hills and mountain terrains can sometimes be quite hazardous to hike, so you'll need Trekking Specific Training to cope with the harsh environment in the Himalayas. If you intend to trek in hilly terrain, you should become familiar with its terrain and the climate. You should wear hiking boots and carry a backpack.
Taking a hike on steep hills will help you build leg strength and help you learn how to walk on uneven terrain while keeping your balance. You can also try carrying 8 to 10 kilos on your back while climbing 600 to 1000 meters.
Yoga is also an excellent way of preparing yourself for high-altitude trekking. It is an excellent breathing exercise for such an endeavor.
Aerobic Training
It is important to be fit before participating in any outdoor activity. However, trekking in Nepal does not require you to be a sportsperson. These treks are not competitive. Therefore, you can enjoy the scenery at your own pace.
A good physical condition will allow you to take advantage of the experience more. You will also have the energy for extra activities. As you will be trekking in thin air, your physical condition needs to be stable. You will be better able to metabolize yourself with a good physical condition. Consequently, you can decrease the chance of getting altitude sickness.
Engaging in high-intensity training is the best way to increase your stamina and prepare you for trekking at different altitudes. It requires short bursts of activity followed by rest periods. This can be done by finding stairs that take one or two minutes to climb up. Do ten sets until you are puffing. You can increase the intensity by wearing a backpack and adding 5 kg to 20 kg. The result will be a fit heart and lungs. You must remember that you should stretch and warm up before starting your training program.
Strength and Conditioning
You might think that climbing hills are the most challenging aspect of High Mountain trekking. Actually, the difficult part is descending them. Thus, you need to focus on increasing your quadriceps strength, as these muscles will support the weight of your body as you move downhill. You should also strengthen your back, shoulders, arms, and abs.
It is possible to experience knee or ankle problems while walking downhill if you have weak quads. Therefore, you need to build good leg strength. Additionally, you need to exercise the exact muscles that you will need when trekking. Using free weights and machines is a good way to build strength. You can do lunges, squats, step-ups, pull-ups, rowing, push-ups, and bench presses. Therefore, you should incorporate strength and flexibility training into your daily routine.
It is a good idea to go hiking for at least two hours daily in the hilly areas of your home country before you go trekking in Nepal. This will allow you to climb steep mountain trails more easily and to move easily down steep trails. This training will improve your posture during the trekking period. Flexibility is important during trekking as your muscles and tendons need to relax and stretch.
After you've enjoyed the thrilling and joyful experience, you can choose whether to visit other beautiful places in Nepal or head back home. No matter what you choose, we hope you have a fantastic time.
We can accommodate group tours for this trip; however, you may also opt for a private tour according to your liking. We can arrange private trips at any time of the year at any date of your choosing. Please let us know what your preferred travel dates are so that we can accommodate you.
Furthermore, When you are ready to start your Nepal trekking adventure, it is time to begin thinking about what to pack. If you are ready to book but aren't sure when is the best time to trek or what to stay in, Pokhara Info has got you covered. You can figure out these queries through our site. We can be found on Facebook, Instagram, and other social media sites. Don't forget to check out our long-read article about trekking in Nepal if you're interested in learning more about trekking in the Himalayas! Thank you for visiting!