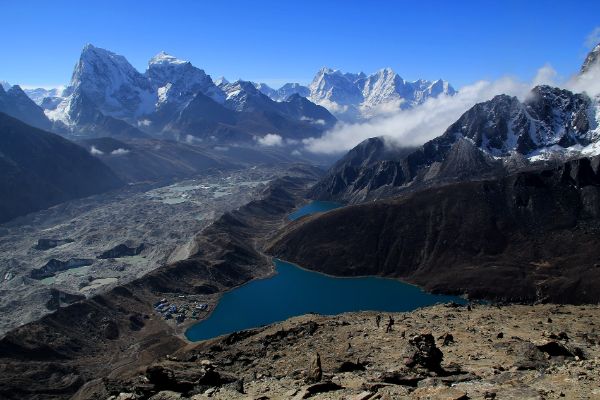 Nepal is a tiny, landlocked nation in South Asia that is tucked between China and India. It is renowned for its varied topography, which includes the Himalayan mountain range and several lakes dispersed around the nation. These lakes contribute significantly to the local ecosystem and economy in addition to being stunning.
In Nepal, there are several beautiful lakes that greatly enhance both the country's natural beauty and cultural heritage. Small, high-altitude lakes in the Himalayan region to larger, more well-known tourist destinations like Phewa Lake and Fewa Lake in Pokhara, these lakes are spread out across the country and vary in size. These lakes are breathtaking and have a big impact on the surrounding ecosystem and economy. They are a source of irrigation water and a habitat for many different plant and animal species. They are a big draw for tourists visiting Nepal since they are popular spots for outdoor activities like boating, fishing, and trekking.
 Here are some of the notable lakes in Nepal:
Phewa Lake
The second-largest lake in Nepal is called Phewa Lake. It is a semi-natural freshwater lake surrounded by rani ban or queen's forest, and the pure lake waters beautifully mirror the Annapurna and Dhaulagiri mountain ranges. Additionally, it is the ideal location to witness the breathtaking Himalayan sunrises. The lake receives water from a stream, but a dam controls the water reserves, hence it is categorized as a semi-natural freshwater lake. Additionally, the lake is well-known for its surface reflection of Mount Machhapuchhre and other peaks in the Annapurna and Dhaulagiri ranges of mountains.On an island in the lake sits the Tal Barahi Temple. The distance to Chipledhunga, the city's center, is 4 kilometers.
Rara lake
The breathtaking natural lake known as Rara Lake is located in Nepal's Mugu district in the Rara National Park. It is Nepal's largest lake, covering a surface area of 10.8 square kilometers. The Rara National Park, which is located at the height of 2990 meters above sea level and is home to a variety of wildlife, including the musk deer, Himalayan black bear, and red panda, borders the lake.
Rara Lake is the largest and most well-known lake in the Mugu district in the Karnali region of Nepal. It is surrounded by stunning mountains and lush woods. You may get to Rara Lake from the Gamgadhi district office by walking for three hours to the west. Rara Lake is a body of water that covers an area of 10.8 sq km, has a maximum length of 5 km, a maximum width of 3.2 km, and a maximum depth of 167 m. One season cannot adequately describe the beauty of Rara Lake. Rara Lake is covered in flowers from the end of May to the first week of July, and it is covered in snow during the winter.
Gokyo lake
A freshwater lake at a high elevation can be found in Nepal's Sagarmatha National Park. It is one of the world's highest lakes and is located at the height of 4,700 meters above sea level. The peaks of Cho Oyu, Everest, and Lhotse around the lake which was created when the Ngozumpa Glacier melted.The trekker may still experience local village life, get a good look at frigid rivers and stony, glacier-debris-covered mountains, and of course, see the stunning blue waters of the Gokyo Lakes themselves via the less-frequented route to the lakes.
Time spent in Namche Bazaar gives you a chance to trek to nearby Khumjung Village to visit the school established by Sir Edmund Hillary, who, along with Tenzing Norgay Sherpa, was the first person to successfully summit Mount Everest. This will help you acclimatize before departing for the Gokyo Ri and Gokyo Valley.
Begnas Lake
Begnas Lake, the second-largest lake in the Pokhara valley and one of the best freshwater lakes in Nepal among the thousands of lakes, is situated in the Kaski district. It is one of the locations in the Pokhara valley that receives the most visitors because it is located in the southeast of Pokhara. Begnas Tal could be considered a necessary component of the Pokhara tour.
Boating at Begnas Lake is a great deal compared to Fewa Lake – it's cheaper and further away from the hustle and bustle of the city. Plus, you can take a break and take a dip in the freshwater lake.You can tie up your boat around the edges of Begnas lake and chill out in nature amongst the incredible plants and animals.Tourists love visiting the Begnas Lake area of Pokhara since there are so many resorts there.
Gosaikunda
A lake called Gosaikunda is located in Nepal's Langtang National Park high in the mountains. It is located 4,380 meters above sea level, which is quite high. People gather here for both recreational and religious purposes. Gosaikunda is a sacred spot for Hindus – it's said that Lord Shiva created it when he hammered the ground with his trident. People think the lake has magical powers and every August, when there's a full moon, lots of believers come to visit and pay their respects.Gosaikunda is a great spot for trekking – with its stunning natural beauty and tons of wildlife from the Langtang area, it's not just a place for spiritual reasons, but an awesome trek too!
Shey Phoksundo Lake
Shey Phoksundo Lake is an awe-inspiring sight to behold, situated up in Dolpa District of Nepal. It sits at a pretty high altitude of 3,611 meters above sea level and is the deepest lake in Nepal, with a depth of 145 meters. The lake is encircled by lush forests and tall mountains, making it a prime spot for hikers and nature lovers.
Shey Phoksundo Lake is an incredible sight to behold – its crystal clear waters have a gorgeous blue-green hue, and you can do all kinds of activities there, like boating, fishing and birdwatching. There's also a variety of fish and endangered animals living in the lake, like the snow leopard and blue sheep. On top of that, the lake is sacred to Tibetan Buddhists, who believe deities inhabit it. So if you're looking for an amazing and peaceful place to visit – Shey Phoksundo Lake is definitely the place to go!
Panch Pokhari
Panch Pokhari is found in the Sindhuli district of Nepal, and it's really stunning! It's a holy spot for Hindus, 'cause they think it was blessed by the five Pandavas from the Mahabharata. It's surrounded by lush forests and snowy mountains, so it's a great place to visit and go trekking.\Panch Pokhari is an incredibly interesting spot to check out! There are all these myths and stories that people tell about it. It's said to have healing powers, so lots of pilgrims come here to take a dip and pray in hopes of getting cured. Plus, the natural beauty here is stunning – there are all kinds of rare wildlife and plants. All in all, Panch Pokhari is a peaceful and breathtaking place to visit!