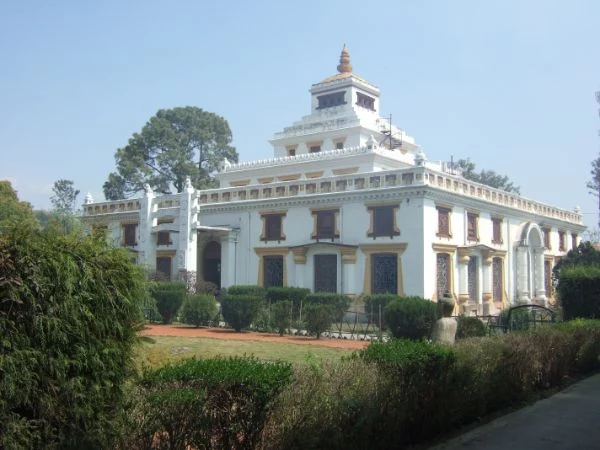 World travelers have been drawn to Kathmandu since the 60s. The city's intoxicating combination of cultural heritage and artistic heritage, as well as the city's proximity to the Himalayas, make this an obvious choice of exploration for travelers all over the world. Durbar Square, located in the heart of Kathmandu's old city, stands out for its distinctive architecture and convivial atmosphere. There, you get to enjoy steamed momos and browse handicrafts as you wander through Old Town's narrow, winding streets with your guide.
There are seven places in this valley that are part of the UNESCO World Heritage Site: Hanuman Dhoka for Kathmandu, Patan Durbar Square for Patan, and Bhaktapur Durbar Square for Bhaktapur; and two Buddhist stupas of Swayambhunath and Boudhanath. Despite this, the valley of Kathmandu contains rich culture and history. For foreigners, visiting one of the amazing museums in Kathmandu can be a great way to learn about Kathmandu and the whole of Nepal itself.
Visiting museums might sound like a bit of a boring activity to some. Yet, I've found all the museums mentioned below to have interesting stories of their own. If you, too, wish to know about these museums before visiting them personally, we've got you covered.
Narayanhiti Palace Museum
Before the 2006 revolution, the palace was home to the royal family of Nepal. In 2006, a revolution overthrew the monarchy, leaving Narayanhiti Palace Museum to become a museum. In contrast to all the other palaces museums, this one looks very modern. It was built in the 1960s and looks like it was taken straight out of a TV show.
The throne room looks like it was designed by an admirer of Gaudi, the famous Spanish architect. The wood panels, marble tile floors, and the smell of mothballs waft off of the old tiger skins atop the floor. The palace seems a little out of place for a royal one, which makes it that much more fun to explore.
In addition to being an interesting and somewhat creepy place to visit, the palace was the site of the royal massacre. If you are unfamiliar with Nepalese history, it is an interesting tale. Despite several versions, the most popular seems to be a strange love story. Prince Dipendra was madly in love with a woman whose mother disapproved of them.
When he got extremely drunk and high during a monthly reunion dinner, he was asked to leave. He later returned with several machine guns and shot members of the royal family, killing ten of them and wounding a few others. The monarchy was believed to have fallen as a result of his decision to take his own life. However, there are several controversies surrounding the story.
The Taragoan Museum
One of the more unique places to explore in Kathmandu is the Taragoan Museum, which is about a 10-minute walk from Boudhanath Temple (mentioned below). Despite its remoteness, few people seem to know it even exists, which is part of what makes it so interesting. Despite its small size, its architecture is worth checking out by itself. The museum was previously a bungalow-style hotel built in the 70s, and I find it to be the most charming building I've seen in all of Kathmandu. Old photos from the '80s and '90s are also on display, along with architectural drawings of famous buildings throughout Nepal. The best part is that it's free!
National Museum of Nepal
During the off-season in Kathmandu, you'll realize that there are a lot of days when rain appears to wreck your plans. For this reason, we wanted to take advantage of some of Kathmandu's indoor activities during the monsoon season. About a 20-minute taxi ride and a $3-$5 taxi ride from Thamel will bring you to the museum.
There are three main buildings of the National Museum, each with its own distinct exhibit. The first building has wood carvings, stone carvings, metalwork, and paintings on display. The second focuses on the rise and spread of Buddhism in Nepal and how it is practiced differently throughout the country. We enjoyed getting to see how Buddhism evolved throughout the country. My curiosity has always been about how Buddha became a god when he himself did not believe in gods. The last building was somewhat random, with some natural history and dolls that depicted various costumes from all over the world.
Nepalese Army Museum
If you're already in the area, the Nepalese Army Museum is adjacent to the National Museum of Nepal, making it a convenient stop. The museum is dense with information, so prepare to read a lot. One of my favorite parts was a section with large paintings depicting different wars and battles in Nepal's history, each with a few sentences below describing what was gained and what was lost.
 There was also a map showing Nepal's development as it gained land. In the museum, there is a section dedicated to military leaders and kings. The pictures of each important figure are accompanied by a caption explaining their story. A section is also dedicated to military clothing, weapons, and awards. The sections with less writing could have been translated more into English. Nonetheless, it was a fun way to learn a little more about Nepal's past and how it came to be.
Natural History Museum
In the west hillock of Kathmandu valley, Swayambhu stupa, a world heritage site, is the setting for Nepal's Natural History Museum. Swayambhu hillock is famous for its cultural, religious, and historical relevance. This is not only to Kathmandu valley but also to Nepal itself. The museum collects and preserves natural specimens from different parts of Nepal, including floral, faunal, and geological specimens.
The museum has a permanent exhibition gallery for the acquisition of specimens that is open to the public from dawn to dusk. Special exhibitions are also organized on special occasions such as education day, earth day, Sripanchami, Buddhajayanti, and so on. The specimens in the museum were collected by scientists visiting different parts of Nepal after conducting research and studying nature thoroughly.
 In addition to creating a general interest in the conservation of natural heritages, the museum strives to raise general awareness against pollution of the environment and conserve natural resources. They plan to establish collaborations with business communities, as well as other educational, scientific, and environmental institutions and groups nationally and internationally. In addition, they are attempting to raise public awareness about the conservation, preservation, and sustainable use of natural resources.
Aviation Museum Nepal
Aviation Museum Nepal is a beautiful place to take your kids or to learn about planes and helicopters. Unless you have lived in Kathmandu for a while, you might not have known about this museum. It costs 500 rupees ($5) to enter and can be seen for 30 minutes to an hour. It was built in a crashed plane at Kathmandu Airport. A pilot moved it and turned it into a museum a while later. The plane was disassembled, moved to the new location, and reassembled over the course of four months.