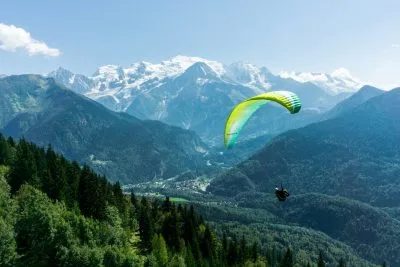 Nepal is a top travel destination for tourists and adventure lovers alike. But if you've been considering visiting Nepal for a while, but have no idea what to do here, then fret not. The gorgeous hills and mountains, along with luscious forests and mini pockets of adventure-oriented places, make a visit to various places of Nepal uniquely exciting.
You will not find a wider range of activities in Pokhara than anywhere else in Nepal. Therefore, if you want to experience most of the exciting activities in Nepal without traveling a lot, this is the place to be. Furthermore, the variety of activities in Pokhara Valley, including rafting, hiking, cycling, boating, Paragliding from Sarangkot, chartered flights, sightseeing, and bungee jumping, might seem overwhelming even for regular travelers.
However, among all these exciting, if I had to choose a personal favorite, I'd definitely go with Paragliding from the famous Sarangkot Hill. Despite Sarangkot's monopoly on Paragliding activities, the experience of Paragliding in the sky of Pokhara via Sarangkot is rarely matched by any other activity. To add to that, despite trying most of the things available in Nepal, Paragliding has been my favorite for a long time.
The Excitement of Paragliding
It might make sense to wonder why you ought to consider partaking in Paragliding over bungee jumping or boating, among the countless options for passing your Time. But, the whole experience of getting ready for Paragliding and the thrill and rush after the event can't be explained by words.
However, for conversation's sake, here are a few reasons opting for Paragliding can be much better than the other alternatives. 
It is impossible to compare the thrill and adrenaline rush you experience during a takeoff from the ground.

As you're flying through the sky, you're greeted by fresh air hitting your face, giving you a sense of living life on the edge.

While it may seem dangerous, Paragliding is actually one of the safest sporting activities in the air, thanks to the reverse parachute, multiple safety belts, and a guide's seat.

You'd probably feel more comfortable Paragliding than you are right now sitting in your chair.

Several benefits of Paragliding include increasing self-confidence and decreasing stress.

Taking part in Paragliding improves balance and strengthens the core, and you are never likely to get hurt by an equipment malfunction.
Apart from all these excellent benefits, Paragliding in Sarangkot offers much more entertainment to foreigners or people within Nepal.
The popularity of Paragliding in Nepal 
As far as Paragliding in Nepal is concerned, only Pokhara offers a variety of packages that can compete with world-class standards as compared to any other location. In this accord, you could say that Pokhara has monopoly control over Paragliding in Nepal. However, in spite of that, security and professionalism in the paragliding industry have been increasing yearly, making it a top destination for thrill-seekers at home and abroad.
More precisely, the beautiful hill of Sarangkot is the primary location in Pokhara, home to all paragliding activities in Nepal. The best part of Paragliding in Pokhara is flying through the skies like a bird while enjoying the breathtaking mountain scenery. Paragliding in Pokhara is unique because it combines adventure, mountains, and hawks with the valley's scenic and natural beauty.
Preparing for Paragliding
Seeing the wonders of Pokhara and flying through the air may tempt you to try it out for yourself. If you do so, you will enjoy an activity that few other people experience. Nevertheless, oblivious people may find getting to Sarangkot and negotiating a good deal on a paragliding package difficult. Thus, here are some tips and guides to help you get the most out of your paragliding journey.
Getting There
You need to get to Pokhara wherever you are, whether in Nepal or abroad. Foreigners require a Nepali visa in order to enter Nepal. You can now use one of Nepal's many public transportation options to reach Pokhara. If your city has a local airport, you may be able to book a flight to Pokhara for more comfort.
Once in Pokhara, we suggest you book a hotel room on Lakeside Street and enjoy the lively evening while strolling by the shore of Phewa Taal. To witness one of the gorgeous sunrises in Pokhara, you better reach Sarangkot Hill before sunrise the next day. You can book a cab to get to the top of the hill. 
Prices
Afterward, we can get on with our activity of the day. There are multiple paragliding organizers and guide available in Sarangkot. There may be slight fluctuations in price depending on the season and the guide team you choose, though the price is mostly fixed.
Among the popular and best parachute tours in Pokhara, you can do Open Sky Paragliding, Himalayan Mountain Overview Paragliding, Sunrise Paragliding, Flying Buddha Paragliding, Sky Adventure Paragliding, and Team 5 Nepal Paragliding.
Paragliding Types
Mini Package: The 20 to 30-minute paraglide is the cheaper option among the two. Usually, such a flight would cost a Nepali individual anywhere between 6500 to 9000 rupees or around $60 to $90. However, the price for the same flight for a foreigner is $10 to $20 higher.
Longer Package: The longer flight option is 45 to 60 minutes. Usually, such a flight would cost a Nepali individual anywhere between 10,000 to 11500 rupees or around $95 to $115. Similarly, the price for the same flight for a foreigner can be $10 to $20 higher than for a Nepali national.
The package mentioned above includes the following perks as well
Cost of the activity

Photo and Video

Government taxes and fees are included

Insurance
Paragliding packages include pickup and drop off from and to your hotel. However, you can opt as you wish.
Additional Activities
Despite the obvious activity of Paragliding, you can experience much more on this trip.
Sarangkot Cable Car
People can admire the view of the mountains, lakes, and green forests of Pokhara while on the recently opened Sarangkot Cable car service. In eight minutes, the rope car will transport passengers almost 2.3 km from Sadibagar on the Fewa Lake to Sarangkot.
Hawk/Eagle Feeding
During your paragliding session, you may enjoy having an eagle on your arm or shoulder. If you wish, the guide can arrange for some meat to bring along with you. When you're on flying at a certain elevation and an eagle spots the meat, it will come to stand on your arm. Photograph this event to cherish for years to come.
Best Time to enjoy Paragliding
Among the twelve months of the year, the autumn season is from September to December, and the spring months of February to May are the Best Time. These transitional seasons from monsoon to winter and vice versa, offer pleasant weather with a clear sky that'll complement your day out.
After you've enjoyed the thrilling and joyful cycling experience, you can choose whether to visit other beautiful places in Nepal or head back home. No matter what you choose, we hope you have a fantastic time.
We can accommodate group tours for this trip; however, you may also opt for a private tour according to your liking. We can arrange private trips at any time of the year at any date of your choosing. Please let us know what your preferred travel dates are so that we can accommodate you.
Finally, one of the world's top five commercial tandem paragliding destinations, Paragliding in Pokhara, is a great place for beginners and regulars. It is affordable compared to other parts of the world, and they've been paragliding here for over 20 years. I hope you, too, get to experience such amazing activity soon.