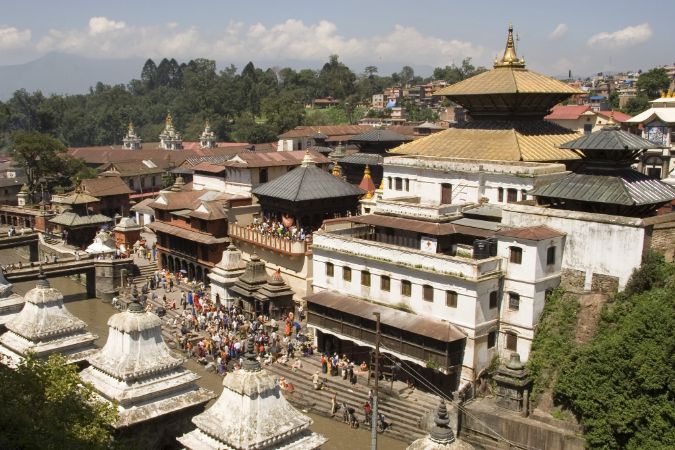 Nepal is a country with a rich cultural heritage and a long history. When you visit Nepal, you are likely to see many of the country's famous temples. As a foreigner, there are a lot of options to learn about Hinduism and temples in Nepal. You could also engage in thrilling trekking adventures or tours while visiting these temples. Nonetheless, you may need a more comprehensive description of the best temples in Nepal and in Kathmandu to assist you in your trek. The temples are renowned for their heritage and tradition. Pokhara Info provides you with a list of some of Nepal's most famous and glorious temples.
There are a lot of statuesque temples in Nepal, full of insights and richness. Nepal's unique temple characteristics include Newari pagodas and Shikhara temples. Buddhism is also reflected in Buddhist Gompas, with exclusive arts and crafts built by craftsmen who are part of the ancient Nepali culture and tradition. To make your navigation of the best temples of the Hindu and Buddhist religions in Nepal easier, we have provided detailed descriptions of the temples. You can read about temples outside Kathmandu Valley from Pokhara Info. Below are some temples within the valley that would be great learning and touring destinations for foreign explorers:
Pashupatinath Temple
According to Hindu tradition, Pashupatinath was founded in the 5th century as a Hindu shrine. The Shiva lingam was discovered at the site, which has great significance for the Hindu community. After the Malla dynasty in Nepal rebuilt the temple, the Pashupatinath became the main shrine for millions of Lord Shiva devotees.
Across the Bagmati River lies this pagoda-style temple, which boasts hundreds of Shiva lingams within the temple's complex. Within the main temple is a Shiva lingam. You can also see a statue of Nandi; the bull Lord Shiva used to ride on the opposite side of the temple. The cremations of Hindu people take place along the Bagmati riverbank within Pashupati. The temple is mainly worshipped during festivals like Mahashivaratri, which attracts Hindu devotees from all over the world, Teej, a traditional festival of Nepalese women, and various Ekadashis and other auspicious occasions. Among the unique features of this famous temple are the Aratis and festivals.
Getting to the Pashupatinath temple is easy. You can take a taxi directly from Tribhuwan International Airport or catch a bus from Basantapur. The cost of entering this famous Hindu temple in Nepal is about NPR 1000 for tourists. Non-Hindus, however, are generally not allowed into the main temple itself. Additionally, visiting one of the best temples in Nepal may be easier if you have a tourist guide with you. Visitors can enter the heritage site from the back of the premise.
Changu Narayan Temple (The Oldest Temple In Nepal)
Built during the Lichhavi Dynasty in 1702, Change Narayan is the oldest temple in Nepal. It is a double-roofed temple that is decorated with ten incarnations of Narayan and guarded by four stone lions. Among the main attractions of this region is a statue of Vishnu seated on a Garuda, which belongs to an ancient period. The temple's real gem and the sculpture of Narsingha are also worth seeing in the Changu Narayan area.
The Changu Narayan temple is located about halfway between Kathmandu and Bhaktapur. From Bhaktapur, a bus can take you to the temple, and from Bhaktapur, a taxi costs about Rs. 800 just for the city of Kathmandu. From Bhaktapur, you can take a taxi for around Rs.350 to Changu Narayan, which is a world heritage site. You can take pictures around the temple and get your photos taken inside. The trip can cost between NPR100 and 400.
Buddhanilkantha 
At the base of the Shivapuri Hill lies a statue of Hindu Lord Vishnu, which is the largest and most significant stone carving of Lord Vishnu in Nepal. It is 10km away from the center of Kathmandu. Lord Vishnu is carved into the black basalt stone, which is 5 meters long and is positioned inside the tank of water, which is 13 meters long.
 There are eleven naga heads on the top of the head of the statue of Vishnu. If you're planning on visiting Buddhanilkantha, a beautiful premise in itself, then the Hindu temple is worth visiting. From Ratnapark or Basantapur, you can take a bus or a taxi to Narayanthan to reach the temple. This can take about 40-45 minutes.
Guheswori Shaktipith
Hindu pilgrims visit the Guheswori Shaktipith, which is around 1 km away from Pashupatinath. This temple represents the power of Hindu gods and goddesses. Devotees recognize it as a sacred temple.
Sati Devi's story of how her body parts fell at Guheswori after her death makes the temple important for Hindus. Additionally, the temple was built under the command of the former king Pratap Malla in the 17th century. This is a famous Hindu temple in Kathmandu.
This temple can be reached directly from the Pashupatinath area through the north of the temple. Although it is not known whether the Shaktipith is generally open to tourists, there is a front door through which you can enter the temple.
Patan Krishna Mandir
Patan Krishna Mandir, a temple dedicated to Lord Krishna and Goddess Radha, found in the Patan Durbar Square area in Kathmandu, is one of the major attractions in the valley due to its rich history and magnificent architecture. The temple was built in 1637 by King Siddhi Narasigh Malla as the result of a dream where the Hindu gods stood exactly where the temple stands today.
A visit to Kathmandu's Durbar Square and the Krishna Mandir, the birthplace of Lord Krishna, is special during Krishna Janmasthami, the most important festival in Nepal. This famous temple celebrates the birth of Lord Krishna with a great crowd.
If you travel from Ratnapark, Koteshwor, or Lagankhel, you will be able to quickly reach Patan Durbar Square by bus or taxi. The entry fee is NPR 1000 for tourists, and it includes access to the temple. There, Tourist guides are also available on an hourly basis, which typically runs from NPR 1000 to NPR 2000 per hour.
Krishna Mandir's sister temple in Bhaktapur is Nyatopola. The Nyatapola temple, Bhaktapur's highest structure, dominates the city's skyline at a height of 33 meters (108.26 feet). Thané and Konhé, which translate to "Upper One" and "Lower One," are the names of the two sections of the temple. It is one of the biggest temple in Nepal.
Doleshwar Mahadev Temple
There is a temple called Doleshwar Mahadev temple in the district of Bhaktapur, located 20 km from Kathmandu. It can be reached after an approximately 45-minute drive from the center of the city. Furthermore, many Shiva devotees in Nepal visit this temple to pray for the fulfillment of their wishes, and it is believed that visiting the temple will wash away all your sins and bless you for a successful life. It takes about 30 minutes to drive from Kathmandu to Doleshwar Mahadev Temple, located in the Bhaktapur district in Nepal.
The temples in Nepal are some of the most fascinating and well-known in the world and have captured the attention of tourists everywhere. These cultural landmarks need to be preserved with proper plans and policies. Furthermore, tourism prospects in Nepal have been rapidly expanding in the last few decades, so it makes sense that these historically significant temples in Nepal need to be protected and promoted.
You can choose whether to visit other beautiful places in Nepal or return home after enjoying the thrilling and joyful experience. No matter what you choose, we hope you have a fantastic time.
We can accommodate group tours for this trip; however, you may also opt for a private tour according to your liking. We can arrange private trips at any time of the year at any date of your choosing. Please let us know what your preferred travel dates are so that we can accommodate you.
Finally, if you are planning to visit Nepal anytime soon, you should take note of the many ancient sites and the numerous temples that are located in Nepal. As we mentioned earlier, you will just have to see them for yourself to acknowledge these temples.