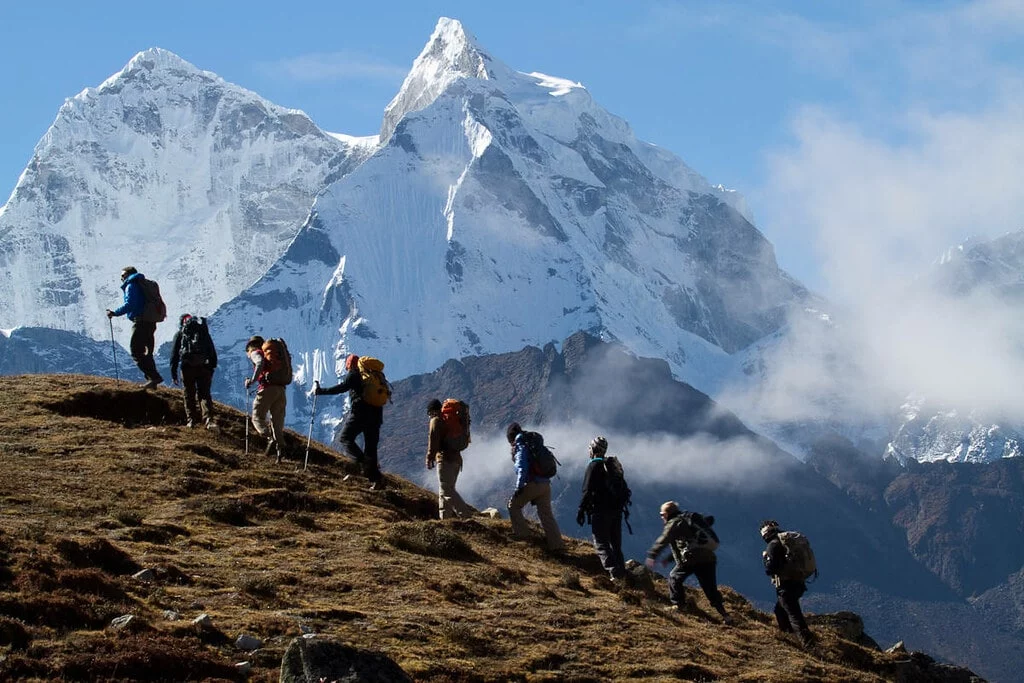 Nepal is an amazing place tucked away in the Himalayas. It's famous for having the highest mountain in the world, Mount Everest, and its distinct culture and varied landscapes. There are numerous reasons why we should visit Nepal, and some of the most compelling ones are discussed below.
Birth Place of Gautam Buddha and Religious Sites
Nepal is an amazing place tucked away in the Himalayas. It's famous for being the home of the highest point on the planet, Mount Everest, and for its interesting culture and a variety of landscape.
Lumbini in Nepal is a hugely important spot for Buddhists, as it's where the Lord Buddha was born! The Mayadevi Temple and Ashokan Pillar both point to the exact place of his birth. Pilgrims come from all over to check out the monasteries, temples and stupas dotting the area.
Adventurous Activities
Nepal is a paradise for thrill-seekers, providing plenty of exciting activities to do. Paragliding, mountaineering, rafting, and trekking are some of the most popular activities to try out while you're there.
Going for a hike in Nepal is a great idea – no matter your skill level, there's something for everyone. You can go for a short walk with some beautiful scenery, or if you're feeling adventurous, take on a multi-day trek. Either way, it'll be an awesome experience!
Climbing mountains is a big deal in Nepal – you can even tackle the highest peak on Earth, Mount Everest!
Rafting and kayaking in Nepal's fast-moving rivers is an awesome way to get your adrenaline pumping. The rivers in Nepal are some of the best for white-water rafting and kayaking – there's something for everyone, from easy rides to insane rapids.
Paragliding in Nepal is an awesome experience – you get to take in the breathtaking sights of the country while also having a ton of fun. Thrill-seekers love it! And you don't have to worry – there are loads of places to launch from and trained instructors to help make sure you've got the best time. Nepal is definitely the place to go if you're looking to paraglide.
Cultural fusion and Geographical Structure
Nepal's geography has had a huge effect on the culture of its people. From the craggy landscape to the various climates, it's shaped the lifestyle of locals, meaning each area has its own unique customs and traditions. For example, people in Mustang, which is in the mountains, are usually nomadic while Terai is known for its farming and agriculture.
In Nepal, Hinduism and Buddhism are accepted and celebrated. Festivals like Dashain and Losar are highly significant occasions, full of prayer, dancing, and other celebration rituals – it's a great time for everyone!
Nepal's terrain has definitely had a major effect on its culture. The high mountain peaks, deep valleys and different climates have all brought about different customs and practices in every part of the country. Take the Mustang region for example; the nomadic lifestyle there is totally different from the farming lifestyle in the Terai area.
Budget-friendly Destinations
Nepal is a budget-friendly destination that offers a wide range of accommodation options to suit every traveler's needs. From luxury resorts and hotels to affordable guesthouses and homestays, Nepal has something for everyone. Furthermore, the country's delicious cuisine, affordable prices, and friendly locals make it an attractive destination for travelers on a budget.
One of the main reasons why Nepal is a budget-friendly destination is its wide range of affordable accommodation options. From guesthouses and homestays to budget hotels, Nepal has something for every traveler's budget. Furthermore, many of these accommodations offer stunning views of the country's beautiful landscapes, making them a great value for money.
Nepal is an awesome destination if you're on a budget – the cost of living isn't too high and you can get basic stuff like food and transport without splurging. So you can totally have an amazing trip without spending too much cash.
Additionally, Nepal's cuisine is another perk of the budget-friendly destination. You can find a mix of Indian and Tibetan flavors all over the country. Whether you're looking for savory momos, flavorful curries, comforting thukpa, or a refreshing lassi, you'll be able to find something yummy and affordable in Nepal.
If you're looking for a great place to go on vacation, look no further than Nepal! This gorgeous and diverse country has something for everyone. From its stunning scenery to its unique culture and budget-friendly prices, you won't be disappointed. For nature lovers, adventure seekers, or anyone looking for an unforgettable experience, a trip to Nepal is a must! So why not come and explore this incredible country for yourself?
If you finally decide to visit Nepal, we have got you covered.
Cost includes:
Arrival & Departure transport via private Car/Van/Bus.

Three meals per day throughout the Trip(Breakfast, Lunch & Dinner)

Accommodation during the trek.

Nights' accommodation in Kathmandu with B/B.

Guide and a porter with Insurance, food, and accommodations.

Sightseeing in Kathmandu or Pokhara valley with a car and tour guide

First Aid kit.

Trekking permit (Conservation fee).

TIMS card (Trekking information management system) is like a permit.

All needed government tax/vat.
Cost excludes:
International Airfare.

Your travel insurance.

Sightseeing entrance fees

Nepal Visa fee (US$ 50 for 30 days and US$ 30 for 15 days; you should get a visa open your arrival)

Any kind of drinks, items of personal expenses like hot shower, battery charge, telephone, missing meal, WIFI Porters, etc.

Tips for Guide and Porters
After you've enjoyed the thrilling and joyful experience, you can choose whether to visit other beautiful places in Nepal or head back home. No matter what you choose, we hope you have a fantastic time.
We can accommodate group tours for this trip; however, you may also opt for a private tour according to your liking. We can arrange private trips at any time of the year at any date of your choosing. Please let us know what your preferred travel dates are so that we can accommodate you.
Finally, we will transfer you to Pokhara's domestic airport after breakfast for your flight back home to Kathmandu. Furthermore, if you are flying back home from Kathmandu today, please schedule your flight to depart no earlier than 11 am to ensure you'll have enough time to catch your flight.