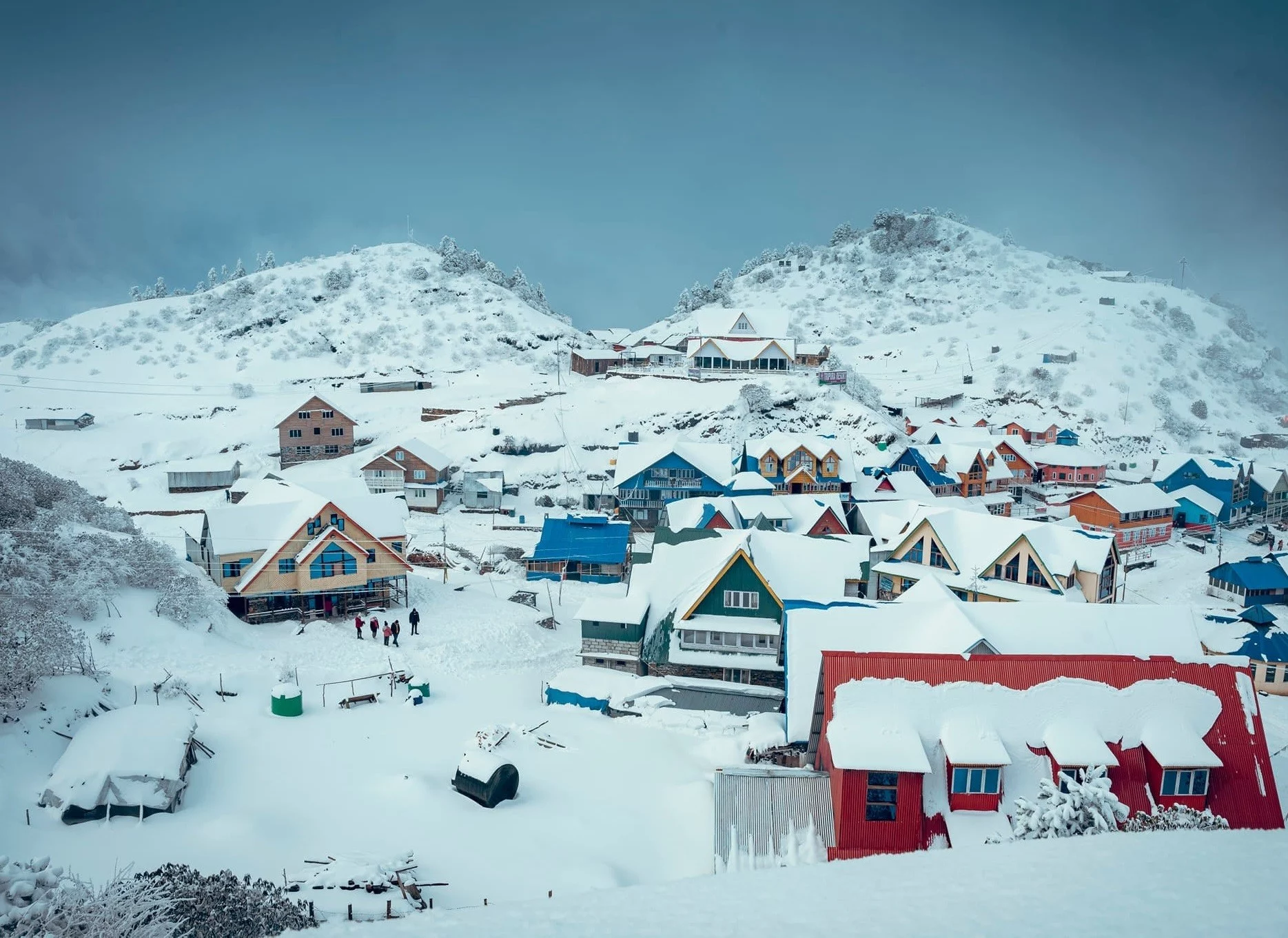 Nepal has eight of the ten tallest peaks in the world. So, a lot of peaks means a lot of snow. Not to mention skiing has been gaining popularity in Nepal at a pace, unlike any other activity sport. Skiing in Nepal is a great option for winter sports enthusiasts looking for a distinctive and memorable experience. Nepal offers a skiing experience unlike any other with its breathtaking snow-capped peaks, immaculate slopes, and colorful culture. In this article, we will explore the best ski resorts in Nepal, the top ski runs, the best times to visit, and everything else you need to know to plan your perfect Nepal ski vacation.
Best Ski Resorts in Nepal
Mount Everest Ski Resort
Located at an altitude of 5,364 meters, the Mount Everest Ski Resort is the highest ski resort in the world. This is a fantastic "resort" that, in contrast to the normal commercialized ski resort, has a more rustic feel. The terrain has the highest vertical of any ski slope that caters to more experienced skiers and boarders. It is quite diverse too. Winds that frequently exceed 90 km/hr make for "blower" skiing conditions. 
Even the most experienced adrenaline addicts will find a few isolated terrain/crevasse parks tough. Bring snacks, as there is limited on-mountain catering, as access to the lift requires a Sherpa and can take several hours. The mountain may look to be rather congested during the peak season with hundreds of skiers. 
Mera Ski Run
The Mera ski run is also in the Everest region. The adventure to Ski Mera Peak in Nepal is the stuff for thrill seekers. The best part is that you can be a moderate skier at the expert level to execute this. Strong skiers and riders who desire something exceptional should try this.
In the Everest area of Nepal, you will hike with the knowledgeable Mera ski team to the summit of Mera Peak for the ski. It is also one of the best mountain views in the entire globe. Nothing inflated. The uninterrupted vistas of Everest, Lhotse, Makalu, Kanchenjunga, and Cho Oyu are indescribably beautiful. And, just in front of you are five of the six tallest mountains in the world. After taking the required images, you'll click in and start the world's most thrilling 1500-meter vertical ski drop.
Annapurna Base Camp Ski Resort
The charming lakeside city of Pokhara serves as the entrance to Annapurna base camp and is conveniently located near Kathmandu. We travel by bus from Pokhara to Nayapul, where the journey begins, and then we travel to the ski slopes.
Strong Annapurna is unlike any other mountain in its diversity. Before arriving at Annapurna Base Camp at 4310 meters, this trek leads you through verdant farmland, rhododendron trees, along the valley of the Modi River, and a deep gorge between two peaks: Mt. Hiunchuli (6441 meters) and the revered Machhapuchhre (6993 meters). This trek is the most popular choice for individuals who are unsure of their mountaineering ability because it is less difficult than the Everest base camp trek. The 3.5-kilometer ski slope at Annapurna Base Camp is ideal for split boarding and ski touring.
Kalinchowk Ski Resort
In the Dolakha district of Nepal, there is the Kalinchok-Kuri ski resort. There, 0.2 km of slopes are accessible for skiing and snowboarding along the ski trail. The passengers are transported to the top by 1 lift. At an elevation of 3,375 and 3,390 meters is where the area for skiing is located.
Why Choose Nepal for Your Ski Vacation?
Nepal is known for its breathtaking mountains, and what better way to experience them than by skiing down their slopes? With a mix of high-altitude mountains and lower valley regions, Nepal provides skiing opportunities for all levels, from beginners to experts. Additionally, Nepal offers a unique cultural experience, with local cuisine, customs, and traditions that are sure to enrich your ski vacation.
Best Time to Visit Nepal for Skiing
The best time to visit Nepal for skiing is from December to February when the weather is cold and dry, and the slopes are covered in fresh powder. March and April are also good months to ski in Nepal, as the weather is warmer and the skies are clearer.
What to Pack for Your Nepal Ski Resort Trip
When packing for your Nepal ski vacation, it's important to bring warm and waterproof clothing, as well as any necessary addition to skiing equipment, such as skiing jackets and warm trousers. Layers are key, as the weather can be unpredictable and can change quickly. But, you'll be provided with the necessary pieces of equipment like ski shoes and ski poles. Additionally, don't forget to pack sunscreen, as the high altitude can increase the risk of sunburn.
Safety Tips for Skiing in Nepal
Skiing in Nepal can be an exhilarating experience. But it's important to prioritize safety as well. Always check the weather conditions before heading out, and stay within your skill level. Additionally, make sure to hire a guide or instructor, especially if you are skiing in unfamiliar terrain.
Whether you are a beginner or an expert, Nepal has something to offer every skier. So pack your bags, grab your skis, and get ready for the adventure of a lifetime.
FAQs
Do I need a visa to visit Nepal?
Yes, most visitors to Nepal require a visa. You can obtain a visa upon arrival at the airport or apply for one in advance at a Nepalese embassy or consulate.
Is skiing in Nepal expensive?
Skiing in Nepal can be more affordable than skiing in other popular destinations. However, the cost will depend on a variety of factors, including the resort, equipment rentals, and accommodations.
Do I need to be an experienced skier to ski in Nepal?
No, Nepal offers skiing opportunities for skiers of all levels, from beginners to experts. However, it's important to stay within your skill level and hire a guide or instructor if necessary.
Can I ski in Nepal year-round?
No, the best time to ski in Nepal is from December to February, with March and April also being good months to visit.
What other activities can I do in Nepal besides skiing?
Nepal offers a variety of cultural experiences, including exploring ancient cities, visiting monasteries, and trying traditional Nepali cuisine. Additionally, outdoor activities such as trekking, hiking, and rafting are popular in Nepal.