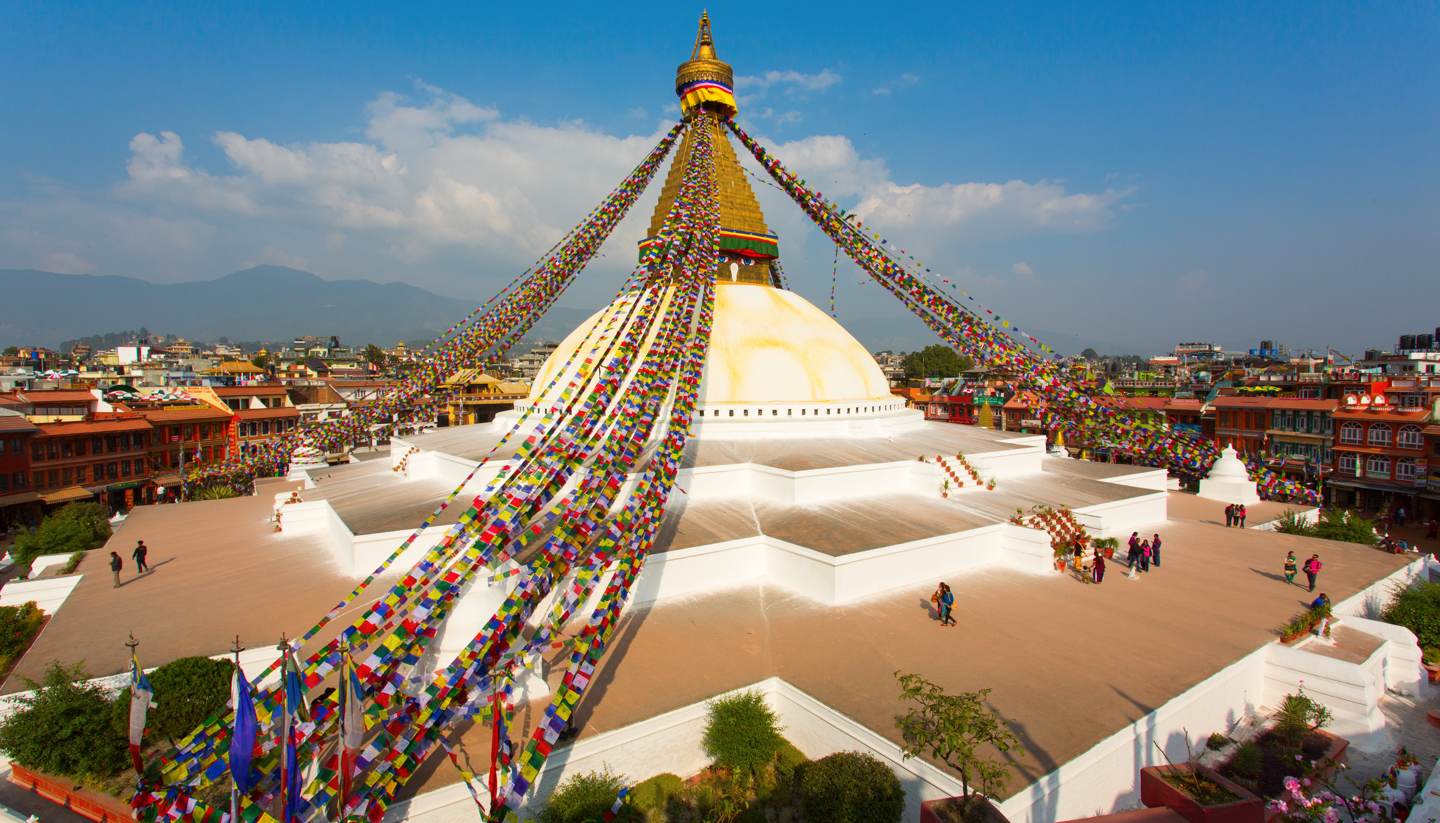 World travelers have been drawn to Kathmandu since the 60s. The city's intoxicating combination of cultural and artistic heritage and the city's proximity to the Himalayas make this an obvious choice. Durbar Square, located in the heart of Kathmandu's old city, stands out for its distinctive architecture and convivial atmosphere. There, you get to enjoy steamed momos and browse handicrafts as you wander through Old Town's narrow, winding streets with your guide.
However, despite the cultural attractions of Kathmandu, there are countless hiking activities and other ones you can indulge in to pass a day in Kathmandu. For your ease, we've mentioned a few of them down below:
Jamacho Gompa Hike
One of Kathmandu's more difficult hiking routes is the Jamacho Gompa Hike. In general, it takes between 4 and 6 hours to reach the viewpoint and stupa, depending on your speed and resting time. Hikers looking for a great workout or training for a trek will enjoy this hike since it is almost entirely uphill. From the city center, a 20-minute cab ride will take you to the hike.
Visiting the

Changu

Narayan Temple
Changu Narayan Temple is one of the oldest known temples in Nepal. It was built in 464 AD, but no one knows exactly when it was built. It is located on a hill overlooking the valley and is surrounded by a small village, which makes for a picturesque hike. A great way to spend an afternoon outside the city center is to visit one of the villages' many small museums or restaurants.
Tarabhire Hike
Over the weekends, locals in Kathmandu enjoy the Tarebhir Hike, a short and easy walk that follows a paved road and dirt road to a high vantage point that offers views of the Kathmandu Valley. There are locations to eat at the top, so I recommend going around lunchtime so you can sit and enjoy the view longer. It takes about an hour to get to the peak and about an hour to get back down. It begins and ends in Budhanilkantha, on the northeastern side of Kathmandu. So, enjoy your time during the Tarebhire Hike.
Visiting Chandragiri
In my mind, the Chandragiri Cable Car initially sounded like a tourist trap. However, I've been proven wrong, and the Chandragiri Cable Car is not a tourist trap. It's insanely beautiful, and the view from the top is one of the best ones you will find of the Himalayas from far away. For oblivious travelers, a cable car can be really mind-blowing. The ride up was a little scary for me because I'm so afraid of heights, but the ride was actually very smooth. If you don't want to ride the cable car, you can hike up and see the sights. At the top, you can find food stalls and a high-end restaurant.
Nagi Gompa Monastery Hike
It takes approximately 1 – 1.5 hours to reach Nagi Gompa Monastery from Shivapuri National Park on the northern side of Kathmandu and 45 minutes to return. While the path follows a dirt road, shortcuts through the woods bypass the road. It can be a great day's trip with friends or family.
Visiting Dhulikhel
There are two sections to Dhulikhel, one modern and full of hotels and the other more traditional. Dhulikhel is about a 2-hour drive from Kathmandu, depending on traffic. It's also worth checking out the old town, which boasts narrow alleyways and ancient temples, as well as a fantastic view if you don't mind climbing 1,000 steps.
Pharping
There are over a hundred Buddhist monasteries in Pharping, which is one of the lesser-known places near Kathmandu. Guru Rinpoche is believed to have founded Tibetan Buddhism at Pharping, and it makes a great day trip from the city. Pharping is famous for its day hike up to Champa Devi, about a four-hour hike if you take your time. You can also visit the famous caves where Guru Rinpoche meditated.
Visiting Kritipur
There's an interesting city just a half-hour drive outside of Kathmandu called Kirtipur. While most tourists visit Patan and Bhaktapur, few visitors even know Kirtipur exists. Yet, the city has a fascinating history. Kirtipur has a strategic location, which made it an important place in past wars. Today, it is a charming little city full of little alleys set on a hill. You can find plenty of temples and try traditional Newari food at some wonderful local restaurants.
Ranibari Community Forest
The Rinibari Community Forest lies near Lazimpat Road in the center of Kathmandu. It is one of the few remaining natural forests in the city, and a meandering trail goes through the center of the forest. A visit costs 10 rupees per person (less than $0.10 USD). It is a great place to relax, picnic, or read a book. It is also famous for its bird watching, with more than 100 types of birds to see.
Going to Panauti
Approximately 2-3 hours drive from Kathmandu, Panauti is a quaint ancient city that few tourists visit. The cool thing about Panauti is that in the old town, you can see how cities like Kathmandu used to be 15-20 years ago. Animals walk down the streets, a few cars are cruising around, temples are built around every corner, and locals play cards in the afternoons while chilis dry in the sun. It is a fantastic place to witness life unfold.
Strolling through Bhaktapur and Patan
Located in the heart of Nepal, Bhaktapur is a destination that has recently gained much popularity. It is often referred to as a "living museum" as well as the "cultural capital of Nepal." The town of Bhaktapur is one of my favorite places in Nepal and is only 45 minutes away from Kathmandu, making it an ideal day trip. You can explore the many temples, squares, and museums to learn about the Malla Dynasty, which emphasizes craftsmanship.
A city with both Buddhist and Hindu influences, Patan was one of the three kingdoms in Kathmandu Valley, along with Bhaktapur and Kathmandu. In today's Patan, you will find a lot of ex-pats who live there, so the city is a good place for western comforts. Some of the best restaurants in Patan are found here as well as museums and ancient temples within the popular Patan Durbar Square.
Shivapuri National Park
Shivapuri National Park is the ultimate green area in Kathmandu. You can hike, visit temples, eat at restaurants, and stay at a hotel during your stay. Since the park is higher than the valley, it is cooler on hot days since it is higher in altitude than the valley. There are several ways to enjoy the views of the city, from walking along the almost no-traffic road to hiking into the center of the park to observe wildlife.
Godawari Botanical Garden
When the gardens bloom in the spring, it's best to visit the Godawari Botanical Garden, which is just an hour and a half from Kathmandu. It makes a wonderful outing to escape the bustle of the city because it is so quiet and serene. A local favorite since 1962, the garden is a popular weekend destination for family picnics and romantic dates. It is not something I would recommend for those who will only be visiting Nepal briefly, but it is a great experience for those who plan to stay in Kathmandu for an extended period.
After you've enjoyed the thrilling and joyful experience, you can choose whether to visit other beautiful places in Nepal or head back home. No matter what you choose, we hope you have a fantastic time.
We can accommodate group tours for this trip; however, you may also opt for a private tour according to your liking. We can arrange private trips at any time of the year at any date of your choosing. Please let us know.