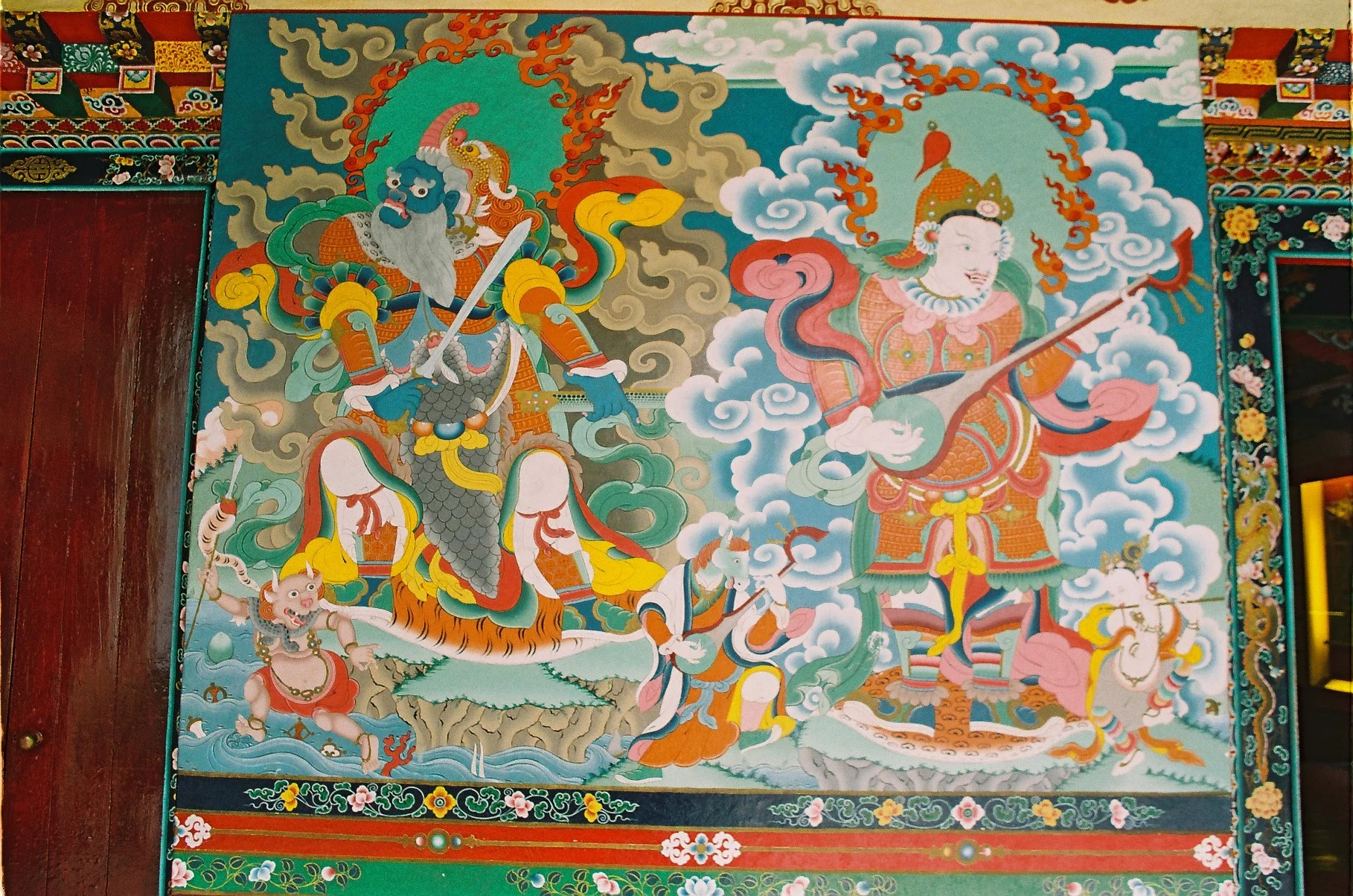 The art and culture of Nepal have been strongly influenced by the religious beliefs of the country. If you don't know much about this small nation, you will find that the art styles here are decorative, delicate, and very beautiful. Nepali art is strongly influenced by the culture of the people. The two really go together and are interwoven. As with any other country, the two most typical forms of art are paintings and sculptures. In the past, they were quite focused on the lifestyle and religion of the Nepali People. Nowadays, Nepal's art and culture have changed a bit over the centuries through western influences are slowly starting to affect some modern artists. Among these, the Thangka art style has gained a lot of cult popularity in Nepal as well as among foreign art lovers.
Thangka Painting is a traditional art form that originated in Tibet and has been practiced in Nepal for centuries. These paintings are intricate works of art that depict Buddhist deities, mandalas, and other spiritual subjects. They play a significant role in Buddhist rituals and are used for meditation purposes. In this section, we will provide an overview of Thangka Painting and its significance in Nepalese culture.
History in Nepal
Thangka or Thanka Painting was introduced to Nepal in the 12th century by Newari artists who were skilled in various forms of art. Nepal has been the birthplace of many prominent artists whose works are recognized and treasured across the globe. Although each form of painting is special, you will be able to relate more to a specific form of art painting such as Thangka paintings.
Nepal has many artistic regions. In fact, each region has something unique to offer in terms of arts and crafts. Despite its Buddhist and Newari roots, the art style has become an important aspect of Nepalese culture and evolved to incorporate unique Nepalese styles and techniques. Thangka Painting in Nepal was also influenced by the country's rich Buddhist heritage, which played a crucial role in shaping the art form.
Value and Significance of Thangka Painting in Nepal
The use of thangka paintings for both religious and nonreligious purposes is important to Nepalese Buddhism. At monasteries, these paintings are shown during significant festivals and ceremonies and used as teaching tools. As they are thought to have a relaxing effect on the mind, they are frequently used for meditation. Buddhist teachings are reflected in the complex details and symbolism found in thangka paintings.
Thangka Techniques 
The creation of thangka paintings is a time-consuming procedure that calls for particular supplies and methods. You need patience. Gold leaf, natural dyes, and mineral pigments are traditionally used in the creation of these paintings. Preparing the canvas, drawing the design, and adding layers of paint are some of the steps in the procedure. Thangka paintings come in a variety of styles, such as:
Appliqué style
Full-color style
Black and white
Thangka paintings are truly breathtaking and intricate works of art! Typically, they depict various Buddhist deities and other spiritual subjects and are incredibly detailed with vivid colors and ornate designs. They are usually painted on cotton or silk canvases using mineral pigments, gold leaf, and natural dyes. Thangka paintings are not all the same. They range in size, from small enough to fit in the palm of your hand to large enough to cover an entire wall. They are also rich in symbolism. And, due to the intricate details in such paintings, each painting can take weeks or even months to complete!
Learning Thangka Painting in Nepal
Nepal is one of the best places to learn Thangka Painting, as it has a long tradition of the art form. There are several schools and institutes in Nepal that offer Thangka Painting courses, ranging from short-term workshops to long-term diploma courses. The cost of courses varies depending on the duration and level of the course.
According to Traditional Art of Nepal, they provide Thangka painting classes at $7 per day which includes the material cost as well as the teacher's wage. But, you can find cheaper as well as more expensive options if you look around Bhaktapur's Changunarayan area or Patan durbar square. It is possible to learn Thangka Painting from individual artists, although this can be more challenging to arrange.
Famous Nepali Painters
Nepal is home to several famous Thangka Painters, including Karma Phuntsok, Lok Chitrakar, and Jagdish Tamrakar. These painters have contributed significantly to the field of such Painting and have created numerous works that reflect the unique Nepalese style. Their works have been exhibited in galleries and museums around the world and have received critical acclaim.
In modern times, Buddhist rituals heavily rely on thangka painting. However, the art form has also become a fundamental component of Nepalese culture. For those with an interest in art, culture, and spirituality, learning Thangka painting can be fulfilling. Given its rich legacy and abundance of excellent painters, Nepal is the ideal country in which to learn, buy or observe Thangka Painting. We hope this guide has given you useful insights into the development, meaning, and methods of these Nepalese style painting.