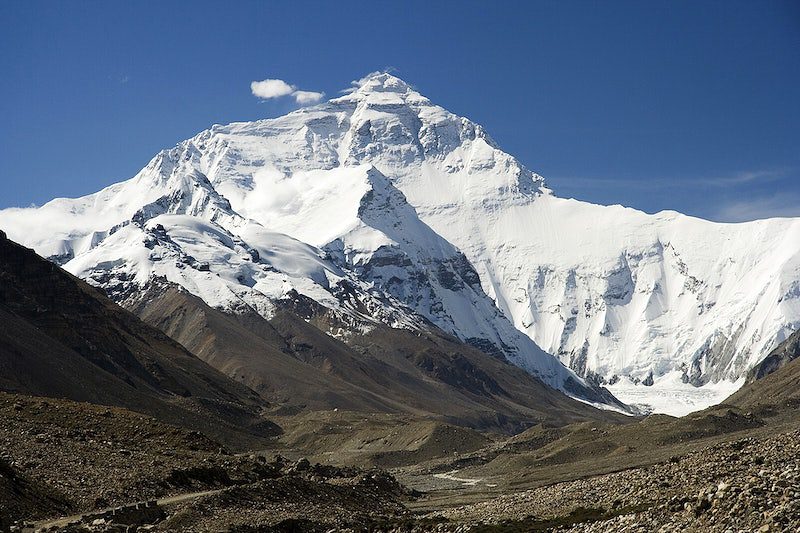 Getting a good idea of the cost and expenses for a trip is quite tricky before you embark on the journey. The traveler's wishes are the primary factor in determining the overall cost of any journey. So, it is impossible to provide fixed prices for even one of the most popular treks in Nepal, the Everest trek. The price of trekking in Nepal varies on the mountainous terrain, ranging from inexpensive expeditions to extremely expensive luxury climbs.
Generally, people spend $2500 to $5000 to enjoy a good EBC trekking experience. However, we'll do our best to explain everything about the cost of hiking to Everest Base Camp as well as the variables that affect the pricing that various tour companies across the world provide.
Mandatory Expenditures
Visa and  Permit Costs 
All nationals, except for Indians, require a visa to enter Nepal. You can purchase your visa upon arrival at Kathmandu's international airport. The cost of a visa for Nepal is as follows:
15-day multiple-entry visa for $30
30-day multiple-entry visa for $50
$125 for a multiple-entry, 90-day visa
Since the majority of Everest Base Camp trek itineraries are between 12 and 14 days, it is ideal to obtain a 1-month visa.
You will require two official permits for the Everest Base Camp trek: an admission permit for Sagarmatha National Park and one for Khumbu Pasang Lhamu Rural Municipality. The regional fee for Solukhumbu is about $20 per person and can be paid in Lukla or Monjo. The National Park admission permit may be obtained in Kathmandu or Monjo for about $30, including 13% VAT.
Before 2020, trekkers had to acquire a Trekkers' Information Management System (TIMS) card; however, this was swapped out for an admission permit for the Khumbu Pasang Lhamu Rural Municipality.
Insurance Cost
Travel insurance with up to 6000-meter trekking costs roughly $150 for a 30-day period. However, the price of insurance will differ depending on your age, location, and walking distance. Since we neither organize nor sell insurance, you must make your own arrangements for travel insurance in your home country. Listed below are a few recommended travel insurance companies.
The journey to Everest Base Camp is somewhat unexpected because of the altitude and extremely chilly weather, and anything may happen. If you require medical care, you might need to be flown to a renowned hospital and evacuated on a helicopter. As a result, you need to obtain a suitable insurance policy that covers all of your trip activities in Nepal.
Accommodation and Food
The cost of lodging varies from cheap teahouses to ones that are more pleasant and a few deluxe lodges. In a simple teahouse, a bed costs about $3 per night per person on average, whereas a room with two beds costs $5. As you move higher, the cost could increase till it reaches $10 at Gorak Shep. While Lobuche charges a set $7 per night for lodging.
The teahouse accommodations are extremely simple, often featuring two mattresses, a pillow, a blanket, and an adjoining bathroom (except at few locations). Every teahouse often has a sizable eating area where guests can gather to dine and unwind while on their walk. The dining area has a fireplace in the middle that is used to heat the space when people are having dinner.
Prices for food and water vary depending on where you are. The cost of food and water will increase as you travel higher. Surprisingly, the menus at teahouses along the trail are substantial, whereas the selection decreases as you ascend.
The lunch was rich in carbohydrates. The most common food you will find on the path is dal bhat, and prices range from $5 at the beginning of the journey to $12 at Gorak Shep. The same holds true for bottled water. A liter of bottled water can range in price from $1 to $4. The average cost of a day's worth of food and water is between $30 and $40.
Transport Cost
The EBC trek starts in Kathmandu. A round-trip ticket from Kathmandu to Lukla costs between $360 and $380 per person.
Traveling from Kathmandu to Lukla is the ideal way to begin the journey. A round-trip flight for staff members costs $100 per person. Only 10 kilos of luggage is allowed on these domestic flights. Your undesired items can be left behind at the hotel in Kathmandu.
Plan your journey as long in advance as you can to reduce expenditures. Make an effort to schedule them away from the hectic times. Take a bus or a car to Jiri and then hike to Lukla to save money instead of flying.
Cost of Equipment
It is crucial that you have all of the necessary gear with you before setting out on your trek across the Himalayan mountains. A beginner's equipment for hiking may cost between $200 and $500. And the price of our package does not cover this expense.
High-quality boots, a sleeping bag, thermal clothing, a trekking pole, warm gloves, and a water-resistant jacket are just a few of the most important pieces of gear. See the full list of stuff to pack for the Everest Base Camp trip to learn about the necessities you'll need for the journey.
Optional Expenditures
Guides and porters
While trekking in Nepal, having a guide and a porter is always quite beneficial. They are familiar with the teahouse owners and can communicate in the local tongue. With their wealth of knowledge about the trail, they'll help you make the most of your trekking experience. Porters will transport your gear so you can move freely, especially at high altitudes where trekking might be challenging.
While hiring a porter costs between $20 and $25 per day, hiring a guide often costs between $30 and $35 per day. One porter may handle up to 20 kilograms of luggage. The premium guides may charge upwards of $50 each day.