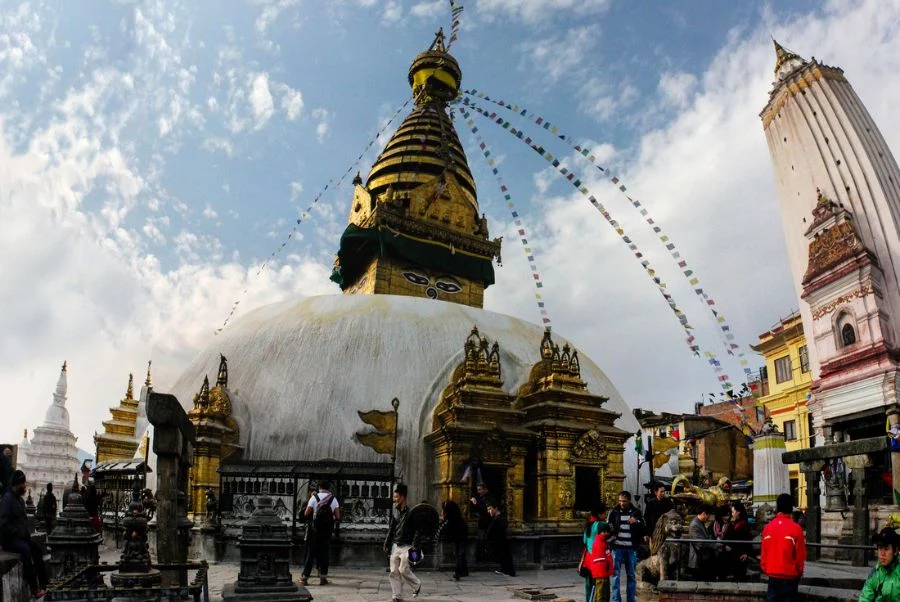 Come join us as we explore the magnificent Swayambhunath Stupa, popularly known as the Monkey Temple. Perched on a hill approximately three kilometers from Kathmandu, this sacred site holds great significance as one of the most important Buddhist landmarks in the city. Legend has it that it emerged over two thousand years ago when a nearby lake dried up.
Due to the difficulty in pronouncing its name, people affectionately began referring to it as the Monkey Temple. Since the 1970s, the Stupa has become a symbol of faith and peace, blending Hindu temples and deities with its Buddhist foundation. It is believed that the splendor of Kathmandu Valley originated from this very spot. Being the oldest of its kind in Nepal, it boasts a plethora of shrines and monasteries. While the steep stone steps leading to the shrine pose a challenge, there is also a motor road that takes you most of the way to the top, shortening the distance. Both Buddhists and Hindus visit the Swayambhunath Stupa throughout the year. Its name itself signifies self-existence.
This iconic structure, perched atop a hill in the Kathmandu Valley, serves as a testament to Nepal's religious heritage. Historical records indicate that it was already a popular pilgrimage destination by the 5th century. Today, it stands as one of the holiest Buddhist sites and is a must-see for tourists. Built by King Mandi, it had evolved into a significant Buddhist hub by the 13th century.
There are rumors of a lotus blooming at its center, radiating light across the valley. People from all corners of the country flocked to witness this illuminating spectacle, seeking enlightenment. Devotees can be found visiting the stupa at all times. It embodies Buddha's spiritual essence in a Zen-like manner and stands as a prime example of religious harmony in Nepal.
The presence of numerous monkeys, believed to have come from Tibet, earned it the nickname "Monkey Temple." From the hill's summit, you can enjoy a breathtaking view of the Kathmandu Valley, with monkeys frolicking in the trees and colorful prayer flags adorning the temple. Exercise caution as there is an abundance of monkeys and stray animals in the vicinity, which can be aggressive. Refrain from carrying food and keep a close eye on young children.
A visit to this sacred and significant site offers a blend of wildlife adventure and spiritual enlightenment. It is an awe-inspiring experience that allows you to immerse yourself in the beauty of nature. The air is filled with the aroma of incense and butter lamps, while the intricate designs of the stupa captivate the eyes. Observing local worshippers and pilgrims as they circumambulate the stupa, chanting mantras, offering prayers, and spinning the prayer wheels embedded in its base, adds to the mystical ambiance. Devotees make wishes for the well-being of all sentient beings as an expression of their veneration for Buddha, creating a profound atmosphere.
Some believe that visiting Swayambhunath is akin to encountering Buddha in person. They claim that it brings peace, liberation, and joy to individuals worldwide, helping them attain ultimate enlightenment. What are your thoughts on the Stupa? What aspect do you appreciate the most about this exquisite place? If you are considering a visit, we have all the information you need.
What are your impressions of the Stupa, and what do you find most captivating about this remarkable destination? If you plan to visit Swayambhunath, we've got you covered.
After you've enjoyed the thrilling and joyful experience, you can choose whether to visit other beautiful places in Nepal or head back home. No matter what you choose, we hope you have a fantastic time.
We can accommodate group tours for this trip; however, you may also opt for a private tour according to your liking. We can arrange private trips at any time of the year at any date of your choosing. Please let us know. If you have the opportunity to go to Nepal, you now know which places to see first. Enjoy your experience, and have a safe journey.