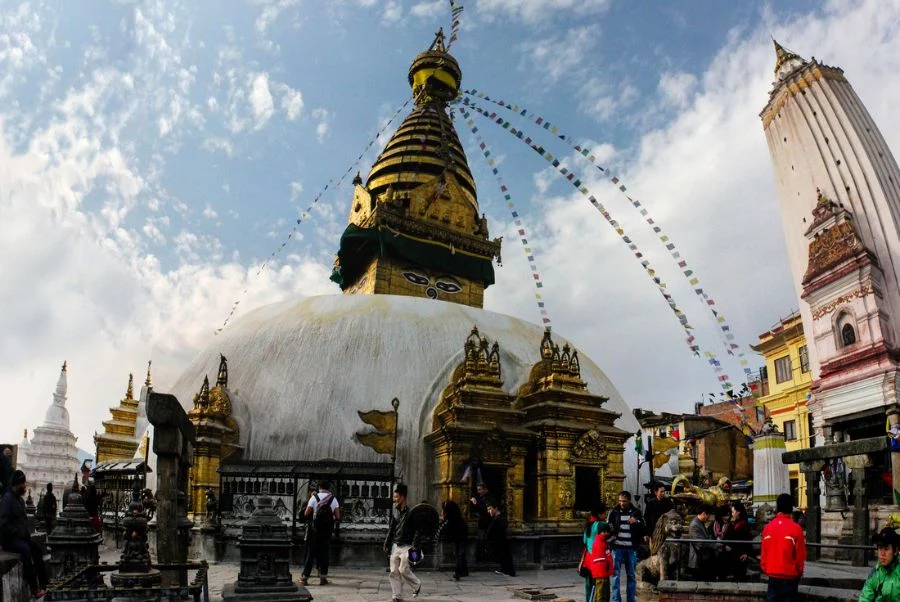 Let us take you to visit one of the most historical and sacred sites in Katmandu, the Swayambhunath stupa or the Monkey Temple. Resting on a hillock three kilometers west of Katmandu, Swayambhunath Stupa is one of the holiest Buddhist Stupas. It is set to have evolved spontaneously when the valley was created out of a primordial lake more than 2000 years ago.
Visitors, for whom the name was a tongue twister, have called it Monkey Temple. Since the 1970s. The Stupa has stood as a hallmark of faith and harmony for centuries, with Hindu temples and Deis incorporated into this Buddhist site. The glory of Kathmandu Valley is set to have started from this point. The Stupa is the oldest of its kind in Nepal and has numerous shrines and monies on its premises.
Exceedingly steep stone steps leading up to the shrine are quite challenging. However, there is also a motor road going up on most of the top from where it's just a short. Many Buddhists and Hindus like Visit Swayambhunath Stupa throughout the year. Swayambhu literally means self-existent. 
This icon of Nepal is an ancient religious structure on Hilltop in Katmandu Valley. Historical records were found engraved. Showed that it was already an important shrine for the pilgrims in the fifth century 80. It's now one of the most sacred Buddhist pilgrim sites and a must-see for tourists.
It was built by King Mandi, and by the 13th century, it had become an important center of Buddhism. Legends have it that Swen was born out of many flowers blooming in the middle. That once spread across the Katmandu Valley from this lake. The Lotus grew, and it radiated a dazzling light. People came from all over the land to see this light, which they believed bestowed them with enlightenment.
The largest image of Saam Buda in Nepal sits on a high pedestrian on the Western boundary of swam. Besides the ring, Behind the hilltop is a temple dedicated to Mandu or the goddess of learning statues and shrines of Buddhist, hunh, and Hindu fill the complex. The base of the hill is almost entirely surrounded by prayer.
Devotes can be seen speculating the stupa at all times. There are car rings of the punch Budha. Punch Budha is Budha in a meta sense of Zen. The shrine is the best place to observe religious harmony in Nepal. The sacred pilgrimage site is also home to hundreds of monkeys, considered all to be Tibet. Buddhists and Hindus, and so the name evolved as Monkey Temple. So Ibu overlooks most parts of the valley, giving visitors a panoramic view of the city.
From the hilltop, visitors can see a scenic view of the Kaman Valley, along with playful monkeys swinging from the trees and prayer flags hanging around the colorful temple. There are many monkeys and stray dogs here, and they can potentially be dangerous. Don't carry any food items with you; keep small children close to you as the monkeys are frightening and aggressive.
A visit to this sacred historical site is a wildlife excursion and spiritual space wrapped together. This spiritual space is an extraordinary experience that immerses your senses in nature. The air is the symphonic fragrance of sweet incense and butter lamps, the exquisite, intricate cow. Head on. Every space on a mystical ous atmosphere is further heightened by local devotes and pilgrims who make a ritual circumnavigation of the stupa, reciting mantras, making offerings, and spinning the prayer wheels set into its base, making wishes for the benefit of all beings religiously every morning and evening, representing Buddha's mind to the visitor.
It's said to be the same as meeting Buddha in person, a place offering peace, freedom and joy to the whole world and ultimately helping us to obtain perfect enlightenment.
What do you guys think about the Stupa, and what do you like the most about this beautiful place? If you want to visit Swayambhunath, we have got you covered.
Cost includes:
Arrival & Departure transport via private Car/Van/Bus.

Three meals per day throughout the Trip(Breakfast, Lunch & Dinner)

Accommodation during the trek.

Nights' accommodation in Kathmandu with B/B.

Guide and a porter with Insurance, food, and accommodations.

Sightseeing in Kathmandu valley with a car and tour guide

First Aid kit.

Trekking permit (Conservation fee).

TIMS card (Trekking information management system) is like a permit.

All needed government tax/vat.
Cost excludes:
International Airfare.

Your travel insurance.

Sightseeing entrance fees

Nepal Visa fee (US$ 50 for 30 days and US$ 30 for 15 days; you should get a visa open your arrival)

Any kind of drinks, items of personal expenses like hot shower, battery charge, telephone, missing meal, WIFI Porters, etc.

Tips for Guide and Porters
After you've enjoyed the thrilling and joyful experience, you can choose whether to visit other beautiful places in Nepal or head back home. No matter what you choose, we hope you have a fantastic time.
We can accommodate group tours for this trip; however, you may also opt for a private tour according to your liking. We can arrange private trips at any time of the year at any date of your choosing. Please let us know. If you have the opportunity to go to Nepal, you now know which places to see first. Enjoy your experience, and have a safe journey.