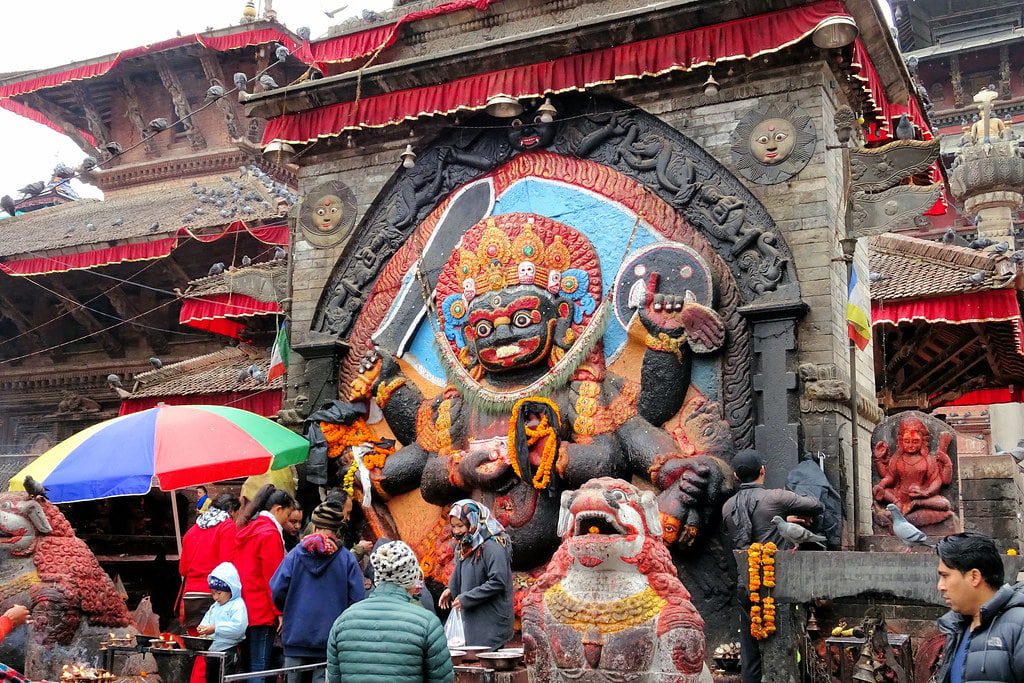 The cultural heritage of Nepal is rich and diverse. This multifaceted heritage encompasses the diversity of Nepal's ethnic, tribal, and social groups. In Nepal, the expression of cultural diversity is expressed through music, dance, art, craft, folklore, literature, philosophy, festivals, and celebrations, as well as foods and drinks.
Many Nepalese are patient and calm and are not overly dramatic people. Their tolerance has made it possible for many different faiths and ethnicities to coexist harmoniously. Much of Nepal's culture centers on tradition and religion.
The traditional and historical tour of the Kathmandu valley allows the travelers to take a multi-day tour through the ancient trails and villages of Kathmandu Valley, passing through small farming villages, lush green forests, and old temples, and learn about the traditional lifestyle and heritage of the locals. Additionally, you will be able to enjoy views of the Himalayas and stay in authentic local inns and farm stays each night.
Welcome

to

Kathmandu
With the exception of India, you require a Nepalese visa in order to get to Nepal. However, getting a visa is easy when you arrive in Kathmandu or from a Nepalese Embassy in your country. As you fly into Kathmandu, you'll see stunning views of the city, the Himalayas, and terraced fields below. Once you have cleared customs, a representative will meet you at the airport and guide you through Kathmandu's narrow, winding streets so you can check into your hotel.
Strolling

through

Patan
Depending on your arrival time the next afternoon, you'll walk through some of Patan's most hidden alleys and courtyards. We will walk through the ancient courtyards of the city of Newar, where artisans live, and you'll get to learn about the design and heritage of this historical city and gain a unique insight into their lives.
You can visit the many noteworthy temples in Patan Durbar Square, such as the Krishna Mandir, the Bhimsen Temple, the Vishwanath Temple, and Taleju Bhawani Temple, as well as the palace itself with its three main courtyards, Mul Chowk, Sundari Chowk, and Keshav Narayan Chowk. Furthermore, to the north of the main Patan Durbar Square lies the Rat Temple or Golden Temple.
It will also be possible for you to meet and learn about the highly skilled metalwork artisans who create the stunning brass statues on display and to discuss the ancient art of thangka painting with the artists or making pottery. 
Significant Area in Kathmandu
After breakfast at your hotel the next day, you'll meet with an English-speaking guide for a full-day tour of Kathmandu Valley, stopping at three of the most sacred cultural and historical sites of Boudhanath, Swayambhunath, and Patan Durbar Square. This tour allows you to see quite a bit of Kathmandu but doesn't overload you with too many sites. There is plenty of time to spend at each temple (your private tour will last just for you), although most people tend to spend only an hour or two at each of these sites.
After lunch at a recommended local restaurant, return to your Kathmandu hotel in the late afternoon to meet your trekking guide and discuss tomorrow's adventure.
Heading towards Panauti
On the next day, after visiting the aforementioned temples, we head towards Panauti. After breakfast, you'll walk ten minutes down the valley to Asapuri to see a small temple before continuing on to Panauti on a jeep road. Finally, you'll begin the climb up a walking trail which ascends out of the valley.
Upon finishing the climb, you will begin skirting the hills on mostly contouring trails with spectacular views. Afterward, you will descend the hill to Panauti village, where you can spend the afternoon exploring the village.
As the capital of the autonomous kingdom of Banepa in the 13th century, Panauti has retained its historical authenticity and heritage. It remains one of the area's most important historic villages. Typical of the tradition of the Newar people, the town is built of pink bricks and carved wood, and the village has a peaceful atmosphere – only in September is the rural tranquility disturbed by the 'Carriage Festival.'
The old part of the town lies at the union of two small rivers, with an important cluster of temples at the confluence. This spot is an ancient PowerPoint, with an invisible third stream also running parallel. An annual festival is held here every twelve years (in January), during which the third stream is believed to appear. During this time, cremations are held here, and a festival is held there. You can stay at a charming old village house in Panauti that has been beautifully restored — a perfect place to spend a night when visiting the ancient town.
Visit NamoBuddha
The next day, you will hike from Panauti through fields, orchards, and villages to Namobuddha. Upon arriving at Namobuddha, you will visit the stupa, where you can learn about Tamang Buddhist heritage and how it compares to Tibetan Buddhism. Siddhartha Gautama's selfless act of offering his body to a hungry tigress is the inspiration for this stupa, which is believed to have aided him on his path to enlightenment and, ultimately, Buddhahood. Then climb to the top of the hill and visit the newly built Tibetan Buddhist monastery perched on the hilltop above the stupa to learn about the significance of this place and its place in local Tamang culture.
In just a few minutes, you'll be at your mountain retreat, which offers great views of the Himalayas as well as an intriguing architectural style that makes it a wonderful place to relax and experience the feeling of being in the Himalayas. Arrive around mid-afternoon and simply relax or check out the sunset from a nearby lookout point.
Sightseeing in Bhaktapur
It is possible to enjoy gorgeous mountain views during breakfast before saying goodbye to Namobuddha and starting the final walk to Dhulikhel. This is a great way to end your hike as you walk through villages.
The tour starts at Dhulikhel with a look around the old town before you get in the car and drive back to Kathmandu. Along the way, you will stop in Bhaktapur to look at the old city, people, the durbar square, and temples and grab lunch. The Bhaktapur Durbar Square is one of the UNESCO World Heritage Sites and is where the Bhaktapur royal family once lived.
Khwopa is also known as the ancient city of Newa, and it is a complex containing four different squares. Taumadhi Square, Durbar Square, Pottery Square, and Dattatreya Square make up the collection. Bhaktapur is home to the Bhaktapur royal palaces as well as several temples and other ancient structures dating from the 17th and 18th centuries.
In the square, there are many displays of traditional Newari architecture. All the buildings are works of art in themselves; visitors will surely enjoy exploring them. It was severely affected by the 1934 and 2015 earthquakes in Nepal. We will drive back to Kathmandu from Bhaktapur and check in to your hotel.
Concluding the Tour
Whether you visit other popular cities of Nepal, such as Pokhara, Chitwan, or Ilam after the Kathmandu tour or head back to your home country, it is time to bode farewell to Kathmandu. You can spend the last few minutes of your trip in Kathmandu with breakfast at a café, a city stroll, and/or souvenir shopping. A representative will meet you at your hotel and take you to the airport. Please be at the airport two hours before departure.
After you've enjoyed the thrilling and joyful heritage tour, you can choose whether to visit other beautiful places in Nepal or head back home. No matter what you choose, we hope you have a fantastic time.
We can accommodate group tours for this trip; however, you may also opt for a private tour according to your liking. We can arrange private trips at any time of the year at any date of your choosing. Please let us know what your preferred travel dates are so that we can accommodate you.