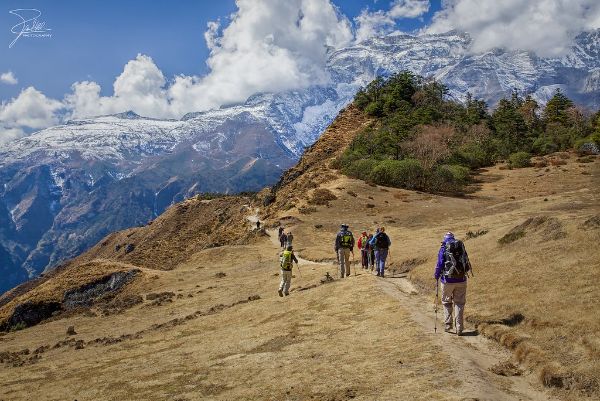 The great Himalayan range, the rich cultures of the foothills area, and the vibrant travel scene in Kathmandu and Pokhara make Nepal a bucket list for many reasons. However, if you are heading to Nepal, you most likely dream about trekking through one of the world's highest mountain ranges.
There are too many trekking trails in Nepal to mention, but Everest Base Camp and Annapurna Circuit are two of the best-known. Many of these trails will take you right into the heart of the mountains, and while staying in local tea houses, you will get to experience the wonderful hospitality of the people of Nepal.
Packing for Nepal can be a challenging endeavor. You need to make sure to travel light and bring enough clothing for various seasons and weather conditions, as the lowlands can be tropical while the mountains can be below freezing. If you're interested in planning a trekking trek in Nepal, it might be difficult to know what to expect in the gorgeous trekking heaven of Nepal. Having been to the country three times and trekking many of the magnificent Himalayan trails, here are some things that I consider essential.
The Essentials
Trekking permits will be checked several times along the trail, and the insurance details are essential in the event of an emergency. One of the most important things to remember is to bring your passport with you. Furthermore, be sure to keep them safe in a waterproof pouch during the trip.
A warm jacket: The right jacket is yet another essential piece of gear. The majority of trekkers use down jackets, which are very warm and can also be packed into a small pack when not in use. Down jackets can be purchased in Nepal or rented at very reasonable prices if you don't want to spend a ton.
 Hiking Shoes and Trekking Poles: It goes without saying that if you are going out to Nepal to hike, you'll need a good pair of hiking shoes. I recommend testing your boots a couple of times before starting your trek so you won't suffer from painful blisters! Getting a pair of ankle boots that are waterproof will also help to keep your feet from getting soggy in the event that you trek through snow or heavy rain. A hiking pole to help you on the trail can be equally helpful.
A Sleeping Bag: During the treks, teahouses are common and provide cozy and comfortable accommodation, but the blankets they supply are unwashed between seasons and can be quite grubby. Plus, they don't provide sufficient warmth at higher altitudes, so it's advisable to pack a sleeping bag. A bag rated for -30 degrees Celsius or 0-degree Celsius, depending on the altitude and season, should be adequate. In early March, we hiked the Kanchenjunga Circuit, and my -15 degree bag wasn't totally warm enough for -25 degree temperatures at the high altitudes. Make sure you pack warm clothes in case the weather turns chilly.
Toilet Paper: People in Nepal (and much of Asia) wash their hands with water rather than using toilet paper. You will occasionally find spray guns, but more often, you will find buckets of water where you can wash your hands after using the toilet. Even if you're unfamiliar with the method, these are actually very hygienic, not to mention that you will not be burdening locals with toilet paper. In high altitudes, however, there is often no running water, or the water might freeze overnight – so bringing extra toilet paper will come in handy. You can always buy more on the trail if you run out of paper.
Water Bottle (Reusable): I believe it is necessary for every trekker who cares about the environment, as we should all do, to bring along a reusable water bottle. Although technically, this is not essential, as you can buy bottled water for the duration of the trek, it sure can be useful. Nepal's trekking trails have a huge problem with plastic pollution, and all trekkers should seek to reduce this. Reusable water bottles can be used to carry water, and you can refill them at stations along the main trek routes.
Skin Protection: When trekking in Nepal, the sun is strong because of the altitude and the clear mountain air. You can even get burned if it's cold and you're hiking through snow. Bring a small bottle of sunscreen to protect your skin. Wearing sunglasses to prevent glare from the snow will help you avoid sunstroke, as will wearing a sun hat to prevent heat stroke.
For Convenience
Camera: It's stunning to hike in Nepal. Whether you choose Everest, Annapurna, Langtang, or even shorter trails in the foothills, you won't be able to look away from the awesome scenery. You will want to take a camera along (so you can convince your friends and family back home to book a trek to Nepal, too) to capture all the amazing sights. Whether you have a DSLR or just a compact camera, it is important to pack the lightest gear. Don't bring a tripod or extra heavy lenses unless you plan to carry the load yourself. You'll probably want a wide-angle lens anyway. Also, be sure not to forget extra batteries and memory cards!
Moisturizers and Lip Balm: Having a tube of moisturizer and some protection for both your lips and your skin will really come in handy while trekking through the cold mountains.
Head Light: Usually, there might not be power in the bedrooms and bathrooms of the teahouse where you stay or camp, so a headlamp is essential in such a situation. It's important to have a head torch for those days, especially since you might be trekking in the dark as it can get dark during some treks in Nepal (for example, on the ABC Trek or on the Thorong La Pass on the Annapurna Circuit Trek) and you will need one to see the path.
Money: On most of the trails, there are no ATMs, so you must carry all the cash you need. If you are on a longer trek, you are likely to carry hundreds of dollars in Nepalese rupees. You will need to store it securely in your luggage. I recommend that you divide your cash up, carrying some on your person and some in your day bag. Another good idea is to divide it between your backpack and your day bag. Consider hiding some of them in a pair of socks and some in your wash bag to use later. 
Playing Cards, Books, or Diaries: It is virtually impossible to find computers, TVs, or Wi-Fi on the trail (or at least the Wi-Fi is not quite good enough for surfing). What do you do in the evening? People play cards both with other trekkers and with porters. Ask your guides and porters to teach you some local games; there are some really fun Nepali games that can keep you occupied for hours in front of the fire before bed. You could also read a book. In addition to reading, you can spend your evenings keeping a travel journal. If you enjoy writing, this is a great way to remember the feelings and thoughts of your individual days' of hiking.
You'll also need other things to fill your bag with. For trekking clothes, you want to bring light and quick-to-dry clothes. Layering is also beneficial. For the evenings, it is helpful to have slippers or light shoes, so you don't have to walk around in your hiking boots. For colder weather, don't forget to bring along a pair of warm gloves and a warm hat. If you travel with us, our packages include all these items along with the following:
After you've enjoyed the thrilling and joyful cycling experience, you can choose whether to visit other beautiful places in Nepal or head back home. No matter what you choose, we hope you have a fantastic time.
We can accommodate group tours for this trip; however, you may also opt for a private tour according to your liking. We can arrange private trips at any time of the year at any date of your choosing. Please let us know what your preferred travel dates are so that we can accommodate you.
Finally, You can fill your pack with snacks for cheap in Kathmandu and Pokhara. Although food is not very expensive on Nepal's trekking trails, snacks like chocolate bars become more expensive as you ascend. All of these essentials and trekking clothing can be purchased in Kathmandu and Pokhara for very reasonable prices. Several companies in Nepal accept clothing donations which are used to clothe the guides and porters after you buy new gear for the trail. If you do not want to take your gear back home with you following the trek, you can donate it to the trekking companies.