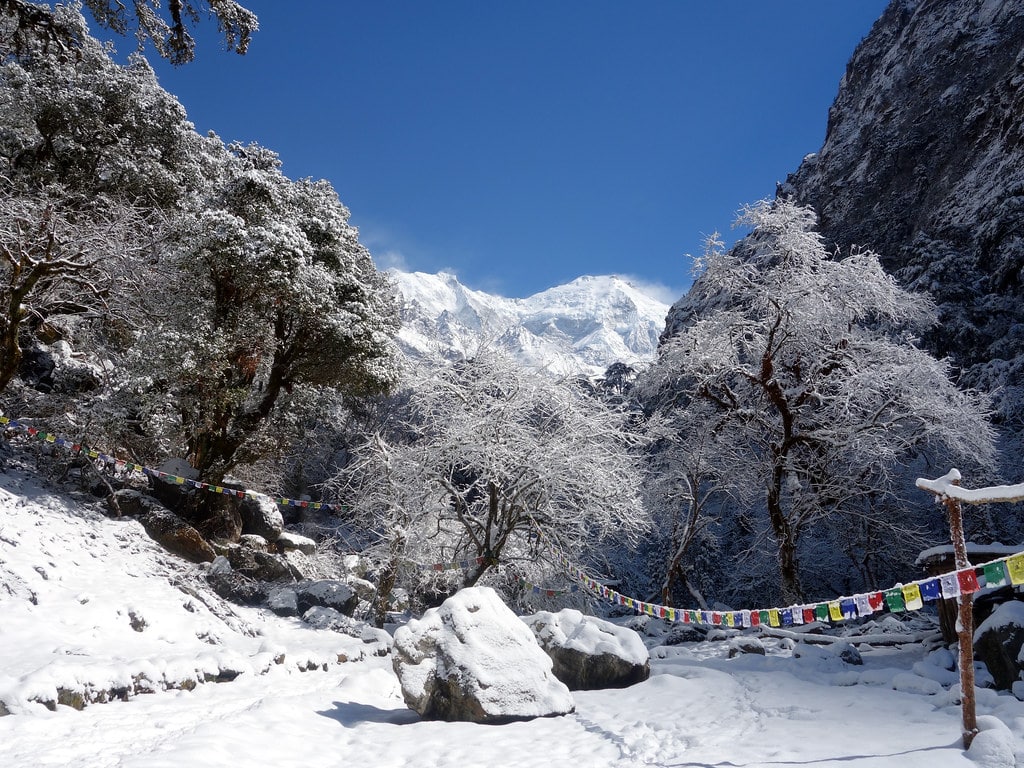 Nepal has a wide variety of natural beauty ranging from its mighty mountains on the north side to its greenery and plains on the south. These locations are equally enchanting, whether it's winter or summer. And in addition to the pristine natural beauty, the country also offers an array of adventure excursions and a stunning religious icon.
Nepal is attracting many tourists for different reasons within its borders. The mountains draw some and want to climb or trek in the Himalayas, while others are fascinated by the country's culture and famous city life, yet others are searching for some spiritual experience.
It is very hard to predict the winter weather in Nepal. During the winter months, temperatures can vary and even drop to -°C. However, the beautiful sunshine and scenic views more than compensate for these chilly conditions. Even so, it can be quite chilly during the night in Nepal. Nevertheless, you shouldn't let this stop you from visiting the country. You should have no issues as long as you have access to plenty of thermal baths.
Winter Temperature in Nepal
The average temperature in the capital city hovers around 11 °C, with minimum temperatures averaging -1 °C and highest temperatures sometimes reaching over 23 °C. If you visit higher altitudes during the winter, you can expect significant temperature drops at the same rate. For instance, temperatures in Jumla can fall below freezing between November and February.
During the winter season in Nepal, there is likely to be a significant temperature difference depending on your location. Be sure you research thoroughly before your winter trip to Nepal to determine what temperatures to expect from each location.
Nepal winter travel guide: places to see
Nepal is a unique place that should be visited once in a lifetime. No matter your reason for coming to Nepal, we recommend that if you come in the winter season, the following places will make you realize that you are in for an unforgettable adventure.
During the winter months in Nepal, there are a number of breathtaking places to visit, and narrowing it down to just one or two will be difficult.
Kalinchowk Dolakha
In addition to its impressive views of Nepal's mountain ranges, Kalinchowk offers the chance to frolic in the snow and dine on traditional Nepalese cuisine in one of the town's many restaurants. Kalinchowk has located roughly 132 km from Kathmandu.
Kuri Village is the closest point to Kalinchowk. Tourists must cycle for one hour to get to the end of the village. Buses to Charikot from Kathmandu are easily accessible. It would be best if you had private vehicles, including jeeps, to reach Kuri Village from Charikot. 
During the trip, trails in the forest and traces of snow add to the fun. On top of that, you get to visit the holy Temple of Kalinchowk Bhagawati at the top of Kalinchowk Hill. After visiting the Temple, it is believed what you wish for will come true.
In addition to trekking, hiking, camping, and skiing there, Kalinchowk is the ideal place to observe the sunset from the summit of the hill.
Kalinchowk is generally a snowy place. During the winter months, the temperature in the region can drop down to 1℃. You can enjoy the snow during the day but need a warm bed at night. However, the same temperature can rise up to 29℃ in the warmer summer months.
Mustang and Muktinath
As one of the oldest Hindu temples near the doorsteps of Tibet, Muktinath Temple offers worshippers a serene place to practice their faith, even though it is a remote village. The Temple is a beautiful winter destination featuring breathtaking mountain range views. In the past, Mustang belonged to Tibet.
Today, it is a part of Nepal. The Upper Mustang is a bustling place where you can experience many events and unique lifestyles. A special permit is required to enter the Upper Mustang, but you might want to stick to Lower Mustang during winter because of the extreme weather conditions.
If you want to travel from Kathmandu to Mustang, via Pokhara would be the best way. However, you can fly or drive to Pokhara and then fly to Mustang. Flights, buses, and cars are all available from Kathmandu to Pokhara. You can reach Jomsom via Pokhara by flight or jeep.
In addition, many trekkers also hike from Pokhara to Jomsom without difficulty. You won't need more than 20 minutes by air to get to Jomsom. A Mustang adventure during the winter includes hiking, fossil hunting, Jeep rides through the mountains, and visiting orchards.
Tilicho Lake
A holy expedition, Tilicho Lake is located at a height of 4 949 meters. Located at 11,200 in terms of feet above sea level, Tilicho Lake is Nepal's highest lake. As we ascend to a higher altitude, you cannot miss the breathtaking view of Lake Tilicho. Tilicho Lake can be reached via multiple trekking routes; however, it remains one of the best trekking options in the Annapurna region.
It offers scenic views of much of the east side of the world-renowned Annapurna circuit, which is known for its world-class natural beauty, cultural traditions, spectacular waterfalls, healthy streams of water, and diverse flora and fauna.
When we think of the best place to visit during winter, Tilicho must be included as one of the best places. You can find people of different ethnicities living in harmony there. There are several winter activities to enjoy while in Tilicho, including Trekking, Hiking, and Patronymic views of beautiful lakes.
Chisapani
Most trekking destinations require at least one week's preparation before you can head out. It's not the weather or the time of year that keeps you from discovering new places.
A day trip to Chisapani, which is not far from Kathmandu Valley, could be the perfect option for you if you are planning a day trip from Kathmandu. Similar to the Annapurna treks, the Chisapani trek can be considered a condensed version.
Chisapani is located at a height of 2165 meters above sea level. From Sundarijal, you can ascend to the small village of Mulkharka in the morning and begin your trek. You can view a spectacular light show on the Himalayan façade at night after you walk through a dappled forest. It is also possible to reach the spot via private transportation. Chisapani is a great place to go in the winter to hike, trek, camp, or enjoy a picnic or BBQ.
Langtang National Park
In the Langtang District, where Langtang National Park is located, you can hike over impressive passes, admire ancient monasteries, and see dramatic mountain scenery with blossoming rhododendron forests during winter and spring. The snow makes the place even more picturesque and eye-catching during winter.
As a result of its proximity to Kathmandu, this region is less developed and less crowded than other trekking areas in Nepal.
Established in 1976 AD, Langtang National Park consists of over 1,500 square kilometers. The entire route to Langtang National Park is lined with villages with guesthouses and lodging that you can stay at during your trek. It is convenient to travel to without having to take a flight from Kathmandu, as it is easily accessible by van or any public vehicle in about seven to eight hours.
Clear days will also allow you to see the peak of Langtang Lirung (7,245 meters). You can visit the Internet for more information regarding several days itinerary if you wish to visit or even find the Itinerary for Langtang National Park here on Pokhara Info.
After you've enjoyed the thrilling and joyful cycling experience, you can choose whether to visit other beautiful places in Nepal or head back home. No matter what you choose, we hope you have a fantastic time.
We can accommodate group tours for this trip; however, you may also opt for a private tour according to your liking. We can arrange private trips at any time of the year at any date of your choosing. Please let us know what your preferred travel dates are so that we can accommodate you.