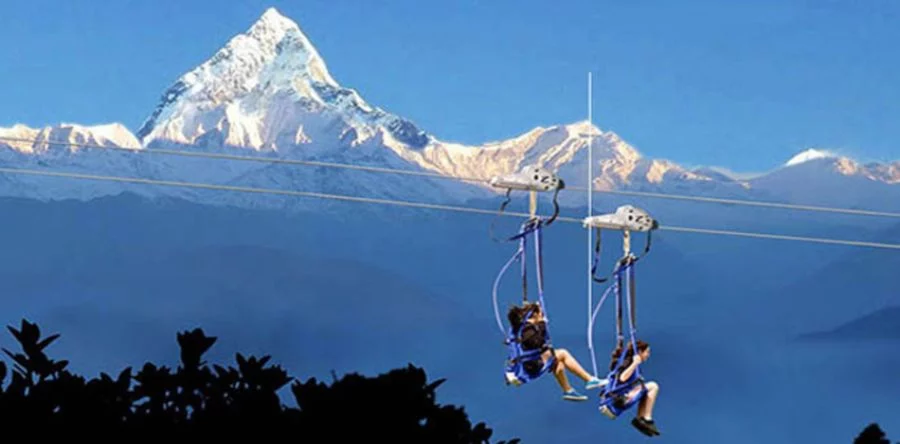 Zip flying in Nepal is an exciting adventure activity that allows individuals to experience the thrill of flying through the air while enjoying breathtaking views of the surrounding landscapes. This activity is often referred to as "flying fox" or "zip lining," and it involves gliding along a steel wire attached to poles or towers, using a harness and pulleys.
Head to Nepal if you're looking for a rush! Zip-flying is one of the most popular activities here, and you can find some amazing opportunities in Kathmandu and around the countryside. Get ready for a thrilling time! Some of the famous Zip flying in Nepal are as follows
Sarangkot
Sarangkot Hill, situated in the beautiful Pokhara Valley, is a popular zip-flying spot in Nepal. It's renowned for its stunning views of the Annapurna mountain range and the picturesque Phewa Lake, making it an amazing adventure opportunity.
You can enjoy a 1.5 km long zip-fly experience at Sarangkot Hill. It'll take around 20 minutes to get through the whole thing. You'll get a harness and instructions from experienced guides when you get to the top of the hill. Then you'll be taken to the start of the route and you'll be flung off the platform and into the air!
You'll get to zip around on a steel wire with awesome views of the Annapurna mountains and Phewa Lake. The route is designed to be exciting yet still safe, with multiple stops in between so you can take a breather.
Zipping around in Sarangkot Hill is an awesome activity for everyone – no matter if you're young or old, a beginner or an expert. It's a great way to get an adrenaline rush and feel the thrill of flying through the sky!
If you're in Nepal, don't miss out on the chance to go zip flying in Sarangkot Hill – it's an incredible experience! You'll get to see the Himalayas from a totally unique perspective and have a blast doing it!
Chitwan National Park
Zip flying at Chitwan National Park in Nepal is pretty popular. It's got some cool wildlife like Bengal tigers and one-horned rhinos, and the zip line is 500 meters long with awesome views of the national park's forests and grasslands.
You'll receive a thorough explanation of safety procedures and equipment usage before you go zip-flying. You don't need any special experience, and it doesn't matter how old you are.
You'll get to check out all kinds of animals as you zip-line through Chitwan National Park – from birds and deer to tigers and rhinos! It's a cool way to get up close with the park's plants and animals.
If you're looking for a fun adventure, Chitwan National Park has it all! From zip flying to elephant safaris, jungle walks, and canoeing, there's something for everyone to enjoy. Get ready to have an experience you won't forget!
If you're an adrenaline junkie visiting Nepal, zip flying in Chitwan National Park is a must. You'll get spectacular views of the park's lush forests and grasslands, plus the thrill of soaring through the air – it's an experience you won't soon forget.
Langtang National Park
In the heart of the Himalayas in Nepal, Langtang National Park is a breathtaking location. Amazing fauna, including as red pandas and Himalayan black bears, can be found there. The Langtang Lirung Glacier and the mountains that surround it may also be seen beautifully from there.
Zip lining is among the most thrilling ways to take in Langtang National Park's magnificence. Using a harness and pulleys, this pastime entails gliding over a steel wire that is attached to poles or towers. It is frequently referred to as "zip-lining" or "flying fox."
At Langtang National Park, you can zip fly for about a kilometer in around 15 minutes. This route takes you through the lush forests of the park and over the Langtang Lirung Glacier, giving you stunning views of the area.
You gotta get yourself to Langtang National Park for an awesome zip flying experience! If you're a beginner or already an expert, the staff will give you all the instruction and safety tips you need before you take off. Don't miss out on this one!
Zip flying in Langtang National Park is an awesome experience that brings together the excitement of soaring through the air and the gorgeous Himalayan mountain range. It's a must for any thrill-seeking traveler in Nepal.
Gokyo Lakes
f you're looking for an adventure, the Gokyo Lakes in Nepal's Sagarmatha National Park are a must-visit. Their crystal-clear waters and breathtaking mountain views are just the beginning – you can also zip fly and take in the scenery from a totally new angle!
Zipping through the Gokyo Lakes is great for people of all ages and skill levels. It's perfect for beginners, but there's still enough of a thrill for seasoned zip flyers.
Zip flying at the Gokyo Lakes is not only a thrilling experience but also a way to encourage eco-tourism in the area. It takes you through a beautiful natural habitat and raises awareness of the significance of protecting the environment.
Zip flying at the Gokyo Lakes is an absolute must for anyone visiting Nepal – it's an amazing and unforgettable experience! It doesn't matter if you're a pro or a beginner, you'll have a blast.
Nagarkot
Just a short drive away from Kathmandu, Nagarkot is super popular for its incredible views of the Himalayas. Tourists and locals love going there to take in the scenery, plus you can get an amazing experience zip-flying above it all.
The zip flying route in Nagarkot is about 500 meters long and takes about 10 minutes to get through. It's a pretty amazing experience, starting at the top of a hill and going all the way down to the bottom – you get some amazing views of the Himalayas and the surrounding forests and terraced fields on the way.
Cruising around Nagarkot is a breeze! It's a short drive from Kathmandu, making it the perfect destination for a day trip if you're already in the city. It's great for all ages and abilities, so it's awesome for families or groups of friends.
Zip flying in Nagarkot is a must-do if you're visiting the area. You'll get a rush from soaring through the air, and the views of the Himalayas are absolutely incredible – it's an experience you won't want to miss!
If you really wish to visit the locations mentioned above and experience Zip flying, we have got you covered.
After you've enjoyed the thrilling and joyful experience, you can choose whether to visit other beautiful places in Nepal or head back home. No matter what you choose, we hope you have a fantastic time.
We can accommodate group tours for this trip; however, you may also opt for a private tour according to your liking. We can arrange private trips at any time of the year at any date of your choosing. Please let us know what your preferred travel dates are so that we can accommodate you.
Finally, we will transfer you to Pokhara's domestic airport after breakfast for your flight back home to Kathmandu. Furthermore, if you are flying back home from Kathmandu today, please schedule your flight to depart no earlier than 11 am to ensure you'll have enough time to catch your flight.