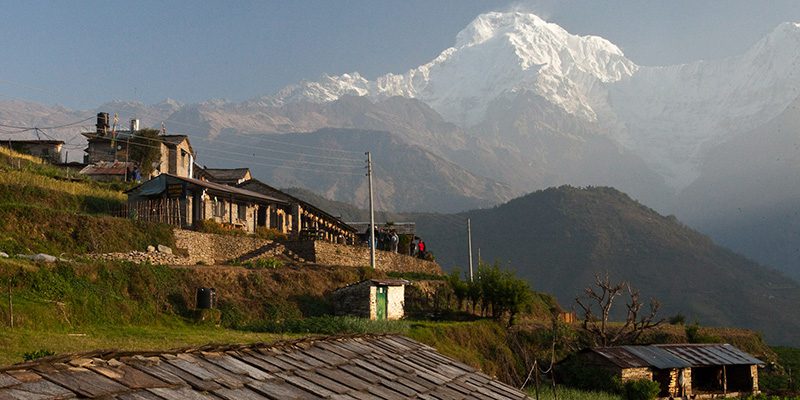 Adventure seekers and hikers may find Nepal to be a treasure trove of lush green forests, beautiful rivers, and breathtaking mountain circuits. This beautiful nation of hills and mountains makes for an excellent paradise for travelers, adventurers, and explorers looking for great trekking or sightseeing experience.
Therefore, a large fraction of the thousands of people are faced with choosing which trekking destination to explore in Nepal every year. Although it sounds strange, choosing your favorite Trek may actually be easier done in your home country than in the bustling trekking and tourist areas in Nepal, where dozens of trekking agencies are bound to give you different opinions about what Trek is the perfect one for you. And, if you were in such a problem, we've got your back. 
Would you like to explore beautiful places, experience the homestay, and take the less traveled route? At the foot of Lamjung Himal (6932m) in north-central Nepal, Ghale gaun Homestay Trek offers the best trekking experiences. It is one of the best trekking areas in Nepal.
About Ghale Gaun
Visitors who want a taste of Nepal's culture can stay at Homestays Ghale Gaun Village. Located near the foot of the Lamjung Himal in north-central Nepal, Ghale Gaun is a pretty village dominated by Gurung communities. There is a very famous trekking route and a very scenic beautiful village called Ghale Gaun, where around two hundred local houses are situated.
There is a museum that shares the history and tradition of the people and the Village. From the British Army or currently in the British Army, many former Gurkha soldiers are known as Ghale Gaun members.
This Trek is not only about discovering the local lives of Nepalese people but also provides breathtaking views of mountains like Annapurna I, Himalchuli, Mahhapuchhare, Annapurna IV, Annapurna II, Buddha Himal, and more. Villagers greeted the tourists with warm greetings, wearing their traditional costumes.
Attractions
The main attractions of the Ghale Gaun Village Homestay Tour include local food, handicrafts, the Gurung Museum, Gurung Culture, and scenic mountain views.
As part of the 'Ghale Village Homestay' program, tourists are given an opportunity to live in villages such as Nandighar, Pasagaun, and Ghalegaun and get a glimpse of village life in Nepal. As well as observing and participating in their day-to-day activities, we visit another village near Ghale Gaun, Ghanpokhara, which is staying at home.
'You will walk an hour to reach Ghale Gaun. Tourists have historically trekked to the Annapurna region. However, the stormy season streets around Ghalegaun are not ideal. Tourists are, however, encouraged to explore contemporary provincial life every season.
Ghalegaun Trek Itinerary
We here at Pokhara Info strive to make your Nepal experience the best possible. We have a great package for the GhaleGaun trekking trip as well. The Trek lasts for six to eight days depending upon your wish. However, our general itinerary is illustrated below.
After completing the Trek, rest as you cherish the beautiful moments you encountered during the Trek while on your trip back home. It certainly deserves its reputation for its rich culture, amazing views, and the hospitality of the locals that can make a trek to the Ghalegaun an unforgettable experience.
Note
The itinerary mentioned above is the general plan arranged by Pokhara Info. The above itinerary is only a guideline; it might change due to availability of lodging and campsites, fluctuating weather conditions, unforeseen political, trail, and environmental, or any other factors beyond our control. After consulting with the group, your trek leader will decide the best way to reach a final decision if this occurs.
If the itinerary is unsuitable for you, please let us know, and we will customize it. We will be able to make changes to the itinerary if clients want to do so.
Finally, When you are ready to start adventures in Nepal, it is time to begin thinking about what to pack. If you are ready to book but aren't sure when is the best time to trek or what to stay in, Pokhara Info has got you covered. You can figure out these queries through our site. We can also be found on Facebook, Instagram, and other social media sites. I hope you have a good time in Nepal and thank you for visiting!