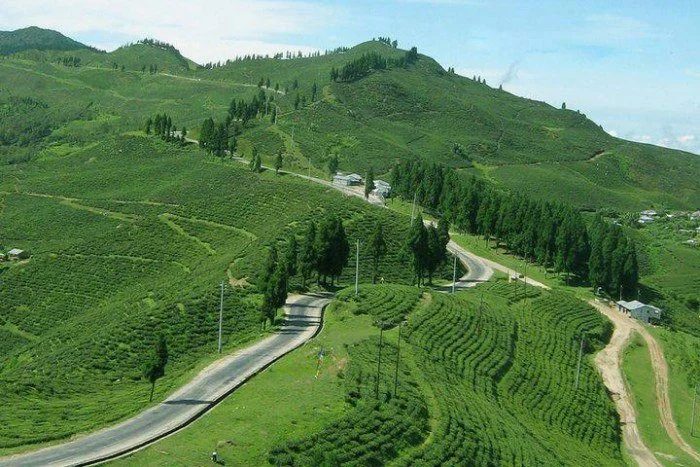 Ilam, one of Nepal's popular hill stations, is geographically located on the country's eastern side. It occupies an area of 1,703 square kilometers. It is internationally bound by Darjeeling, India, to the east, Dhankuta, India, to the west,, and Panchthar, India, to the north. The altitude of Ilam ranges from 140 m to 3,636 m.
The city of Ilam is one of the most popular attractions for tourists who travel to eastern Nepal. Located between the Himalayan ranges, it offers a variety of places for tourists to enjoy in the summer months. Imagine walking until you reach a dense forest filled with beautiful trees and other attractive flora. As you walk through the forest, listen to the sound of a rushing river crashing against rocks. While you envision all of this, inhale the fragrance of a warm cup of tea. In order for the best experience in Ilam, the following are the ten best places to visit in Ilam for out-of-towners.
Ilam Tea Garden
Historically, Ilam is an entire garden with tea roots dating back to Jung Bahadur Rana's tenure as Nepal's Prime Minister. The Chinese Government provided tea saplings to Rana, and that's how tea came to Ilam. Ilam Tea factory was established in 1868 and was active until 2010. Currently, Ilam has tea estates that are located between 4,000 and 5,000 feet above sea level.
Kanyam and Phikkal Bazaar
Kanyam in Ilam is accessible to inbound and outbound visitors alike for photo opportunities, sightseeing, and picnics. Fikkal and Kanyam in Ilam were planted with tea shrubs over 140 years ago. The weekly Fikkal haat is a place where local farmers and vendors can sell their wares every Thursday. It is one of Ilam's commercial hubs and the first stop for visitors from Darjeeling, India.
Antu Danda
Antu Danda is a beautiful hilly region within the town that provides a perfect vantage point for viewing sunrise and sunset as well as the Himalayan Mountains. It provides the perfect viewing point for panoramic views of the Terai flatlands, tea gardens, thick forests of pine, and terraced hills of cash crops. On a bright, lovely, sunny day, the hill also provides views of Indian hill cities. These cities include Mirirk, Kurseong, and Darjeeling town.
Mai Pokhari
Ilam has more to offer than just tea estates and plantations. The quiet hill town is home to the pristine Mai Pokhari Lake, surrounded by thick juniper, pine, fir, and birch forests. In addition to the flora, the forest contains rare birds and insects, including herbs, orchids, rhododendrons, and jackals. Furthermore, you can see some unusual animal species if you are fortunate enough.  These include red pandas, musk deer (Kasturi), porcupines, leopards, and more. It is the best time to visit the lake between October and November when the lake is the site of an annual fair in honor of Goddess Bhagwati, whose abode is the lake.
Ilam Bazaar is 18 km away from Mai Pokhari, which can be reached in 30 minutes with a private taxi.
Sandakpur
Sandakpur lies along the Nepal-India border at an elevation of 3,665 meters. In India, it is located in the Darjeeling region in West Bengal. A private cab can take tourists from Ilam to Maimajhuwa Khorsanitar. We will ultimately arrive at Sandakphu after a 5-hour trek.
Our visit to Sandakpur allows us to enjoy breathtaking views of the world's highest mountains. These are Mt. Everest (8,848 m), Mt. Kangchenjunga (8,586 m), Mt. Makalu (8,485 m), Mt. Lhotse (8,516 m), and Mt. Kumbakarna (7,710 m). Additionally, it is well known for bird watching, and the region is home to the endangered Nepalese bird, the Danfe (Himalayan Monal), as well as endangered species like the musk deer and red pandas.
The Pathbhara Devi Temple
Goddess Pathibhara's temple in Ilam is the most visited holy place in that part of the country. It is considered a sister temple to Taplejung's original Pathibhara Devi temple, and those who are unable to travel to the original temple at 3,794 m can visit this one just above Sunmai. The site is located just above the highway to Ilam-Mechi, just above Hanspokhari.
Siddhi Thumka
At a height of 1,693 meters above sea level, Siddhi Thumka is located roughly 18 kilometers from Ilam's Ajambare Danda. There are spectacular sunrises and sunsets at the spot, as well as views of the mountain peaks of Everest and Kangchenjunga and the Mahabharat and Churia ranges.
Among the other famous Siddhi Thumka destinations, one must also visit the Khnadrung Cave, Singhadevisthan, Fulbari, Namthala, Pankhelung falls, Ratopani, and Falgunanda Manghim Temple. A significant draw for agricultural tourism is the rice paddy fields is visible. So is orange cultivation on the southeastern side of Siddhi Thumpka.
Mai Beni
Located near the confluence of two rivers, Mai Khola and Jogma Khola, Mai Beni is home to a Shiva temple, which receives thousands of visitors on the occasion of Maghe Sankranti in January. Visitors can reach Mai Beni from the Ilam bazaar, which is located about 3 km away.
Gajurmukhi Devisthan
In eastern Nepal, Gajur Mukhi is a revered Hindu shrine located at an altitude of 500 meters alongside the Deumai River. It is the most prominent Hindu pilgrimage site in the region. There is a belief that pilgrims who visit this holy place will be rewarded with a boy, while the voiceless will be given a voice. Gajur Mukhi Devisthan is located approximately 40 kilometers from Ilam Bazaar. Every year, on Kartik Purnima (November), a large fair is held at the Devisthan.
Choyatar and Hangetham Forests
Hangetham is the destination for forest protection campaigners as well as nature lovers alike. Built on the northeastern edge of Ilam, Hangetham stands 2,170 meters above sea level in the Jamuna VDC. Ilam's spectacular vistas, as well as changing weather patterns and thick fog, are notable for the area.
There are many animals in the forests of Hangetham and Choyatar, including red pandas, leopards, thars, chair bags, black bears, thakthakes, and rajpankhis. Among the many species of birds that inhabit the forest are munal, hawks, kandevaccur, rhododendrons, chaps, sunakharis, bante, katushs, and others. During your stay in Hangetham, you can also visit nearby Buddhist temples as well as Naya Bazaar and Thumke.
Todke Jharna
Todke Falls is the second-longest waterfall in Nepal, with an 85-meter height. It is situated about 40 meters west of Mai Khola or Mai Beni and sits at 1,600 meters above sea level. The area is popular with visitors who come here to capture pictures of the waterfall that looks as if it has fallen from the heavens. Another waterfall in the area is Dhappar Todke, which is located in the Mai Majhuwa Dhappar district.
For interested travelers, the full tour of Ilam, including the attractions mentioned above, can be arranged along with accommodations and a vehicle to travel to and from these locations here at Pokhara Info.
Note
The itinerary mentioned above is the general plan arranged by Pokhara Info. The above itinerary is only a guideline; it might change due to the availability of lodging and campsites, fluctuating weather conditions, unforeseen political, trail, and environmental, or any other factors beyond our control. After consulting with the group, your trek leader will decide the best way to reach a final decision if this occurs.
If the itinerary is unsuitable for you, please let us know, and we will customize it. We will be able to make changes to the itinerary if clients want to do so.