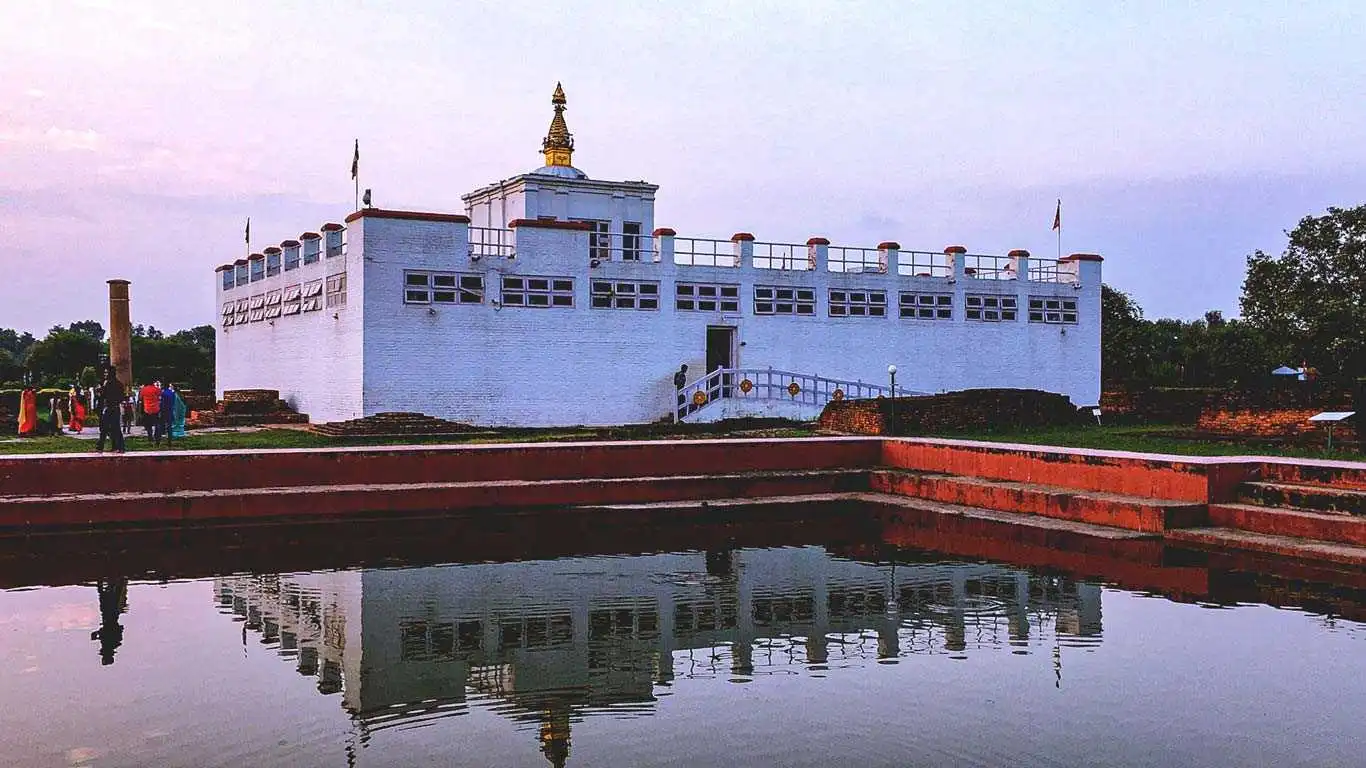 As a cultural and artistic destination that is in close proximity to the Himalayas, Kathmandu has attracted tourists since the 1960s. The city's intoxicating mixture of art and culture makes it an obvious choice. In the heart of Kathmandu's old city, you can stroll through Old Town's narrow, winding streets accompanied by your guide as you try steamed momos and see handicrafts while admiring Durbar Square's distinctive architecture.
The Kathmandu and Lumbini Tours consolidate a five-day journey covering the iconic sights of Kathmandu and the sacred sites of Lumbini. A journey through Nepal's major cultural sites provides travelers with the chance to observe the outstanding arts adorning the monuments, ultimately taking them to the serene ambiance of Lumbini. Overall, this is a tour that lets travelers immerse themselves in some of Nepal's most beautiful landmarks.
About
As part of the Kathmandu and Lumbini Tours, you will visit the historical and cultural sites of Kathmandu. This includes the Pashupatinath temple, considered a sacred site for Hindu devotees. In addition to visiting Boudhanath stupa and Swayambhunath stupa, the tour includes touring Boudhanath stupa and Swayambhu stupa. For Buddhists, Boudhanath is holy, while Swayambhu is both holy and divine.
In addition to visiting religious shrines, the tour also includes a visit to Kathmandu Durbar Square. The square is studded with small temples and huge palaces, including a living goddess, Kumari. Following a fascinating tour of the world's heritage sites in Kathmandu, we continue to Lumbini, the birthplace of Lord Gautam Buddha, which is a sacred shrine for Hindus, Buddhists, and Jain pilgrims.
In addition to its religious significance, Lumbini boasts a number of beautiful monasteries and gumbas built by various Buddhist nations around the world. This holistic location is peaceful and tranquil, despite its constant bustle of pilgrims. During this short tour, you'll witness a Maya Devi temple, a garden, an Ashoka pillar, and several beautiful monasteries. Overall, this tour provides the opportunity for you to experience and admire the fabulous historical creations of Nepal.
Best Time for the Kathmandu and Lumbini Tour
All year round is the best time for Kathmandu and Lumbini tours. Anyone can visit at any time of the year to enjoy the beauty accumulated at the historical sites in Nepal. This tour can, therefore, be undertaken throughout the year. The summer/monsoon season may be a challenge due to hot climatic conditions. However, this isn't unbearable. In addition, visits to Kathmandu and Lumbini can be made in any season.
Highlights of the Tour
The tour is led by an English-speaking, experienced, knowledgeable, and professional guide.

Throughout the tour, all accommodations are luxurious

See the differences in weather and terrain between Kathmandu and Chitwan during the scenic flight to Bhairahawa

Discover the wonders of Kathmandu's architecture and the fine details adorning its historical landmarks.

The birthplace of Lord Buddha, who lived as an ascetic for 29 years, is where you can learn more about his life

Discover several monasteries and temples, as well as beautiful gardens at the Maya Devi temple.
Alternative Tours
 Pokhara Info offers several other short tours for travelers interested in quick gateways. We offer a five-day Kathmandu and Pokhara tour, which includes sightseeing in both the charming Lakeside city of Pokhara and the historical monuments of Kathmandu. We also offer a four-day Discover Kathmandu and Nagarkot tour, which includes a visit to the outskirts of Kathmandu. We can also tailor-make your trip. Share your ideas with our specialists, and they will help you customize your itinerary according to your schedule, budget, interest, and activities.
Itinerary for
the Kathmandu and Lumbini Tour
After you've enjoyed the thrilling and joyful experience, you can choose whether to visit other beautiful places in Nepal or head back home. No matter what you choose, we hope you have a fantastic time.
We can accommodate group tours for this trip; however, you may also opt for a private tour according to your liking. We can arrange private trips at any time of the year at any date of your choosing. Please let us know what your preferred travel dates are so that we can accommodate you.
Finally, When you are ready to start adventures in Nepal, it is time to begin thinking about what to pack. If you are ready to book but aren't sure when is the best time to trek or what to stay in, Pokhara Info has got you covered. You can figure out these queries through our site. We can also be found on Facebook and Instagram, and other social media sites. Hope you have a good time in Nepal, and thank you for visiting!