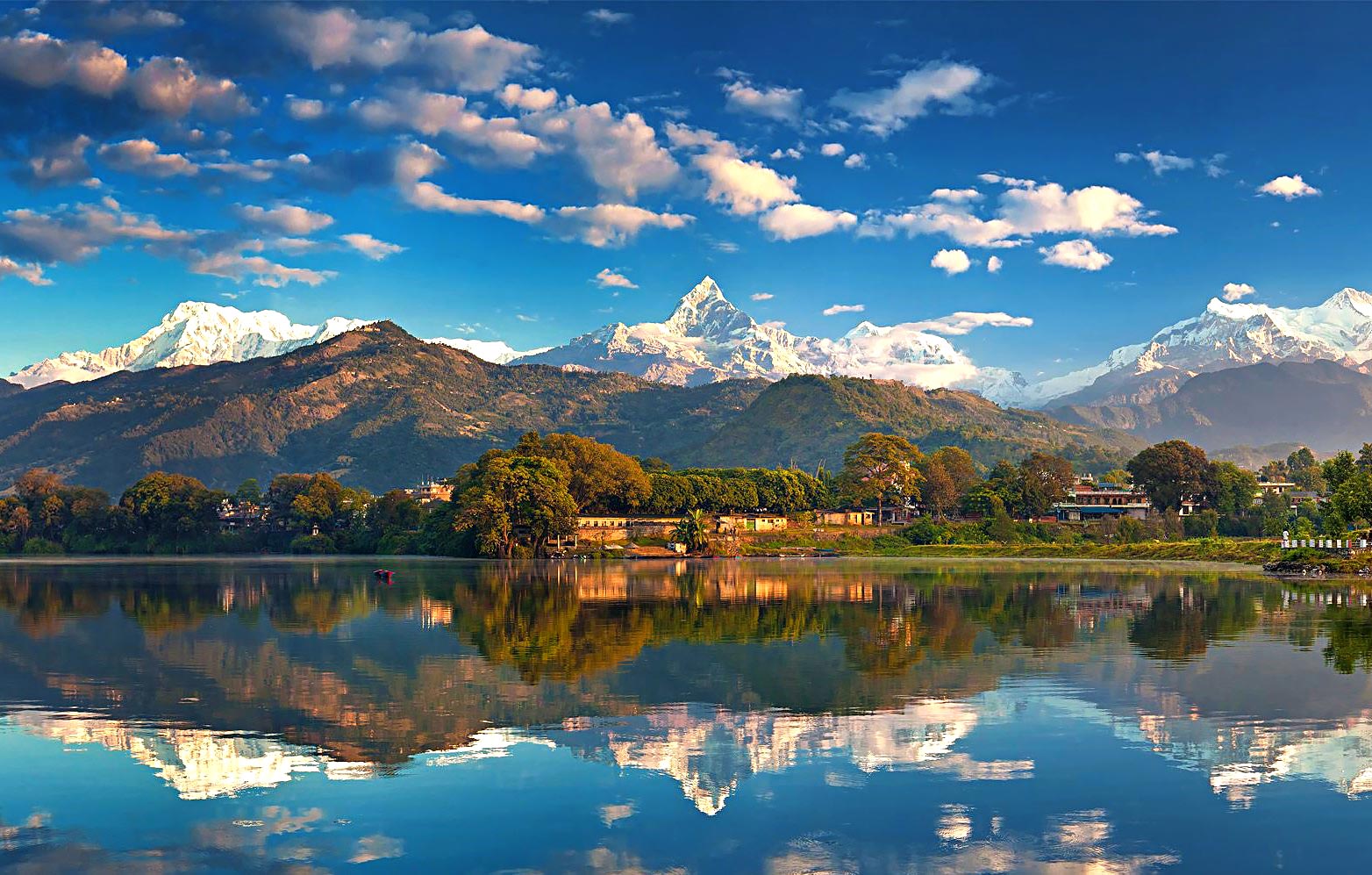 World travelers have been drawn to Kathmandu since the 60s. The city's intoxicating combination of cultural and artistic heritage and the city's proximity to the Himalayas make this an obvious choice. Durbar Square, located in the heart of Kathmandu's old city, stands out for its distinctive architecture and convivial atmosphere. There, you get to enjoy steamed momos and browse handicrafts as you wander through Old Town's narrow, winding streets with your guide. Then, there's Pokhara, one of the most beautiful cities in Nepal.
About
The Luxury Tour of Kathmandu and Pokhara takes you through all the major highlights of the two cities- Kathmandu's capital and Pokhara's tourist hub. Nepal's largest city, Kathmandu, is the country's center of culture, art, and economy. Some of the old monuments and buildings in the city date back to a period of Nepal's medieval history. Many are listed as UNESCO World Heritage Sites.
The city is dotted with temples and shrines dedicated to several deities and gods and is home to sites of religious and historical significance. By touring the city, you gain a deeper understanding of Nepal's history, and it's also a great way to experience its prominent arts and architecture that is displayed brilliantly on many old buildings and complexes. The luxury tour of Kathmandu and Pokhara captures the ancient spirit of the country perfectly. As a result, you will be able to admire Nepali craftsmanship, woodcarving, stone masonry, and sculptures made of metal, along with the country's natural landscapes and beautiful terrains, among many others.
Overview
Explore Kathmandu's Pashupatinath Temple, Bouddhanath Stupa, Kathmandu Durbar Square, and Swayambhunath Temple, all of which are UNESCO World Heritage Sites, starting with a visit to the holy temple. You can marvel at the period-specific features and attributes of the country. This is evidenced by the number of statues and memorials that remain from the medieval era. This was when the city was a single kingdom with a reigning monarch of the Mallas and Shahs. In addition, you should also visit Patan Durbar Square, which lies within the city of Patan. It was once a separate kingdom before the building of Kathmandu. Patan Durbar Square is also a UNESCO World Heritage Site.
In the next stage of the tour, you will be taken to the attractive lake-side city of Pokhara, where natural highlights such as the impressive Phewa Lake, the Bindabasini Temple, the Davis Fall, and the Seti River Gorge will be explored.
Pokhara, Nepal's adventure hub, is one of the most beautiful cities in the country. Clear days offer spectacular views of the Annapurna Mountains up in the Himalayas. The tour offers a great opportunity to discover Nepali authenticity in just five days, where the most important sights of both cities are explored and seen for a memorable cultural experience. The package offers the best cultural insight and an opportunity to see prominent places in the cities in a short period of time. It demonstrates the country's unique cultural and historical characteristics in the most fascinating and comfortable manner. This luxury tour combines two amazing commercial and natural hotspots and offers luxury accommodations in the best hotels in Kathmandu and Pokhara.
The Tour Itinerary
Day 1: Arrival in Kathmandu
Upon arrival at the airport, a representative from Pokhara Info's team will greet and welcome you so that they can help you get to the hotel and explain the remainder of the programs to you. Due to the fact that you are not scheduled to do anything until the evening, you can just relax and check into your hotel for the night. You stay overnight at a 5-star hotel in Kathmandu.
Day 2: Day tour in Kathmandu valley
We will start the tour of Kathmandu at approximately 8:00 am. One of our representatives will talk about the tour and share some basic information before the tour begins. On tour, participants will be driven to different sites throughout the city through a private vehicle. They will visit Kathmandu's World Heritage Sites, such as the Kathmandu Durbar Square, the Pashupatinath Stupa, the Swayambhunath Temple, and the Bouddhanath Stupa. 
Also on the itinerary will be a visit to Patan Durbar Square. Patan and Kathmandu are Durbar Squares containing various temples and buildings built during Nepal's medieval period. Also featured are wood carvings, stone sculptures, and masonry on the pillars, windows, and doors of the buildings. Additionally, both have courtyards and old palaces built by the Malla and Shah Kings. One of the most revered sacred sites for the Hindu people of Nepal is the Pashupatinath Temple, another UNESCO World Heritage Site. This temple lies right beside the holy Bagmati River, and Hindu cremation ceremonies are sometimes held here.
Atop a hill, the Swayambhunath Stupa is another UNESCO World Heritage Site. It is also referred to as "the Monkey Temple" due to the large population of monkeys located there. Lastly, the Bouddhanath Stupa is an ancient religious site associated with the Buddhist religion. These various locations and sites provide insight into the country's religious and historical aspects through the world's largest Buddhist Mandala. Buddhist pilgrims from all over the world visit this place.  
Day 3: Pokhara Tour and Sightseeing Tour
Your day begins in Kathmandu with an early morning flight to Pokhara, a lake-side city located about 30 minutes away. After arriving in Pokhara, you will be taken to your hotel for check-in. On this day, we'll be going on a sightseeing tour of the city starting at 11:00. We will visit several prominent spots in the city, including Bindabasini temple, Davis fall, Gupteshwar cave, Seti River Gorge, and sailing on the pristine Phewa Lake and visiting the Taal Barahi temple. An ancient temple is dedicated to the Goddess Bhagwati in the city's religious old bazaar.
Located on the southern flank of the Pokhara valley, Davis fall is one of the most famous waterfalls in Nepal. It is also called "the Patale Chango ."The water falls through the gorges and leaps along the portals, collapsing and collapsing in many places while doing so. Gupteshwor Cave has located 1 km from the airport in Pokhara. Across from Davis falls is the entrance to the cave, which is almost 3 kilometers long with some large rooms and passages. Crawling on all fours is sometimes required to explore the cave. 
The Seti Gorge, formed by the Seti-Gandaki River, is among Pokhara's most spectacular natural wonders. Afterward, you can take a boat ride on the tranquil Phewa Lake, which is the second-largest lake in Nepal. The most important place of worship in Pokhara is the Barahi Island Temple in the middle of Phewa Lake. This two-story pagoda is dedicated to Shakti, the female principal. You can also see Mount Machhapuchhre and Mount Annapurna in their tranquil waters. The pine forests on its southern slopes also look quite captivating.
Day 4: Return Back to Kathmandu
Your departure today from Pokhara will take you to Kathmandu. Upon arrival, you will be transferred to your hotel. In the afternoon and in the evening, you can stroll along the streets of Kathmandu for some last-minute shopping. Afterward, enjoy and remember the time you had in Nepal.
Cost includes:
Arrival & Departure transport via private Car/Van/Bus.

Three meals per day throughout the Trip(Breakfast, Lunch & Dinner)

Accommodation during the trek.

Nights' accommodation in Kathmandu with B/B.

Guide and a porter with Insurance, food, and accommodations.

Sightseeing in Kathmandu or Pokhara valley with a car and tour guide

First Aid kit.

Trekking permit (Conservation fee).

TIMS card (Trekking information management system) is like a permit.

All needed government tax/vat.
Cost excludes:
International Airfare.

Your travel insurance.

Sightseeing entrance fees

Nepal Visa fee (US$ 50 for 30 days and US$ 30 for 15 days; you should get a visa open your arrival)

Any kind of drinks, items of personal expenses like hot shower, battery charge, telephone, missing meal, WIFI Porters, etc.

Tips for Guide and Porters
After you've enjoyed the thrilling and joyful experience, you can choose whether to visit other beautiful places in Nepal or head back home. No matter what you choose, we hope you have a fantastic time.
We can accommodate group tours for this trip; however, you may also opt for a private tour according to your liking. We can arrange private trips at any time of the year at any date of your choosing. Please let us know.
Finally, When you are ready to start adventures in Nepal, it is time to begin thinking about what to pack. If you are ready to book but aren't sure when is the best time to trek or what to stay in, Pokhara Info has got you covered. You can figure out these queries through our site. We can also be found on Facebook, Instagram, and other social media sites. I hope you have a good time in Nepal, and thank you for visiting!