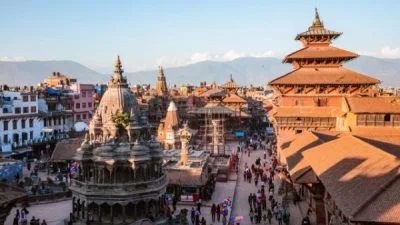 Historically, Nepal has been heavily shaped by two of its neighbors, India and China, due to its geographical location. This region has attracted many settlers over the centuries, resulting in a strong diversity of cultures. Nepal is today an increasingly popular destination for tourists, mountaineers, and spiritual seekers. Have a wonderful time if you decide to travel to Nepal as well.
Here at Pokhara Info, we work towards making the best out of your travel to Nepal. Our classic tour of Nepal combines the tours of three of the most popular cities in Nepal: Kathmandu, Pokhara, and Chitwan, in addition to a few nearby attractions.
During the tour, you'd:
Get to know the historical cities within Kathmandu Valley

Visit Nagarkot, a village on the hilltop that offers stunning views of the Himalayas

Experience a wildlife safari in Chitwan National Park in Nepal

Discover Buddha's birthplace, Lumbini

Explore the gorgeous city and the lakes of Pokhara
Getting to Kathmandu
With the exception of India, you require a Nepalese visa in order to get to Nepal. However, it's fairly easy to get a visa when you arrive in Kathmandu or from a Nepalese Embassy in your country. As you fly into Kathmandu, you'll see stunning views of the city, the Himalayas, and terraced fields below.
We'll have a representative greet you as you exit customs and help you navigate Kathmandu's narrow, winding streets on your way to Nagarkot, in the hills northeast of Kathmandu, one hour away. If you decide to hike the 2-3 hours to Nagarkot instead of driving, your luggage will be waiting at the hotel in the village. After a long flight, a moderate hike through villages and farm fields allows you to stretch your legs with beautiful views of the surrounding valleys.
From Nagarkot to Bhaktapur
Having a good breakfast at the start of the day will fuel you for the trip to Bhaktapur, which is about an hour or so from Nagarkot. After witnessing the gorgeous sunrise from Nagarkot, you can either drive to Bhaktapur within an hour or hike there (4 hours).
During the hike, visitors pass through Changu Narayan, a UNESCO World Heritage site in Kathmandu Valley. The temple in Changu Narayan is one of the least visited among such sites in the valley, making it a special place to visit. Located in Nepal, this ancient temple is believed to date back to the 13th century.
The medieval Newari city of Bhaktapur was severely damaged by the 2015 earthquake, but many of its magnificent buildings are still standing, including the tallest temple in Kathmandu Valley and the five-story Nyatapola Temple. Many of the town's squares are used to dry pottery, which is a product of the fine Newari crafts.
From Bhaktapur to Patan
After exploring Bhaktapur's temples and courtyards, you'll travel to Patan, about an hour away. If you're looking for souvenirs, Patan is the best place in the Kathmandu Valley for you to do so. Similar to Bhaktapur, the town is full of traditional Newari craftspeople, so there are shops that sell Buddhist thangkas, metal statues, jewelry of all kinds, and copper and brass cookware.
While Patan doesn't have as many hotels as central Kathmandu, the number is growing at a rapid pace, but that's to the discerning traveler's advantage. Several local heritage buildings have been converted into beautiful boutique guesthouses.
Getting to Chitwan
As you wake up the next morning, you will depart for the famous Terai region of Nepal, Chitwan National Park, where the terrain and culture are totally different from Kathmandu and the Himalayas.
'Terai' refers to the huge plains in Nepal's south, which are the northernmost extension of the great Gangetic plains of India. These plains have been won and lost in decades of conflict and are a mixture of Indian and Nepali characteristics in terms of people and traditions. As soon as you arrive at the airport in Chitwan, a representative from your lodge will pick you up, and you will be at the lodge in time for lunch unless you choose an afternoon flight. Furthermore, a briefing on the activities is available to you for the afternoon and the next day.
Exploring Chitwan
You may participate in a number of activities available in Chitwan, or you may choose to relax and explore on your own. With a full day of jungle safari activities, you can spend time with Nepal's majestic elephants and search for wildlife in the dense jungles or go on a boat safari on the river to see wildlife and birdlife along the banks of the river.
There are a variety of animals in Chitwan, including the greater one-horned rhinoceros, spotted deer, hog deer, sambar deer, and barking deer, as well as a large variety of birds. In addition, there is always the possibility of seeing a leopard, sloth bear, or Royal Bengal tiger. Tiger sightings have become more frequent in recent years, despite the rarity of spotting a tiger these days.
Excursion to Lumbini
You leave Chitwan after breakfast and drive about 3-4 hours to Lumbini. Lumbini is a Buddhist pilgrimage site near the Indian border in Nepal's Kapilavastu district, where Queen Mayadevi is said to have given birth to Siddhartha Gautama, the Buddha.
Lumbini is one of four pilgrimage sites that sprouted up in places pivotal to the life of the Buddha, the other three being Bodhgaya, Sarnath, and Kushinagar. It was designated a UNESCO World Heritage site in 1997. In Lumbini, you will find ancient ruins of ancient monasteries, a sacred Bodhi tree, a bathing pond, a sacred Asokan pillar, and the Mayadevi temple, which is the exact site of Buddha's birth.
The site is a popular place for pilgrims from around the world to meditate and chant in the mornings and evenings. Aside from the Crane Sanctuary, Lumbini also boasts the Eurasian Wigeon Migration and the Booted Eagle Migration. Binoculars are a must for catching a glimpse of the birds such as eagles, harriers, and grebes.
Getting to Pokhara
You will have time to enjoy the sunrise and explore Lumbini before being taken to Bhairawa airport for your flight to Pokhara. When you arrive in Pokhara, you will be taken to the hotel by private car.
You have the rest of the day to relax or enjoy a variety of activities in Pokhara. You might want to check out the cafes and restaurants, go shopping, or even try something more adventurous, like paragliding and mountain biking. On the next day, you can choose to indulge in numerous activities available in Pokhara, such as boating, lake seeing, picnics, or trekkings. Floating on the blue waters of Lake Phewa with views of the Himalayas is an unforgettable experience that you will not forget. You should also explore Mahendra Caves and Chamero Gufa; otherwise, you might miss out on some ecological wonders. 
The entirety of the tour can last from seven days to twelve days. However, if you really love any of the locations mentioned above, you can spend a few more days there according to your wish.
Cost includes:
Arrival & Departure transport via private Car/Van/Bus.

Three meals per day throughout the Trip(Breakfast, Lunch & Dinner)

Accommodation during the trek.

Nights' accommodation in Kathmandu with B/B.

Guide and a porter with Insurance, food, and accommodations.

Sightseeing in Kathmandu or Pokhara valley with a car and tour guide

First Aid kit.

Trekking permit (Conservation fee).

TIMS card (Trekking information management system) is like a permit.

All needed government tax/vat.
Cost excludes:
International Airfare.

Your travel insurance.

Sightseeing entrance fees

Nepal Visa fee (US$ 50 for 30 days and US$ 30 for 15 days; you should get a visa open your arrival)

Any kind of drinks, items of personal expenses like hot shower, battery charge, telephone, missing meal, WIFI Porters, etc.

Tips for Guide and Porters
After you've enjoyed the thrilling and joyful experience, you can choose whether to visit other beautiful places in Nepal or head back home. No matter what you choose, we hope you have a fantastic time.
We can accommodate group tours for this trip; however, you may also opt for a private tour according to your liking. We can arrange private trips at any time of the year at any date of your choosing. Please let us know what your preferred travel dates are so that we can accommodate you.
Finally, we will transfer you to Pokhara's domestic airport after breakfast for your flight back home to Kathmandu. Furthermore, if you are flying back home from Kathmandu today, please schedule your flight to depart no earlier than 11 am to ensure you'll have enough time to catch your flight.