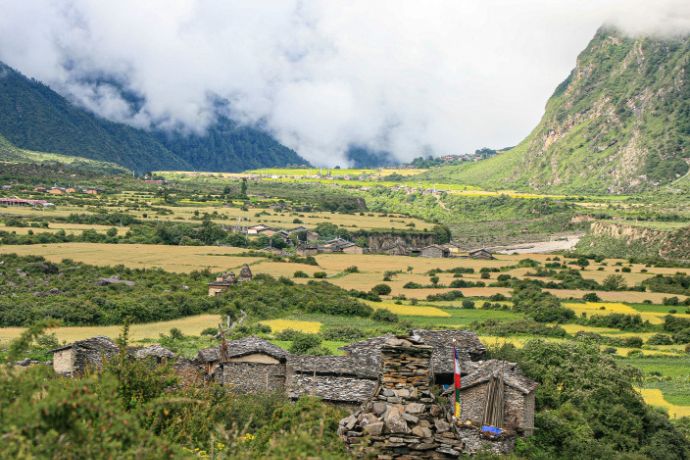 Located high up in the Manaslu region of Nepal, near the Tibetan border, the Tsum Valley is one of the unknown and most isolated valleys in Nepal. It has an extremely Tibetan Buddhist feel, quite different from the surrounding countryside. It is a difficult trek to Tsum valley because of the difficult terrain. While visiting the valley, you will be surrounded by the beautiful mountains of Mt. Ganesh, which includes Mt. Sringi and Mt. Boudha. Unfortunately, the valley does not receive many tourists since it is so difficult to access.
Few outsiders have managed to reach this Promised Land in terms of trekking to the valley, and so many things about this valley remain a mystery. However, the off-the-beaten track to the Tsum valley offers you the opportunity to take an extraordinary hike on one of the most challenging trails in the world.
About the Region
Arughat is the starting point for this beautiful Trek, which follows the trail alongside the majestic Budhi Gandaki River, passing through dense forest and gorgeous villages to reach the hidden valley of Tsum. The small hotels in the region offer basic services and facilities, but the beauty of the wide landscapes and small villages is exceptional.
Buddhist traditions believe that the Tsum Valley is one of the sacred hidden valleys of Buddhism, a place of spiritual progress and old monasteries that remain active today. Historically, people in this valley have subsisted on agriculture and yak herds, traded with Tibet, and raised barley and tended yaks. The trails lead past square chortens and walls of stones hand-carved with Buddhist prayers.
Necessary Permits and Accommodations
Mandatory permits are required for the Tsum Valley trek. The permit fee is imposed to protect the delicate ecosystem and culture of the region. MCAPs and ACAPs are also vital to the Trek. 
At the beginning of the Trek, the accommodation options consist of well-run hotels and lodges. As the Trek progresses, well-equipped hotels become more difficult to come by. These paths mainly consist of small teahouses and homestays.
Preparing for the Trek
The tallest point on the Tsum Valley trek is at an altitude of 3,700 meters. This may not be much elevation for frequent travelers, but it is still quite a change for newcomers. In addition, the Trek requires the explorers to walk for multiple days. In addition, people with lung diseases should refrain from engaging in such activities or take precautions before doing so, as the high altitudes at such altitudes are extremely difficult to adapt to. Further, altitude sickness may occur at such high altitudes.
We recommend that you bring the following items to your Trek due to the cold at high altitudes for the Trek. Our group of mates brought these things on our first trip to Tsum Valley.
Warm clothes, including jackets, sweaters, and thermal wears

Water bottles and thermos

Backpack

Portable fire stoves

Snow Glasses and flashlight

Well-fitting gloves, socks, and shoes or boots

Trekking sticks

First aid kit

Moisturizers and lip guard

Energy bars
These items can be quite useful during the Trek. You can, however, easily purchase these items at the starting point of the Trek if you forgot any of them, though the price will likely be higher than usual.
Tsum Valley Trek Itinerary 
In order to begin the Trek, we need to get to Arughat Bazaar. For foreigners, it'd be better if you get to Kathmandu after acquiring your Nepali visa. From Kathmandu, the road is paved till Dhading Besi, and then a gravel road takes you to Arughat. Furthermore, you pass the Trishuli River and the Rakhu River on your way.
Cost includes:
Arrival & Departure transport via private Car/Van/Bus.

Three meals per day throughout the Trek(Breakfast, Lunch & Dinner)

Accommodation in lodges and tea houses during the trek.

Nights' accommodation in Kathmandu with B/B.

Trekking Guide and a porter (Shared by two clients) with Insurance, food, and accommodations.

Sightseeing in Kathmandu or Pokhara valley with a car and tour guide

First Aid kit.

Trekking permit (Conservation fee).

TIMS card (Trekking information management system) is like a permit.

All needed government tax/vat.
Cost excludes
International Airfare.

Your travel insurance.

Sightseeing entrance fees

Nepal Visa fee (US$ 50 for 30 days and US$ 30 for 15 days; you should get a visa open your arrival)

Any kind of drinks, items of personal expenses like hot shower, battery charge, telephone, missing meal, WIFI Porters, etc.

Tips for Guide and Porters
Note
The itinerary mentioned above is the general plan arranged by Pokhara Info. The above itinerary is only a guideline; it might change due to availability of lodging and campsites, fluctuating weather conditions, unforeseen political, trail, and environmental, or any other factors beyond our control. After consulting with the group, your trek leader will decide the best way to reach a final decision if this occurs.
If the itinerary is unsuitable for you, please let us know, and we will customize it. We will be able to make changes to the itinerary if clients want to do so.
Finally, When you are ready to start adventures in Nepal, it is time to begin thinking about what to pack. If you are ready to book but aren't sure when is the best time to trek or what to stay in, Pokhara Info has got you covered. You can figure out these queries through our site. We can also be found on Facebook, Instagram, and other social media sites. I hope you have a good time in Nepal and thank you for visiting!