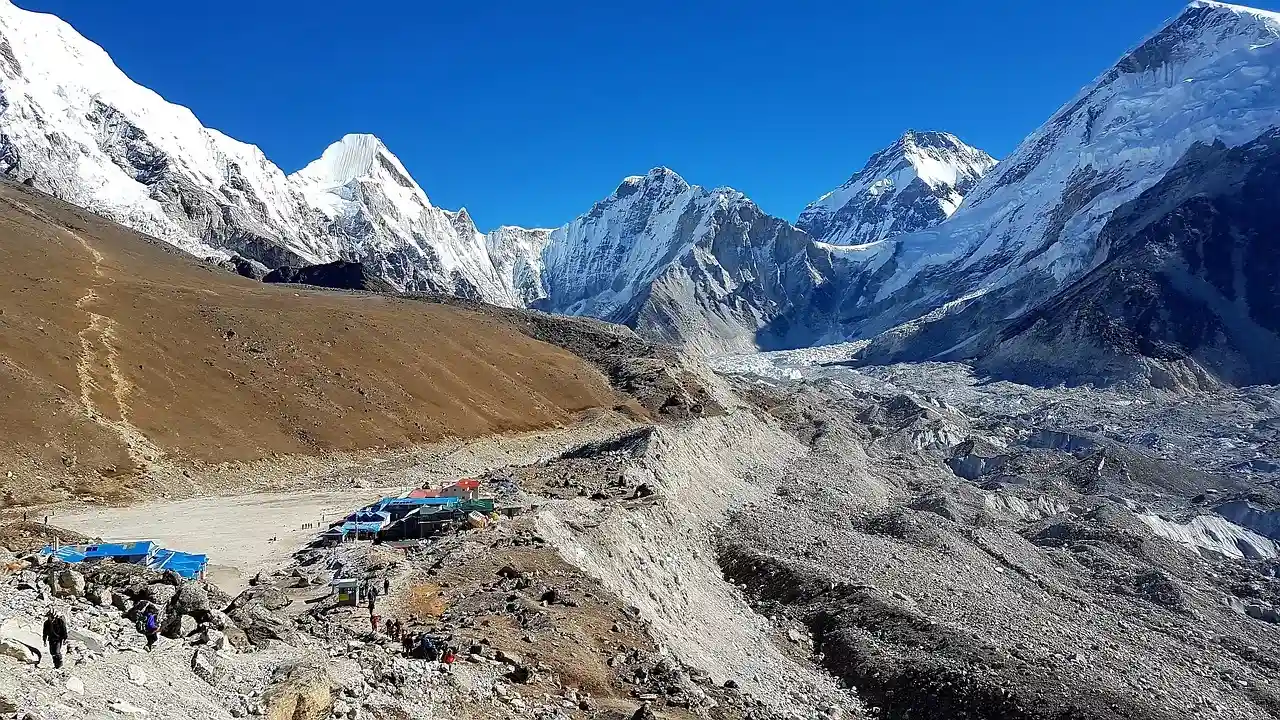 The Everest Base Camp trek is a captivating adventure that has captured the hearts of countless explorers and nature enthusiasts. The journey of Everest Base Camp provides an opportunity to enjoy breathtaking views of the giant Himalayan, learn Sherpa culture, and most important an opportunity to stand at the base of the world's tallest peak, Mount Everest.
We will explore the delights of the Everest Base Camp Trek in this thorough guide, giving you all the details you require to set off on this incredible journey.
Overview
Trekking Distance: approximately 130 Kilometers
Trekking Duration: 12 to 16 Days
Total Ascent: 6015 meters/19734 feet
Total Descent: 5821 meters/19097 feet
Highest Point: 5545 meters/18193 feet at Kala Patthar
Difficulty Level: Challenging
Guide: Compulsory From 1 April 2023
Accommodation: Tea House
Permits: Khumbu Rural Municipality Permit (USD 20) and Sagarmatha National Park permit (USD 30) are required.
Cost per Day: US$29 (without flights) $58 per person per day including permits and transportation.
Everest Base Camp Trek Introduction
The iconic Everest Base Camp Trek, sometimes referred to as the EBC trek, brings you right to the center of Nepal's Khumbu region. Renowned for its stunning natural beauty and rich cultural heritage, this trek attracts thousands of adventurers each year. The journey starts in Lukla, a small mountain town, and gradually ascends through picturesque Sherpa villages, dense forests, and rugged terrains.
Trekkers are welcomed by stunning vistas of the Himalayas as soon as they arrive at the little alpine village of Lukla. The path then meanders past gorgeous Sherpa settlements, verdant valleys, and thick woods. Along the journey, trekkers are treated to mesmerizing vistas of snow-capped peaks such as Ama Dablam, Lhotse, Nuptse, and the magnificent Everest itself.
The attraction of Mount Everest, the world's tallest mountain, with its glorious 8,848 meters (29,029 feet) of height, contributes to the favor of the Everest Base Camp Trek. Trekking to the base camp allows adventurers to witness this magnificent mountain up close and personal, creating memories that last a lifetime. Additionally, the trip offers a special chance to get to know the Sherpa people, discover their customs, and stop at historic monasteries along the way.
Reaching Everest Base Camp, the location where climbers begin their ascent of the tallest peak in the world is the final objective of the Everest Base Camp Trek. Standing at an altitude of approximately 5,364 meters (17,598 feet), the Base Camp provides trekkers with a sense of awe and accomplishment as they gaze upon the mighty Everest.
The significance of this trek goes beyond the physical challenge. It provides an opportunity to learn about the distinctive Sherpa culture, see historic monasteries, and take in the unyielding spirit of the climbing community. Trekking through this spectacular terrain, surrounded by breathtaking landscapes, is a life-changing experience that leaves trekkers with unforgettable memories.
Everest Base Camp Trek Highlights
Scenic landscapes of the Khumbu region and surrounding Himalayan ranges
Trekking through charming Sherpa villages and experiencing their warm hospitality
Visiting iconic monasteries like Tengboche with its rich Buddhist heritage
Encountering diverse flora and fauna, including rhododendron forests and Himalayan wildlife
Stepping foot on the legendary Kala Patthar viewpoint for an unparalleled panoramic view of Everest and neighboring peaks
Exploring the captivating Khumbu Glacier, one of the largest glaciers in the world
Immersing in the unique Sherpa culture and traditions
Interacting with fellow trekkers from around the globe, sharing stories and camaraderie
The opportunity to witness mountaineers preparing for their Everest summit attempts at Everest Base Camp
Overcoming personal challenges and achieving a sense of accomplishment in reaching Everest Base Camp.
Understanding the Everest Base Camp Trek
What is the Everest Base Camp Trek?
Adventurers can reach Mount Everest, the highest mountain in the world, via a breathtaking trip known as the Everest Base Camp trek. EBC Trek is a well-known hiking route in the Khumbu region that attracts thousands of trekkers each year.  This iconic trek holds great significance as it offers an opportunity to witness the grandeur of Everest and immerse oneself in the rich Sherpa culture.
What You Can Expect From Everest Base Camp Trek?
When embarking on the Everest Base Camp trek, you can expect a plethora of remarkable experiences that encompass breathtaking natural beauty, a vibrant cultural tapestry, and hidden gems within the Everest region. Here's what you can anticipate:
Natural Beauty and Landscape
The Khumbu region, where the trek takes place, is a haven for nature lovers. The skyline is dominated by imposing snow-capped peaks, including the fabled Mount Everest, which provides breathtaking views around every corner. Towering mountains such as Ama Dablam, Lhotse, and Nuptse create a dramatic backdrop, immersing you in the grandeur of the Himalayas.
Additionally, the area is decorated with lovely valleys, glistening rivers, and lush forests, notably the stunning rhododendron forests that burst into flower in a riot of hues in the spring. Trekking through this diverse and stunning landscape will leave you in awe of nature's splendor.
Cultural Importance of the Khumbu Region
In addition to the natural beauty, the Khumbu region holds immense cultural importance. The area is predominantly inhabited by the Sherpa community, known for their resilience, warmth, and mountaineering expertise. As you traverse the Sherpa villages along the trek, such as Namche Bazaar, Tengboche, and Dingboche, you will have the opportunity to immerse yourself in their rich culture and traditions.
The Sherpas are known for their close connection with the mountains and their Buddhist faith. This is evident in the numerous monasteries and gompas (Buddhist temples) that dot the region. Tengboche Monastery, perched on a hilltop, is a particularly significant religious site, where trekkers can witness mesmerizing Buddhist ceremonies and take in panoramic views of the surrounding mountains.
Religious Aspects of Khumbu
The Khumbu region is a treasure trove of religious spots. Apart from Tengboche Monastery, you can explore other sacred places such as Pangboche Monastery, the oldest monastery in the region, and Khumjung Monastery, which houses a purported Yeti scalp.
These religious sites not only hold deep spiritual significance for the Sherpa community but also offer a glimpse into their ancient beliefs and rituals. Visiting these religious spots adds a sense of serenity and cultural enrichment to your Everest Base Camp trekking experience.
Best Time to Participate in Everest Base Camp Trek
The best weathers for Everest Base Camp Trek are when the weather and trail conditions are favorable. Understanding the different seasons and their impact on the trek will help you plan your adventure accordingly.
Spring season which is also known as pre-monsoon period and autumn season which is also known as post-monsoon are favorable for participating in the Everest Base Camp Trek. These periods offer the most stable weather and pleasant temperatures, ensuring a comfortable and enjoyable trekking experience.
Spring Season (March to May)
Spring is considered one of the best times for the Everest Base Camp trek. This time of year is often pleasant, with bright skies and comfortable temperatures. The rhododendron forests along the trail bloom with vibrant colors, creating a picturesque landscape. The visibility is excellent, providing magnificent views of the surrounding peaks. Yet, it is a popular season, and the trail can be crowded, especially in April and May.
Autumn Season (September to November)
Autumn is another highly recommended season for the EBC trek. The weather is stable, with clear skies and crisp air. The temperatures are enjoyable during the daytime, however, it can get colder at higher altitudes. The mountain views are stunning, and the visibility is excellent. The trail is less crowded compared to spring, offering a more serene trekking experience. Autumn is also the season for various festivals in Nepal, allowing you to witness cultural celebrations along the way.
Winter Season (December to February)
Winter brings cold temperatures and harsh weather conditions to the Everest region. In winter, the temperatures can decline below freezing level, especially at higher altitudes. Snowfall is common, and the trails may be icy and challenging. However, it may be a pleasant and peaceful season to trek if you are well-prepared for harsh colds and have experience doing so. The views of the snow-covered landscape are breathtaking.
Monsoon Season (June to August)
The monsoon season is not recommended for the Everest Base Camp trek due to heavy rainfall, high humidity, and unstable weather conditions. Trekking is challenging and even dangerous due to the muddy and slippery nature of the routes. Landslides and avalanches are also more common during this season.
Everest Base Camp Trek 14 Days Itinerary
Other Related Packages:
Alternative Routes/Side Trips
Gokyo Lakes Trek: An alternative route that takes you to the stunning Gokyo Lakes, offering breathtaking views of Cho Oyu and Everest.
Three Passes Trek: For experienced trekkers seeking a more challenging adventure, this route crosses three high passes – Renjo La, Cho La, and Kongma La – and provides unparalleled views of the Himalayas.
Island Peak Climbing: Combine the Everest Base Camp trek with a summit attempt of Island Peak (6,189m/20,305ft), offering a taste of mountaineering in the Everest region.
Everest Base Camp Trek Cost 2023/2024
The length of the journey, the degree of comfort preferred, the services included, and the season all affect how much the Everest Base Camp trek will cost. Here is a general idea of the cost range for the Everest Base Camp trek in 2023/2024:
Trekking Permits
Sagarmatha National Park Entry Permit: USD 30 per person
Khumbu Pasang Lhamu Rural Municipality Permit: USD 20 per person
Guide and Porter
Hiring a licensed guide: Approximately USD 25-35 per day
Hiring a porter: Approximately USD 15-25 per day (they carry your bags)
Accommodation
Tea Houses/Lodges along the trek: Around USD 10-30 per night, depending on the altitude and level of comfort. Higher altitudes tend to have higher prices.
Food and Drinks
Meals (breakfast, lunch, dinner) in tea houses: Approximately USD 10-20 per meal.
Bottled water and drinks: USD 2-5 per bottle.
Flights and Transportation
Domestic flight from Kathmandu to Lukla (round trip): USD 350-400, depending on the season and availability.
Transportation from the airport to your hotel in Kathmandu: Approximately USD 10-20.
Equipment and Gear
Trekking gear (if not bringing your own): You can either rent or purchase equipment in Kathmandu. Depending on the specific type and quality of gear needed, trekking equipment costs might vary.
Travel Insurance
It is highly recommended to have travel insurance that covers high-altitude trekking and medical emergencies. The costs for travel insurance differ depending on the coverage and duration of the policy.
Please note that these are approximate costs and can vary based on personal preferences, negotiation skills, and unforeseen circumstances. It is advisable to budget some extra money for personal expenses, tips, and unforeseen expenses.
To acquire reliable and current information on the price and services offered during the Everest Base Camp trek, it is always a good idea to speak with trustworthy trekking organizations or guides.
Also Read: Everest Base Camp Trek Cost: Ultimate Guide for Budget Breakdown
Accommodation Options on Everest Base Camp Trek
Along the Everest Base Camp trek, there are primarily two types of accommodation options: tea houses (also known as guesthouses or lodges) and camping. Here's an overview of each:
1. Tea Houses/Lodges
Tea houses are the most common and convenient accommodation option along the Everest Base Camp trek. These are small lodges or guesthouses that provide basic accommodation and meals. Tea houses are usually run by local families and offer a warm and welcoming atmosphere.
Facilities
Shared rooms with twin beds or bunk beds (some tea houses may have private rooms)
Common dining areas serve a variety of meals, including traditional Nepali and international cuisine
Shared bathroom facilities (mostly squat toilets and cold showers, with limited hot water availability)
Common areas with fireplaces for warmth and socializing
Some tea houses may offer amenities like Wi-Fi (for an additional fee) and charging facilities (for a fee)
Costs: The cost of staying at tea houses varies depending on the altitude and level of comfort. The cost for accommodation may range between USD 10 to USD 30 per night. Meals, drinks, and additional services are usually charged separately.
2. Camping
For individuals who want a more remote experience or for bigger trekking groups who prefer to have their own lodgings, camping is an alternate choice. However, camping is less common along the Everest Base Camp trek compared to tea houses.
Facilities
Tents, sleeping mats, and sleeping bags (you may need to bring your own or rent them)
A separate dining tent for meals
Portable toilets and washing facilities
Cooking equipment and support staff to set up and manage the campsite
Costs: Camping costs are typically higher than tea house stays due to the additional logistics involved. You need to keep in mind that the price for camping highly depends on the quality of services offered, group size, and the number of additional staff.
It's worth noting that tea houses are the preferred and more popular choice for accommodation along the Everest Base Camp trek. They provide a comfortable and authentic experience that encourages you to socialize with other hikers and the local residents.
While tea houses are widely available along the trekking route, it is advisable to have some flexibility during peak seasons, as the more popular tea houses may fill up quickly. It is recommended to trek with a guide or through a trekking agency that can help arrange and manage your accommodation along the route.
Overall, tea houses provide a convenient and cozy accommodation option, allowing trekkers to rest, rejuvenate, and enjoy the camaraderie of fellow trekkers, while camping offers a more private and self-contained experience for those seeking solitude or specific group arrangements.
Food and Water on Everest Base Camp Trek
During the Everest Base Camp trek, dining options primarily consist of meals provided by tea houses along the trail. These tea houses offer a variety of food choices, ranging from local Nepali cuisine to international dishes. What to anticipate in terms of food and water is given below:
Dining Options on Everest Base Camp Trek
Tea houses typically have menus offering a range of meals to cater to trekkers' preferences. You can find dishes like dal bhat (rice with lentil soup and vegetables), momo (steamed dumplings), noodles, pasta, soups, curries, and Western-style breakfast items like pancakes and omelets. Vegetarian options are widely available. It is advisable to eat in tea houses rather than carrying your own food, as it supports the local economy and ensures a fresh and hygienic dining experience.
Local Cuisine and Recommended Food Choices
Dal Bhat: This traditional Nepali dish consists of lentil soup (dal), rice, vegetable curry, pickles, and sometimes a meat or fish option. It is a popular choice among trekkers due to its high nutritional value and energy content.
Sherpa Stew: A hearty stew made with local ingredients, often including potatoes, vegetables, and meat (such as yak or chicken), cooked in a flavorful broth.
Tibetan Bread: A dense, fried bread that makes for a filling and delicious snack or breakfast option.
Local Tea: Don't miss trying a cup of Nepali tea or butter tea, a unique Tibetan tea made with butter, salt, and tea leaves.
It is important to choose foods that are freshly prepared and cooked thoroughly to maintain hygiene standards. Opting for locally sourced and seasonal ingredients is recommended.
Water Sources and Purification during Everest Base Camp Trek
It is crucial to stay hydrated during the trek. The path has water sources, however, it's crucial to clean the water in order to prevent waterborne diseases. Here are some options for water purification:
Bottled Water: You can purchase bottled water at tea houses along the route, but keep in mind that plastic waste is a concern in the region. Ensure the bottles are properly sealed and check for any signs of tampering.
Water Purification Tablets: Carry water purification tablets or drops that can be added to untreated water as per the instructions provided. These tablets help kill bacteria and viruses, making the water safe to drink.
Water Filters: Portable water filters can be used to filter water from natural sources like streams or rivers. These filters remove impurities and contaminants, providing safe drinking water.
Avoid drinking untreated water from streams or taps directly, as it may contain harmful bacteria or parasites. Using a combination of the above methods ensures a safe and reliable water supply during the trek.
Everest Base Camp Trek Difficulty Level
The Everest Base Camp trek is considered a moderately challenging trek that requires a good level of physical fitness and mental preparedness. To effectively prepare for the trek, it is crucial to comprehend the distinct phases and the corresponding difficulty levels.
Initial Days (Lukla to Namche Bazaar): The trek begins with a flight from Kathmandu to Lukla and a trek to Phakding, followed by a gradual ascent to Namche Bazaar. This stage involves walking on well-defined trails with some uphill and downhill sections. The altitude gain is moderate, allowing for proper acclimatization.
Acclimatization in Namche Bazaar: Namche Bazaar is a significant acclimatization point. Short hikes to higher elevations, such as Everest View Hotel or Khumjung Village, help in the acclimatization process.
Trekking in Higher Altitudes: After Namche Bazaar, the trek continues to higher altitudes, with occasional steep uphill and downhill sections. The trails may become steeper and rockier, requiring steady footing. The daily distances increase, and the air becomes thinner as you ascend. Stamina and endurance become more crucial during this stage.
Everest Base Camp and Kala Patthar: The final stretch involves reaching Everest Base Camp and hiking to Kala Patthar for panoramic views. Since the air is thin and the altitude is high, this section of the journey calls for a steady pace. The terrain is rocky and uneven, demanding concentration and careful footing.
It is highly recommended to trek with an experienced guide or join a reputable trekking agency that prioritizes safety and ensures proper acclimatization. They can provide guidance, monitor your health, and make necessary adjustments to the itinerary based on your condition.
As you hike to Everest Base Camp, keep in mind that careful attention to your body's signals during the climb, gradual acclimatization, and physical preparedness are all essential.
Altitude Sickness and Acclimatization on Everest Base Camp Trek
Altitude sickness is a concern during the Everest Base Camp trek. It takes place when the body is unable to quickly adapt to the decreased oxygen levels at higher elevations. A safe and pleasurable journey may be ensured by being aware of the dangers and symptoms of altitude sickness.
After ascending an altitude of above 2500 meters, signs of altitude sickness start appearing between 6 to 48 hours, which might be mild to acute. Common symptoms include:
Headache (often the first symptom),
Fatigue and weakness,
Nausea and loss of appetite,
Dizziness or lightheadedness,
Shortness of breath,
Difficulty sleeping,
Swelling of hands, feet, or face.
Acclimatization properly is crucial to lowering the risk of altitude sickness. Here are some strategies for acclimatization during the Everest Base Camp trek:
Gradual Ascent: Ascend gradually, allowing your body time to adjust to the increasing altitude. Avoid rapid altitude gain, especially above 3,000 meters (9,800 feet).
Stay Hydrated: Drink plenty of fluids, preferably water, to stay hydrated. Dehydration can worsen the symptoms of altitude sickness.
Rest and Acclimatization Days: Plan rest days during the trek to allow your body to adjust to higher altitudes. These rest days also give you an opportunity to explore the surroundings and enjoy the journey.
Slow and Steady Pace: Maintain a slow and steady pace while trekking. Avoid overdoing it and pay attention to your body's warnings.
Medication: Consider consulting with a doctor about the use of acetazolamide (Diamox) to help prevent altitude sickness. This medication can aid in acclimatization but should be taken under medical guidance.
Descend if Symptoms Worsen: If you experience worsening symptoms of altitude sickness, such as severe headache, difficulty breathing, or confusion, it is crucial to descend to a lower altitude immediately. Do not ignore or push through severe symptoms.
Remember that paying attention to your body is the most crucial component of preventing altitude sickness. Pay attention to any signs or symptoms, communicate with your trekking companions and guide, and be prepared to adjust your plans accordingly. Your health and safety should always take priority over reaching a specific destination.
If you experience severe symptoms or if symptoms persist after descending, seek immediate medical assistance. Trekking with an experienced guide or joining a reputable trekking agency will also provide added support and guidance for acclimatization and altitude sickness prevention.
Necessary Preparations Before Booking Everest Base Camp Trek Package
Essential Permits for Everest Base Camp Trek
To undertake the Everest Base Camp trek, several permits and documents are required to ensure compliance with local regulations and support the conservation efforts in the region. Here are the essential permits for the trek:
Sagarmatha National Park Entry Permit: The Sagarmatha National Park Entry Permit is mandatory for entering the Sagarmatha National Park, which encompasses the Everest region. The permit costs USD 30 per person and can be obtained from the Nepal Tourism Board office in Kathmandu or from the Sagarmatha National Park entry gate in Monjo.
Khumbu Pasang Lhamu Rural Municipality Permit: In addition to the national park permit, trekkers are also required to obtain the Khumbu Pasang Lhamu Rural Municipality Permit. This permit costs USD 20 per person and can be obtained at the municipality's office in Lukla or at the Monjo entry gate.
Both permits can be obtained through registered trekking agencies or individually at the respective offices mentioned above. Trekking agencies usually handle the permit process as part of their service. When applying for permits, it's crucial to have recent identification on hand (such as a passport), since it can be required for verification.
Respect for the local environment and culture as well as adherence to local laws are essential. The permits help support conservation efforts, infrastructure development, and the livelihoods of local communities. During the trek, you may be asked to present your permits at various checkpoints along the trail. Make sure to keep them easily accessible and carry multiple copies as required.
It is essential to highlight that hiking without the required permissions is prohibited, and offenders risk fines or other consequences. You help to manage the region sustainably and ensure the preservation of its natural and cultural assets by getting the necessary permissions. Lastly, it is advisable to stay informed about any changes in permit regulations or procedures by consulting with reputable trekking agencies or checking with the Nepal Tourism Board before your journey.
Emergency Services and Rescue Options during Everest Base Camp Trek
It's crucial to be informed about the rescue and evacuation protocols and emergency services that are accessible when trekking in the Everest Region.
Local Emergency Services: Along the trekking route, there are local medical clinics and health posts in villages like Namche Bazaar, Pheriche, and Lukla. These facilities can provide basic medical care for minor ailments or injuries. However, their capabilities are limited, and they may not have specialized equipment or services for serious medical emergencies.
Helicopter Rescue Services: In case of a medical emergency or severe altitude sickness, helicopter rescue services are available to evacuate trekkers to a lower altitude or to Kathmandu for further medical assistance. Several private helicopter companies operate rescue services in the region. They have experienced pilots and trained rescue personnel who can be dispatched for emergency evacuations.
It's important to note that helicopter rescue services are subject to weather conditions and availability. The decision to initiate a rescue is made by the trekker's guide, based on their assessment of the situation and consultation with medical professionals.
Travel Insurance and Evacuation Procedures: Having comprehensive travel insurance is highly recommended before undertaking the Everest Base Camp trek. Ensure that your insurance policy covers high-altitude trekking, including helicopter rescue and medical evacuation.
In the event of an emergency, contact your travel insurance provider's emergency assistance hotline immediately. They will guide you through the evacuation process and coordinate with the helicopter rescue services. It is crucial to have your insurance policy details readily accessible, including the emergency contact number and policy number.
Before the trek, familiarize yourself with the procedures and requirements of your travel insurance provider for initiating a rescue or medical evacuation. Keep in mind that you may need to settle the expenses initially and later make a claim with your insurance company for reimbursement.
During the Everest Base Camp trek, maintain communication with your trekking guide or agency, as they can assist in coordinating emergency services and providing necessary information to the rescue team.
Remember, prevention is key. Proper acclimatization, trekking with an experienced guide, and being prepared with essential gear and medications can minimize the risk of emergencies and the need for rescue services. To have a risk-free and secure trekking trip in the Everest Base Camp region, it is always preferable to be organized, knowledgeable about the available emergency services, and covered by proper travel insurance.
Physical Fitness and Training for Everest Base Camp Trek
Physical fitness is crucial for a successful and enjoyable Everest Base Camp trek. The trek involves long hours of walking in varying terrains, including steep ascents and descents, at high altitudes. Being physically prepared will not only enhance your trekking experience but also reduce the risk of injuries and altitude-related issues. Here are some important considerations:
Endurance and Cardiovascular Fitness: Focus on activities that improve your cardiovascular fitness, such as walking, hiking, running, or cycling. Start with shorter distances and gradually increase the duration and intensity of your workouts. Aim for regular aerobic exercises to build stamina and endurance.
Strength Training: Strengthening your leg muscles, core, and upper body will support you during the trek. Incorporate exercises like squats, lunges, step-ups, planks, and push-ups into your routine. Use weights or resistance bands to challenge yourself and build muscle strength.
Stamina and Mental Preparation: Long-distance hikes require mental resilience as well. Increase your stamina by gradually increasing the duration of your training sessions. Incorporate longer hikes or walks on varied terrain, simulating the conditions you may encounter during the trek.
Balance and Flexibility: Improve your balance and flexibility to navigate uneven terrain and reduce the risk of injuries. Practice exercises like yoga, stretching, and balance poses to enhance your stability and agility.
Hydration and Nutrition: Stay hydrated and maintain a balanced diet to support your training and prepare your body for the physical demands of the trek. It is highly recommended to drink plenty of water during workouts and maintain a diet rich in nutrition.
Consult a Doctor: Before undertaking any strenuous physical activity, including high-altitude trekking, consult with a doctor. They can assess your overall health, advice on any specific precautions or training needs, and ensure you are medically fit for the trek.
Remember, the Everest Base Camp trek requires a considerable level of physical fitness. Gradually improving your endurance, strength, and flexibility through consistent training will support to prepare your body for the challenges ahead. Start your training well in advance of the trek to allow sufficient time for conditioning. Listen to your body, rest when needed, and don't push beyond your limits. With proper physical preparation, you can have a rewarding and successful Everest Base Camp trek experience.
Local Culture and Etiquette on Everest Base Camp Trek Journey
The Khumbu region, which has significant cultural value and is home to the Sherpa civilization, is traversed on the Everest Base Camp excursion. Understanding and respecting the local culture and customs enhances the trekking experience and promotes positive interactions with the local communities. Here are some key points to keep in mind:
Cultural Significance: The Khumbu region is rich in Tibetan Buddhist culture and traditions. You will encounter monasteries, prayer flags, and mani walls along the trek. Since this area is revered, it is crucial to respect the holy places and customs that are practiced there.
The Sherpa Community: The Sherpas are an ethnic group native to the Everest region, known for their resilience, mountaineering expertise, and warm hospitality. The Sherpa culture and customs are deeply intertwined with their Buddhist beliefs. They hold great reverence for the mountains and nature.
Greetings and Interactions: When interacting with locals, greet them with a warm "Namaste" (meaning "hello" or "I bow to the divine in you") and a slight bow. The Sherpa people appreciate polite and respectful behavior.
Dress Code: While there are no strict dress codes for tourists, it is recommended to dress modestly and respectfully, especially when visiting monasteries or religious sites. Avoid wearing revealing or disrespectful attire.
Religious Sites and Customs: When visiting monasteries or religious sites, remove your shoes before entering and refrain from taking photographs without permission. Observe silence and avoid any disruptive behavior during religious ceremonies or rituals.
Photography: Always ask for permission before taking photographs of individuals, especially the locals. Respect their privacy and cultural sensitivities. Avoid photographing religious objects or symbols without permission.
Environmental Responsibility during Everest Base Camp Trek
Responsible tourism and minimizing environmental impact are crucial when trekking in the Everest Base Camp region. By practicing Leave-No-Trace principles and supporting local communities, you can contribute to the preservation of the pristine environment and promote sustainable tourism. Here are some guidelines to follow:
Pack out What You Pack In: Carry all your waste with you and dispose of it properly in designated waste facilities. Avoid littering along the trail, and minimize the use of single-use plastics. Consider bringing reusable water bottles and food containers to reduce waste.
Respect Nature and Wildlife: Appreciate the natural beauty of the region without disturbing the flora and fauna. Stay on designated trails to avoid trampling on delicate vegetation. Observe wildlife from a distance and refrain from feeding or touching them.
Conserve Water and Energy: Be mindful of your water and energy consumption during the trek. Use water sparingly, taking only what you need. Don't leave the lights, heaters, and other appliances powered on when not in use. Use hot water wisely since it is frequently heated with firewood or other non-renewable resources.
Use Local and Reusable Products: Support local businesses by purchasing locally-made products and souvenirs. Opt for reusable items like water bottles, shopping bags, and food containers instead of disposable ones.
Respect Local Culture and Customs: Respect the local culture, traditions, and religious sites. Follow the guidelines mentioned earlier for interacting with locals, dressing modestly, and observing proper etiquette at monasteries and religious sites.
Support Local Communities and Conservation Efforts: Choose tea houses owned and operated by local communities, which helps generate income and employment opportunities. Engage with local guides, porters, and staff, and respect their knowledge and expertise. Consider contributing to local conservation organizations or initiatives that work towards preserving the environment and supporting local communities.
Educate and Inspire Others: Spread the message of responsible tourism and environmental conservation. Share your experiences and knowledge with fellow trekkers, and encourage them to follow sustainable practices.
By adopting these guidelines, you become an ambassador for responsible tourism and contribute to the long-term preservation of the Everest Base Camp region. Together, we can make sure that future generations may take pleasure in this amazing location's splendor.
Everest Base Camp Trek Packing List and Gear
It's important to pack sensibly and have the right equipment while getting ready for the Everest Base Camp hike to ensure comfort and safety. Here is a comprehensive packing list:
Clothing
Moisture-wicking base layers (tops and bottoms)
Insulating layers (fleece jackets, down jackets)
Waterproof and windproof outer shell jacket and pants
Trekking pants (convertible pants are convenient)
Long-sleeved shirts
T-shirts
Thermal socks (wool or synthetic)
Underwear
Warm hat
Sun hat or cap
Gloves (thermal and waterproof)
Scarf or neck gaiter
Sunglasses (with UV protection)
Footwear
Sturdy and comfortable trekking boots (broken in prior to the trek)
Hiking socks (wool or synthetic)
Gaiters (optional but helpful for keeping debris out of boots)
Equipment and Gear
Backpack (40-50 liters)
Daypack (20-30 liters)
Sleeping bag (rated for cold temperatures, preferably down-filled)
Sleeping bag liner (for added warmth and hygiene)
Trekking poles (helpful for stability and reducing strain on knees)
Headlamp (with extra batteries)
Water bottles or hydration system (capacity of at least 2 liters)
Water purification tablets or filter
Duffel bag or a large waterproof bag (for porters to carry your main luggage)
Dry bags or stuff sacks (to keep items organized and dry)
Trekking map or guidebook
Compass or GPS device (optional)
Portable charger/power bank
Multi-purpose knife or tool
Trekking towel
Personal toiletries and medications (including altitude sickness medication if prescribed)
Miscellaneous
Sunscreen (with high SPF)
Lip balm with SPF
Insect repellent
First aid kit (including blister treatment, pain relievers, and any necessary prescription medications)
Hand sanitizer or wet wipes
Travel adapters and chargers
Cash (in local currency) and small denominations for tipping and miscellaneous expenses
Trekking permits and necessary identification documents (passport, copies of permits)
It's crucial to remember that this is only a basic packing list and that you can have your own preferences and other needs. Pack according to the season and weather conditions during your trek. Proper packing and having the right gear will enhance your comfort and convenience during the Everest Base Camp trek, allowing you to focus on enjoying the breathtaking journey.
Conclusion
A once-in-a-lifetime journey that offers stunning scenery, cultural immersion, and a sense of accomplishment is starting the Everest Base Camp trek. With proper preparation, including physical training and obtaining necessary permits, you can embark on this unforgettable journey. The trek takes you through stunning mountain vistas, introduces you to the Sherpa community's warm hospitality, and allows you to witness the majesty of Mount Everest up close.
Explore your boundaries while taking in the natural beauty to make lifelong memories. So lace up your boots, pack your gear, and set off on this extraordinary adventure to Everest Base Camp.
FAQs
How long does it take to complete the Everest Base Camp trek?
The Everest Base Camp trek typically takes around 12 to 16 days to complete. This duration includes trekking from Lukla to Everest Base Camp and back, as well as acclimatization days at strategic points to adapt to the altitude.
What is the best time of the year to trek to Everest Base Camp?
The best time of the year to participate in the Everest Base Camp Trek adventure is in the spring season and the autumn season. If you are an experienced trekker, you can also do this trek in the winter and summer seasons as they bring more challenges to the trekking trail.
Is prior trekking experience necessary for the Everest Base Camp trek?
No, you do not require prior trekking experience to take part in the Everest journey. But, it is highly recommended to get prepared for this adventurous journey 3 to 6 months before arriving in Nepal.
How much does it cost for Everest Base Camp Trek?
The Everest Base Camp Trek Cost falls between USD 1000 to USD 4500 per person based on your requirements. This estimate includes permits, guide and porter fees, accommodation, meals, domestic flights, and other miscellaneous expenses. It is advisable to budget some extra money for personal expenses and unforeseen costs.
What are the accommodation options during the Everest Base Camp trek?
Accommodation options during the Everest Base Camp trek primarily include tea houses (guesthouses or lodges) and camping. Tea houses are the most common and convenient choice, offering basic rooms and shared bathroom facilities. They also provide meals and a chance to interact with fellow trekkers.
Camping is less common but can be arranged for those who prefer a more secluded experience or larger trekking groups. Tea houses are readily available along the route, but during peak seasons, it is advisable to have some flexibility as popular tea houses may fill up quickly.