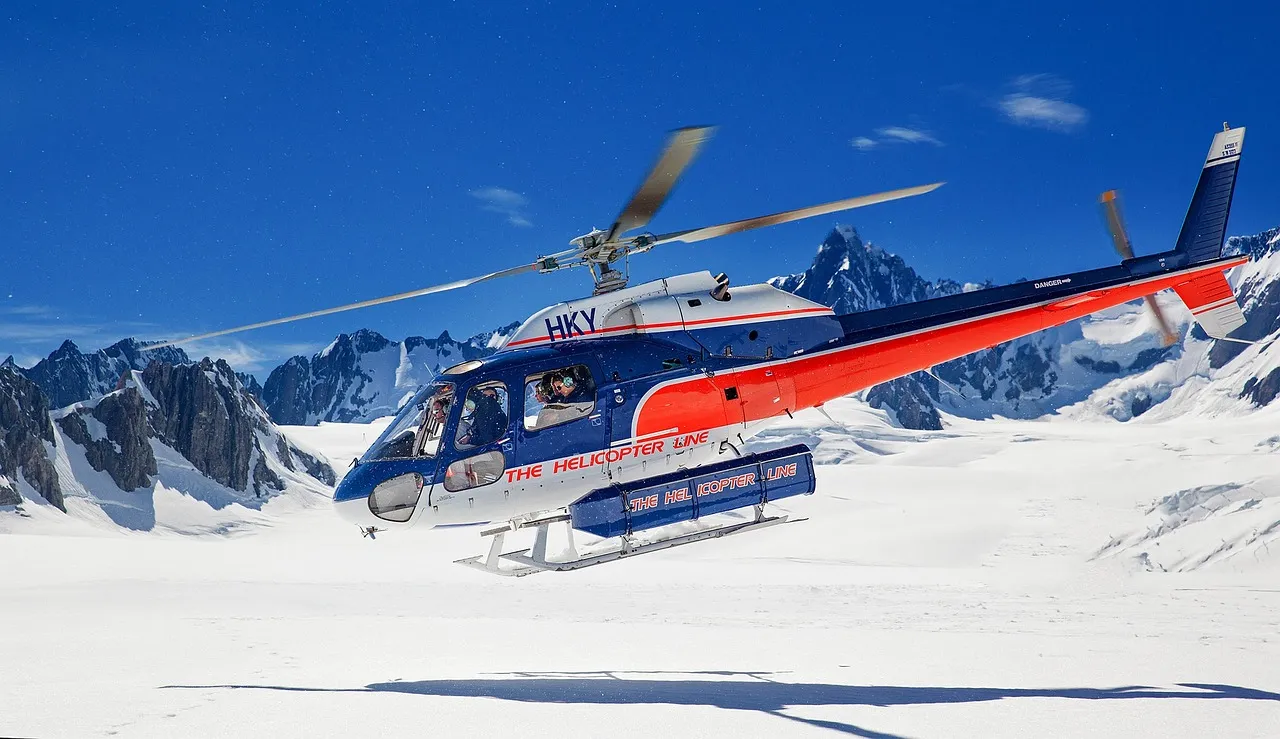 Everest Base Camp Trek with Heli Return: Introduction
Overview of Everest Base Camp Trek with Heli Return
The Everest Base Camp Trek with Heli Return is an extraordinary adventure that combines the thrill of trekking to the iconic Everest Base Camp with the added luxury of a scenic helicopter return.
It proposes an unmatched possibility to witness the breathtaking majesty of the Himalayas, travel through challenging terrain, get to know the Sherpa culture, and admire Mount Everest, the tallest peak on Earth.
Highlights of Everest Base Camp Trek with Heli Return
Trek to Everest Base Camp: Embark on a mesmerizing journey through the picturesque Khumbu Valley, trekking amidst towering mountains, deep valleys, and ancient glaciers. Experience the unique blend of natural wonders and cultural heritage along the trail.
Sherpa Culture and Hospitality: Encounter the warm hospitality of the Sherpa people, renowned for their mountaineering prowess. Gain insights into their rich traditions, Buddhist practices, and Sherpa's way of life.
Spectacular Mountain Views: Witness breathtaking panoramic views of the Himalayan range, including the towering peaks of Mount Everest, Lhotse, Nuptse, Ama Dablam, and many more. Capture postcard-worthy moments of pristine snow-capped peaks against the azure sky.
Aerial Helicopter Return: Soar above the Himalayas on a thrilling helicopter ride, providing a bird's-eye view of the rugged landscape, hidden valleys, and glacial lakes. Experience the Himalayas' breathtaking splendor from a different angle.
Time Efficiency and Comfort: The heli return allows you to save time on the descent, providing a comfortable and efficient way to conclude your trek. It reduces physical strain while ensuring you don't miss out on any of the spectacular scenery.
Everest Base Camp Trek with Heli Return: Choosing the Right Route
Overview of Different Routes to Everest Base Camp
When planning your Everest Base Camp Trek with Heli Return, it's essential to consider the various routes available. The most popular routes include the classic Everest Base Camp via Lukla, Jiri to Everest Base Camp, and the Gokyo Lakes and Everest Base Camp combination route.
Pros and Cons of Each Route
Classic Everest Base Camp via Lukla: This route is the most common choice, offering a well-established trail, teahouse accommodations, and stunning views. However, it can be crowded during peak seasons.
Jiri to Everest Base Camp: This less-trodden route provides a more gradual ascent, allowing for better acclimatization. It offers a unique cultural experience, passing through charming villages. However, it requires additional days of trekking.
Gokyo Lakes and Everest Base Camp Combination: This route combines the beauty of Gokyo Lakes with the iconic Everest Base Camp. It offers magnificent views, avoids the busier sections, and provides an alternative perspective of the Everest region. However, it adds extra days to the trek.
Factors to Consider When Selecting A Route
Trekking Experience: Assess your fitness level and prior trekking experience to determine which route suits you best. Some routes require higher levels of endurance and physical fitness.
Time and Duration: Consider the time you have available for the trek. Some routes require more days due to longer distances or additional acclimatization stops.
Scenic Beauty: Different routes offer varying landscapes, views, and highlights. Decide whether you prioritize specific features, such as mountain panoramas, cultural immersion, or unique landmarks.
Crowd Preference: Consider whether you prefer a more popular and potentially busier route or a quieter, off-the-beaten-path experience.
Recommended Route for the Trek with Heli Return
For the Everest Base Camp Trek with Heli Return, the classic route via Lukla is often recommended. It strikes a balance between accessibility, stunning scenery, and teahouse infrastructure. This route allows for a smooth transition from the base camp trek to the Heli return, ensuring convenience and a memorable journey.
Everest Base Camp Trek with Heli Return: Best Time to Visit
The timing of your Everest Base Camp Trek with Heli Return can significantly impact your overall experience. It's essential to choose a season that offers favorable weather conditions, clear skies, and optimal trekking conditions. The best time to visit for the trek with heli return is during the following periods:
Spring (March to May)
Spring is considered the peak season for trekking to Everest Base Camp. The weather during this time is naturally stable, with mild temperatures and clear skies.
The rhododendron forests along the trail are in full bloom, adding vibrant colors to the landscape.
However, expect larger crowds and higher prices for accommodations due to the popularity of this season.
Autumn (September to November)
Autumn is another excellent season for the Everest Base Camp Trek with Heli Return.
The weather is generally dry, with clear visibility and stable conditions. The skies are often crystal clear, offering spectacular views of the mountains.
The temperatures are moderate, making it comfortable for trekking, and the trails are less crowded compared to the spring season.
While spring and fall are considered the perfect times to participate in this trek. But, you must note that they are the busiest times of year on the Everest Base Camp path. If you prefer a quieter experience with fewer trekkers, you may consider visiting during the shoulder months of these seasons.
During the winter (December to February), when temperatures can drop fairly low and higher passes may be closed due to heavy snowfall, it is suggested not to ascend Everest. The monsoon season, which lasts from June through August, is similar in that heavy rains make the pathways hazardous and challenging to travel.
For Whom Everest Base Camp Trek with Heli Return is Suitable?
A wide spectrum of people who have an adventurous attitude, a respectable degree of health, and a desire to see the stunning grandeur of the Himalayas will benefit from the Everest Base Camp Trek with Heli Return. Here are the key factors that make this trek suitable for various individuals:
Trekking Enthusiasts
The trek is ideal for those who have a passion for trekking and enjoy challenging themselves amidst stunning natural landscapes.
It offers a unique opportunity to explore the iconic Everest Base Camp while immersing in the enchanting beauty of the Khumbu Valley.
Nature and Mountain Lovers
If you have an affinity for nature and are captivated by the magnificence of mountains, this trek is perfect for you.
The journey provides unparalleled views of the Himalayan range, including Mount Everest, as well as opportunities to witness unique flora and fauna along the trail.
Adventure Seekers
For those seeking an adrenaline rush and a sense of adventure, the Everest Base Camp Trek with Heli Return offers an exciting combination of trekking and a thrilling helicopter ride.
The helicopter return provides an aerial perspective of the Himalayas, adding an extra element of excitement to the trek.
Time-Conscious Travelers
Travelers with limited time constraints can opt for the Everest Base Camp Trek with Heli Return as it offers a time-efficient way to experience the trek while ensuring a comfortable and convenient return journey.
The heli return saves time on the descent, allowing you to cover more ground and make the most of your trip.
Moderate Fitness Level
While the trek requires a reasonable level of fitness, it is suitable for individuals with a moderate level of physical endurance and the ability to walk for several hours a day.
Adequate preparation and training, along with acclimatization strategies, will help ensure a safe and enjoyable experience.
Before starting any physically strenuous expedition, it's crucial to speak with your doctor, especially if you have any underlying health issues.
Everest Base Camp Trek with Heli Return: Trek Itinerary
Also Read: Guide for Everest Base Camp Trek: Everything You Need to Know
Everest Base Camp Trek with Heli Return Cost
The cost of the Everest Base Camp Trek with Heli Return can vary depending on several factors, such as the trekking season, trek duration, inclusions/exclusions, and the services provided by trekking agencies.
It's crucial to remember that costs might vary across operators and are subject to change. However, as a general guideline, here are some aspects that may contribute to the overall cost:
Trekking Package
The trekking package cost can range from $1,200 to $2,500 per person. This typically includes airport transfers, accommodation in Kathmandu (3-star hotel), teahouse lodges during the trek, meals on the trek, trekking permits and park fees, a licensed guide, and porter services.
Domestic Flights
The round-trip flights from Kathmandu to Lukla can cost approximately $300 to $400 per person. The price is subject to change based on availability, time of booking, and fluctuations in flight fares.
Helicopter Return
The cost of the heli return from Gorak Shep to Lukla can range from $500 to $800 per person. The price varies depending on factors such as the number of passengers, helicopter availability, and the helicopter company chosen.
Additional Services
Trekking gear rental can cost around $50 to $100 for the entire trek, depending on the quality and duration of the rental. Relying on the coverage and length, travel insurance for the Everest journey might cost anywhere from $50 to $100 per person.
Counting on the hotel type, additional nights' lodging in Kathmandu may cost anywhere from $50 to $150 per night.
Tips and Personal Expenses
It is customary to tip the trekking staff, and a suggested amount is around $10 to $15 per day for the guide and $8 to $12 per day for the porter. Personal expenses for snacks, beverages, souvenirs, and optional activities can vary based on individual preferences.
Please note that these costs are simply a rough indication and may vary depending on the trekking season, the degree of service, the size of the party, and personal spending preferences. It's advisable to contact reputable trekking agencies or tour operators for accurate and up-to-date cost information tailored to your specific requirements.
Everest Base Camp Trek with Heli Return: Exploring Base Camp
Everest Base Camp
Everest Base Camp (5,364 meters / 17,598 feet) serves as the starting point for mountaineers embarking on their journey to conquer the mighty Mount Everest. Situated amidst a vast glacial plain, Everest Base Camp offers a surreal and awe-inspiring setting.
It emanates a sense of grandeur and adventure since it is surrounded by towering peaks, enormous glaciers, and the immensity of the Himalayan environment. You'll be surrounded by a spirit of fortitude, endurance, and the desire for climbing glory as soon as you reach Everest Base Camp.
Views of Khumbu Icefall and Surrounding Peaks
You may get a close-up view of the magnificent Khumbu Icefall at Everest Base Camp. This immense, dynamic glacier serves as the gateway to the upper reaches of Mount Everest. As you gaze upon its seracs, crevasses, and ever-changing ice formations, you will be captivated by the sheer power and beauty of nature.
The towering peaks that surround Everest Base Camp, including Nuptse, Lhotse, and Pumori, create a majestic backdrop against the icy landscape. You will be in awe of these majestic peaks' magnificence as you watch the interaction of light and shadow on them throughout the day.
Interactions with Climbers and Sherpa Community
Exploring Everest Base Camp presents a special chance to meet climbers getting ready to ascend Mount Everest from all around the world. Witness their tenacity, listen to tales of their climbing adventures, and acquire an understanding of the difficulties they encounter while attempting to scale the tallest mountain in the world.
Additionally, you will have the chance to engage with the resilient Sherpa community, renowned for its mountaineering expertise and rich cultural heritage. Their warm hospitality, tales of the mountains, and traditional practices will provide a deeper understanding of the Sherpa way of life and the Himalayan region.
Everest Base Camp Trek with Heli Return: Accommodation
Types of Accommodation
Tea houses are the most common form of accommodation along the route of the Everest Base Camp trek with Heli Return. Teahouses offer simple rooms with twin beds or bunk beds. Although there is supplied bedding, a sleeping bag is suggested for more warmth and comfort.
It is possible to use shared restrooms, which often include squat toilets. There are available shared restrooms, which typically include squat toilets.
Local Teahouses and Their Facilities
Dining Areas: Teahouses have communal dining areas where trekkers can enjoy meals, socialize, and unwind. These areas are often cozy with wooden interiors, offering a warm ambiance.
Common Areas: Some teahouses provide common areas or lounges where trekkers can relax, read books, or converse with fellow trekkers.
Charging Facilities: Many teahouses have charging stations or outlets available for trekkers to recharge their electronic devices, although it's advisable to bring spare batteries or power banks.
Wi-Fi: Some teahouses offer limited Wi-Fi access for a small fee, although the connection may be intermittent or slow due to the remote location.
Traditional and International Cuisine Options on the Trail
Traditional Nepali Food: Teahouses serve a variety of Nepali dishes, including dal bhat (rice with lentil soup), momo (dumplings), thukpa (noodle soup), and various local curries. These meals provide a hearty and flavorsome experience, giving trekkers a taste of the local cuisine.
International Dishes: In addition to traditional Nepali food, teahouses also offer international dishes such as pasta, pizza, sandwiches, and fried rice. These options cater to different preferences and provide a familiar taste for those seeking comfort food.
Hot Drinks: Tea, coffee, hot chocolate, and other warm beverages are readily available at teahouses. These drinks are particularly comforting after a long day of trekking, providing warmth and relaxation.
Everest Base Camp Trek with Heli Return: Experience
Advantages of Heli Return from Gorak Shep
The Heli Return from Gorak Shep offers several advantages for trekkers completing the Everest Base Camp Trek. Some of the key benefits include:
Time Efficiency: The heli return allows trekkers to save time on the descent, avoiding the need to retrace their steps along the same trail. This time-saving aspect is especially beneficial for those with limited vacation time or those who prefer a more expedited journey.
Reduced Physical Strain: The trek from Gorak Shep to Lukla, on the return leg, can be physically demanding due to fatigue accumulated during the trek. The Heli Return spares trekkers from the additional physical strain of descending the trail, allowing them to conserve energy for other activities.
Alternative Perspective: The heli return provides a unique perspective of the region, offering a bird's-eye view of the majestic Himalayas and the stunning landscapes below. The encounter becomes much more thrilling and adventurous as a result.
Spectacular Aerial Views of the Himalayas
The helicopter ride during the Heli Return offers trekkers the opportunity to witness breathtaking aerial views of the Himalayas. You will be treated to breathtaking sights of snow-capped peaks, glacial valleys, and dramatic landscapes as the helicopter flies over the rough terrain.
The vastness and grandeur of the Himalayan range unfold before your eyes, providing a truly unforgettable visual spectacle.
Time-saving and Convenience
The Heli Return from Gorak Shep to Lukla provides trekkers with a time-saving and convenient option. Instead of retracing the entire trail on foot, the helicopter ride offers a quicker and more direct route back to Lukla.
This convenience allows trekkers to allocate more time for exploration, relaxation, or other activities in the Everest region or during their stay in Kathmandu.
Helicopter Landing at Lukla
The helicopter during the Heli Return lands at Lukla, a small town with an iconic airport known for its challenging terrain. The landing itself can be an exciting experience as the helicopter navigates through the mountainous landscape and touches down at Lukla's airstrip, surrounded by breathtaking views.
This unique landing adds an extra element of adventure and serves as a memorable conclusion to the Everest Base Camp trek.
Everest Base Camp Trek with Heli Return: Connecting with Nature
Diverse Flora and Fauna of Sagarmatha National Park
An ecology that is rich and diversified may be found at Sagarmatha National Park, which is a UNESCO World Heritage Site. The park's varied variety of flora and animals makes it a sanctuary for anyone who enjoys being outside.
As you trek through this pristine wilderness, you will have the chance to immerse yourself in the following natural wonders:
Sagarmatha National Park is known for its stunning floral diversity. A rich forest of pine, juniper, and fir trees along the route as mosses and lichens decorate the rocks. The vibrant rhododendron forests add a splash of color during the spring season when the blossoms paint the landscape in hues of red, pink, and white.
The Park is also home to various wildlife species adapted to the high-altitude environment. Watch out for sightings of endangered species including the Himalayan tahr, musk deer, and snow leopard.
You may also encounter Himalayan pheasants, colorful danphe (national bird of Nepal), and various species of birds, adding a delightful touch of avian beauty to your trekking experience.
Enchanting Rhododendron Forests and Alpine Meadows
One of the enchanting features of the Everest Base Camp Trek is the presence of rhododendron forests and alpine meadows. These natural wonders add a touch of magic and beauty to the trekking experience. Walking amidst these lush, fragrant blooms creates a surreal and captivating atmosphere.
Alpine meadows offer a calm and beautiful location where you may commune with nature's serenity thanks to their blanket of wildflowers.
Spotting Rare Wildlife Species on the Trail
The Everest Base Camp Trek offers trekkers the opportunity to spot rare wildlife species in their natural habitat. While encounters with wildlife are not guaranteed, the region is known for its diverse fauna. The elusive snow leopard, an iconic symbol of the Himalayas, may occasionally grace fortunate trekkers with its presence.
Other wildlife species, such as Himalayan tahr, musk deer, and Himalayan monal, add to the allure of the trek and create unforgettable wildlife encounters.
Everest Base Camp Trek with Heli Return: Challenges and Tips
Dealing with Altitude Sickness
Altitude sickness, also known as acute mountain sickness (AMS), can pose a challenge during the Everest Base Camp Trek. To mitigate the risks and ensure a safe journey, consider the following tips:
Acclimatization: Proper acclimatization is crucial. Take regular rest days to allow your body to adjust to the increasing altitude. Ascend gradually, following the recommended itinerary.
Hydration: Stay well-hydrated throughout the trek. Drink plenty of fluids, especially water. Avoid excessive alcohol consumption and caffeinated beverages.
Recognizing Symptoms: Know the signs of altitude sickness, which can include headaches, vertigo, nausea, and shortness of breath. If you experience any severe symptoms, descend to a lower altitude and seek medical attention.
Coping with Physical Exertion and Fatigue
The Everest Base Camp Trek involves strenuous physical activity. Here are some tips to cope with the physical demands:
Physical Fitness: Prioritize physical fitness and endurance training before the trek. Engage in regular cardiovascular exercises, strength training, and hiking practice.
Trekking Pacing: Maintain a steady and comfortable pace throughout the trek. Avoid straining yourself and pay attention to your body's warnings. When you need to relax and recharge, take pauses.
Ensuring Proper Hydration and Nutrition
Proper hydration and nutrition are essential for maintaining energy levels and supporting overall well-being:
Hydration: Drink plenty of water and fluids to stay hydrated. Carry a reusable water bottle and refill it at teahouses or water stations along the trail.
Balanced Diet: Consume a balanced diet that includes carbohydrates for energy, protein for muscle repair, and fruits and vegetables for vitamins and minerals. Take advantage of the local cuisine and try traditional Nepali dishes.
Coping with Changing Weather Conditions
The weather in the Everest region can be unpredictable. Prepare for changing weather conditions with these tips:
Layered Clothing: Dress in layers to adapt to varying temperatures. Start with a base layer that drains away moisture, add layers of insulation, and complete with a waterproof and windproof outer layer.
Rain and Wind Protection: Carry a waterproof and breathable rain jacket, rain pants, and a sturdy umbrella. Additionally, use a waterproof cover or dry bags to protect your gear.
Sun Protection: Use sunscreen with a high SPF, wear a hat, and protect your eyes with sunglasses that provide UV protection.
Safety Precautions and Emergency Procedures
Trekking with a Guide: Consider hiring a licensed guide who is familiar with the region and can provide valuable guidance and assistance.
Emergency Contacts: Carry a list of emergency contact numbers, including local authorities, trekking agencies, and medical services.
First Aid Kit: Carry a well-stocked first aid kit with essentials such as bandages, antiseptic ointments, painkillers, and medications for common ailments.
Everest Base Camp Trek with Heli Return: Preparation
Physical Fitness and Training
Physical fitness is essential for the Everest Base Camp Trek with Heli Return. Here are some tips to help you prepare:
Cardiovascular Exercises: Engage in regular aerobic exercises such as running, hiking, cycling, or swimming to improve your cardiovascular endurance.
Strength Training: Incorporate strength training exercises to build muscular strength and endurance, focusing on the legs, core, and upper body.
Stamina Building: Gradually increase the duration and intensity of your workouts to build stamina for long days of trekking.
Acclimatization and Altitude Sickness Prevention
Proper acclimatization is crucial to mitigate the risks of altitude sickness. Consider these tips:
Gradual Ascent: Follow a well-planned itinerary that allows for gradual altitude gain and proper rest days for acclimatization.
Hydration: Drink plenty of fluids, especially water, to stay hydrated and aid acclimatization.
Medication: Consult with a medical professional about medications like acetazolamide (Diamox) that may help prevent altitude sickness. Follow their recommendations and guidelines.
Essential Trekking Gear and Equipment
Having the right gear and equipment is vital for a successful and comfortable trek. Here's a list of essentials:
Trekking Boots: Invest in sturdy, waterproof trekking boots that provide ankle support and have a good grip.
Layered Clothing: Pack moisture-wicking base layers, insulating mid-layers, and a waterproof and windproof outer shell. Don't forget warm hats, gloves, and socks.
Daypack: Carry a comfortable daypack with padded straps to hold your essentials during the trek, such as water, snacks, a rain jacket, sunscreen, and a camera.
Sleeping Bag: Bring a good-quality sleeping bag that can withstand low temperatures. Ensure it is suitable for the expected temperatures on the trek.
Trekking Poles: To increase stability and lessen the pressure on your knees when climbing and descending steep terrain, think about using trekking poles.
Packing Tips and Essentials for Everest Base Camp Trek with Heli Return
Efficient packing is key to a smooth and organized trek. Consider the following tips:
Lightweight and Compact: Opt for lightweight and compact items to minimize the weight of your backpack.
Layering: Pack clothing that can be layered for versatility in changing weather conditions.
Essential Documents: Carry your passport, permits, and other necessary travel documents in a waterproof pouch.
Snacks and Water: Bring energy bars, trail mix, and snacks for quick and convenient energy boosts. Carry a reusable water bottle to refill at teahouses.
Everest Base Camp Trek with Heli Return: Safety and Health
Emergency Protocols and Communication during the Trek
During the Everest Base Camp Trek with Heli Return, it is essential to ensure your safety and well-being. Here are some important considerations:
Local Trekking Agency: Choose a reputable trekking agency that prioritizes safety and has experienced guides familiar with emergency protocols.
Emergency Contacts: Carry a list of emergency contact numbers, including local authorities, your trekking agency, and medical services. Share these details with your trekking guide.
Communication Devices: Carry a fully charged mobile phone with a local SIM card and a power bank. Keep your phone in airplane mode to conserve battery and use it for emergencies or important communication.
Preventative Measures for Common Ailments
Taking preventative measures can help minimize the risk of common ailments during the trek. Consider the following tips:
Hygiene Practices: Maintain good hygiene by washing your hands regularly with soap and water, or using hand sanitizer when water is not available.
Water Purification: Avoid drinking untreated water. Carry water purification tablets or use water filters to ensure safe drinking water.
Dietary Considerations: Be mindful of the food you consume. To reduce the risk of food-related sickness, pick prepared meals and stay away from raw or undercooked food.
First Aid Essentials and Medical Services on the Route
Carrying a well-equipped first aid kit is essential for handling minor injuries and ailments. Here are some first-aid essentials to include:
Bandages, Gauze, and Adhesive Tape: For dressing wounds and cuts.
Antiseptic Ointment: To clean and prevent infection in case of injuries.
Pain Relievers: Such as ibuprofen or paracetamol for headaches, muscle pain, or minor aches.
Blister Treatment: Moleskin or blister patches for foot care.
Medications: Personal medications, as well as over-the-counter remedies for common ailments such as diarrhea, cold, and altitude sickness (under medical guidance).
While there are medical facilities along the route, their availability may be restricted. Teahouses often have basic first aid supplies, and the nearest medical facilities are in Namche Bazaar and Lukla. In case of serious emergencies, helicopter evacuation can be arranged. It's crucial to have travel insurance that covers emergency medical evacuations.
Conclusion
Don't let the dream of trekking to Everest Base Camp remain just a dream. Set off on your path to making it a reality. Take this remarkable tour, challenge yourself, and become fully immersed in the beauties of the Himalayas.
You may overcome the difficulties and make experiences that will last a lifetime with proper planning, acclimatization, and the assistance of knowledgeable guides. The Everest Base Camp trek with Heli Return awaits, ready to offer you a transformative adventure. Embrace the call of the mountains and embark on this unforgettable trek of dreams come true.
FAQs
What is the best time to do the Everest Base Camp trek with Heli Return?
The pre-monsoon (spring) season from March to May and the post-monsoon (fall) season from September to November are the finest times for the Everest Base Camp trek with Heli Return. These seasons offer stable weather, clear skies, and optimal trekking conditions.
How difficult is the trek? Do I need prior trekking experience?
The Everest Base Camp trek with Heli Return is considered a moderately challenging trek. It involves several steep ascents and descents, and the high altitude can make it physically demanding. Prior trekking experience is not necessary, but good physical fitness, endurance, and mental preparation are recommended.
Can I book a Heli Return on the spot or do I need to pre-book?
It is advisable to pre-book the Heli Return from Gorak Shep to Lukla to secure your spot. Pre-booking ensures availability and allows for proper planning. Trekking agencies can assist in arranging the helicopter return as part of your overall trekking package.
What should I expect in terms of accommodation during the trek?
Accommodation along the Everest Base Camp trek consists of teahouses, which are basic lodges offering rooms with twin beds or bunk beds. Shared bathroom facilities are common, and amenities may vary. The teahouses provide meals and a cozy place to rest, adding to the unique experience of trekking in the Himalayas.
Are there any age restrictions for the trek with Heli Return?
There are no specific age restrictions for the Everest Base Camp trek with Heli Return. A medical expert should be consulted to evaluate your level of fitness and readiness for the expedition, though. Trekking agencies may have their own age restrictions or guidelines for safety reasons.
Is travel insurance necessary for this trek?
Travel insurance is highly recommended for the Everest Base Camp trek with Heli Return. It should cover emergency medical evacuation, trip cancellation, and personal belongings. Ensure that the insurance policy covers trekking activities at high altitudes and consult with the insurance provider for specific details and coverage.
What are the costs associated with the Everest Base Camp trek with Heli Return?
The costs of the Everest Base Camp trek with Heli Return vary depending on factors such as the trekking package, domestic flights, heli return, additional services, and personal expenses. As per general rule, the trekking package might cost between $1,200 and $2,500 per person, plus extra for flights and a return helicopter ride. It's advisable to contact trekking agencies for accurate and up-to-date cost information.
What permits and documents are required for the trek?
For the Everest Base Camp trek, you will need two permits: the Sagarmatha National Park Entry Permit and the Khumbu Pasang Lhamu Rural Municipality Permit. These permits can be obtained in Kathmandu or through trekking agencies. Additionally, a valid passport and necessary travel documents are required.
Is it possible to extend the trek or customize the itinerary?
Yes, it is possible to extend the trek or customize the itinerary according to your preferences. Trekking agencies can help tailor the trek to include side trips, additional acclimatization days, or visits to nearby attractions such as Gokyo Lakes or the Everest View Hotel. Discuss your requirements with the trekking agency to create a personalized itinerary.
What happens in case of bad weather or flight cancellations?
In case of bad weather or flight cancellations, the itinerary may be adjusted accordingly. The trekking agency will provide guidance and alternate options to ensure safety and the best possible experience. It could be essential to postpone or reschedule flights or alter the trekking plan under adverse weather conditions.