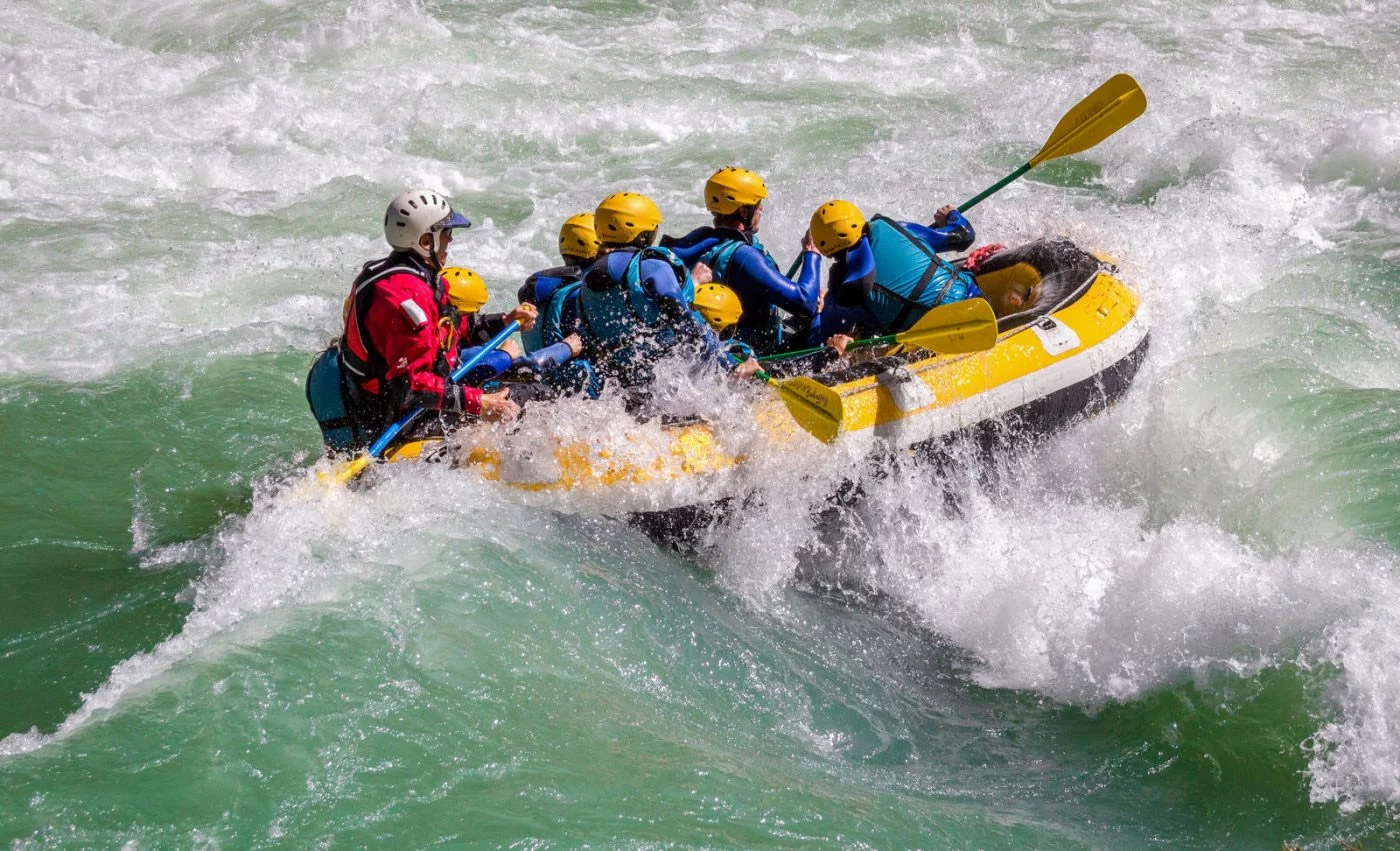 Nepal is a nation filled with adventurous locations and gorgeous mountains, rivers, and lakes. A rafting trip through Nepal's numerous world-class rivers is a fun and exciting adventure. You can enjoy a day's rafting or choose a trip that allows you to camp on the river and explore the surrounding culture and geography. Nepal is considered a paradise for river runners. There are several grades of whitewater rafting trips available to suit any interest or preference.
Among the best places to white water raft, Nepal has some of the world's wildest and most spectacular rivers. Beautiful mountains, exhilarating white water rapids, warm water, and fascinating cultural experiences are what make Nepal one of the world's top rafting destinations.
You can combine the Bheri River rafting trip with a wildlife safari tour in nearby National Parks or the nearby trekking locations for those interested in a long day's expedition. Please get in touch with us here at Pokhara Info if you have any questions about rafting in Nepal. We will provide you with the best options and packages. 
About Bheri
Bheri River, rising high in the Himalayas in Nepal, is one of the most popular rivers for fishing, as well as one of the easiest rivers to go water-adventuring on. Being situated in the far western part of the country, this river holds many mysteries that should be explored. As part of the Lower Karnali River system in the far western region of Nepal, the Bheri River flows into the Dolpo region through Surkhet Valley.  
In spite of its deep ripples, mellow rapids, and fast flow, it is an excellent river for rafting. It boasts a breathtaking landscape, magnificent blue waters, and beautiful villages. There are many other benefits of rafting in Bheri, including excellent fishing, unspoiled villages, ever-smiling locals, blue water, white sand beaches, and pleasant campsites.
Tour Overview
The breathtaking view of hills and mountains, along with the abundance of flora and fauna, adds to the beauty of the rippling waters of the Bheri River. The river rafting journey starts in Sami Ghats and ends in Jammu. As we complete our rafting journey, we can explore the Royal Bardiya National Park to get a once-in-a-lifetime safari experience. We can explore and trek through the park to enjoy the natural beauty.
This trip can take between 5-7 days, depending on what you are looking for, and it will prove to be a major river journey that has to be considered not only one of the best in the world but also one of the best in the world. Our journey takes us through some of Nepal's remotest areas, giving you a chance to experience the wilderness.
According to rafting experts, Bheri is easier to raft because its rapids aren't as violent as those on other rafting rivers. Taking a rafting trip in Bheri will allow you to explore some of the remote areas of the region, have an opportunity to experience some unspoiled cultures, and enjoy beautiful views of Nepal's natural scenery. It's often possible to observe wild animals in their natural habitats while spending warm and cozy nights on the white sand beaches along the river. This rafting adventure is a good way to escape the polluted city for a week.
When you Plan for a Rafting Trip with us, the package includes the following:
Life jacket, helmet, self-bailing raft, and paddles, as well as all the necessary equipment

Transportation during the whole tour

Meals including Breakfast, Lunch, and Dinner

Medical and First Aid kit

Experienced Raft guide and supporter 

Necessary permits, paperwork with taxes paid

Lodge, insurance, equipment, salary, and food for Porters and Guide

Safety Kayaker alongside the rafting boat
However, we do not cover the following:
Personal expenses, including beverages, snacks, bar bills, laundry, or souvenirs

Personal gear and clothing

Travel Insurance
Pokhara Info organizes several procedures for rafting along the Bheri River that are safe and interesting, as Pokhara Info's main objective is to provide the highest level of safety and enjoyment for its clients, the matter of safety while rafting is also taken very seriously. However, it will surely be a fun experience and full of exploration around the remote regions of that part of Nepal to raft for 5 to 7 days at the Bheri River.

After you've enjoyed the thrilling and joyful experience, you can choose whether to visit other beautiful places in Nepal or head back home. No matter what you choose, we hope you have a fantastic time.
We can accommodate group tours for this trip; however, you may also opt for a private tour according to your liking. We can arrange private trips at any time of the year at any date of your choosing. Please let us know what your preferred travel dates are so that we can accommodate you.
Finally, When you are ready to start adventures in Nepal, it is time to begin thinking about what to pack. If you are ready to book but aren't sure when is the best time to trek or what to stay in, Pokhara Info has got you covered. You can figure out these queries through our site. We can also be found on Facebook and Instagram, and other social media sites. Hope you have a good time in Nepal, and thank you for visiting!