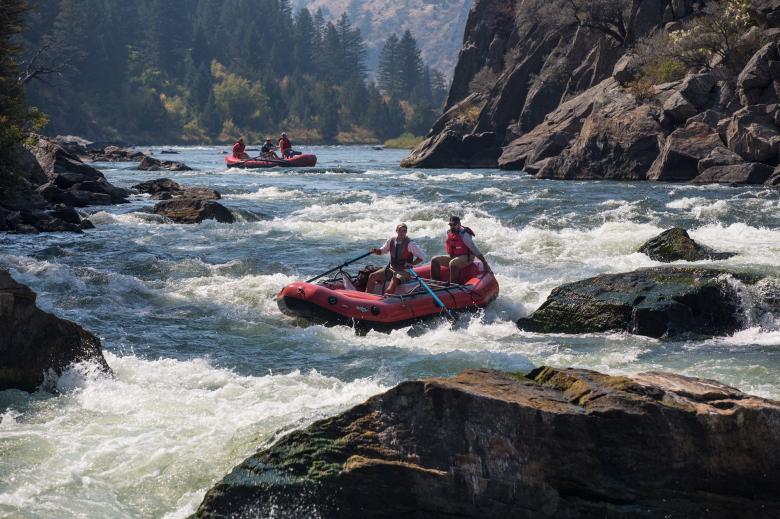 Nepal is a nation filled with adventurous locations and gorgeous mountains, rivers, and lakes. A rafting trip through Nepal's numerous world-class rivers is a fun and exciting adventure. You can enjoy a day's rafting or choose a trip that allows you to camp on the river and explore the surrounding culture and geography. Nepal is considered a paradise for river runners. Several grades of whitewater rafting trips are available to suit any interest or preference.
Among the best places to white water raft, Nepal has some of the world's wildest and most spectacular rivers. Beautiful mountains, exhilarating white water rapids, warm water, and fascinating cultural experiences are what make Nepal one of the world's top rafting destinations.
You can combine the Marshyangdi River rafting trip with a wildlife safari tour in nearby National Parks or the nearby trekking locations for those interested in a long day's expedition. Please get in touch with us here at Pokhara Info if you have any questions about rafting in Nepal. We will provide you with the best options and packages. 
About Marshyangdi                                           
According to regional surveys, the Marshyangdi River is one of the most enraged rivers in Nepal and one of the biggest whitewater rivers in the world. This is one of the world's best grade 4 rafting rivers with continuous, invigorating whitewater and breathtaking mountain vistas. The landscape is majestic, with every curve of the river revealing panoramic views of some of the world's tallest mountains.
On this voyage, you will experience a vigorous escapade on one light hiking day and five intensive days of rafting. Newly opened to commercial rafting (many rapids are yet to be named), the Marshyangdi is one of the most precipitous rivers in Nepal, with a much more abundant quantity of rapids. The Annapurna region's raging river, which winds its way off the north side of the Annapurna range, is sheer, professional, and one not to be underestimated! This remarkable whitewater adventure has some of the most thrilling rapids in the world and breathtaking views of virgin terrain. With multiple days of challenging, exciting, and never-ending crystal clear rapids, it is no wonder that this trip has been one of the most successful.
Overview of the Trip
Getting to Nagdi or Bhulbhule, the put-in spots for Marshyandi River Rafting is about a 5- or 6-hour drive west of Kathmandu by our private van. The ride from Nagdi will take around 2 hours with porters carrying all the rafting gear, etc. Riding from Pokhara can also be arranged. The 35 km of river activity takes two days to reach Bimal Nagar's endpoint.
The Marshyangdi River is an excellent option for those desiring a more intense rafting experience and is more suitable for those who have had previous rafting experience. The half-day hike adds to the uniqueness of this tour. The Marshyandi River is an impressive combination of scenery and adventure. Rafting/kayaking on the Marshyandi River is regarded as a top whitewater adventure.
Marsyangdi Rafting Itinerary
Which are the most suitable months for rafting in Nepal?
The best time to go rafting is between September and early December and between March and early June. Whitewater rafting is most popular in October. With proper precaution, the Trishuli, Seti, and a few other rivers are good for rafting, even in monsoon season.
When was rafting started in Nepal?
About 100 Nepalese were trained in 1976 to become rafting agents, and some of them started their own firms. In 1989, the Government recognized the Nepal Association of Rafting Agents. 
Finally, When you are ready to start adventures in Nepal, it is time to begin thinking about what to pack. If you are ready to book but aren't sure when is the best time to trek or what to stay in, Pokhara Info has got you covered. You can figure out these queries through our site. We can also be found on Facebook, Instagram, and other social media sites. I hope you have a good time in Nepal, and thank you for visiting!