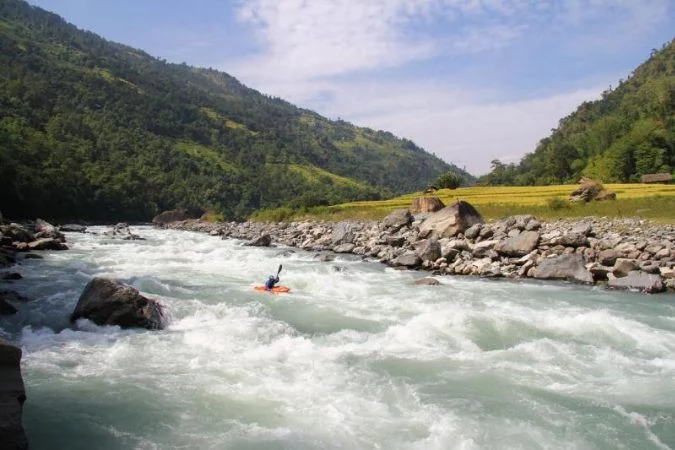 A rafting trip through Nepal's numerous world-class rivers is a fun and exciting adventure. You can enjoy a day's rafting or choose a trip that allows you to camp on the river and explore the surrounding culture and geography. Nepal is considered a paradise for river runners, with rivers such as Seti, Trishuli, Tamur, Koshi, and more. There are several grades of whitewater rafting trips available to suit any interest or preference.
Among the best places to white water raft, Nepal has some of the world's wildest and most spectacular rivers. Beautiful mountains, exhilarating white water rapids, warm water, and fascinating cultural experiences are what make Nepal one of the world's top rafting destinations.
You can combine the Tamur River rafting trip with a wildlife safari tour in nearby National Parks for those interested in a long day's expedition. Please get in touch with us here at Pokhara Info if you have any questions about rafting in Nepal. We will provide you with the best options and packages. 
About the River and Trip
With Pokhara Info, you can experience a wild rafting trip in Nepal's faster rivers. This is probably the best way to enjoy both mountain rafting and trekking in Nepal, with spectacular scenery, incredible white water, and an unspoiled valley. 
There are five tributaries of the Tamur that drain the snow of the third highest peak in the world, Kanchenjunga. The Tamur is the sixth largest river in Nepal and has an air of power, but also of being constrained by its valley sides. In 1990, the Tamur was the first commercial run on the river, and there have been relatively few descents since then. It offers exceptional views of the Himalayan range, including Mt. Kanchenjunga, Mt. Everest, and Mt. Makalu. This trip takes you on a 120 km descent through some of the most exciting rapids in the world, with most of them in the 3 to 4 range and some in the five range, making it one of the world's best white water expeditions.
Overview
Starting in Kathmandu, we take an internal flight or drive to Biratnagar, located in the far southeast of the country. After that, we take a private bus to Basantapur, located in the Tehrathum region, where we camp overnight. On the day following the arrival at the base camp, we start our awe-inspiring trek to Dobhan through the Taplejung region in eastern Nepal. Our journey starts in Dobhan, from where we enjoy a relaxing day on a remote river beach or an optional trek to explore local villages. The Tamur is best explored between October and November and from February to May. In addition, you have the option of returning by private bus or internal flight to Kathmandu.
Tamur River Rafting Itinerary:
The trip is long and includes amazing trekking trails, with rafting as the primary priority.
Pokhara Info organizes several procedures for rafting along the Tamur River that is safe and interesting. Pokhara Info's main objective is to provide the highest level of safety and enjoyment for its clients. The matter of safety while rafting is also taken very seriously. However, it will surely be a fun experience and full of exploration around the remote regions of that part of Nepal to raft for 17 days at the Tamur River.
After you've enjoyed the thrilling and joyful experience, you can choose whether to visit other beautiful places in Nepal or head back home. No matter what you choose, we hope you have a fantastic time.
We can accommodate group tours for this trip; however, you may also opt for a private tour according to your liking. We can arrange private trips at any time of the year at any date of your choosing. Please let us know what your preferred travel dates are so that we can accommodate you.
Finally, When you are ready to start adventures in Nepal, it is time to begin thinking about what to pack. If you are ready to book but aren't sure when is the best time to trek or what to stay in, Pokhara Info has got you covered. You can figure out these queries through our site. We can also be found on Facebook and Instagram, and other social media sites. Hope you have a good time in Nepal, and thank you for visiting!