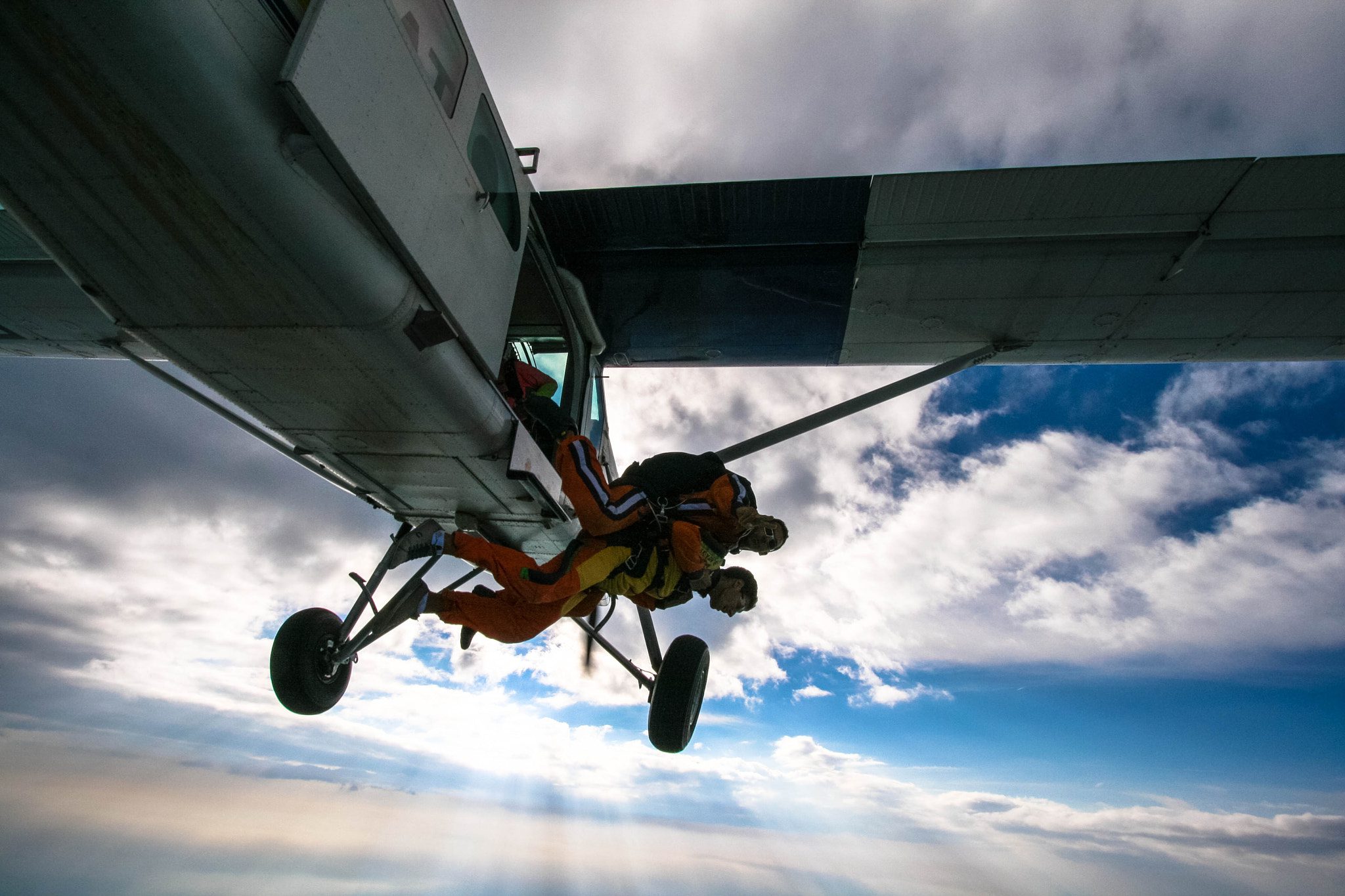 Nepal offers many adventurous sports that easily attract tourists to the country without a second thought. One of those activities is skydiving in Nepal. If it is not on your bucket list, you should consider visiting Nepal. Nepal's skydiving differs from skydiving in other countries because the country offers a spectacular view of all Himalayan peaks. At the same time, the thrill of floating in the air like a bird is unparalleled.
While skydiving is an excitingly intense aerial sport, you can feel the rush of adrenaline as you jump off the helicopter. No one can compare to the thrill of free fall and a joyful parachute landing in a drop zone. Besides providing fun and adventure, sky diving has a number of health benefits as well.
About Skydiving 
Skydiving is a sport that stimulates the mind. Since the sport cleanses your mind, many people see it as meditation since it makes you focus on one thing at a time. In an effort to provide people with extremely thrilling experiences and a healthy lifestyle, the Nepal government has enlisted skydiving in Nepal as a major sport for adventure seekers. In 2022, there will be two major skydiving spots in Nepal.  
It is possible to skydive in two different ways, and they are:
Group or Tandem Skydiving:
It is the most popular way for beginners who want to experience the thrilling experience of skydiving for the first time. After harnessing a qualified skydiver, a novice skydiver jumps alongside them. A Tandem flight can be easily performed by clients with limited flying knowledge as soon as they jump. Because it is well-known that only healthy individuals should participate in adventure tours and travels, there is also a weight limit for people who wish to take this flight of 95 kg.
Solo Skydiving:
Skydiving solo is quite different from tandem flying, as here the diver has to fly all by himself if he has experience & training in freefall. A solo skydiver leaves the plane at a certain altitude without anyone's assistance and freefalls at a speed of about 200 kilometers per hour. After opening his parachute, the skydiver descends to the landing zone. However, only experienced pilots and those with a license for this flight should take this flight.
Skydiving in Nepal
For a few decades, Nepal has given considerable importance to recreational activities like paragliding and skydiving as they are a major source of income in the tourism sector. In addition to the arrival of the visit Nepal 2020 campaign, skydiving hype grew even more. However, the pandemic had an effect as well. No exact statistics exist on how many people come to Nepal just to skydive, but the number of people flying in the air like a jet is rising. The increase in tourists has certainly improved Nepal's economic condition. Currently, skydiving is only available in two places in Nepal: Everest and Pokhara Skydiving. 
Skydiving in Everest  
This is arguably the world's most exciting aerial adventure, flying from 7010.4 ft and landing on the dreamy land of Syangboche (3761.232m) and Amadablam Basecamp (4572 m), just below Everest. Nepal is the best place to experience free fall around the world's highest mountain.
During the skydiving in Nepal event at Everest, people jump in front of the highest mountain on Earth, Everest. For many thrill-seekers since 2008, skydiving on Everest of Nepal has been a dream come true. Out of 50 other sports in the world, skydiving has ranked as the 8th best Adventure sport. It was also referred to as "Things to do before you die" by CNN and Forbes.  
Furthermore, if you wish to indulge in Everest Skydiving, a company such as Earthbound Expedition Himalayan Adventure Travel and Tour, Yeti Trail Adventure, or Everest Skydive provides these services. We here at Pokhara Info can manage all the processes and reduce the hassle of booking the trip. So, sit back, relax and enjoy skydiving in front of the highest peak in the world.
Expenses
There are a number of drop zones around Everest for skydiving enthusiasts. Depending on the company you choose and the drop zone you choose, the dive can cost you differently. For two single jumps in a single drop zone, the average cost is approximately $25,000, while the tandem jump costs about $35,000. The Everest region has admittedly high prices for skydiving. However, you'll get your money's worth with the dive near Everest. On the other hand, the service included with the package is impressive.
Skydiving costs include food, lodging, travel system, gears, videos, and government permissions. Make sure you speak with your company and learn everything about the package before signing up for the plane.
Skydiving in Pokhara
Pokhara is the best alternative to skydiving from the top of a mountain for those who are not ready. During the dive, one of the most captivating sights is the view of the Annapurna range and the Fewa Lake below. Your skydiving trip to Nepal will be less terrifying and more joyful with qualified pilots with the aircraft's skydiving scores.
Pokhara only began the thrilling sport in 2010 after two years of Everest skydiving. It has been doing well economically ever since Pokahara's Skydiving started. Hundreds of people visit Pokhara and its neighboring villages each year for trips and tours, including this antic stunt. Furthermore, skydiving is available in the Pokhara area from a number of companies.
In comparison with Everest, Pokhara has a substantial number of skydiving companies. We here at Pokhara Info can book your flight for you via Travel and tour companies such as Nepal Skydive, Lonely Planet, Explore Himalaya, and Earthbound Expedition Himalayan Adventure Travel and Tour.
Expenses
You can get a similarly thrilling experience for far less money if you're unwilling to spend thousands on Everest skydiving. Even though skydiving is not necessarily cheap, skydiving in Pokhara offers an affordable service compared to Everest. Nepalis can enjoy the dive in Pokhara for Rs 70,000, while foreigners should pay about $1000.
Additionally, the cost varies based on the type of flight you choose. It costs a couple of hundred dollars more for a tandem skydive than a solo dive. Hence, if you have enough experience, you can fly alone without spending any more money.
How to book a Skydiving flight in Nepal?
Several travel companies provide skydiving services throughout Nepal. During the booking process, you only need to consider your health (you cannot jump more than 95 kilograms) and the cost. Pokhara skydiving is a good place to start if you aren't ready to jump above the highest peak in the world. You can easily book skydiving flights with the companies mentioned above in both Pokhara and Everest. 
However, for your convenience, we here at Pokhara Info can book your flight for you without you having to worry about all the hassles involved.
Best time for Skydiving in Nepal
Skydiving is a high-risk sport and the best time to skydive is during October and November. A skydiver can choose to rest anywhere between Syangboche Airport and Ama Dablam while skydiving at Everest.
Despite the devastating 2015 earthquake, Nepal has done well in the fields of tourism and skydiving. Finally, when you decide to experience the joy of skydiving, I hope you have the best experience.