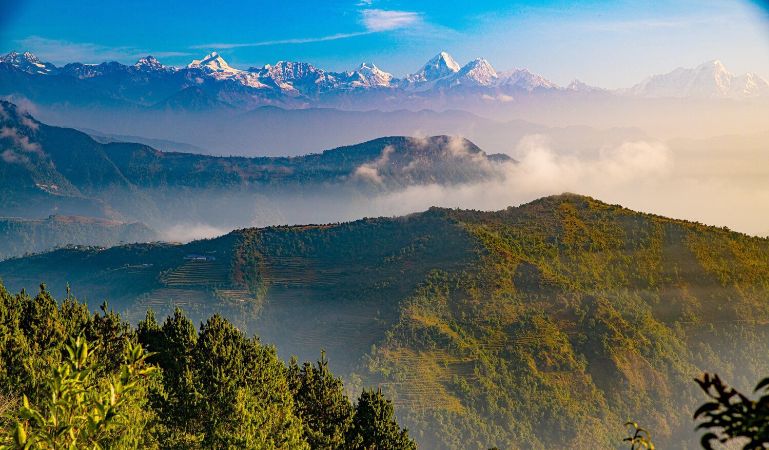 The short Chisapani Nagarkot hike is an ideal weekend getaway from the city hustle and bustle. Chisapani Nagarkot can be accessed year-round, so you can hike this trail year-round. The Trek to Chisapani Nagarkot in Kathmandu Valley Ridge is a short and easy one that combines typical life, ethnic culture, and mountain scenery.
The Chisapani Nagarkot Trek is ideal for children, families, students, and those who have limited time in Nepal and still want to explore rural Nepal. The Trek provides an exceptional experience away from the hustle and bustle of city life. At the same time, the Trek provides an exceptional contrast to the busy life of Kathmandu city for people from there, other cities in Nepal, or for people living abroad. 
The Journey around the mesmerizing destinations through the outskirts of the Kathmandu valley is full of pleasant hilly trails with stunning natural landscapes away from the crowds in the city. As a perfect retreat for explorers wishing to experience Nepal's striking beauty within a short time, this adventure can be the perfect one for you. Besides the health benefits of the Chisapani Nagarkot Trek, the Trek is also a great opportunity to enjoy Kathmandu valley's serene surroundings.
About the Region
The trek starts in Sundarijal, a 1 hr drive from Kathmandu Valley, and ends in Changu Narayan. It is one of the most eye-pleasing and classic treks in Nepal. Trekking in the Nagarkot area is best suited for those limited in time, budget, and beginners who still want to experience Nepal's natural beauty and culture. Trekking is a perfect way to explore blended cultural and natural features.
A dense jungle walk, terraces, farming, traditional lifestyles, world heritage sites, massif chain of the Himalayas surroundings, and temples are major reasons for the Trek's popularity. Both domestic and foreign tourists enjoy the Trek equally. As a strategic hilltop fort built to monitor the external activities of other kingdoms, Nagarkot is located 32 km east of Kathmandu valley and 2175m from sea level.
Preparing for the Trek
From Chisapani to Nagarkot, including Shivapuri Nagarjun National Park, your hikes are neither at a high altitude nor rural; however, they are long yet relaxing. So you should prepare accordingly.
Our group of friends took these things with us on our first trip to the area. We recommend you do the same.
Energy drink and water bottle

Backpack

Flashlight

Walking stick

Well-fitting gloves, socks, and hiking shoes or boots

First aid kit

Sun Protection cream

Sleeping bag rated to -10°C +

Trekking bag (Rucksack)

Duffel bag

Large plastic bags
Nonetheless, if you forget any of these items, you can easily find them in trek shops at the start of the Trek.
Trek Itinerary
In order to start the Trek, we drive around 2 hours to Sundarijal, which is actually the point of origin of the water supply for Kathmandu with a water pipe that is date-stamped from the last century running along the road and down stone steps. 
Before hiking for 5 to 6 hours to Chisapani, we can have a cup of tea, energy bars, or even lunch to keep our energy level to the max at Sundarijal to shake off the city's stress. First, we ascend gradually through the stone steps of Sundarijal along Bagmati River's riverbank, passing a waterfall, and temple, walking through refreshing forests, and entering Shivapuri National Park. Then, we start to walk through the forest in Shivapuri Nagajun National Park. Next, we cross a small dam on our way to Chisapani. Here we have great views of mountains and landscapes and the opportunity to visit a Sherpa village.
On this Trek, we will find the source of the watershed that supplies the city below. The area was designated as a watershed area in 1978, a national park in 2002, and a watershed area in 2003. From Chisapani, you will get some good vistas of the surrounding hills and mountains. We take a rest at the end of the day at a lodge in Chisapani.
Our walk today will be through Shivapuri Nagarjun National Park and the forest. We have seen Himalayan black bears, Indian leopards, and other wildlife here. If you're lucky enough, you might see some smaller animals, such as mongooses, porcupines, jungle cats, pangolins, etc. If you're a birder, be sure to see the yellow-throated marten, along with dozens of other species.
While hiking, we will stop for lunch at Chauki Bhanjyang or Jhule before continuing to Nagarkot in time to observe the sunset over the Himalayan range. The many hotels in this famous hill station, which range from inexpensive to deluxe, allow us to enjoy a good dinner before taking in the views from the watching tower or from another location. The hill station is located at an elevation of 2,175m and offers stunning views of the Himalayan peaks, including Mount Everest at 8,848m, Cho Oyu at 8,188m, Makalu at 8,463m, and Manaslu at 8,163m, plus spectacular sunsets. We stay overnight at a lodge in Nagarkot.
Today, our goal is to capture a spectacular sunrise over the snowcapped mountains as early as possible in the morning. The Nagarkot sunrise is quite popular among people from Kathmandu. You can see a beautiful mountain range as the clouds rise and drop, revealing and hiding and revealing the majestic peaks again. You can take in all of these experiences while enjoying the fresh cool air while eating a hot breakfast.
On the way back from this feat of nature, we reach Changu Narayan Temple, some four hours (mainly downhill) away. This is an ancient temple in Nepal dedicated to Lord Vishnu, believed to be the oldest in the country.
UNESCO and other organizations have worked hard to restore the Changu Narayan Monument Zone following the 2015 earthquake. In addition to the temples, the impressive living museum in the region offers a glimpse into Nepali and Newari culture, art, and history, untouched by the earthquake.
Afterward, we can return back home by bus or a private vehicle. The drive to Kathmandu from Changu Narayan is relatively short.
This three-day trekking package is perfect for those who enjoy hiking in scenic areas for three days and staying overnight in a resort. It offers a pleasant experience of the countryside and excellent mountain views. If you decide to continue with the Trek, remember to treasure all the wonderful memories you experience during the Trek, both during and when you get home.
After you've enjoyed the thrilling and joyful experience, you can choose whether to visit other beautiful places in Nepal or head back home. No matter what you choose, we hope you have a fantastic time.
We can accommodate group tours for this trip; however, you may also opt for a private tour according to your liking. We can arrange private trips at any time of the year at any date of your choosing. Please let us know what your preferred travel dates are so that we can accommodate you.