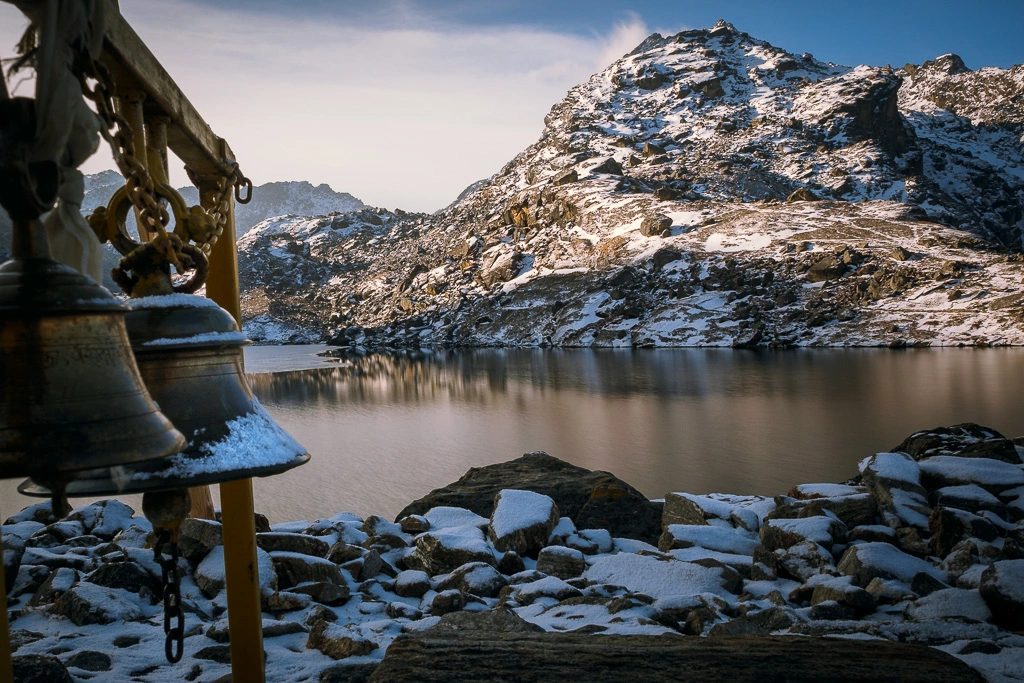 Nepal is considered one of the best trekking destinations globally because of its scenic beauty and magnificent mountain views. Located in the Langtang region of Nepal, the Gosaikunda Lake Trek allows you to explore this beautiful lake on a short and adventurous trek north of the capital Kathmandu. The Langtang Gosaikunda trek combines one of Nepal's easiest and most picturesque treks with a scenic portion along the Gosaikunda trail.
You will witness the views of Ganesh Himal, Langtang Lirung, Annapurna, and many others on this Trek. However, the climb up Luaribina Pass is quite challenging.
The Gosaikunda trekking trails include long, steep, and descending climbs, a sub-alpine deep forest with blue gentians, epiphytic orchids, and primroses as beautiful vistas of glacial mountains and charming villages. This Trek takes place in a less-traveled area than the Annapurna and Everest regions, allowing you to enjoy silently getting into the Himalayan peaks.
The Gosainkunda lake trek offers breathtaking views of the Langtang Himalayan range, Manaslu, and Ganesh Himal as well. Not to mention, Gosainkunda Lake is also the source of the Trisuli River.
About the Region
At 4,380 meters above sea level, Gosaikunda Lake is an important Hindu and Buddhist religious site. As a pilgrimage site, Gosaikunda is visited by thousands of pilgrims every year during Janai Purnima. Here, pilgrims pray for the well-being of their loved ones and take holy baths. A trek to the lake makes for an unforgettable experience.
Additionally, the Gosaikunda Lake is considered sacred in Hindu religious belief. People believe that the god Mahadev drunkenly felt thirsty due to the grief of his deceased wife. The legend says that Gosaikunda lakes were naturally constructed when he struck the rocks with his holy stick, and water came out.
Pilgrims of all ages attend the festival, but mostly middle-aged and elderly come to take holy dips; however, many young people and tourists visit the lake to experience the amazing Gosaikunda Trek.
Permits and Accommodations
TIMS Card and Langtang National Park Entry Permit are required for the Gosainkunda trek since you enter Langtang National Park and walk through the Langtang Valley. These permits mostly determine Gosainkunda trek costs. You need them both for legal reasons as well as to ensure your safety while trekking.
Additionally, the revenue from these permits is used to maintain and rebuild safer trails. You can obtain the permits at either of the Nepal Tourism Board offices in Kathmandu or Pokhara. However, TIMS cards can be obtained at the Trekkers' Agencies Association of Nepal and also at Dhunche, the beginning of the Gosainkunda trek.
Regarding accommodations, you can choose from various lodges and tea houses en route to Gosaikunda. Most of them provide basic amenities, such as hot showers and bathrooms. Some of the lodges provide WiFi as well. 
Preparing For the Gosaikunda Trek
As you will ascend to high altitudes in a matter of days on the Gosaikunda Lake trek, it is very important to adapt your body to the altitude as you gain altitude. Furthermore, taking part in the Trek requires participants to walk for many hours daily.
Therefore, people with lung disorders or breathing problems should either stay away or take precautions before participating in such activities since high altitudes are difficult to adjust to. Not to mention that altitude sickness can be a big issue for some individuals.
The list mentioned below is the list of items for our group on the Gosaikunda trip. Because of the cold conditions at high altitudes, we recommend bringing these items with you on your Trek.
Warm clothes, including jackets, sweaters, and thermal wears

Water bottles and thermos

Tents if you plan to camp by the shore of Rara Lake

Backpack

Portable fire stoves

Snow Glasses and flashlight

Well-fitting gloves, socks, and shoes or boots

Trekking sticks

First aid kit

Moisturizers and lip guard

Energy bars
We have designed the Gosaikunda Lake Trek itinerary to keep you away from altitude sickness with ample rest periods in between walks.
The Gosaikunda Trek Itinary
Note
The itinerary mentioned above is the general plan arranged by Pokhara Info. However, the above itinerary is only a guideline; it might change due to the availability of lodging and campsites, fluctuating weather conditions, unforeseen political, trail, and environmental, or any other factors beyond our control. After consulting with the group, your trek leader will decide the best way to reach a final decision if this occurs.
If the itinerary is unsuitable for you, please let us know, and we will customize it. We will be able to make changes to the itinerary if clients want to do so.