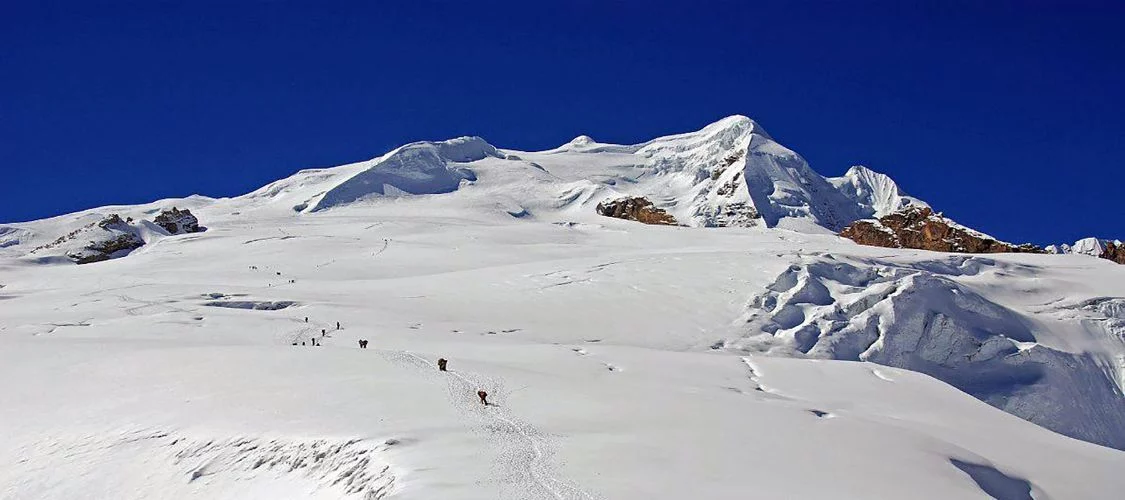 Mera Peak, located approximately 6476 meters above sea level on the northern part of Lukla, is an exciting and one of Nepal's most technically challenging peaks. It is located nearby the Khumbu region, making it one of the most popular climbing peaks in the world. Located on the southern side of Everest, this trail is the highest trekking peak in Nepal, and it can get complex, so it will undoubtedly be an exciting and challenging journey. Both the western and south routes offer challenging climbing in a mountaineering environment.
During the 17 days of our trip, we will explore the off-beaten paths of the Hinku valley. We will stay mostly in guesthouses during our stay and have specific days set aside for proper rest and acclimatizing to higher elevations. There are some of the tallest 8000 peaks on this trail, such as Everest, Makalu, and Lhotse. Other impressive mountains include Ama Dablam and Cho Oyu. The best time to join this trek is in the spring and autumn.
Overview
Mera Peak Climbing is not a technically demanding journey, but good health is still required for this course. You will be trekking for longer, so climbers must be very strong and have the stamina to overcome the challenges. Hence, prior climbing experience is not a prerequisite; however, we would advise some physical preparation before the expedition. We will provide you with short pre-climbing training while on the expedition.
Let us prepare the best arrangements for your incoming journey as we bring you closer to the mountains of the Earth with this physically challenging and exciting adventure. Join the Pokhara Info Team for your climbing adventure to Mera Peak.
Mera peak climbing is a true treat for those keen on embarking on an amazing mountaineering/climbing journey!
Mera Peak Itinerary
Note
The itinerary mentioned above is the general plan arranged by Pokhara Info. The above itinerary is only a guideline; it might change due to the availability of lodging and campsites, fluctuating weather conditions, unforeseen political, trail, and environmental, or any other factors beyond our control. After consulting with the group, your trek leader will decide the best way to reach a final decision if this occurs.
If the itinerary is unsuitable for you, please let us know, and we will customize it. We will be able to make changes to the itinerary if clients want to do so.
Finally, When you are ready to start adventures in Nepal, it is time to begin thinking about what to pack. If you are ready to book but aren't sure when is the best time to trek or what to stay in, Pokhara Info has got you covered. You can figure out these queries through our site. We can also be found on Facebook, Instagram, and other social media sites. Hope you have a good time in Nepal, and thank you for visiting!