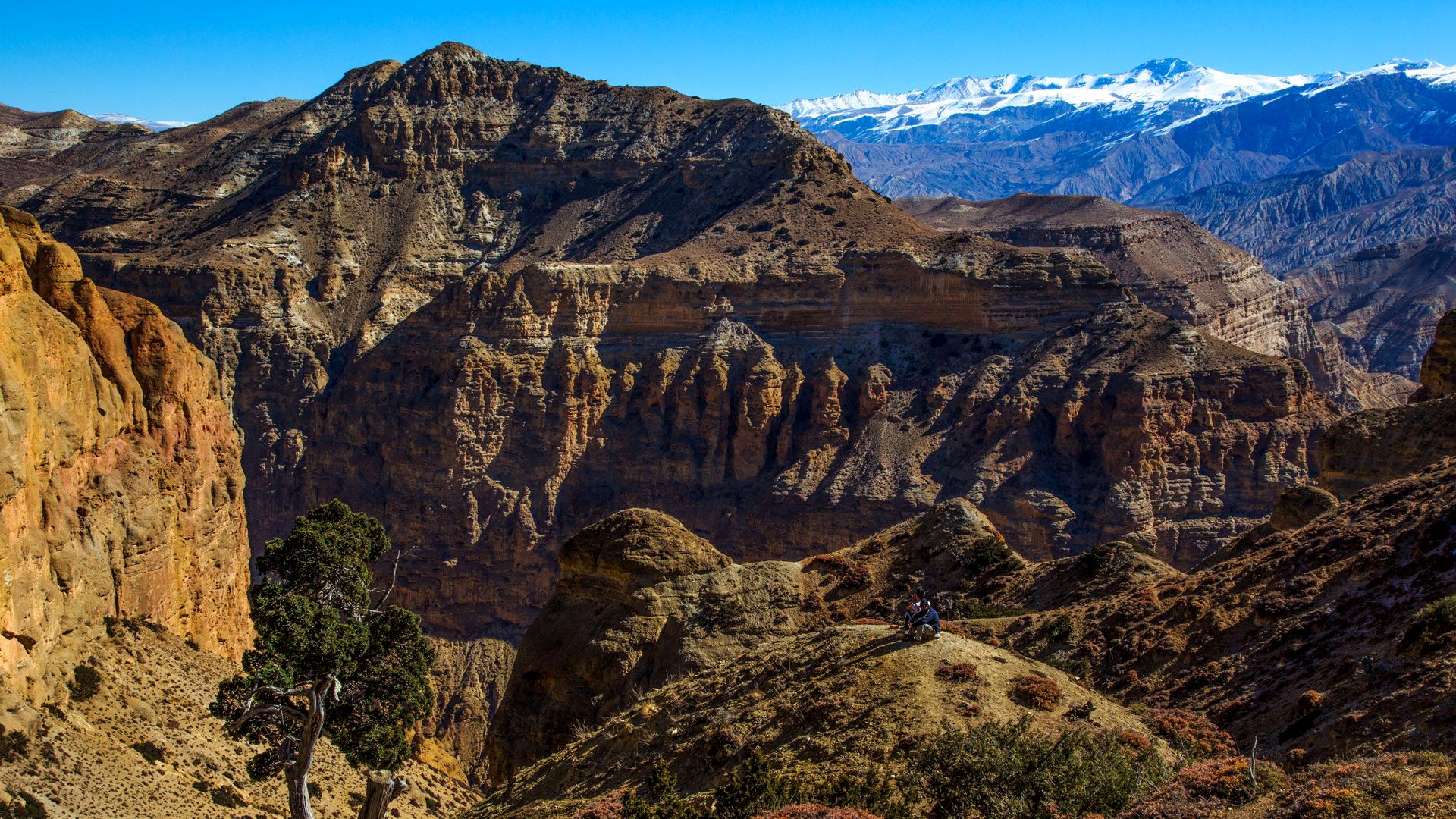 For national and international explorers and adventurers alike, Nar Phu Valley offers a chance to explore unspoiled valleys nestled between Annapurna and Manaslu, an area that is less traveled than its sister regions Annapurna and Manaslu. The Nar Phu Valley Trek, one of the world's most scenic treks, offers Tibetan culture, high passes, Gorges, two picturesque medieval villages, and 7,000m peaks in an enclave of Tibetans.
Nar Phu provides an opportunity to encounter one of the world's most unique wildernesses, passing through dramatic chortens, herds of blue sheep, and crossing some of the region's highest pass crossings at Kang La and Mesokanto-La. In addition, this Trek offers the chance to experience the high, white, glistening mountains of the Annapurnas off the beaten path, which may be just what you are looking for to escape from the stress of your daily life.
About the region
As mentioned earlier, the Nar Phu trail explores remote villages, Tibetan-like people, forests, narrow canyons, Buddhist Gompas, and majestic mountains just off the Annapurna Circuit Route. In spite of its relatively recent opening in 2003, the Nar Phu Valley remains a relatively little-explored destination. A permit is actually required to enter this hidden valley.
A trip on the Nar Phu Trek is undoubtedly one of the best things you can do if you're looking for a glimpse into a region full of raw beauty and Tibetan culture that harkens back to a time that Tibet itself has long since forgotten. 
Getting to the valley is difficult, but once you go through a bridge over the Marshyangdi River, you reach the beginning of the Nar Phu Valley, which is easy to overlook. However, a whole new world awaits once you have cleared the narrow, densely forested entrance. Furthermore, Farmers in this remote area still grow and harvest potatoes, barley, buckwheat, and vegetables and raise yaks and sheep as they have always done.
Necessary Permits and Accommodations
The sacred Nar Phu villages require a special permit for trekking. From September to November, the Nar Phu valley trekking permit is US$90; from December to August, the cost changes to US$75 per person.
There are well-managed hotels at the start of the Trek. Further along the Trail, hotels with well-appointed facilities are harder to find. Homestays and small teahouses are the main accommodations, along with the majority of these paths.
Preparing For the Nar Phu Valley Trek
During the Nar Phu Valley Trek, the highest point is at an altitude of 4,600 meters. For experienced hikers, this isn't much elevation gain, but it represents a substantial change for newcomers. Overall, the Trek requires many long days of walking. Therefore, people with lung diseases or breathing problems should either stay away from such activities or take precautions prior to performing them since high altitudes are difficult to adjust to. Furthermore, high altitudes may cause people to experience altitude sickness.
Due to the cold conditions at high altitudes, we recommend you bring the following items with you on your Trek. Our group of friends brought these things on our first trip to Nar Phu Valley.
Warm clothes, including jackets, sweaters, and thermal wears

Water bottles and thermos

Tents if you plan to camp by the shore of Rara Lake

Backpack

Portable fire stoves

Snow Glasses and flashlight

Well-fitting gloves, socks, and shoes or boots

Trekking sticks

First aid kit

Moisturizers and lip guard

Energy bars
If you forget any of the items above, you can buy them easily in trek shops at the starting point of the Trek, though they are likely to cost more than usual.
Itinerary and the Trek itself
You can complete the Nar Phu Valley Trek in 7 to 12 days if you walk at a reasonable pace. If you are from Nepal, you will first need to get to Beshisahar. If you are not from Nepal, you will need to get to Kathmandu after obtaining a Nepali visa. From Kathmandu, we must travel to Beshisahar by public bus or book a private vehicle. From BesiShahar, we take a jeep ride to Koto to start the Trek. 
After you've enjoyed the thrilling and joyful cycling experience, you can choose whether to visit other beautiful places in Nepal or head back home. No matter what you choose, we hope you have a fantastic time.
We can accommodate group tours for this trip; however, you may also opt for a private tour according to your liking. We can arrange private trips at any time of the year at any date of your choosing. Please let us know what your preferred travel dates are so that we can accommodate you.
In the end, when we get back to Jomsom, we can follow our steps back home via Pokhara. First, do not forget to cherish all the beautiful moments you experienced during the Trek as you return home.