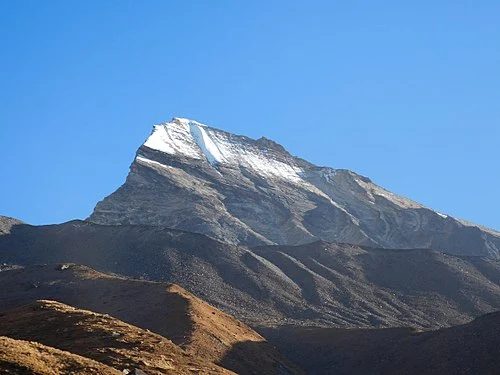 In the Annapurna region lays the Tharpu Chuli Peak, also known as the Tent Peak, due to its peculiar shape. It sits in the middle of the Annapurna Sanctuary amidst one of the most magnificent mountain ranges. Generally, Tharpu Chuli Peak is considered to be one of the easier climbs in Nepal; it is appropriate for beginners and those who wish to climb their first mountains.
Overview
This trip combines trekking to the base camp and visiting local villages like Ghorepani, Chhomrong, and Dovan. The trip offers superb views of mountains such as Mount Gangapurna (7455 m.), Machhapuchhre (6997 m.), and Hiunchuli (6331 m.), as well as the Annapurna massifs.
As you walk past the moraine fields, draped glaciers, and alpine Himalayan terrains of the Annapurna, the view, once you reach the summit of Tharpu Chuli Peak, is breathtaking. As the Annapurna Sanctuary is a habitat of abundant flora and fauna, you'll be sure to see the natural wildlife of the area. We will also encounter the culture of the Gurung people, the abundance of botanical diversity, and the tranquility of the Modi Khola River.
Our hike to Poon Hill and the ABC, which can be challenging at times, is another highlight of this tour in addition to our summit. Hence, we recommend that all our travelers be in good health and train for a physically demanding trip.
Tharpu Chuli Peak Itinerary
After you've enjoyed the thrilling and joyful experience, you can choose whether to visit other beautiful places in Nepal or head back home. No matter what you choose, we hope you have a fantastic time.
We can accommodate group tours for this trip; however, you may also opt for a private tour according to your liking. We can arrange private trips at any time of the year at any date of your choosing. Please let us know what your preferred travel dates are so that we can accommodate you.
Finally, When you are ready to start adventures in Nepal, it is time to begin thinking about what to pack. If you are ready to book but aren't sure when is the best time to trek or what to stay in, Pokhara Info has got you covered. You can figure out these queries through our site. We can also be found on Facebook and Instagram, and other social media sites. Hope you have a good time in Nepal, and thank you for visiting!