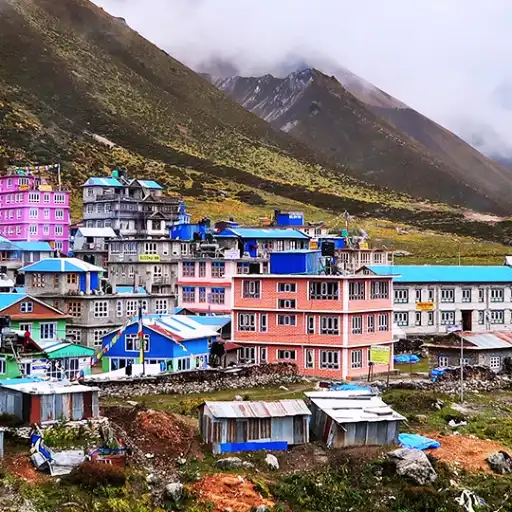 Nepal is a beautiful nation of high hills and mountains making it an excellent paradise for adventurer seekers looking for a great trekking experience. One of the short hiking routes in Nepal is the Langtang Trek for 7 days which offers fantastic views from a lowland jungle with banana trees and monkeys to mountains and glaciers above the Valley floor. However, a short trek doesn't necessarily mean an easy trek. Langtang Trek Nepal starts off quite challenging, with several long and steep ascents that one would expect from a trek in Nepal. Despite that, the thrill and beauty of Nepal you get to experience during the Nepal Langtang Trek can rarely be matched by any other place in the world.
About Langtang 7 Days Trek
Langtang is 120km north of Kathmandu, on the border with China; it runs through the areas of Nepal that were most affected by the earthquake. As you trek along Langtang's ridge, you'll pass through stunning forests, yak pastures, and alpine meadows. At the end of the Trek, you'll be treated to panoramic views of vast valleys.
In the Langtang Valley, you will find the most breathtaking landscapes, authentic culture, and heartwarming hospitality that will make your trip a memorable one. The valley is only an hour or so from Kathmandu and is one of Nepal's most lovely regions.
Although the Langtang Mountain Trek is not the most popular Trek, like Everest Base Camp Trek or Annapurna Base Camp Trek, it provides travelers with a sense of adventure and thrill that these other treks may not provide. On top of that, Views of the Himalayas, Langtang Valley, and beyond Tibet can be seen from Kyanjin Ri, a destination on the Trek.
Preparing For 7 Days Langtang Trek
The tallest peak on the Langtang Himalayan circuit is the Langtang Lirung Peak at an altitude of 7,234 meters. However, the highest point on our Trek is on Kyanjin Gompa at an elevation of 3,800 meters. This might not be much for frequent trekkers, but it still is quite an elevation for newcomers. Therefore, people with lung diseases should avoid or take precautions before engaging in such activities due to the difficulty of adapting to such a high altitude. In addition, people might experience altitude sickness when they are at such elevated altitudes.
The Trek can be easy to moderately difficult depending upon your liking of hills and off-road paths. The best time to engage in these treks would be during the transitional seasons from March to June and September to November. However, the cold can be a big factor during the journey.
Best Time for Langtang Trek
Nepal experiences four different types of seasons that include the Winter Season (December to February), Spring Season (March to May), Summer Season (June to August), and Autumn Season (September to November). Among these four seasons, the best time to participate in Langtang Trek is in the spring and autumn season. As these two seasons provide the best weather, where you can see clear blue sky, the bloom of various wildflowers including several types of Rhododendrons, and the most important thing is less chance of rain. The climate during these seasons is moderate, so you don't have to face harsh chilly, and extremely hot weather. However, Langtang Trek is doable throughout the whole year if you are an experienced trekker.
Necessary Permits for Langtang Valley Trek
You'll need a TIMS card for the Langtang trek, as well as a national park permit, which costs around NPR 5000 or around US$40 per person. TIMS cards can be obtained from the Tourism Board Office in Kathmandu, located at Pradarshani Marg, Bhrikutimandap.
Accommodations and Facilities during Langtang Trek
The trekkers have to spend nearly all of their time in small tea houses along the Langtang route. The services and facilities offered in such places are quite basic; however, the hospitality from the locals is excellent.
How difficult is the 7-Day Langtang Trek?
Despite the Langtang trek being shorter than most trekking tours in Nepal, the difficulty is not a walk in the park. The steep path and cold weather can make it difficult for inexperienced travelers. If unsure, a trekking guide can be hired for a better experience. Additionally, getting traveling insurance before embarking on the Trek can be a good safety blanket.
Langtang Trek 7 Days Itinerary
Completing the whole Langtang Trek might take up to 5 days to 10 days, depending upon your pace during the Trek. Initially, you need to acquire a Nepali visa if you're not from Nepal and get to Kathmandu. When in Kathmandu, you need to either book a private vehicle or ride the local bus that'll take you to Syabrubesi. 
After you have enjoyed the thrilling and joyful experience, you can choose whether to visit other beautiful places in Nepal or head back home. No matter what you choose, we hope you have a fantastic time with us. 
We can accommodate group tours for Langtang Valley Trek; however, you may also opt for a private tour according to your liking. We can arrange private trips at any time of the year at any date of your choice. Please let us know what your preferred travel dates are so that we can accommodate you.
Finally, after the completion of the Langtang Trek 7 Days Itinerary, take good rest as you cherish the beautiful moments you experienced during the Trek while on your trip back home. Langtang Trek certainly deserves a reputation for its rich cultural legacy, amazing views, and the hospitality of the locals.