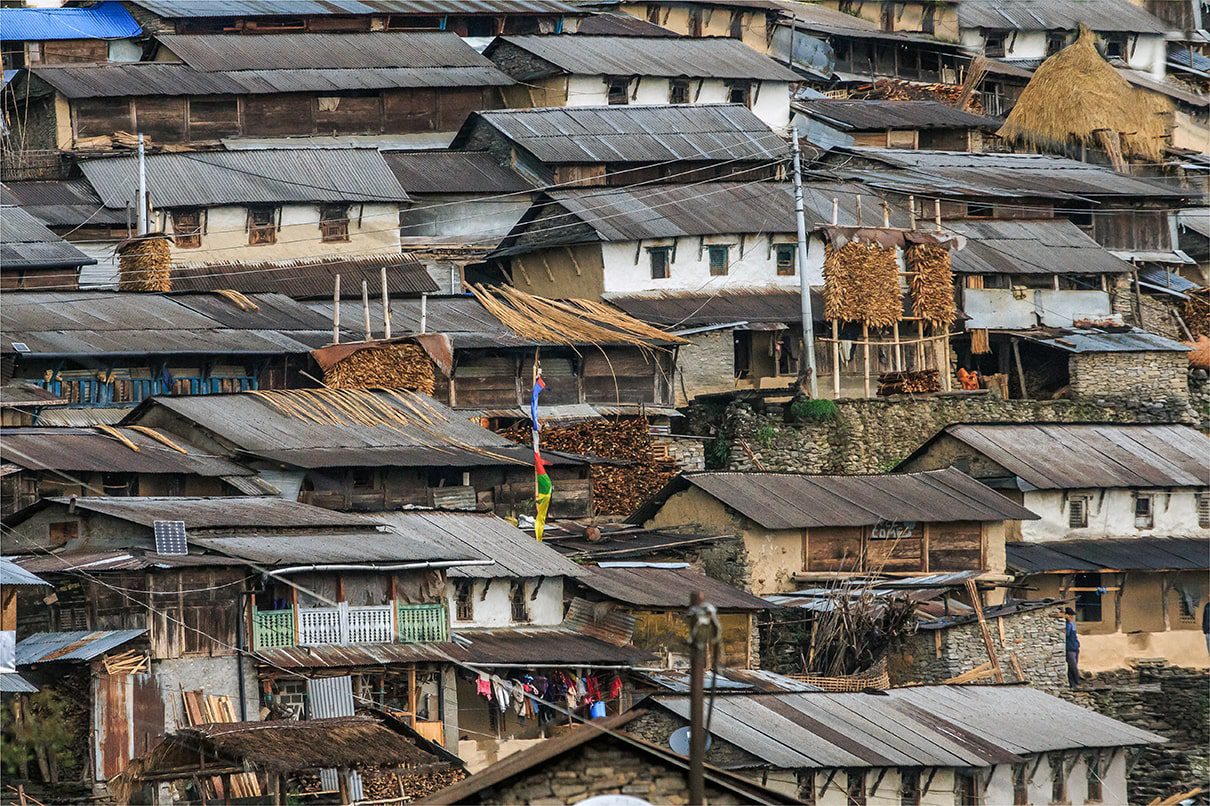 Nepal offers heavenly experiences without visiting heaven, making it a top destination for tourists, adventurers, and nature lovers alike. Additionally, the district of Kaski in Nepal, along with its Pokhara valley and the nearby hills and villages, offers some amazing places to explore. Furthermore, would you like to experience an exciting journey on a short and easy trek in the Himalayas? Then the Sikles village might be the one for you.
As you trek through the Sikles trek area, you'll see rhododendron forests, beautiful mountain ranges, and diverse landscapes. Sikles trek is one of the more interesting trekking destinations in the Annapurna area and quite unpopular compared to similar destinations. On the Trek, you will probably get to see Annapurna and Lamjung Himal up close after crossing 2,000 meters. You will also learn about the culture, tradition, lifestyle, and handicraft production of Huwu village and Khapuche Lake.
About the Region
Located in the Kaski district, Sikles village is a well-conserved village that lies on a hill at the height of 3,000 meters. It is one of the region's earliest and largest 'Gurung' settlements. Furthermore, the villagers of Sikles village are mainly of Gurung ethnicity and consider themselves to be Nepal's second-largest Gurung village. Sikles is famous primarily in the Kaski district in Nepal. People visit Sikles for the warm and welcoming Gurung community, the beautiful trekking trail, and the greenery along the way.
During the Dashain and Tihar festival, the local youth are not allowed to play Nepali drums, perform folk songs, or dance until the festival is over. If not, it is believed that the god will get angry, avalanches will thunder down from the mountainsides, and something terrible will happen to the village.
And the Trek to this beautiful place takes you to the largest Gurung village in the Annapurna region of Nepal, which is located above Madi Khola at an altitude of 1,981 meters. It is also one of the biggest Gurung villages in Nepal, along with Bhujung and Ghale gaun.
Necessary Permits and Accommodations
A permit is not mandatory for the Trek to Sikles village in northern Kaski. Still, the Trekkers Information Management System or TIMS card can be very useful on similar treks in Nepal.
Compared to other trekking destinations, the Trek to Sikles is relatively short. So, even on an exciting adventure like this, you will not be away from your own bed for too long. You will stay in small homestays and tea houses while on the Trek.
Favorable Time for the Trek
Despite the lack of altitude in the Sikles Trek, trekking is possible throughout the year. However, trekkers prefer to visit the village during the Spring and Autumn seasons. Sikles Trek is best enjoyed during the spring and autumn seasons. The spring season begins in March and lasts until May, whereas the autumn season begins in September and ends in November. There isn't a lot of heat or cold during these months. Instead, the days are sunny and hot, and the nights are chilly. The skies are also clear, so you can see the best scenery.
The Sikles trek is least popular during the off-season from December to February. Similarly, visitors prefer to avoid the monsoon season as well.
Distance From Pokhara
The distance between Pokhara and Sikles by road is 36.7 km, which takes approximately two and a half hours to drive. The straight-line distance between the two locations is 17 km. You can only reach Sikles by road, and it takes two to five hours to get there.
Preparing for the Sikles Village Trek
As described earlier, the Trek to Sikles Village is quite short compared to other trekking routes in Nepal. Moreover, it reaches a height of 2000m, which may not seem like much to experienced travelers, but it is quite a change for first-time trekkers.
Additionally, explorers taking part in the Trek often walk for several hours daily. Thus, people with lung diseases should either avoid such activities or take precautions before taking part in them since high altitudes can be difficult to adapt to. Furthermore, these high altitudes may cause people to experience altitude sickness.
We recommend bringing the items listed below with you on your Trek for mild to cold weather at high altitudes. We brought these items with us on our first Trek to Sikles Village.
Warm clothes, including jackets, sweaters, and thermal wears
Water bottles and thermos
Backpack
Portable fire stoves
Well-fitting gloves, socks, and shoes or boots
Trekking sticks
First aid kit
Moisturizers and lip guard
Energy bars
However, do not worry if you forget the items mentioned above. They provide great assistance during the Trek, but they're not mandatory. And, if you decide to take them along with you at the last moment, trek shops with these items are available at the starting point of the Trek, though they are likely to cost more than usual there.
Itinerary and the Trek itself
The Sikles village trek can be done in two to six days, depending on how fast you and your group hike. The distance to the Sikles Village from Pokhara is below 20 KM. However, getting there can take some time due to the difficult road conditions. Now, if you are not from Nepal, you must apply for a Nepali visa and travel to Kathmandu. After traveling to Kathmandu, you can then travel to Pokhara via a tourist bus or flight. From there, we can begin our trip.
Cost includes:
Arrival & Departure transport via private Car/Van/Bus.

Three meals per day throughout the Trekk(Breakfast, Lunch & Dinner)

Accommodation in lodges and tea houses during the trek.

Nights'Nights' accommodation in Kathmandu with B/B.

Trekking Guide and a porter (Shared by two clients) with Insurance, food, and accommodations.

Sightseeing in Kathmandu or Pokhara valley with a car and tour guide

First Aid kit.

Trekking permit (Conservation fee).

TIMS card (Trekking information management system) is like a permit.

All needed government tax/vat.
Cost excludes
International Airfare.

Your travel insurance.

Sightseeing entrance fees

Nepal Visa fee (US$ 50 for 30 days and US$ 30 for 15 days; you should get a visa open your arrival)

Any kind of drinks, items of personal expenses like hot shower, battery charge, telephone, missing meal, WIFI Porters, etc.

Tips for Guide and Porters
Note
The itinerary mentioned above is the general plan arranged by Pokhara Info. The above itinerary is only a guideline; it might change due to availability of lodging and campsites, fluctuating weather conditions, unforeseen political, trail, and environmental, or any other factors beyond our control. After consulting with the group, your trek leader will decide the best way to reach a final decision if this occurs.
If the itinerary is unsuitable for you, please let us know, and we will customize it. We will be able to make changes to the itinerary if clients want to do so.
Finally, every place has its own culture, non-verbal norms and values, government policies, and other factors that make traveling to a new place potentially nerve-wracking, no matter how many times you've done it. But remember to enjoy the Trek to the beautiful village of Sikles despite the difficulties you might face.