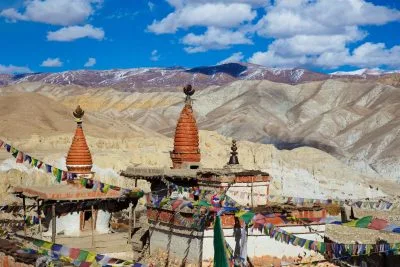 Adventure seekers and hikers may find Nepal to be a treasure trove of lush green forests, beautiful rivers, and breathtaking mountain circuits. This beautiful nation of hills and mountains makes for an excellent paradise for travelers, adventurers, and explorers looking for great trekking or sightseeing experiences.
Furthermore, for people looking for a quality trekking experience in Nepal, an underrated place to visit is the Upper Mustang. Trekking up Upper Mustang is the only way to experience the mysterious world of Mustang, also known as Lo. Once forbidden by the outside world for hundreds of years, the region of upper Mustang and the people have evolved its unique culture and traditions into a fascinating spectacle for tourists despite the region's isolation.
About Upper Mustang
Mustang-also called Upper Mustang-is an arid river valley situated on the northern side of the Annapurna Circuit. Though Mustang is in Nepal, it is similar to Tibetan stances to Nepali, both culturally and geographically. So, get ready to experience mixed Tibetan traditions while in Nepali Places.
The Trek to the Upper Mustang allows you to experience the wilderness of Lo Manthang with the Astounding Blend of Buddhism Religion. At the same time, the staggering views of Mt. Nilgiri, Mt. Hiunchuli, Mt. Machhapuchre, and Mt Annapurna will surely take your breath away.
In addition to the amazingly beautiful scenes of Annapurna near the Upper Mustang region of Nepal, you will also visit Pokhara, a delightful city in the heart of the Himalayas-with an excellent scenic lake and location trip to and from Jomsom.
Getting Ready for the Mustang Trek
Mustang is widely famous throughout Nepal for being a difficult, cold yet beautiful place. Furthermore, the region is a vast expanse of dry land, and yet it is full of life and beauty. It receives the least rainfall of all Nepalese regions, making it one of the driest places in the country.
In order to graciously navigate through the beautiful locations throughout the upper mustang trek, necessary preparations should be made accordingly. In addition, the highest point of the Trek is located at an altitude of 4,010 meters. Even though it might not be much for frequent trekkers, it can still be quite an elevation for first-time trekkers. Due to the difficulty in adapting to such a high altitude, people with lung disease should avoid or take precautions before attempting such activities. Furthermore, people whose bodies are at such elevated altitudes may experience altitude sickness. However, the length and difficulty of the Trek can depend on how comfortable you are with hills and off-road paths.
Many people visit Mustang to enjoy the snow, visit the Muktinath temple and trek through the Upper Mustang area. The cold temperature in the region can be a big factor while on the Trek. So, we suggest you bring along the following things with you.
Well-fitting gloves, socks, and shoes or boots

Trekking sticks

Moisturizers and lip guard

Backpack

Portable fire stoves

Snow Glasses and flashlight 

Energy bars

Warm clothes, including jackets, sweaters, and thermal wears

Water bottles and thermos
However, if you forget any of these items, you can easily find them in trek shops near the trekking area, the starting point of the Trek, though the price there would likely be higher than normal.
Necessary Permits and Accommodations
A Restricted Area Permit is required for trekkers going to Upper Mustang. Government officials will check your pass at Kagbeni on the way in and out of the Trek. In addition, you must also obtain an Annapurna Conservation Area Permit to enter the area, and you must go through a government-registered agency to obtain such a permit. 
The area around the Upper Mustang region has been gaining popularity as a major tourist attraction site due to the lovely scenes and location throughout the Trek. Depending on where you decide to spend the night, lodgings range from small teahouses to decent lodges with good facilities.
Itinerary and the Trek itself
For average adventurers, the whole of the Upper Mustang may take 10 to 15 days to complete. Initially, you need to get to Jomsom before officially starting the Trek. You can reach Jomsom by flying from Kathmandu to Pokhara and then to Jomsom. However, if you are a foreigner, you need a Nepalese visa. 
After you've enjoyed the thrilling and joyful experience, you can choose whether to visit other beautiful places in Nepal or head back home. No matter what you choose, we hope you have a fantastic time.
We can accommodate group tours for this trip; however, you may also opt for a private tour according to your liking. We can arrange private trips at any time of the year at any date of your choosing. Please let us know what your preferred travel dates are so that we can accommodate you.
Finally, after the completion of the Trek, take good rest as you cherish the beautiful moments you experienced during the Trek while on your trip back home. This Trek is certainly deserving of its reputation for its rich cultural richness, amazing views, and the hospitality of the locals that can make a trek to Mustang an unforgettable experience for you and your friends.