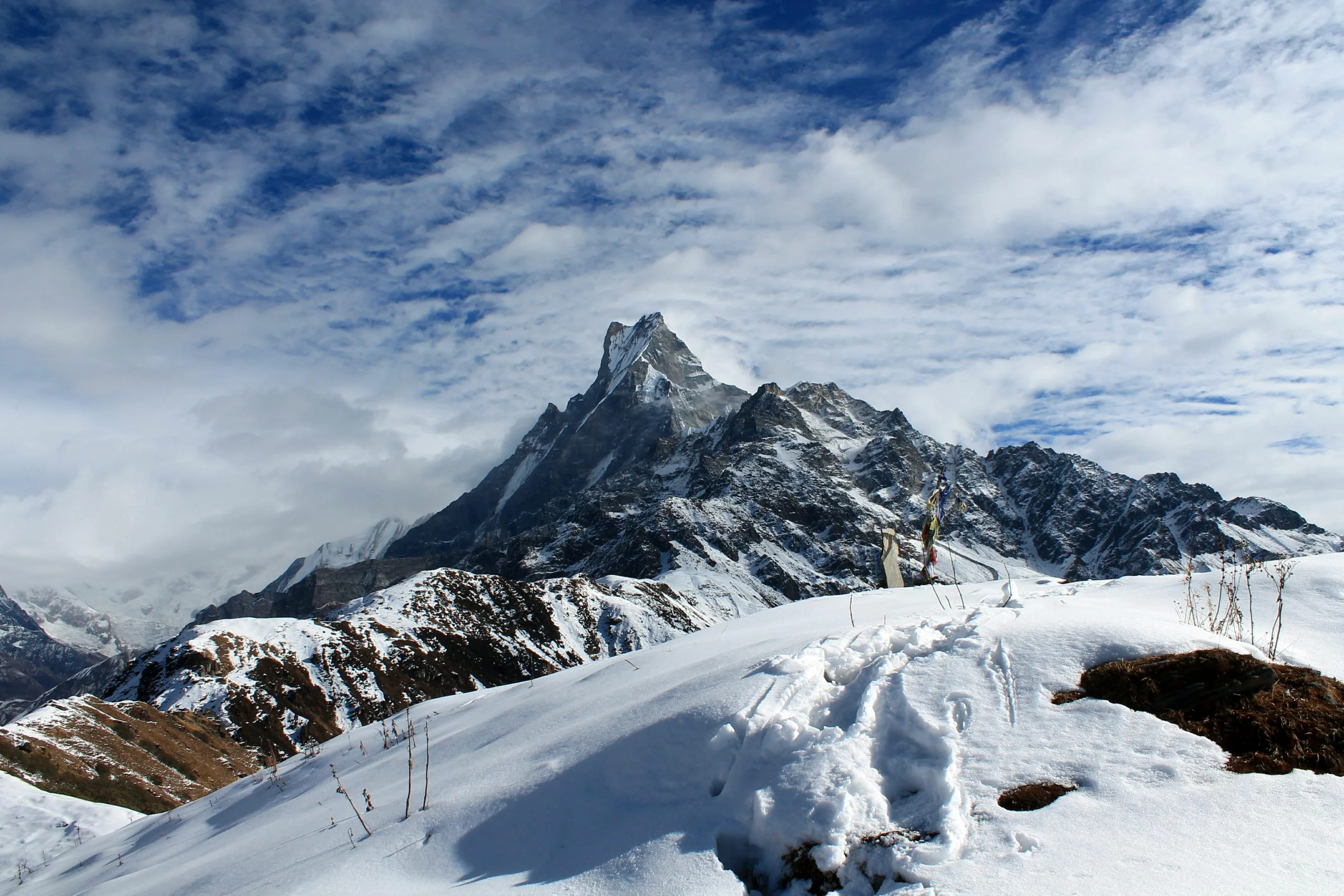 Mardi Himal Trek is an extraordinary journey that promises to unveil Nepal's hidden gem! In this comprehensive guide, we'll take you on a fictitious excursion to the stunning Mardi Himal Trek and give you all the information you need to set off on this exhilarating journey. Get ready to explore the Himalayan splendor firsthand, learn about the local culture, and make lifelong memories.
Popular Treks in Nepal
Mardi Himal Trek: Introduction
Overview of the Mardi Himal Trek
The Mardi Himal Trek takes you on a magical journey through the Annapurna region of Nepal. At an elevation of approximately 5,587 meters (18,330 feet), Mardi Himal stands tall as a lesser-known gem in the Himalayan crown. Rhododendron woods, a variety of fauna, and breathtaking mountain panoramas will enthrall you as you go over the challenging terrain.
Why Choose Mardi Himal Trek for Your Next Adventure?
The allure of Mardi Himal lies not only in its natural splendor but also in the sense of tranquility it offers. Unlike some of the more popular treks like Annapurna Circuit Trek, Everest Base Camp Trek, and Everest Three High Passes Trek, Mardi Himal Trek allows you to connect intimately with nature, away from the crowds. It's a trek that caters to both seasoned adventurers and first-time trekkers, offering a perfect blend of challenge and enchantment.
Whether you seek solace amidst the serene wilderness or wish to be immersed in the rich culture of Himalayan communities, the Mardi Himal Trek has something for everyone. This undiscovered gem guarantees a sensory awakening experience that will leave you with lifelong memories. Therefore, the Mardi Himal Trek is without a doubt the finest option for your upcoming expedition if you're seeking an off-the-beaten-path trip that highlights the best of Nepal's natural and cultural legacy.
Understanding Mardi Himal Trek Geography
Geographical Location and Altitude
Nestled in the Annapurna region of Nepal, Mardi Himal boasts a strategic geographical location that offers trekkers an extraordinary experience. This hidden treasure offers amazing views of the surrounding Himalayan peaks and is located at an extraordinary altitude of around 5,587 meters (18,330 feet). The journey takes you past verdant woods, endearing towns, and breathtaking mountains, providing a varied and stunning panorama that will take your breath away.
Biodiversity and Conservation Efforts
Mardi Himal Trek is not only a visual feast for trekkers but also a sanctuary of biodiversity. There are many different types of plants and animals in the area, including the elusive snow leopard and the colorful Himalayan monal, Nepal's national bird. For the sake of future generations, conservation efforts are being made to maintain this pristine habitat. As you trek through the wilderness, you will witness the conservation initiatives undertaken by local communities and organizations to protect the natural wonders of Mardi Himal.
Mardi Himal Trek: Getting to Trek Starting Point
Arrival in Kathmandu, Nepal
Your journey to the Mardi Himal Trek begins with a thrilling arrival in Kathmandu, the vibrant capital city of Nepal. Ancient traditions and cutting-edge energy will meet you as soon as you set foot in this buzzing metropolis. Your senses will be captivated by Kathmandu's rich cultural legacy, which serves as the entrance to the Himalayas.
Spend some time touring the city's famous sites, including the Swayambhunath Stupa (commonly called the Monkey Temple) and the historic Durbar Square. Engage with friendly locals, savor delicious Nepali cuisine, and soak in the vibrant atmosphere that sets the tone for your upcoming adventure.
Transportation Options to the Trek Starting Point
From Kathmandu, your trek to the Mardi Himal Trek starting point commences with an exciting journey to the beautiful village of Kande via Pokhara Valley. There are several modes of transportation, each with a distinctive experience to offer.
Private Vehicle: Travel in comfort and convenience by hiring a private vehicle, which allows you to enjoy the scenic drive at your own pace. Private vehicles offer flexibility and are ideal for small groups or solo travelers seeking personalized travel arrangements.
Local Bus: For a more authentic Nepali experience, opt for a local bus ride from Kathmandu to Pokhara, then to Kande. Buses are a popular choice among budget travelers and offer a chance to mingle with fellow adventurers and locals along the way.
Shared Jeep: Shared jeeps are a popular mode of transport for trekkers, as they strike a balance between comfort and cost-effectiveness. Join other trekkers in a shared jeep, where you will share stories and camaraderie en route to Kande.
As you journey from Kathmandu to Kande, you will witness the landscape transition from the bustling city to the peaceful countryside. The drive offers breathtaking views of lush valleys, terraced fields, and charming villages that give you a taste of rural Nepal.
Who is Suitable for Mardi Himal Trek?
Mardi Himal Trek is for those who seek to embrace the beauty of nature, immerse themselves in the rich culture of the Himalayas, and create unforgettable memories. With proper preparation, a sense of adventure, and a passion for exploration, you will find yourself perfectly suited for this enchanting journey to Nepal's hidden gem. Here are some factors to consider when determining if the Mardi Himal Trek is suitable for you:
Fitness Level: The Mardi Himal Trek involves moderate to challenging terrains and daily trekking durations. While you don't need to be an elite athlete, having a reasonable level of physical fitness will enhance your trekking experience. Regular exercise and cardiovascular endurance preparation will help you tackle the ascents and descents with greater ease.
Trekking Experience: Although prior trekking experience is not mandatory, it can boost your confidence on the trail. If you have trekked at high altitudes before, you may find the Mardi Himal Trek more manageable. However, even if you're a novice trekker, with determination and proper preparation, you can complete the trek.
Altitude Adaptation: As the trek involves gaining altitude, it's essential to be mindful of potential altitude-related challenges. Acclimatization days are built into the itinerary to help your body adjust to higher elevations gradually.
Adventure Enthusiasts: If you have a sense of adventure and a thirst for exploring new landscapes and cultures, the Mardi Himal Trek offers an unforgettable journey. It's a chance to stretch yourself and take in the splendor of the Himalayas.
Positive Attitude: A positive attitude and mental preparedness are essential for any trek. Embrace the challenges that come your way, enjoy the journey, and savor the little moments that make the Mardi Himal Trek a life-changing experience.
Group or Solo Trekkers: Both group trekkers and solo travelers can enjoy the Mardi Himal Trek. Joining a group can provide camaraderie and a shared experience, while solo trekkers can immerse themselves in self-discovery amidst the mountains.
Age Consideration: While there is no specific age limit for the Mardi Himal Trek, it's essential to be in good health and consult with a healthcare professional, especially for elderly trekkers.
Mardi Himal Trek: Cost Estimation for 2023/2024
Embarking on the Mardi Himal Trek is a rewarding adventure, but it's essential to plan your budget carefully to ensure a smooth and enjoyable journey. A reasonable estimate for the journey as of 2023/2024 is from $600 to $1200 per person. The following is a summary of costs and helpful advice for cutting costs while on your trek:
Breakdown of Expenses
Permits and Fees: The first item on your expense list will be trekking permits. For the Mardi Himal Trek, you'll need the Annapurna Conservation Area Permit (ACAP) and the Trekkers' Information Management System (TIMS) card. The combined cost of these permits may vary depending on the season, but the budget is around USD 50 to USD 60.
Accommodation: During the trek, you'll stay in tea houses or lodges along the trail. Accommodation costs vary based on the level of comfort and facilities offered. On average, expect to spend approximately USD 20 to USD 30 per night for a basic room with shared facilities.
Meals: The tea houses are relatively affordable, with traditional Nepali dishes and international options available. Budget around USD 15 to USD 25 per day for three meals.
Transportation: The cost of transportation to and from Kathmandu will depend on your chosen mode of travel. Consider the expenses for flights or bus fares to reach the trek starting point and return to Kathmandu after completing the trek.
Guide and Porter (Optional): Hiring a local guide and/or porter can enhance your trekking experience, especially if you prefer additional assistance or want to learn more about the region's culture and nature. The cost of a guide is around USD 25 to USD 30 per day, while a porter may charge USD 20 to USD 25 per day.
Trekking Gear: If you don't have all the necessary trekking gear, you might need to rent or purchase equipment in Kathmandu. Budget between $10 and $15 per day to hire trekking equipment.
Miscellaneous: Factor in some extra money for unforeseen expenses, souvenirs, snacks, and personal expenses.
Note: The cost mentioned above is estimated, so while deciding on Mardi Himal Trek it is better to consult with a local travel agency.
Related Posts:
Tips for Saving Money
Travel during Off-Peak Seasons: Consider trekking during the off-peak seasons (spring and autumn) to take advantage of lower permit costs and accommodation rates. The weather is still favorable, and the trails are less crowded.
Avoid Booking Through Middlemen: Book permits and accommodations directly to avoid extra charges from middlemen or brokers.
Travel in Groups: Traveling in a group can help reduce costs by sharing accommodation and transportation expenses.
Bring Snacks and Water Purification: Carry some snacks from Kathmandu to avoid higher costs at tea houses. Additionally, purifying water instead of buying bottled water can save money and reduce plastic waste.
Negotiate Guide and Porter Fees: If you hire a guide or porter, negotiate their fees to get a fair price.
Pack Light: Avoid excess baggage as you may have to pay extra for porterage.
Mardi Himal Trek Itinerary 2023/2024
Note: The approximate walking lengths and times might change according to each hiker's speed and the state of the trails. The schedule might be altered as a result of unanticipated events like bad weather and aircraft delays.
Mardi Himal Trek: Best Time to Trek
For trek and adventure enthusiasts planning to embark on the Mardi Himal Trek, choosing the best time to set foot on this enchanting trail is crucial for a remarkable experience. The trek's seasonal variation and weather conditions play a significant role in shaping the journey's overall vibe, making each season unique in its own way.
Seasonal Variation and Weather Conditions
Spring (March to May):

Bursting with blooming rhododendron forests, spring is one of the most favored seasons for the Mardi Himal Trek.
The weather is generally mild, with clear skies offering splendid mountain vistas.
The temperatures gradually rise, making it comfortable for trekking during the daytime.
The trails are vibrant with colorful wildflowers, creating a picturesque ambiance.

Autumn (September to November):

Considered the peak trekking season, autumn attracts a large number of adventurers to the Mardi Himal Trail.
The weather remains stable with dry conditions, ensuring unobstructed views of the magnificent Himalayan peaks.
The skies are usually clear, allowing for breathtaking sunrises and sunsets over the mountains.
Mild temperatures during the day and cool nights make for comfortable trekking.

Monsoon (June to August):

The monsoon season brings heavy rainfall to the region, resulting in lush and verdant landscapes.
Trekking during monsoon can be challenging due to slippery trails and occasional landslides.
However, the region's natural beauty is at its peak during this season, with cascading waterfalls and fresh greenery.
The advantage of fewer trekkers on the trail allows for a more serene and intimate experience with nature.

Winter (December to February):

Winter offers a unique trekking experience, with the landscape blanketed in snow, creating a magical winter wonderland.
The trekking trails are less crowded during this season, providing a quieter and more tranquil atmosphere.
The temperatures can drop significantly, especially at higher altitudes, so be prepared for cold weather conditions.
Crystal-clear skies and stunning mountain panoramas make winter trekking truly unforgettable.
Pros and Cons of Trekking in Different Seasons
Spring and Autumn (High Season):
Pros: Mild weather, clear skies, vibrant landscapes, ideal for photography, bustling trekking atmosphere, well-established teahouses.
Cons: Crowded trails, higher permit, and accommodation costs, advanced booking required for popular teahouses.
Monsoon (Low Season):
Pros: Lush greenery, fewer trekkers, quiet and peaceful trails, and a chance to experience authentic local culture.
Cons: Heavy rainfall, slippery and muddy trails, limited mountain views, and potential flight cancellations.
Winter (Low Season):
Pros: Snow-covered landscapes, fewer trekkers, serene and tranquil environment, stunning mountain vistas.
Cons: Cold temperatures, limited teahouse availability in higher elevations, possible trail closures due to snow.
May be interested to know: Best Time for Everest Base Camp Trek
Mardi Himal Trek: Food and Accommodation
Food along the Trail
Nepali Delights: As you traverse the scenic trails, you'll have the opportunity to savor authentic Nepali dishes that warm both the heart and soul. From hearty dal bhat (rice with lentil soup) to mouthwatering momos (dumplings), the local cuisine offers a delightful blend of flavors.
International Fare: Alongside Nepali dishes, most tea houses and lodges also serve international cuisine to cater to diverse palates. Enjoy pasta, noodles, pancakes, and even a cup of hot chocolate to replenish your energy after a day of trekking.
Hydration and Warmth: Staying hydrated is essential during the trek. The tea houses offer a variety of beverages, including herbal teas, hot lemon, and ginger tea, which not only keep you warm but also provide medicinal benefits.
Accommodation on the Trail
Cozy Tea Houses: Tea houses are the primary form of accommodation along the Mardi Himal Trail. These charming lodges offer trekkers a comfortable respite after a day's trek. The tea houses provide basic amenities such as clean beds with blankets, common dining areas, and shared bathrooms.
Local Hospitality: The tea house owners extend genuine warmth and hospitality, making you feel at home during your stay. Engage in friendly conversations with fellow trekkers and the local hosts, fostering a sense of camaraderie.
Panoramic Views: Many tea houses boast picturesque mountain views, allowing you to wake up to awe-inspiring landscapes right outside your window.
Tips for Food and Accommodation
Meal Timing: It's essential to maintain a regular eating schedule during the trek to keep your energy levels up. Opt for early dinners to rest well before the next day's trek.
Hydration: Stay hydrated by drinking plenty of fluids, and consider using water purification tablets or filters to minimize plastic bottle waste.
Warmth: Nights can get chilly in higher altitudes, so dressing in layers and having a warm sleeping bag will ensure a comfortable night's sleep.
Trekking Poles: Trekking poles can ease the strain on your knees during descents and provide stability on uneven terrain.
Accommodation Choices: While basic tea houses are prevalent, some lodges offer more luxurious amenities for those seeking a more comfortable experience.
Indulging in the local cuisine and immersing yourself in the warm hospitality of the tea houses along the Mardi Himal Trek is an integral part of the journey. Cherish the culinary delights and cozy accommodations, as they add an extra layer of charm to your unforgettable adventure in the Himalayas.
Mardi Himal Trek: Preparation for the Adventure
Permits and Legal Requirements
Annapurna Conservation Area Permit (ACAP): All trekkers must obtain the ACAP, which permits entry into the Annapurna Conservation Area. This permit contributes to conservation efforts and costs around USD 30.
Trekkers' Information Management System (TIMS) Card: The TIMS card is mandatory for all trekkers and helps track and manage trekker information and safety. The cost for foreign trekkers is around USD 20.
Trekking Agency: If you prefer a hassle-free experience, consider arranging your trek through a reputable trekking agency in Kathmandu. They will take care of all necessary permits and logistics, allowing you to focus on the adventure.
Physical Fitness and Health Considerations
Pre-Trek Fitness Training: Preparing physically for the trek is crucial. Engage in regular cardio exercises, such as hiking, running, or cycling, to build endurance and stamina.
Consult Your Doctor: If you have any pre-existing medical conditions, consult your doctor to ensure you are fit for high-altitude trekking. Discuss any necessary medications and preventive measures.
Altitude Acclimatization: Acclimatization is essential for safe trekking at higher altitudes. Schedule rest days during the trek to allow your body to adjust to the changing elevation.
Hydration and Nutrition: Stay hydrated and nourished throughout the trek. Carry water bottles or a hydration pack and opt for nutritious meals to maintain energy levels.
 Read More: Everest Base Camp Trek Difficulty: Step-by-Step Guide
Essential Gear and Equipment for Mardi Himal Trek
Trekking Boots: Invest in sturdy and comfortable trekking boots with good ankle support for varying terrains.
Clothing Layers: Dress in layers to adapt to changing weather conditions. Include moisture-wicking base layers, insulating mid-layers, and a waterproof and windproof outer shell.
Sleeping Bag: Carry a good-quality sleeping bag suitable for colder temperatures in higher altitudes.
Daypack: A reliable daypack to carry essentials, such as water, snacks, a camera, and extra layers, is essential during daily treks.
Trekking Poles: Trekking poles can provide stability and reduce strain on your knees during descents.
Sun Protection: Pack sunscreen, sunglasses, and a wide-brimmed hat to shield yourself from the strong mountain sun.
First Aid Kit: Carry a basic first aid kit with bandages, antiseptic cream, pain relievers, and any personal medications.
Headlamp or Flashlight: A headlamp or flashlight will be useful for navigating in the dark, especially during early morning treks.
Mardi Himal Trek: Experiencing Local Culture
Interacting with Local Communities
Warm Hospitality: As you traverse through picturesque villages, you'll be warmly welcomed by the locals. Engage in friendly conversations with them, and you'll witness firsthand their kindness and hospitality.
Learn the Language: Embrace the chance to learn some basic Nepali phrases. Greetings like "Namaste" and "Dhanyabad" (thank you) will surely bring smiles to the faces of the locals.
Cultural Exchange: Take part in cultural exchanges by sharing your own stories and experiences with the locals. Respectfully learn about their customs, daily lives, and the challenges they face living in the remote Himalayas.
Unique Traditions and Festivals
Explore Ancient Customs: The villages along the Mardi Himal Trail still hold onto ancient customs and practices. Observe traditional ceremonies and rituals that are integral to their way of life.
Festivals: If your trek coincides with a local festival, consider yourself lucky! Participate in the festivities, which often include vibrant processions, music, dancing, and religious ceremonies.
Mardi Himal Base Camp Festival: The annual Mardi Himal Base Camp Festival is a joyous occasion celebrated by local communities. It's an opportunity to celebrate the beauty of nature and showcase their cultural heritage.
Tasting Local Cuisine
Dal Bhat: Don't miss the chance to savor the famous Nepali dish, dal bhat. This hearty meal of rice, lentil soup, vegetables, and often some meat, provides the perfect fuel for trekkers.
Momos: Treat yourself to the delectable momos, dumplings filled with meat or vegetables, served with spicy dipping sauce.
Thukpa: Enjoy a bowl of thukpa, a hearty noodle soup with vegetables or meat, perfect for warming up on chilly mountain evenings.
Local Delicacies: Keep an eye out for local delicacies unique to each village, as the cuisine may vary along the trail.
Mardi Himal Trek: Immersing in Nature's Beauty
Highlights of Flora and Fauna
Rhododendron Forests: Trekking through vibrant rhododendron forests is a highlight of the Mardi Himal Trek, especially during the spring season when these flowers burst into a riot of colors.
Biodiversity: Keep an eye out for the region's diverse wildlife, including various bird species, pheasants, and, if you're lucky, glimpses of the elusive snow leopard and other Himalayan fauna.
Botanical Wonders: Discover the incredible variety of alpine plants and herbs that thrive in the pristine Himalayan environment.
Majestic Mountain Views and Scenic Landscapes
Mardi Himal Base Camp: The trek to Mardi Himal Base Camp rewards you with breathtaking views of Mardi Himal, Machapuchare (Fishtail), Annapurna South, and Hiunchuli, among other majestic peaks.
Annapurna Massif: Embrace the sweeping panoramas of the Annapurna Massif, showcasing the beauty of Annapurna I, Annapurna II, Annapurna III, and Annapurna IV.
Mardi Himal High Camp: From the high camp, soak in the stunning sunrise and sunset views over the snow-capped peaks, painting the skies with a palette of colors.
Peaceful Meadows: Traverse through tranquil meadows adorned with wildflowers, offering an idyllic escape into nature's serenity.
Capturing Memorable Moments: Photography Tips
Golden Hours: Make the most of the golden hours during sunrise and sunset when the mountains are bathed in soft, warm light, creating stunning photo opportunities.
Panoramic Shots: Use wide-angle lenses to capture the vastness of the landscapes and the grandeur of the mountains.
Macro Photography: Don't forget to capture the intricate details of flora and fauna with macro photography for a closer look at nature's wonders.
Human Element: Incorporate fellow trekkers or locals into your photographs to add a human element and tell a story of the trekking experience.
Time-Lapse Photography: Consider creating time-lapse videos to capture the changing colors of the mountains and the movement of clouds.
Starry Nights: If you have a passion for astrophotography, take advantage of the clear Himalayan skies for capturing stunning nightscapes and star trails.
Note: Remember to respect the environment and wildlife during photography sessions, and avoid disturbing the natural habitat.
Mardi Himal Trek: Altitude Sickness
Altitude sickness, also known as acute mountain sickness (AMS), is a common concern for trekkers venturing into higher elevations, such as during the Mardi Himal Trek. Understanding the causes, recognizing the symptoms, and taking preventive measures are essential to ensure a safe and enjoyable trekking experience:
Causes of Altitude Sickness
Decreased Oxygen Levels: As you ascend to higher altitudes, the air becomes thinner, resulting in reduced oxygen levels. This decrease in oxygen availability can lead to altitude sickness.
Rapid Ascent: Climbing to higher altitudes too quickly without giving your body enough time to acclimatize can increase the risk of altitude sickness.
Individual Susceptibility: Altitude sickness can affect anyone, regardless of age, fitness level, or prior trekking experience. Each individual's response to higher altitudes varies.
Symptoms of Altitude Sickness
Headache: Persistent headache, especially when coupled with other symptoms, is a common sign of altitude sickness.
Nausea and Vomiting: Feeling nauseous and experiencing vomiting may indicate altitude sickness.
Fatigue: Unusual tiredness and fatigue, even after mild physical exertion, can be a symptom of AMS.
Dizziness and Lightheadedness: Feeling dizzy or lightheaded, especially when standing up, can be a warning sign.
Shortness of Breath: Difficulty breathing or shortness of breath, especially at rest, is a significant symptom of altitude sickness.
Loss of Appetite: A decreased desire to eat or loss of appetite is a common symptom at higher altitudes.
Prevention of Altitude Sickness
Gradual Ascent: Ascend slowly and gradually, allowing your body time to acclimatize to the increasing altitude. Spend a few days at intermediate elevations to adapt before ascending higher.
Stay Hydrated: Drink plenty of fluids, but avoid excessive alcohol and caffeine, as they can contribute to dehydration.
Adequate Rest: Ensure you get sufficient rest and sleep during the trek, especially during acclimatization days.
Medication: Consider using medications like acetazolamide (Diamox) under the guidance of a healthcare professional to aid acclimatization.
Proper Nutrition: Maintain a balanced diet with sufficient calories to fuel your body for the trek.
Avoid Overexertion: Pace yourself and avoid overexertion during the trek. Listen to your body and take breaks as needed.
Descend if Symptoms Worsen: If symptoms of altitude sickness persist or worsen, it's essential to descend to lower elevations immediately.
Altitude sickness should not be taken lightly, as it can lead to more severe conditions if left untreated. Prioritize safety during the Mardi Himal Trek by recognizing the symptoms, following preventive measures, and being prepared to respond promptly to any signs of altitude sickness. A cautious and well-informed approach will help ensure a successful and enjoyable trekking experience in the Himalayas.
Mardi Himal Treks: Challenges and Safety Measures
Navigating Difficult Terrain
Steep Ascents and Descents: The Mardi Himal Trek involves steep and rugged trails, demanding both physical strength and balance during ascents and descents.
Narrow Paths and Drop-offs: Some sections of the trail may have narrow paths with steep drop-offs. Pay close attention to your footing and remain cautious.
Changing Weather Conditions: Weather in the mountains can be unpredictable. Be prepared for sudden weather changes and ensure you have appropriate gear for various conditions.
Altitude Variations: The trek involves significant altitude variations, which can challenge your body's ability to acclimatize properly.
Travel Insurance and Emergency Protocols
Comprehensive Travel Insurance: Prior to embarking on the trek, obtain comprehensive travel insurance that covers trekking at high altitudes and includes emergency medical evacuation.
Emergency Contacts: Carry a list of emergency contacts, including the nearest medical facilities and trekking agencies, in case of any unforeseen situations.
Local Guides and Porters: Hiring a local guide and/or porter is highly recommended for safety and assistance during the trek. They possess valuable knowledge of the terrain and can provide essential guidance.
Medical Kit: Carry a basic medical kit with essentials such as bandages, antiseptic cream, pain relievers, and any personal medications.
Weather Updates: Stay informed about weather forecasts and updates regularly to prepare for changing conditions.
Hydration and Nutrition: Stay well-hydrated and maintain a balanced diet to ensure your body is fueled for the trek.
Trekking Poles: Trekking poles can provide stability and support during challenging sections of the trail.
Emergency Evacuation Plan: Familiarize yourself with the emergency evacuation protocols and procedures in case of severe injuries or altitude sickness.
Mardi Himal Trek: Responsible Trekking and Sustainability
As adventurers exploring the pristine beauty of the Mardi Himal Trek, it is our responsibility to practice responsible trekking and adopt sustainable practices to preserve the environment and support the local communities.
Leave No Trace Principles
Pack Out What You Pack In: Carry all your trash back with you and dispose of it properly in designated waste bins in the towns.
Minimize Campfire Impact: Avoid making campfires to preserve the fragile ecosystem and use a camping stove instead for cooking.
Respect Wildlife: Observe wildlife from a distance and avoid disturbing their natural behavior. Do not feed wild animals.
Stay on Designated Trails: Stick to established trekking trails to prevent erosion and minimize the impact on the surrounding flora and fauna.
Properly Dispose of Human Waste: Use designated toilet facilities when available or follow the "Leave No Trace" principles for responsible waste disposal outdoors.
Supporting Local Initiatives and Eco-Tourism
Local Lodges and Homestays: Opt for staying in locally-owned lodges and homestays, which not only offer authentic cultural experiences but also support the livelihoods of the local communities.
Buy Local Products: Purchase souvenirs and handicrafts directly from local artisans to contribute to the local economy.
Community-Based Tourism: Engage in community-based tourism initiatives that empower local communities and ensure they benefit from tourism.
Minimizing Environmental Impact
Refill Water Bottles: Instead of buying bottled water, carry a reusable water bottle and refill it at tea houses with purified water to reduce plastic waste.
Reduce Single-Use Plastics: Avoid single-use plastics, such as straws and plastic bags, and bring reusable alternatives.
Energy Conservation: Conserve electricity by turning off lights and electronic devices when not in use.
Responsible Photography: Be respectful when taking photographs, especially of local people. Always ask for permission and be mindful of their cultural sensitivities.
Follow Local Guidelines: Respect local customs, traditions, and guidelines while trekking in the region.
Mardi Himal Trek: Tips for a Successful Trek
Packing Light and Smart
Essentials Only: Pack only the essentials and avoid unnecessary items. Choose lightweight and multipurpose gear to minimize the weight of your backpack.
Layering Clothing: Opt for clothing layers that can be easily added or removed according to weather changes, allowing you to adapt to varying temperatures.
Weatherproof Gear: Pack a waterproof and windproof outer shell to stay dry during unexpected rain or snow.
Comfortable Footwear: Invest in sturdy and comfortable trekking boots with good ankle support to navigate the diverse terrain.
Daypack: Carry a lightweight daypack for daily essentials, such as water, snacks, a camera, and extra layers.
Staying Hydrated and Nourished
Hydration: Drink plenty of water throughout the trek to stay hydrated, especially in higher altitudes where dehydration can occur more quickly.
Water Purification: Carry a water purification system to treat water from local sources, reducing the need for single-use plastic bottles.
Balanced Diet: Maintain a balanced diet, including carbohydrates, proteins, and fresh fruits to keep your energy levels up.
Trail Snacks: Carry trail snacks like nuts, energy bars, and chocolates for quick energy boosts during the trek.
Mental Preparation and Mindfulness
Acclimatization: Listen to your body and take acclimatization seriously. Allow ample time for your body to adjust to higher altitudes.
Positive Mindset: Approach the trek with a positive mindset, embracing challenges as part of the adventure.
Mindfulness: Be present and mindful of the stunning surroundings. Take moments to appreciate the beauty of nature along the trail.
Safety First: Prioritize safety over speed. If you experience any signs of altitude sickness or exhaustion, communicate with your trekking companions and guide.
Enjoy the Journey: Remember that the journey is as important as the destination. Savor each moment and the camaraderie with fellow trekkers.
Trekking with Respect and Gratitude
Respect Nature: Follow the principles of responsible trekking, leaving no trace, and preserving the natural environment.
Local Culture: Respect the local culture and traditions. Learn some basic Nepali phrases to engage with the locals respectfully.
Gratitude: Express gratitude to your guides, porters, and the local communities for their hospitality and assistance.
Mardi Himal Trek: Side Trips and Optional Activities
Annapurna Base Camp (ABC) Trek
The Annapurna Base Camp Trek is a popular extension of the Mardi Himal Trek, offering trekkers an opportunity to venture deeper into the Annapurna Sanctuary. The trek takes you to the base camp of the majestic Annapurna I, surrounded by a natural amphitheater of towering peaks.
Ghorepani Poon Hill Trek
The Ghorepani Poon Hill Trek is a delightful short trek that offers breathtaking sunrise views over the Annapurna and Dhaulagiri ranges. The trail takes you through lush rhododendron forests and charming villages, providing a taste of the diverse landscapes of the region.
Kori Himal Trek
The Kori Himal Trek is a less-frequented gem, offering trekkers a chance to immerse in the tranquility of the Himalayas. The trail takes you through remote villages, rhododendron forests, and pristine alpine landscapes, with stunning views of Kori Himal and other peaks.
Khopra Ridge Trek
The Khopra Ridge Trek is a hidden gem, known for its panoramic views of Dhaulagiri and Annapurna mountain ranges. The highlight of this trek is reaching Khopra Ridge and visiting the sacred Khayer Lake, a place of spiritual significance.
Machhapuchhre Model Trek
The Machhapuchhre Model Trek is a community-based trekking route that offers a unique cultural experience. This trek takes you through villages inhabited by the Gurung and Magar communities, providing insight into their rich traditions and way of life.
Note: Before embarking on any side trips or optional activities, ensure that you have sufficient time, physical fitness, and necessary permits. Consider hiring local guides for these excursions to enrich your experience and support local communities.
Adding these side trips and optional activities to your Mardi Himal Trek itinerary will allow you to discover more of the breathtaking beauty and diverse culture of the Annapurna region, creating an unforgettable trekking experience in the heart of the Himalayas.
Conclusion
The Mardi Himal Trek is more than just a journey through the Himalayas; it's an opportunity to embrace the adventure of a lifetime. With its stunning vistas, diverse landscapes, and warm hospitality of the local communities, this trek captivates the hearts of all trekking enthusiasts. Navigating the challenging terrain and overcoming altitude sickness requires preparation, determination, and a positive mindset.
As trekkers venture along the Mardi Himal Trail, they find themselves reflecting on the wonders of nature, the resilience of the human spirit, and the cultural richness of the region. The memories of witnessing glorious sunrises over snow-capped peaks, exploring ancient traditions, and savoring local delicacies linger long after the journey ends.
The Mardi Himal Trek is more than just a personal quest; it becomes an inspiration for others to explore Nepal's hidden gem. As we tread mindfully, practice responsible trekking, and support sustainable initiatives, we ensure that this pristine sanctuary remains intact for generations to come. Let the allure of the Mardi Himal Trek beckon you to embark on this transformative expedition and share the magic of Nepal's hidden gem with the world.
Mardi Himal Trek: FAQs
What is the best time to Mardi Himal Trek?
The best time for the Mardi Himal Trek is during the spring (March to May) and autumn (September to November) seasons. These months offer stable weather, clear skies, and pleasant temperatures, providing optimal conditions for trekking and spectacular mountain views.
How difficult is the Mardi Himal Trek?
The Mardi Himal Trek is considered moderately challenging. While it does not involve technical climbing, trekkers should be prepared for steep ascents and descents, as well as varying trail conditions. Proper physical fitness and acclimatization are essential for a successful trek.
Do I need prior trekking experience for Mardi Himal Trek?
While prior trekking experience is beneficial, it is not a prerequisite for the Mardi Himal Trek. However, being in good physical condition and having some hiking experience can enhance your overall trekking experience.
What permits do I need for the Mardi Himal trek?
For the Mardi Himal Trek, you will need two permits: the Annapurna Conservation Area Permit (ACAP) and the Trekkers' Information Management System (TIMS) card. These permits can be obtained in Kathmandu or Pokhara.
Are there tea houses and lodges along the Mardi Himal Trek route?
Yes, there are tea houses and lodges along the Mardi Himal Trek route, providing accommodation and meals for trekkers. These lodges offer basic facilities, making the trek more accessible and comfortable.
Is it safe for solo trekkers to do Mardi Himal Trek?
Yes, the Mardi Himal Trek is generally safe for solo trekkers. However, it is advisable to trek with a guide or join a trekking group for added safety, especially in case of emergencies.
Can I do the Mardi Himal trek in the monsoon season?
While the monsoon season (June to August) brings heavy rainfall to the region, it is still possible to trek the Mardi Himal route. However, the trails can be slippery, and mountain views may be obscured by clouds. Proper gear and caution are essential during the monsoon.
Are there any age restrictions for the Mardi Himal Trek?
There are no official age restrictions for the Mardi Himal Trek. However, trekkers should be in good physical health and capable of enduring moderate to challenging trekking conditions.
How much does it cost to do the Mardi Himal trek with a guide?
The cost of the Mardi Himal Trek with a guide can vary depending on factors such as trek duration, group size, and services included. On average, the cost can range from USD 1000 to USD 1500 per person.
What wildlife can be spotted in the Mardi Himal Trek area?
The Mardi Himal region is home to various wildlife, including Himalayan pheasants, colorful birds, and occasional sightings of the elusive snow leopard, Himalayan tahr, and red panda.
Are there any emergency rescue services available on the trail?
Yes, emergency rescue services are available on the Mardi Himal Trail. Trekking agencies and lodges have communication systems to arrange helicopter evacuations in case of serious injuries or emergencies. However, having travel insurance that covers emergency evacuation is highly recommended for added security.