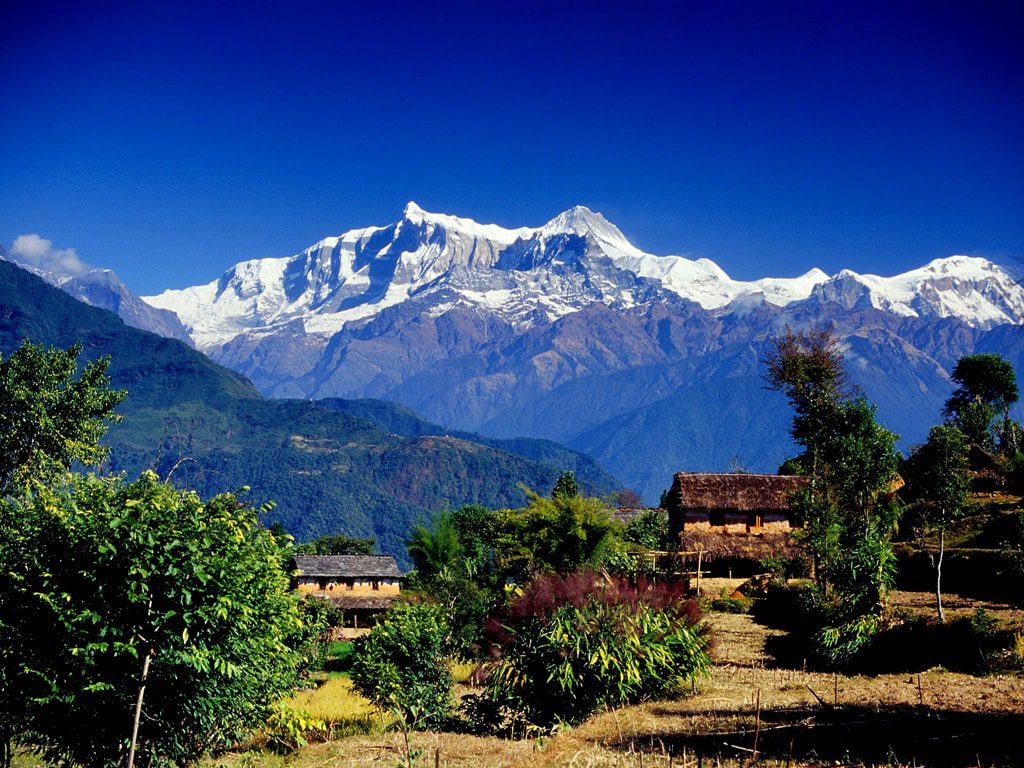 The Annapurna Base Camp Trek is a remarkable adventure that takes trekkers through the magnificent landscapes of the Annapurna region in Nepal. Nestled amidst the Himalayas, this trek offers a perfect blend of natural beauty, cultural encounters, and adrenaline-pumping challenges. Set off on your adventure to take in the splendor of the Annapurna Massif and the local culture. This Annapurna Base Camp Trek guide will provide you with all the essential information to make your trek a memorable and successful experience.
Annapurna Base Camp Trek: Introduction
Annapurna Base Camp (ABC), which is located at a height of 4,130 meters, is surrounded by soaring peaks, including the magnificent Annapurna I, the tenth-highest mountain in the world, and its beautiful neighbor at 8,091 meters (26,545 feet) in height.
Brief Overview of Annapurna Base Camp Trek
One of the most popular trekking locations worldwide, the Annapurna Base Camp Trek is known for its variety of vistas. This trek features the ideal combination of lush forests, terraced fields, flowing waterfalls, and charming towns, all placed against the magnificent background of snow-capped peaks. The trail winds through the Annapurna Conservation Area, a protected region that boasts rich biodiversity, making it a paradise for nature enthusiasts.
Trekking to Annapurna Base Camp typically takes around 7 to 12 days, depending on the chosen route and the pace of the trekker. The journey commences from the vibrant town of Pokhara, known for its serene lakes and stunning mountain views. As trekkers venture deeper into the trail, they are rewarded with breathtaking vistas of prominent peaks, such as Machhapuchhre (Fishtail), Dhaulagiri, and Hiunchuli. If you are on a long vacation you can also combine ABC Trek with another popular trek named Mardi Himal Trek to make your trip more exciting.
Importance and Popularity of the Annapurna Base Camp Trek
The Annapurna Base Camp trek holds immense importance for both seasoned trekkers and adventure enthusiasts alike. The journey presents an exceptional opportunity to experience the close-up magnificence of the Annapurna Peak and the serenity of the Himalayas. The fascination of the gorgeous mountains and the opportunity to witness real Nepalese culture bring thousands of trekkers from across the world to this trip each year.
Beyond its natural grandeur, the trek also offers a profound cultural experience. Along the way, trekkers encounter various ethnic communities, including Gurungs and Magars, known for their warm hospitality and rich cultural heritage. The traditional mountain villages provide a glimpse into the simplicity and resilience of the local lifestyle.
The popularity of the Annapurna Base Camp trek can be attributed to the perfect balance it strikes between challenging adventure and accessibility. Unlike other high-altitude treks, ABC trek does not demand technical climbing skills, making it suitable for trekkers of moderate fitness levels. This makes it an ideal choice for those seeking a memorable mountain experience without the need for extensive mountaineering expertise.
Who is Suitable for Annapurna Base Camp Trek?
The Annapurna Base Camp trek is a captivating journey that offers a diverse range of experiences. While it is not considered a technically demanding trek, it still requires a certain level of physical fitness and mental preparation. Here, we will explore the characteristics of individuals who are well-suited for the Annapurna Base Camp trek:
Moderately Fit Adventurers: The trek involves daily walking for several hours in varied terrain, including uphill and downhill sections. While prior trekking experience is not mandatory, a moderate level of fitness and stamina will contribute to a more enjoyable experience.
Nature Enthusiasts: If you have a deep appreciation for the beauty of nature and a desire to witness the grandeur of the Himalayas up close, the Annapurna Base Camp trek is perfect for you. The trail showcases diverse landscapes, from lush forests to alpine meadows and glacial moraines.
Cultural Explorers: The trek not only offers stunning natural vistas but also provides an opportunity to engage with the unique cultures of the region. If you are interested in learning about local traditions, customs, and lifestyles, this trek offers authentic encounters with various ethnic communities.
Adventure Seekers: The sense of adventure and the thrill of exploring remote mountainous regions attract many trekkers to the Annapurna Base Camp. If you seek to challenge yourself and step out of your comfort zone, this trek will offer a fulfilling adventure.
Photography Enthusiasts: For those with a passion for photography, the Annapurna Base Camp trek is a photographer's dream. Every step of the journey presents opportunities to capture awe-inspiring landscapes and unique cultural moments.
Solo Travelers and Groups: The trek can be undertaken both as a solo traveler and as part of a group. Group treks provide companionship and shared experiences, while a solo trip may be a profound voyage of self-discovery.
Age and Experience: The Annapurna Base Camp trek is suitable for individuals ranging from late teens to late fifties, as long as they are in good health and fitness. Before starting the stroll, it's crucial to consult with a doctor, especially if you have any current health issues.
Responsible and Respectful Travelers: The Annapurna region is a protected area, and responsible trekking practices are essential to preserve its natural beauty and cultural heritage. If you are committed to minimizing your environmental impact and respecting local customs, you are well-suited for this trek.
Annapurna Base Camp Trek: Preparation
Embarking on the Annapurna Base Camp trek requires meticulous preparation to ensure a safe and enjoyable journey.
Required Permits
Annapurna Conservation Area Permit (ACAP): As the trek takes place within the Annapurna Conservation Area, trekkers are required to obtain an ACAP. This permit aims to support the conservation efforts and sustainable development of the region.
TIMS (Trekkers' Information Management System) Card: All trekkers, regardless of nationality, must acquire the TIMS card, which provides information about trekkers and their trekking routes. It is an essential document for ensuring trekkers' safety and security.
Necessary Documents
Passport and Visa: A valid passport with at least six months' validity from the date of entry is necessary to enter Nepal. Additionally, trekkers must obtain the appropriate visa, either before arrival or upon entry at the Tribhuvan International Airport in Kathmandu.
Travel Insurance: It is highly recommended to have comprehensive travel insurance that covers emergency medical evacuation, trekking-related injuries, trip cancellations, and theft or loss of belongings.
Emergency Contact Information: Provide your emergency contact details to your trekking agency or guide, ensuring that they can reach your loved ones in case of any unforeseen circumstances.
Medical Information: Inform your trekking guide of any pre-existing medical conditions, allergies, or medications you are taking. This will enable them to provide appropriate care during the trek if needed.
Physical Fitness and Training
Cardiovascular Endurance: The Annapurna Base Camp trek involves long hours of walking at varying altitudes. Improve your endurance before the journey by doing cardiovascular workouts like running, cycling, or swimming.
Strength Training: Strengthen your leg muscles and core through exercises like squats, lunges, and planks. Building muscle strength will help you tackle the undulating terrains of the trek.
Hiking Practice: If possible, engage in short hikes or treks in your local area to simulate trekking conditions and get accustomed to carrying a daypack.
Altitude Acclimatization: The trek involves significant altitude gain, and acclimatization is vital to avoid altitude sickness. Plan your itinerary with sufficient rest and acclimatization days.
Mental Preparation: Trekking in the Himalayas can be physically and mentally challenging. Prepare yourself mentally for the demands of the trek and stay positive and determined throughout the journey.
Hydration and Nutrition: Stay well-hydrated and maintain a balanced diet leading up to the trek. Proper nutrition will provide the energy needed for the trekking days.
Consult a Doctor: Before undertaking any physical training or embarking on the trek, consult a doctor to ensure that you are in good health and fit for the journey.
Annapurna Base Camp Trek: Route and Itinerary
The Annapurna Base Camp trek is a captivating journey through diverse landscapes and picturesque villages, offering breathtaking views of snow-capped peaks.
Other Popular Trekking
Annapurna Base Camp Trek: Cost Estimation
The cost of the Annapurna Base Camp trek can vary based on several factors, including the trekking duration, the type of services chosen, and personal preferences.
Annapurna Conservation Area Permit (ACAP): USD 30 (for foreigners)
TIMS (Trekkers' Information Management System) Card: USD 20
Visa Fees: The visa fees for Nepal depend on the duration of stay and nationality. It typically ranges from USD 25 to USD 100. Indian nationals do not require a visa.
Travel Insurance: Comprehensive travel insurance is crucial for trekking in the Himalayas. The cost of insurance can vary based on coverage and duration. On average, it can range from USD 50 to USD 150 for the trek duration.
Accommodation: Accommodation costs will largely depend on the type of lodging chosen. While more opulent lodges can cost up to USD 100 per night, basic teahouses along the path cost from USD 20 to USD 30 per night.
Meals and Drinks: Meals at teahouses can range from USD 5 to USD 15 per meal, depending on the food items and location. Budgeting around USD 25 to USD 35 per day for food and drinks is reasonable.
Guide and Porter: Hiring a licensed trekking guide is recommended for a safer and more informative trek. The cost of a guide can range from USD 25 to USD 35 per day. A porter will cost anything from $20 to $25 each day.
Trekking Gear: If you do not have your trekking gear, you can rent it in Kathmandu or Pokhara. The cost of renting gear for the entire trek can range from USD 50 to USD 100.
Miscellaneous Expenses: Miscellaneous expenses such as hot showers, phone charging, Wi-Fi, and snacks can add up. Budgeting around USD 50 to USD 100 for such expenses is advisable.
Tips and Gratuities: It is customary to tip the guide and porter as a token of appreciation for their services. Tipping is voluntary, but a common practice, and an average of USD 20 to USD 30 per guide/porter is considered appropriate.
Overall, the total cost estimation for the Annapurna Base Camp trek can range from USD 1000 to USD 2000 or more, depending on individual choices and preferences. It is essential to plan and budget accordingly, keeping in mind the duration of the trek and the level of comfort and services desired. Although the excursion may demand substantial expenses, the experience of hiking among the breathtaking Annapurna Himalayas is priceless and worth every cent invested.
Annapurna Base Camp Trek: Best Time for Trekking
Choosing the best time to undertake the Annapurna Base Camp trek is crucial for a safe and enjoyable experience. The trekking seasons in the region can significantly impact the weather, trail conditions, and overall trekking experience.
Trekking Seasons
One of the most popular hiking times of year in the Annapurna area is spring. The weather in the spring season is pleasant, with favorable temperatures and clear skies. The rhododendron forests come alive with vibrant colors, creating a picturesque landscape.
Advantages: Pleasant weather, blooming flowers, and excellent visibility for mountain views.
Challenges: Popular season, so some trails and teahouses can be crowded.
Summer/Monsoon (June to August)
The Annapurna area experiences significant rainfall throughout the monsoon season. While the trails may be less crowded, trekking during this time poses challenges due to slippery and muddy trails. However, the lush greenery and fewer tourists can offer a unique experience.
Advantages: Fewer trekkers on the trail, lush green landscapes.
Challenges: Heavy rainfall, leeches, slippery trails, and potential flight delays due to weather.
Autumn (September to November)
Considered the best trekking season, autumn offers stable weather, clear mountain views, and comfortable temperatures. The post-monsoon period provides excellent visibility, making it ideal for photography and enjoying the breathtaking scenery.
Advantages: Stable weather, clear skies, optimal mountain views, and comfortable temperatures.
Challenges: The most popular season, so trails and teahouses may be crowded.
Winter (December to February)
Winter brings colder temperatures and occasional snowfall to the higher elevations. While trekking during this time is possible, it requires proper cold-weather gear, and some high passes may be closed due to snow.
Advantages: Fewer trekkers on the trail, serene landscapes, and clear mountain views.
Challenges: Cold temperatures, especially at higher altitudes, some high passes may be closed.
Weather Conditions Month-by-Month
January: Winter continues, with cold weather and the possibility of snow at higher altitudes.
February: Late winter with relatively stable weather, but colder temperatures at night.
March: The weather begins to warm up, with occasional rain showers. Blooming rhododendrons add vibrant colors to the landscape.
April: Spring is in full swing, with pleasant temperatures and rhododendron forests at their peak bloom.
May: Temperatures continue to rise, and the weather remains stable, offering excellent mountain views.
June: Monsoon season starts, bringing heavy rainfall and humid conditions to the region.
July: Monsoon continues, with frequent rain showers. Trails can be slippery, but the region is lush and green.
August: Monsoon persists, but rainfall begins to decrease towards the end of the month.
September: Post-monsoon season starts, offering stable weather and clear skies. One of the best months for trekking.
October: Considered the peak trekking season, October boasts stable weather and breathtaking views.
November: Autumn continues, with pleasant temperatures and excellent visibility.
December: Winter begins, with colder temperatures and occasional snowfall at higher elevations.
Annapurna Base Camp Trek: Accommodation and Facilities
The Annapurna Base Camp trek offers a variety of accommodation options along the trail, primarily in the form of teahouses and lodges. These mountain accommodations cater to the needs of trekkers, providing a comfortable resting place after a day's trek.
Teahouses and Lodges Available During the Trek
Teahouses: Teahouses are the most common and traditional form of accommodation along the Annapurna Base Camp trail. These are locally-run guesthouses that offer basic facilities and services to trekkers. Teahouses typically provide communal sleeping areas with twin beds or bunk beds and shared bathrooms with running water (often cold showers). They offer a wonderful opportunity to encounter the friendliness and kindness of the local population.
Lodges: As the popularity of the trek has increased, some areas now have lodges and guesthouses that offer more comfort and amenities compared to teahouses. Lodges may provide private rooms with attached bathrooms, hot showers, and additional services such as Wi-Fi and electricity charging facilities.
Amenities and Services Provided
Bedrooms: Teahouses and lodges offer clean and cozy bedrooms with basic bedding and blankets. In some lodges, you may find more comfortable mattresses and thicker blankets.
Dining Areas: Common dining areas are available for trekkers to enjoy meals. These spaces often have a communal atmosphere, providing an opportunity to interact with other trekkers.
Food and Drinks: Teahouses and lodges serve a variety of meals, including local and international dishes. The menus often feature options such as Nepali dal bhat (rice and lentils), momos (dumplings), pasta, and soups. There are also hot beverages including tea, coffee, and hot chocolate available.
Hot Showers: While teahouses typically offer cold showers, some lodges may have the option for hot showers, often for an additional fee.
Electricity Charging: Many teahouses and lodges have electricity charging facilities, either through power outlets in the rooms or in communal areas. However, charging may come with an extra cost.
Wi-Fi: Some lodges in more developed areas provide Wi-Fi access, although it may be slower and less reliable compared to urban areas.
Luggage Storage: Accommodations offer luggage storage facilities where you can safely store your excess belongings while on the trek.
How to Choose the Right Accommodation on Annapurna Base Camp Trek Journey?
Comfort vs. Authenticity: Decide whether you prioritize comfort and amenities or prefer a more authentic and rustic experience in teahouses.
Altitude Consideration: In higher altitudes, facilities may become more basic. Be prepared for fewer amenities as you ascend.
Popular Teahouses: During peak seasons, popular teahouses may fill up quickly. It is advisable to book in advance, especially in the high trekking season.
Group Size: If you are part of a larger group, consider accommodations that can accommodate your entire group comfortably.
Acclimatization: Plan your trekking itinerary with acclimatization in mind. Ensure that the accommodation is available at suitable elevations for gradual altitude gain.
Respect Local Culture: Be respectful of local customs and practices while staying in teahouses or lodges.
Annapurna Base Camp Trek: Food and Water
Proper nutrition and hydration are crucial for a successful and enjoyable Annapurna Base Camp trek.
Availability of Meals and Snacks on the Trek
During the Annapurna Base Camp trek, trekkers are well-catered with a variety of meals and snacks at the teahouses and lodges along the trail. Food accessibility is a crucial component of the trekking experience since it helps trekkers keep energized and fed while traveling. Here are some key points regarding meals and snacks:
Teahouse Menus: Teahouses offer a diverse menu featuring both local and international cuisines. Popular dishes include Nepali dal bhat (rice and lentils), momos (dumplings), noodles, pasta, soups, and a selection of snacks.
Breakfast: Breakfast options often include eggs (boiled, fried, or omelets), pancakes, porridge, muesli, bread, and seasonal fruits.
Lunch and Dinner: Lunch and dinner menus typically consist of a variety of rice, noodle, and pasta dishes, accompanied by vegetables, meat, or lentils. Local specialty dishes are also available for trekkers to try.
Snacks: Along the trekking route, you will find various snacks like energy bars, chocolate, cookies, and locally made snacks. These provide quick bursts of energy during breaks.
Teahouse Meals: Meals at teahouses are usually hearty and served in generous portions, ensuring trekkers are well-fed after a day's trek.
Special Dietary Requirements: Most teahouses can accommodate dietary preferences such as vegetarian, vegan, and gluten-free options. However, do communicate your requirements in advance.
Hydration and Water Purification Methods
Trekking in the high heights of the Annapurna area requires enough hydration. Drinking enough water is crucial while hiking to avoid dehydration and problems caused by high altitudes. Here are some tips for maintaining hydration:
Water Availability: Bottled water is available at teahouses along the trail. However, using single-use plastic bottles is not environmentally friendly. Instead, consider using a reusable water bottle and refill it with purified water or boiled water at the teahouses.
Boiled Water: Teahouses provide boiled water, which is safe to drink after it cools down. Boiling water is an effective method to kill waterborne pathogens.
Water Purification Tablets: Carrying water purification tablets is a convenient and lightweight option for purifying water from natural sources like streams and rivers.
Water Filters: Some trekkers prefer to carry portable water filters, which can effectively remove bacteria and protozoa from untreated water.
Avoid Untreated Water: It is essential to avoid drinking untreated water from streams and taps, as it may contain harmful microorganisms that can cause waterborne illnesses.
Oral Rehydration Solutions: Consider carrying oral rehydration solutions to replenish electrolytes and minerals lost through sweat and exertion.
It is recommended to remain hydrated, but you should be cautious not to consume too much liquid since this might direct to hyponatremia (low blood salt levels). Listen to your body and drink according to your thirst.
Annapurna Base Camp Trek: Difficulty and Rewards
Undertaking the Annapurna Base Camp trek presents both challenges and rewards that go beyond the physical journey.
Personal Growth and Self-Discovery
The Annapurna Base Camp Trek is a voyage of self-discovery and personal development in addition to an adventure across the beautiful Himalayan vistas. The trek pushes trekkers beyond their comfort zones, allowing them to discover their inner strengths, resilience, and determination. As trekkers ascend through diverse terrains and face changing weather conditions, they learn to adapt and embrace the challenges that come their way.
In addition, the tranquil surroundings of the Annapurna region present a time for reflection and a chance to reestablish one's connection with oneself away from the distractions of daily life. Many trekkers find solace in the mountains, gaining a sense of clarity and renewed purpose. Trekking among the majesty of nature may be a profoundly transformational experience that fosters a greater awareness of oneself and the wider world.
Overcoming Physical and Mental Obstacles
The Annapurna Base Camp trek is not without its physical and mental obstacles. As they ascend to greater elevations, hikers must adjust to lower oxygen levels, which could lead to difficulties including dizziness and discomfort from the altitude. The steep and rocky trails can be physically demanding, testing trekkers' endurance and stamina.
Mental resilience plays a vital role in overcoming these obstacles. Trekkers often encounter moments of self-doubt and fatigue, but with determination and a positive mindset, they push forward. The camaraderie among fellow trekkers and the support of experienced guides serve as valuable encouragement during challenging times.
Stories of Triumph and Motivation from Fellow Trekkers
As trekkers share their experiences along the trail, they exchange stories of triumph and motivation that inspire others to persevere. These stories highlight the triumphs of trekkers who have overcome physical limitations, health setbacks, or personal fears to reach Annapurna Base Camp.
The trail often brings people from diverse backgrounds together, forming a unique bond among trekkers. Sharing tales of overcoming obstacles and witnessing the determination of fellow trekkers fosters a sense of community and encouragement throughout the journey.
Moreover, listening to stories from seasoned trekkers or locals who have a deep connection to the mountains can offer valuable insights and motivation to continue the trek. The encouragement from others helps trekkers find the strength to push forward, making the journey even more rewarding.
Annapurna Base Camp Trek: Safety and Health Considerations
Trekking to Annapurna Base Camp is a rewarding experience, but it requires careful consideration of safety and health aspects.
Altitude Sickness and Prevention
Altitude sickness, also known as acute mountain sickness (AMS), can occur as trekkers ascend to higher elevations. It's crucial to be aware of the signs of AMS:
Headaches
Nausea
Dizziness
Lack of appetite
Trouble sleeping
To prevent altitude sickness:
Gradual Ascent: Ascend slowly and acclimatize at higher altitudes. It is advisable to include acclimatization days in the trekking itinerary.
Stay Hydrated: Drink plenty of water to stay hydrated, but avoid excessive alcohol and caffeine consumption.
Avoid Overexertion: Pace yourself and avoid strenuous physical activities at higher altitudes.
Consider Medication: Consult a doctor about taking acetazolamide (Diamox) as a preventive measure, if deemed necessary.
Recognize Symptoms: Be aware of the symptoms of AMS and inform your trekking guide or fellow trekkers if you experience any discomfort.
First Aid and Emergency Services
While trekking to Annapurna Base Camp, it is essential to be prepared for minor injuries and health issues. Here are some tips:
First Aid Kit: Carry a well-stocked first aid kit that includes adhesive bandages, antiseptic ointment, pain relievers, blister treatment, and any personal medications.
Guide and Porter: Trek with a licensed guide and consider hiring a porter. They are trained to handle emergencies and can provide valuable assistance.
Emergency Evacuation: Make sure you have comprehensive travel insurance that covers emergency medical evacuation in case of severe health issues or injuries.
Communication: Ensure you have a charged mobile phone and a backup power bank to stay connected in case of emergencies.
Teahouse Assistance: Teahouse owners and staff are experienced in dealing with common trekking-related ailments and can offer guidance and assistance if needed.
Packing Essentials and Gear Recommendations
Packing appropriate gear is crucial for a comfortable and safe trek. Here are some essential items to include in your packing list:
Trekking Clothing: Layered clothing for varying weather conditions, including a warm-down jacket, quick-drying trekking pants, moisture-wicking base layers, and a hat.
Footwear: Sturdy and comfortable trekking boots with good ankle support, along with moisture-wicking socks.
Rain Gear: A waterproof jacket, rain pants, and a rain cover for your backpack to stay dry during monsoons or unexpected rain showers.
Sleeping Bag: A good-quality sleeping bag suitable for the trekking season and altitude.
Headlamp or Flashlight: Essential for navigating in the dark, especially during early morning hikes.
Sun Protection: Sunscreen, lip balm with SPF, sunglasses, and a wide-brimmed hat to protect against strong UV rays.
Trekking Poles: Provide extra stability and support while trekking on uneven terrain.
Water Bottle: A reusable water bottle to stay hydrated throughout the trek.
Personal Toiletries: Hand sanitizer, wet wipes, and toilet paper.
Identification and Permits: Carry your passport, trekking permits, and travel insurance documents in a waterproof bag.
Note: Always pack light and carry only the essentials to avoid the unnecessary weight.
Annapurna Base Camp Trek: Cultural Etiquette and Respect
Trekking in the Annapurna region presents not only spectacular scenery but also the opportunity to meet the residents and learn about their rich cultural legacy. As a responsible trekker, it is essential to understand and practice cultural etiquette and respect while interacting with the local people. Here are some guidelines to help you navigate cultural interactions with sensitivity and appreciation:
Understanding Local Customs and Traditions
Greetings: Nepali people often greet each other with "Namaste" while joining their palms together in a prayer-like gesture. It is a customary and respectful way to say hello and goodbye.
Dress Code: Dress modestly, especially in villages and religious sites. Avoid wearing revealing clothing that might be considered disrespectful in the local culture.
Footwear: Remove your shoes before entering someone's home or a religious place, as wearing shoes indoors is considered impolite.
Public Display of Affection: Public displays of affection, such as hugging and kissing, are not common in Nepali culture. Exercise discretion and cultural sensitivity.
Religious Sites: When visiting temples, monasteries, or other religious sites, be respectful of the local customs and rules. Ask for permission before taking photographs inside religious premises.
Left-Hand Usage: In Nepali culture, the left hand is considered unclean. Use your right hand for eating, giving and receiving items, and during greetings.
Interacting with the Local Communities
Greet Locals with Respect: When meeting locals, offer a friendly "Namaste" and a smile. Engaging with the local people with respect and courtesy fosters positive interactions.
Learn Basic Phrases: Learn a few basic phrases in the local language, such as "Namaste," "Dhanyabad" (thank you), and "Sanchai hunuhunchha?" (How are you?), shows your interest in their culture and language.
Ask for Permission: Always ask for permission before taking photographs of local people. Some may be uncomfortable with being photographed without consent.
Be Respectful of Customs and Beliefs: Be mindful of local customs and beliefs. For example, avoid pointing your feet toward religious objects or people, as it is considered disrespectful.
Support Local Economy: Purchase locally made products and handicrafts to support the local economy and artisans.
Environmental Respect: Be conscious of your impact on the environment. Avoid littering and dispose of waste responsibly.
Be Open and Curious: Engage in conversations with locals to learn about their way of life, traditions, and customs. Being open and curious fosters meaningful cultural exchange.
By practicing cultural etiquette and respect, you can forge meaningful connections with the local communities and create a positive impact during your Annapurna Base Camp trek. Treating the locals with kindness and consideration not only enhances your experience but also promotes responsible and sustainable tourism in the region. Remember that being culturally sensitive is an essential part of being a responsible trekker and a global citizen.
Annapurna Base Camp Trek: Wildlife and Natural Beauty
Trekking in the Annapurna region offers not only breathtaking landscapes but also an opportunity to witness diverse flora and fauna. A heaven for photographers and wildlife lovers, the area has a diverse ecosystem and breathtaking scenery.
Flora and Fauna Found in the Annapurna Region
Flora: The Annapurna region boasts a remarkable variety of flora, thanks to its diverse climatic zones. The environment is populated by dense forests of rhododendron, oak, pine, and bamboo plants at lower altitudes. The rhododendron forests are particularly vibrant during the spring season, adding bursts of red, pink, and white hues to the surroundings. As trekkers ascend, the vegetation changes and alpine meadows with wildflowers come into view. Some of the common wildflowers include primulas, poppies, and various species of orchids.
Fauna: The Annapurna region is home to a range of wildlife species, including some rare and endangered ones. Trekkers might encounter various species of birds, such as the colorful Danphe (Himalayan Monal) and pheasants. The Himalayan tahr, musk deer, snow leopard, and the elusive red panda are just a few of the region's many animals. Keep an eye out for langurs (monkeys) swinging through the treetops in the lower regions.
Scenic Landscapes and Photography Opportunities
Snow-Capped Peaks: The highlight of the Annapurna Base Camp trek is undoubtedly the majestic snow-capped peaks. As trekkers approach the base camp, they are rewarded with awe-inspiring views of Annapurna I (8,091m), Annapurna South (7,219m), Hiunchuli (6,441m), and other surrounding peaks. The golden glow of sunrise and sunset on the snowy peaks creates magical photography opportunities.
Glacial Rivers and Waterfalls: The trail follows glacial rivers and streams, and trekkers will cross suspension bridges adorned with prayer flags. The cascading waterfalls and the turquoise waters of the rivers provide picturesque backdrops for photography.
Terraced Farmlands: Lower down the trail, the landscape transforms into terraced farmlands cultivated by local communities. The terraced fields, especially during planting and harvesting seasons, offer captivating scenes of rural life.
Natural Hot Springs: After the trek, some trekkers choose to relax in the natural hot springs of Jhinu Danda, offering a unique and rejuvenating experience amidst the mountains.
Machhapuchhre Base Camp (MBC): Along the trek, trekkers pass by Machhapuchhre Base Camp, which offers a close-up view of the iconic "Fishtail" peak (Machhapuchhre, 6,993m).
Sunrise and Sunset Views: Poon Hill, an optional side trek, is renowned for its panoramic views of the Annapurna and Dhaulagiri ranges during sunrise and sunset. The golden hues painting the mountains make for unforgettable photography.
Photography Tips
Pack Essentials: Bring extra camera batteries and memory cards to capture all the incredible sights along the trek.
Lighting: Take advantage of soft morning and evening light for the best photography results.
Composition: Experiment with framing your shots to include local elements, prayer flags, and mountain silhouettes to add depth and context to your photographs.
People Photography: Seek permission from locals before taking their photographs. Portray the local culture and people with respect and sensitivity.
Landscape Reflections: Capture reflections of the mountains in water bodies like lakes and streams to create stunning mirror-like images.
Annapurna Base Camp Trek: Tips for a Successful Trek
Embarking on the Annapurna Base Camp trek requires thoughtful planning and preparation to ensure a successful and memorable journey.
Hiring a Guide or Going Solo
Guide Assistance: Hiring a licensed trekking guide can enhance your trekking experience significantly. A guide provides valuable insights into the local culture, history, and flora/fauna. They are also familiar with the trail, weather conditions, and potential challenges.
Solo Trekking: While the Annapurna Base Camp trail is well-marked, solo trekkers should have prior trekking experience, good navigational skills, and knowledge of altitude-related risks. Going solo can offer a more independent experience but requires self-reliance and preparedness.
Group Treks: Joining a group trek can be a balanced option. It allows you to share costs, company, and safety benefits while also providing opportunities for solo exploration.
Budgeting and Cost Estimation
Trekking Permits: Obtain the necessary permits, including the Annapurna Conservation Area Permit (ACAP) and the Trekkers' Information Management System (TIMS) card. Budget for the permit fees accordingly.
Accommodation and Meals: Budget for accommodation and meals at teahouses or lodges along the trail. Prices may increase at higher elevations due to logistical challenges.
Guide and Porter: If hiring a guide or porter, factor in their fees, insurance, food, and accommodation expenses.
Transportation: Consider the cost of transportation to and from the trek starting/ending point (e.g., Pokhara or Nayapul).
Additional Expenses: Account for miscellaneous expenses, such as snacks, drinks, hot showers, Wi-Fi, and emergency funds.
Dos and Don'ts during the Trek
Dos:

Carry essential trekking permits and identification at all times.
Drink plenty of water to stay hydrated and walk at a comfortable pace to avoid altitude sickness.
Respect local customs, traditions, and cultural norms.
Dress in layers to adapt to changing weather conditions.
Acclimatize properly and be prepared for varying temperatures at different altitudes.
Use eco-friendly practices, such as carrying a reusable water bottle and avoiding single-use plastic.
Don'ts:

Don't underestimate the challenges of the trek. Take altitude-related risks seriously and be cautious about overexertion.
Don't leave trash along the trail. Carry out all waste and dispose of it responsibly in designated bins.
Don't harm or disturb wildlife. Observe animals from a distance and refrain from feeding them.
Don't ignore signs of altitude sickness or any health issues. Inform your guide or fellow trekkers immediately.
Don't stray off the marked trail. It is essential to stick to established routes for safety reasons.
Emergency Preparedness
Travel Insurance: Purchase comprehensive travel insurance that covers emergency medical evacuation and trekking at high altitudes.
Emergency Contact: Share your trekking itinerary and contact information with family or friends back home.
Health Precautions: Visit a doctor for a pre-trek health check-up and carry any necessary medications.
Weather Considerations: Be prepared for changes in weather conditions and carry appropriate clothing and gear.
Annapurna Base Camp Trek: Responsible Travel and Eco-Tourism
The preservation of the Annapurna region's natural beauty and cultural history depends heavily on responsible travel and eco-tourism. As trekkers, it is essential to minimize the environmental impact, support local communities, and choose eco-friendly trekking operators.
Minimizing the Environmental Impact of the Trek
Waste Management: Carry a reusable water bottle and avoid single-use plastic bottles. Properly dispose of all waste in designated bins or bring it back to major settlements for proper disposal.
Leave No Trace: Follow the principles of "Leave No Trace" by not leaving any litter or marks along the trail. Keep the environment natural so that future generations can enjoy it.
Use Local Resources Wisely: Conserve resources, such as water and electricity, in teahouses or lodges. Be mindful of water usage during showers and while washing clothes.
Stay on Designated Trails: Stick to established trails to avoid trampling on delicate vegetation and causing soil erosion.
Campfire Use: Avoid making campfires, as firewood is scarce in the higher regions. Use alternative methods for cooking and warmth.
Supporting Local Communities and Businesses
Local Accommodations and Services: Stay in locally-owned teahouses and lodges to support the livelihoods of the local communities.
Local Guides and Porters: Hire licensed local guides and porters to contribute to the local economy and provide employment opportunities.
Buy Locally-Made Products: Purchase souvenirs and handicrafts made by local artisans, supporting their traditional craftsmanship.
Respect Cultural Norms: Be respectful of local customs and traditions. Seek permission before taking photographs of people or religious sites.
Participate in Community Activities: If the opportunity arises, participate in community-based activities or initiatives that benefit the local communities.
Choosing Eco-Friendly Trekking Operators
Research Trekking Companies: Choose trekking operators that prioritize eco-friendly practices, sustainability, and responsible tourism.
Ask about Environmental Initiatives: Inquire about the trekking company's environmental initiatives, waste management strategies, and commitment to eco-tourism.
Group Size Limit: Opt for trekking companies that adhere to small group sizes, as larger groups can have a more significant impact on the environment.
Local Guides and Porters Welfare: Select operators that provide fair wages, insurance, and proper working conditions for their guides and porters.
Eco-Certifications: Look for trekking operators with recognized eco-certifications or affiliations promoting responsible tourism.
Educate and Encourage Others
Spread awareness about responsible travel and eco-tourism among fellow trekkers and friends. Encourage others to adopt sustainable practices and make responsible choices during their own journeys.
Conclusion
In conclusion, the Annapurna Base Camp trek offers an enchanting journey through diverse landscapes, rich biodiversity, and cultural wonders. We covered the significance and popularity of the trek, emphasizing the personal growth and rewards it brings. Preparation, safety, and cultural respect were highlighted to ensure a successful and responsible experience. From the captivating flora and fauna to the majestic snow-capped peaks, every step presents awe-inspiring photography opportunities. Let's tread responsibly, supporting local communities and minimizing our environmental impact. Embark on this remarkable adventure, where the magic of the mountains awaits, promising a life-changing experience amidst the grandeur of the Annapurna region.
Annapurna Base Camp Trek: FAQs
What is the duration of the Annapurna Base Camp Trek?
The Annapurna Base Camp trek typically takes around 10 to 14 days, depending on the chosen itinerary and acclimatization days.
Is prior trekking experience necessary for ABC trek?
While prior trekking experience is beneficial, beginners with good physical fitness and determination can also undertake the trek.
What permits are required for the Annapurna Base Camp Trek?
Trekkers need the Annapurna Conservation Area Permit (ACAP) and the Trekkers' Information Management System (TIMS) card.
How challenging is the ABC trek, and is it suitable for beginners?
The trek involves some steep ascents and descents but is considered moderate in difficulty. Beginners can attempt it with proper preparation.
What are the accommodation options along the ABC Trek?
Teahouses and lodges provide accommodation, offering basic amenities and meals throughout the trek.
Are there any age restrictions for the Annapurna Base Camp Trek?
There are no strict age restrictions, but trekkers should be physically fit and prepared for the altitude.
Is it possible to do the ABC trek independently, or do I need a guide?
Both options are possible. While experienced trekkers can go independently, hiring a licensed guide enhances the experience and safety.
What kind of food is available during the ABC trek?
Teahouses offer a variety of local and international dishes, including dal bhat, momos, noodles, pasta, and snacks.
How can I prepare for high altitudes and prevent altitude sickness?
Gradual acclimatization, staying hydrated, and knowing the symptoms of altitude sickness are essential. Consider using Diamox (acetazolamide) after consulting a doctor.
Are there any emergency facilities on the ABC trek?
Emergency services and medical facilities are available in major settlements like Ghorepani and Chhomrong. Carry a well-stocked first aid kit and have travel insurance that covers emergency evacuation.
Can I charge my electronic devices during the Annapurna Base Camp Trek?
Charging facilities are available in teahouses, but they may charge a fee. Carry a portable power bank as a backup.
How can I support local communities and conservation efforts?
Support local businesses, hire local guides and porters, and avoid littering. Respect local customs and contribute positively to the region's economy.
Are there any restrictions on photography during the ABC trek?
Always ask for permission before photographing people or religious sites. Some monasteries may have specific photography rules.
What are the weather conditions like at different times of the year?
The best trekking seasons are spring (March to May) and autumn (September to November) when the weather is stable with clear views. Monsoon season (June to August) brings rain and potential leeches.
What are the main attractions along the Annapurna Base Camp Trek?
The trek offers stunning views of the Annapurna and Dhaulagiri ranges, Machhapuchhre Base Camp, rhododendron forests, and diverse landscapes.
How can I arrange transportation to the starting point of the ABC trek?
Transportation to the starting point, Nayapul or Phedi, can be arranged from Pokhara by bus or private car.
What are the risks associated with Annapurna Base Camp Trek?
Altitude sickness, changing weather conditions, and slippery trails are potential risks. Proper preparation and awareness help mitigate them.
Can I participate in Annapurna Base Camp Trek during the monsoon season?
Trekking during the monsoon season is possible but challenging due to heavy rainfall and leeches. Trails may be slippery, and mountain views can be obscured.
Are there any optional side trips or excursions during the ABC trek?
Poon Hill is a popular side trip for stunning sunrise views. Ghorepani, Ghandruk, and Hot Springs in Jhinu Danda are other optional excursions.
What is the best way to acclimatize during ABC Trek?
Include acclimatization days in your itinerary, ascend gradually, and follow recommended altitude gain guidelines to allow your body to adapt to higher elevations.