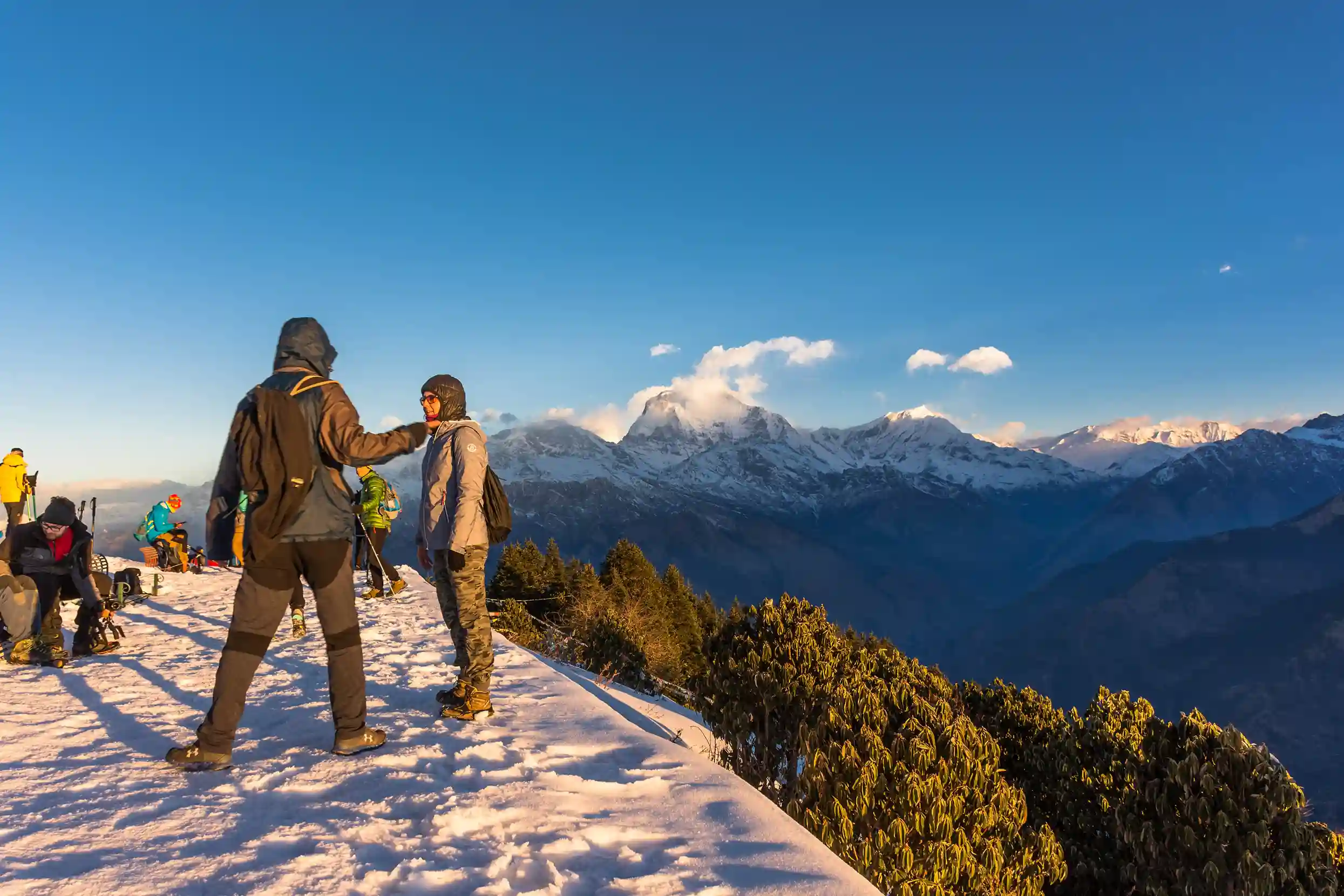 The Ghorepani Poonhill Trek stands as a testament to the allure of the Himalayas. It's cherished not only for its breathtaking scenery but also for the unique cultural experiences it offers. This trek has become a must-do for those seeking an immersive Himalayan encounter, where every step holds the promise of new vistas and connections.
So, whether you're a seasoned hiker seeking a fresh conquest or a beginner yearning for an unforgettable initiation into trekking, the Ghorepani Poonhill Trek promises an odyssey of beauty, culture, and self-discovery. If you are an experienced trekker you can participate in the following treks in the Everest region:
Introduction to Ghorepani Poonhill Trek
Trek Duration and Trek Distance
Embarking on the Ghorepani Poonhill Trek promises an expedition of around 5 to 10 days, depending on your pace and preferences. The trek spans approximately 30 miles (48 kilometers) through undulating terrains, charming villages, and lush rhododendron forests. The moderate distance ensures a manageable and exhilarating journey for both novice and experienced trekkers.
Highlights of the Trekking Experience
Prepare to be enchanted by a medley of natural wonders and cultural gems. As you ascend through verdant forests, you'll catch glimpses of the mighty Annapurna and Dhaulagiri mountain ranges, their majestic peaks touched by the first light of dawn. The crown jewel of this adventure, the iconic Poonhill viewpoint, unveils a breathtaking sunrise that ignites the sky in hues of gold and pink. Moreover, the warmth of local hospitality and the chance to interact with the Gurung and Magar communities add an authentic and heartwarming touch to the journey.
Preparing for Ghorepani Poonhill Trek
Preparing for the Ghorepani Poonhill Trek is akin to equipping yourself for an extraordinary journey that blends physical challenges with mental triumphs.
Physical Fitness and Mental Preparedness
The Ghorepani Poonhill Trek offers moderate difficulty, making it accessible to a wide range of enthusiasts. However, enhancing your physical fitness before the trek can greatly enhance your experience. Regular cardio workouts, endurance training, and leg-strengthening exercises will stand you in good stead. Likewise, cultivating mental resilience is equally vital. Embrace a positive mindset, as the trek may test your limits while rewarding you with unmatched views and a sense of accomplishment.
Permits and Required Documents for Ghorepani Poonhill Trek
Make sure you have all the required permits and paperwork in place before beginning this captivating trip. These include the Trekkers' Information Management System (TIMS) card and the Annapurna Conservation Area Permit (ACAP). These permits not only provide you access to the route, but they also help to protect the local economy and ecosystem.
How Do I Obtain Ghorepani Poonhill Trekking Permits?
Obtaining the required permits for the Ghorepani Poonhill Trek is a straightforward process. Upon arriving in Nepal, you can acquire these permits in Kathmandu or Pokhara. The Annapurna Conservation Area Permit is available at the Nepal Tourism Board's office or the ACAP counter in Kathmandu or Pokhara. Similarly, the TIMS card can be obtained at the TIMS counter in those cities. These permits are not only mandatory but also provide you with valuable information about the trail and safety measures.
Best Time to do Ghorepani Poonhill Trek
Choosing the right time to embark on the Ghorepani Poonhill Trek can significantly influence the quality of your experience, as the changing seasons paint the trail with different hues and challenges. Let's explore the nuances of each season and the weather conditions that accompany them in the captivating Annapurna region. You can also take a look at the best time for Everest Base Camp Trek if you are interested in EBC Trek.
Exploring the Seasons: Advantages and Drawbacks
Spring (March to May): Spring ushers in a burst of color as rhododendron forests bloom, carpeting the trail with vibrant hues. Mild temperatures and clear skies make this season ideal for trekking, and the panoramic views are truly breathtaking. However, its popularity also means crowded trails and higher accommodation costs.
Summer (June to August): While summer brings lush greenery and a quieter trail, the monsoon rains can make the journey challenging. Slippery paths and occasional landslides can pose obstacles, and clouds might obscure the mountain views. Yet, the solitude and unique scenery can be rewarding for those seeking an offbeat experience.
Autumn (September to November): Arguably the most popular time, autumn offers clear skies, comfortable temperatures, and spectacular vistas. The trail is alive with trekkers, and the weather is generally stable. This season provides a harmonious balance between the captivating beauty of the surroundings and a bustling trekking atmosphere.
Winter (December to February): Winter brings serene tranquility to the trail, with fewer trekkers and crisp, clear days. However, the colder temperatures and occasional snowfall can make some parts of the trail challenging. The trade-off is the opportunity to witness the landscape transformed into a magical winter wonderland.
Weather Conditions Throughout the Year in Annapurna Region
Throughout the year, the Annapurna region's weather exhibits its own unique charm and challenges. Spring and autumn boast mild temperatures, with daytime highs ranging from 15°C to 20°C (59°F to 68°F). Winter temperatures can drop significantly, with daytime temperatures averaging around 5°C to 10°C (41°F to 50°F) and colder nights.
The monsoon season experiences heavy rainfall, especially in July and August, making trekking conditions less favorable. Despite the rains, this period breathes life into the flora and lends a mystical aura to the surroundings. During the summer, temperatures range from 20°C to 25°C (68°F to 77°F), but higher humidity can make it feel warmer.
Getting to Ghorepani Poonhill Trek
Private Vehicle: If convenience and a personalized journey are your priorities, hiring a private vehicle is a great option. From Pokhara, Nayapul is approximately a 1.5 to 2-hour drive. This mode of travel offers comfort and flexibility, allowing you to enjoy the scenic route at your own pace.
Local Bus: For a more budget-friendly choice, local buses run between Pokhara and Nayapul. While the journey might take a bit longer due to stops along the way, it offers an authentic experience as you share the ride with locals. Buses depart from the Pokhara Tourist Bus Park.
Shared Jeep or Microbus: Shared jeeps or microbuses are a popular option for trekkers. These vehicles are more affordable and excellent for individuals who like a little bit of companionship with fellow travelers because they can carry more passengers than private automobiles. Although the ride may be rough, the travel itself becomes an experience.
Taxi: Taxis are available for a direct and hassle-free ride from Pokhara to Nayapul. While this option is more expensive than shared vehicles, it provides comfort and a swift journey.
Trekking Agencies: Many trekking agencies in Pokhara offer transportation services as part of their trekking packages. If you've chosen a guided trek, your agency might arrange for transportation to Nayapul, ensuring a seamless start to your adventure.
As you contemplate the travel options to Nayapul, consider your preferences for comfort, budget, and the kind of experience you wish to have. Regardless of your choice, the journey to Nayapul sets the stage for the awe-inspiring trekking journey that awaits you in the mesmerizing landscapes of the Ghorepani Poonhill Trek.
Who is Suitable for Ghorepani Poonhill Trek?
The Ghorepani Poonhill Trek is a captivating expedition that welcomes a diverse range of trekkers, from seasoned hikers to those seeking their first Himalayan adventure. Let's explore who this trek is ideally suited for:
Novice Trekkers: The Ghorepani Poonhill Trek is an excellent choice for beginners who wish to dip their toes into the world of trekking. The well-defined trails and moderate level of difficulty make it accessible to those with little to no prior trekking experience. This trek serves as an inspiring introduction to the Himalayas, allowing novices to savor breathtaking vistas without feeling overwhelmed.
Families: Families seeking an unforgettable bonding experience amidst nature's beauty will find the Ghorepani Poonhill Trek an ideal option. The trek's moderate nature ensures that children, accompanied by their parents, can enjoy the adventure together. The cultural experiences and shared moments make it a journey filled with cherished memories.
Nature Enthusiasts: If you're captivated by the allure of nature and yearn to be amidst breathtaking landscapes, this trek is tailor-made for you. The route of the hike passes through verdant woods, colorful rhododendron flowers, and breathtaking mountain views. The varied scenery offers a delightful tapestry that will undoubtedly satisfy your nature-loving soul.
Solo Travelers: The Ghorepani Poonhill Trek is an excellent choice for solo travelers seeking to embark on a rewarding adventure while also having the opportunity to interact with fellow trekkers along the way. The well-marked trails and availability of teahouse accommodations foster a sense of camaraderie among trekkers, making it easy to forge connections.
Experienced Trekkers: Even for seasoned trekkers, the Ghorepani Poonhill Trek offers its own unique charm. While the trail might not be the most challenging, the panoramic views, cultural interactions, and the joy of conquering the iconic Poonhill summit make it a gratifying experience for those who have already explored other Himalayan trails.
Ghorepani Poonhill Trek Itinerary 2023/2024
Ghorepani Poonhill Trek: Cost Estimation
Planning your budget diligently will ensure you can fully immerse yourself in the wonders of the trek without any financial worries. The overall price of the Ghorepani Poonhill Trek might range from $300 to $700 USD per person, depending on your requirements for comfort, facilities, and length.
Trekking Permits: Before setting foot on the trail, you'll need to acquire the necessary permits. These include the Annapurna Conservation Area Permit (ACAP) and the Trekkers' Information Management System (TIMS) card. The ACAP fee is around $30 USD, and the TIMS card costs approximately $20 USD.
Accommodation and Meals: Along the trekking route, you'll find a network of teahouses and lodges that offer basic accommodations and meals. The cost of staying a night in a tea house will range from $5 to $20 USD, which may depend on the level of comfort and facilities. Eating meals including breakfast, lunch, and dinner, will cost you around $15 to $20 USD per day.
Guide and Porter Fees: All foreign hikers must employ a certified guide beginning on April 1st, 2023 in order to trek in Nepal. Hiring a guide can provide you with interesting knowledge about the local way of life while using a porter may help you carry less weight and have a more comfortable stroll. Porter fees range from $15 to $20 USD per day, including housing and meals, while daily guide costs frequently range from $25 to $35 USD.
Transportation: Costs associated with transportation to and from Nayapul, the trek's starting point, will depend on your chosen mode of travel. Private vehicles may cost around $50 to $100 USD one way, while shared cars or buses will be more budget-friendly, ranging from $10 to $20 USD.
Miscellaneous Expenses: Budgeting extra money for things like food, drinks, hot baths, recharging electronics, and other unanticipated scenarios is a smart idea. Set aside $10 to $20 USD every day for these incidental costs.
Note: These estimates may change depending on your preferences and situation. Budgeting for unanticipated costs is advised, and for the most accurate and recent cost estimates, check with nearby trekking organizations or other hikers.
Also Read:
Ghorepani Poonhill Trek: Accommodation along the Trail
As you venture along the captivating trails of the Ghorepani Poonhill Trek, the question of accommodation arises. The trail is dotted with charming teahouse lodges and guesthouses, offering weary trekkers a place to rest, refuel, and immerse themselves in the local hospitality.
Teahouse Lodges and Guesthouses Overview
Teahouse lodges and guesthouses are an integral part of the trekking experience in Nepal. These establishments are strategically located along the trail, ensuring trekkers have access to shelter and sustenance. They serve as welcoming havens amidst the awe-inspiring landscapes, allowing you to recharge and interact with fellow adventurers.
Facilities, Comfort, and Authenticity
Basic Amenities: Teahouse lodges and guesthouses offer essential amenities such as private or shared rooms with beds and blankets. While the facilities might be basic, they are designed to cater to trekkers' needs.
Dining Areas: Trekkers congregate for meals in the common eating rooms. It's an opportunity to interact with other tourists while also exchanging tales and enjoying local food.
Meals: The lodges serve a variety of meals, including traditional Nepali dishes, western cuisine, and comfort foods. Enjoy hearty meals that replenish your energy after a day of trekking.
Hot Showers: Many accommodations offer the luxury of hot showers, providing you with a refreshing way to unwind and wash off the day's exertions.
Charging Facilities: Charging stations are available for a fee, allowing you to keep your electronic devices powered and connected.
Authenticity: Staying in teahouse lodges and guesthouses offers an authentic experience of local life and culture. Interacting with the lodge owners and staff provides insights into the region's traditions and way of life.
Views and Atmosphere: Wake up to breathtaking views and embrace the tranquil atmosphere of the mountains. The lodges often have outdoor spaces where you can relax and soak in the scenery.
Comfort Levels: While the comfort levels vary from lodge to lodge, expect modest accommodations with clean and comfortable beds. Keep in mind that luxury is not the focus; instead, it's about embracing the rustic charm of the mountains.
Ghorepani Poonhill Trek: Food and Water
Ghorepani Poonhill Trek offers a delightful culinary journey through traditional Nepali dishes, while also ensuring your hydration needs are met. Whether you're savoring the local flavors or making dietary adjustments, this trek provides you with nourishment and refreshment as you traverse the stunning landscapes of the Annapurna region.
Nepali Dishes to Try During the Ghorepani Poonhill Trek
Dal Bhat: A staple of Nepali cuisine, dal bhat consists of lentil soup (dal) served with rice (bhat). It's often accompanied by a variety of sides, including vegetables, curries, and pickles.
Momos: These delightful dumplings filled with vegetables, meat, or cheese are a popular snack along the trail. Served steamed or fried, momos are a favorite among trekkers.
Gundruk: A fermented leafy green vegetable dish, gundruk is rich in flavor and nutrition. It's a unique dish that showcases Nepal's culinary diversity.
Dhido: Made from buckwheat or millet flour, dhido is a traditional Nepali dish with a hearty and rustic appeal. It's often enjoyed with pickles or spicy curries.
Yak Cheese: As you trek through the mountains, you'll have the opportunity to savor yak cheese, a local specialty that adds a distinctive touch to your culinary experience.
Thukpa: This noodle soup, influenced by Tibetan cuisine, is a comforting and filling option, especially during colder days.
Navigating Dietary Preferences and Restrictions
Teahouse lodges and guesthouses are accustomed to catering to various dietary preferences and restrictions. There are frequently vegetarian, vegan, and gluten-free alternatives available. However, be aware that the selection could be constrained and that some food preferences would need extra cooperation and adaptability.
Sources of Water on the Trail
Staying hydrated is crucial during the Ghorepani Poonhill Trek. You may replenish your water bottles at several points throughout the walk. While boiling or filtered water is offered at the resorts for a modest cost, tap water may not be safe to drink. Carrying a reusable water bottle with an integrated filter will ensure you always have access to clean, sanitary drinking water.
In addition, visitors at teahouse lodges can purchase bottled water; however, please be mindful of the damage that single-use plastic bottles cause to the environment. Many trekkers also choose to carry water purification tablets or portable filters for added peace of mind.
Ghorepani Poonhill Trek Difficulty and Safety
By staying informed, adhering to safety precautions, and heeding advice from experienced guides and locals, you can mitigate risks and enjoy a safe and rewarding trekking experience. Your well-being is of utmost importance, and the Ghorepani Poonhill Trek provides the opportunity for both adventure and safety in the mesmerizing landscapes of the Annapurna region.
Dealing With Altitude-Related Concerns
While the Ghorepani Poonhill Trek doesn't reach extremely high altitudes, altitude-related concerns are still relevant. Altitude sickness can affect individuals differently, and being prepared is essential.
Acclimatization: The trek's gradual ascent helps with acclimatization. It is advisable to stay at higher elevations for an additional day if you are experiencing symptoms of altitude sickness so that your body has time to adjust to the thin air at higher heights.
Hydration and Nutrition: Stay hydrated and consume a balanced diet to fuel your body for the trek. Avoid alcohol and heavy exertion during the initial days of altitude gain.
Awareness of Symptoms: Be vigilant for symptoms of altitude sickness, such as headache, nausea, dizziness, and shortness of breath. If symptoms worsen, descend to lower altitudes.
Safety Precautions and Emergency Protocols
The safety of trekkers is a top priority, and the Ghorepani Poonhill Trek is equipped with safety measures to ensure a secure journey.
Guides and Porters: Hiring a local guide can provide you with invaluable knowledge about the trail and the region's conditions. Porters can help alleviate the strain of carrying heavy loads, allowing you to trek comfortably.
Weather Monitoring: Keep an eye on weather forecasts before setting out and be prepared for changing weather conditions. Dress in layers to adapt to temperature fluctuations.
Communication: Carry a fully charged mobile phone and keep emergency numbers handy. Many teahouse lodges have charging facilities.
First Aid: Carry a basic first aid kit and any necessary medications. Teahouse lodges often have basic medical supplies, but it's advisable to bring your own as well.
Emergency Evacuation: If a medical emergency arises, evacuation arrangements can be made by contacting the nearest rescue team or your trekking agency. Ensure you have travel insurance that covers such scenarios.
Follow the Trail: Stick to well-marked trails and avoid exploring off the path, especially in adverse weather conditions.
Ghorepani Poonhill Trek: Travel Insurance
Travel insurance is a crucial aspect of preparing for the Ghorepani Poonhill Trek, ensuring your peace of mind and security as you venture into the captivating Himalayan landscapes.
Requirement of Travel Insurance during Ghorepani Poonhill Trek
Having comprehensive travel insurance is highly recommended for anyone embarking on the Ghorepani Poonhill Trek. Although it is not required, it is a sensible and shrewd decision that provides security against unforeseen circumstances and situations that may arise while you are traveling. Medical crises, trip cancellations or interruptions, lost luggage, and other events are all covered by travel insurance.
Things to Keep in Mind While Purchasing Travel Insurance
Medical Coverage: Ensure that your travel insurance provides adequate coverage for medical expenses, including emergency medical evacuation if necessary. Trekking at higher altitudes poses certain health risks, and having proper medical coverage is crucial.
Adventure Sports Coverage: Check if the policy covers trekking and any other adventure activities you might engage in during the trek. Make sure it includes the specific altitudes and conditions of the Ghorepani Poonhill Trek.
Cancellation and Interruption Coverage: Look for coverage that reimburses you in case your trek is canceled or interrupted due to unforeseen circumstances, such as personal emergencies or natural disasters.
Coverage Duration: Ensure that the insurance policy covers the entire duration of your trip, including pre-trek and post-trek days.
Documentation: Keep a copy of your insurance policy and emergency contact information in both physical and digital formats. Share this information with a friend or family member as well.
Read the Fine Print: Thoroughly read the policy's terms, conditions, and exclusions to understand what is covered and what is not. Pay attention to any deductible or excess amounts.
Pre-Existing Conditions: Declare any pre-existing medical conditions you may have and check if they are covered by the policy.
Local Healthcare Coverage: Understand the medical facilities available in Nepal and whether your insurance covers treatment at specific hospitals or clinics.
Emergency Contacts: Familiarize yourself with the emergency contact numbers provided by the insurance company. Save them on your phone and keep them accessible.
Claim Process: Know the process for filing claims and the required documentation. Keep receipts and records of any expenses related to medical care or lost items.
Ghorepani Poonhill Trek: Gear and Equipment
Preparing the right gear and equipment is vital for a successful and comfortable Ghorepani Poonhill Trek.
Comprehensive Guide to Essential Gear
Trekking Boots: Sturdy and comfortable trekking boots with good ankle support are essential. Break them in before the trek to avoid blisters.
Clothing Layers: Dress in layers to adapt to changing temperatures. Pack moisture-wicking base layers, insulating mid-layers, and waterproof outer layers.
Trekking Pants: Choose lightweight, quick-drying pants that offer mobility. Convertible pants that can be turned into shorts are versatile.
Rain Gear: A waterproof and windproof jacket is a must. Consider packing rain pants or a rain cover for your backpack as well.
Headwear: A warm hat, sun hat, and sunglasses with UV protection are essential. A buff or scarf can protect your neck and face from the elements.
Gloves: Lightweight gloves for warmth and dexterity and heavier gloves for colder days are recommended.
Backpack: A comfortable backpack with good support is essential for carrying your essentials. A rain cover can protect it from rain.
Sleeping Bag: A three-season sleeping bag rated for the temperatures you'll encounter on the trek is necessary.
Trekking Poles: These provide stability on uneven terrain and can greatly reduce strain on your knees.
Water Bottles and Purification: Carry reusable water bottles and water purification tablets or filters to ensure you have access to clean water.
First Aid Kit: Include essentials like bandages, antiseptics, pain relievers, and any necessary medications.
Personal Items: Pack a headlamp, sunscreen, lip balm, insect repellent, and a lightweight towel.
Renting vs. Buying Equipment
The choice between renting and buying equipment depends on your preferences, budget, and future trekking plans.
Renting
Renting equipment can be cost-effective if you don't trek frequently.
Equipment like sleeping bags, down jackets, and trekking poles are commonly available for rent in Pokhara.
Check the quality and condition of the rented gear before committing.
Buying
If you plan to trek regularly, buying equipment can be a good investment in the long run.
It ensures the gear fits you perfectly and is suited to your preferences.
Quality gear can offer better comfort and durability during the trek.
Whether you decide to rent or buy, prioritize quality and comfort. Ill-fitting or poor-quality gear can make the trek challenging. Take your time to research, ask for recommendations, and make informed decisions based on your needs and preferences. Proper gear enhances your experience and allows you to fully immerse yourself in the beauty of the Ghorepani Poonhill Trek.
Ghorepani Poonhill Trek: Guides and Porters
By hiring local guides and treating porters with consideration, you not only enhance your trekking experience but also contribute positively to the local communities. Your journey becomes more than just a trek; it becomes a cultural exchange and an opportunity to forge meaningful connections with those who share the same passion for the Ghorepani Poonhill Trek.
Benefits of Hiring Local Guides
Embarking on the Ghorepani Poonhill Trek with a local guide is akin to having a seasoned companion who knows the trails like the back of their hand. Here's why having a guide can greatly enrich your trekking experience:
Trail Wisdom: Local guides possess intimate knowledge of the routes, terrain, and hidden gems along the way. Their insights can lead you to viewpoints and cultural spots that guidebooks might miss.
Cultural Connections: Guides share stories of the region's history, traditions, and customs, creating a deeper connection between you and the landscapes you traverse.
Safety Assurance: Guides are well-versed in trekking safety protocols, weather changes, and altitude challenges. Their expertise ensures your well-being throughout the journey.
Language Bridge: Navigating language barriers becomes seamless with a local guide who can assist in communicating with villagers and fellow trekkers.
Logistical Ease: From arranging accommodations to managing permits, a guide handles the logistical aspects, leaving you free to savor the Ghorepani Poonhill Trek.
Etiquette When Working with Porters
Porters are the unsung heroes of the trekking world, carrying your gear and easing your load. Treating them with respect and fairness is not only ethical but also ensures a positive trekking atmosphere. Here's how to interact respectfully with porters:
Pack Responsibly: Keep your luggage weight within reasonable limits, easing the burden on porters. A lighter load ensures their well-being during the trek.
Clear Communication: Establish clear expectations with porters regarding their responsibilities, compensation, and duration of employment.
Respect Their Role: Recognize the hard work and dedication of porters. They play a crucial role in making your trek comfortable and enjoyable.
Fair Compensation: Ensure that porters are paid fairly for their services. Discuss compensation and tipping guidelines upfront.
Lend a Hand: While porters are skilled in their work, offering a helping hand when needed showcases your appreciation for their efforts.
Cultural Sensitivity: Respect local customs and traditions. Porters appreciate a genuine interest in their lives and backgrounds.
Ghorepani Poonhill Trek: Cultural Immersion
Immersing yourself in the local culture along the Ghorepani Poonhill Trek is a treasure trove of experiences that transcend the physical journey. It's an opportunity to create lasting memories, broaden your horizons, and develop a profound appreciation for the diversity that enriches the trekking trail.
Interaction with Local Gurung and Magar Communities
As you traverse the trail, you'll have the chance to connect with the indigenous Gurung and Magar communities that call this region home. These encounters offer a glimpse into their daily lives, traditions, and the warm hospitality they extend to trekkers.
Experiencing Traditions, Cuisine, and Lifestyle
Cultural Traditions: The Gurung and Magar communities have rich cultural traditions. Engage in conversations with the locals and witness their traditional dances, songs, and rituals that are often performed during festivals and celebrations.
Cuisine Delights: Partake in the local cuisine, which reflects the region's flavors and ingredients. Try traditional dishes like dal bhat, gundruk, and locally grown organic produce, providing insight into their culinary practices.
Homestay Experiences: Some lodges offer the opportunity for trekkers to stay with local families. This immersive experience grants you a deeper understanding of their lifestyle and allows you to exchange stories.
Craftsmanship: Observe the craftsmanship of the locals, including their intricate weaving and traditional clothing. You might have the chance to purchase handmade souvenirs directly from the artisans.
Agricultural Practices: Gain insight into the agrarian lifestyle by observing farming practices in these communities. You might witness terraced fields and livestock husbandry, providing a glimpse into their sustainable way of life.
Language and Communication: Engage in conversations with locals, learning about their languages, dialects, and expressions. Simple greetings in their language can go a long way in building connections.
Respectful Engagement: Approach interactions with respect for their customs and way of life. Ask for permission before taking photographs and engage in genuine, meaningful conversations.
Ghorepani Poonhill Trek: Flora and Fauna
Exploring the flora and fauna of the Ghorepani Poonhill Trek offers a multifaceted experience. It's an opportunity to engage with the complex web of life that exists within this gorgeous area in addition to taking in the breathtaking mountain vistas. The walk guarantees interactions with the region's amazing biodiversity, whether you're a die-hard naturalist or just admire the beauty of the natural world.
Biodiversity of the Annapurna Conservation Area
The Annapurna Conservation Area is a sanctuary for a diverse range of plant and animal species. Its varying altitudes create distinct ecological zones, each boasting its own unique inhabitants.
Spotting Unique Plants and Wildlife
Rhododendron Forests: Trekking through lush rhododendron forests, you'll be enveloped in a riot of colors during the blooming season (spring). These vibrant blooms transform the landscape into a natural spectacle.
Pristine Pine Groves: Pine forests dominate lower altitudes, offering shade and a tranquil ambiance. The aroma of pine needles infuses the air, creating an immersive sensory experience.
Wildlife Encounters: Keep an eye out for the diverse wildlife that calls this region home. You might spot Himalayan tahr, langur monkeys, and various species of deer and pheasants.
Birdwatching: The area is a haven for birdwatchers, with numerous avian species such as the colorful Danphe (Himalayan Monal) and various eagles and vultures soaring in the skies.
Elusive Snow Leopards: While sightings are rare, the Annapurna Conservation Area is home to elusive snow leopards. Their presence adds an air of mystery to the trek.
Cultural Connections: The local communities' efforts to conserve the environment play a crucial role in preserving this rich biodiversity. Engage with locals to learn about their conservation initiatives.
Responsible Observation: When spotting wildlife, maintain a respectful distance to avoid disturbing their natural behaviors. Binoculars and cameras with zoom lenses can help you observe them from afar.
Ghorepani Poonhill Trek: Sustainable Trekking Practices
Engaging in the Ghorepani Poonhill Trek comes with a responsibility to preserve the pristine beauty of the environment.
Minimizing Environmental Impact During the Trek
Leave No Trace: Adhere to the "Leave No Trace" principle, ensuring you leave the trail as you found it. Pack out all waste, including biodegradable items like food scraps.
Stay on the Trail: Stick to designated trails to prevent soil erosion and disturbance to fragile ecosystems. Avoid creating shortcuts that can lead to soil degradation.
Respect Wildlife: Maintain a respectful distance from wildlife to avoid causing stress or altering their behaviors. Do not feed animals, as it can disrupt their natural diet.
Campsite Selection: If camping, choose established campsites rather than creating new ones. This minimizes the impact on the surrounding flora and fauna.
Fire Safety: Use portable stoves instead of open fires, which can damage the environment and deplete wood resources. Respect fire bans and guidelines.
Responsible Tourism and Waste Management
Pack It In, Pack It Out: Carry out all non-biodegradable waste, including plastic, wrappers, and batteries. Dispose of waste in proper containers in towns or cities.
Refill, Don't Buy Bottled Water: Reduce plastic waste by using a refillable water bottle with a filter. Refill stations are available at lodges and settlements along the trail.
Say No to Single-Use Plastics: Refrain from using single-use plastics such as plastic bags, straws, and disposable cutlery. Opt for reusable alternatives.
Support Local Economy: Purchase locally made products and crafts, contributing to the economic growth of the communities.
Responsible Accommodation: Choose lodges and accommodations that prioritize eco-friendly practices, such as waste segregation and energy conservation.
Educate and Lead By Example: Share your knowledge of sustainable practices with fellow trekkers. Lead by example and encourage others to follow responsible trekking habits.
Participate in Clean-Up Efforts: Join organized clean-up campaigns or initiatives to remove litter and debris from the trails.
Conclusion
Ghorepani Poonhill Trek is an extraordinary journey that transcends the boundaries of mere physical exploration. It's an immersion into the soul-stirring landscapes, vibrant cultures, and diverse ecosystems of the Annapurna region. The trek is a harmonious blend of nature's grandeur and human connection, inviting trekkers to engage with local communities, witness rich traditions, and embrace responsible practices.
As you reflect on this remarkable experience, you'll carry with you not only memories of awe-inspiring sunrises over the Himalayas and encounters with unique flora and fauna but also a profound sense of stewardship for the environment. The Ghorepani Poonhill Trek encourages a deeper understanding of the delicate balance between nature and humanity, urging us to preserve and protect the pristine beauty of these trails for generations to come.
To all adventurers, the call of the Ghorepani Poonhill Trek beckons with its promises of discovery and transformation. Embark on this journey with a heart open to the wonders of nature and the warmth of cultural connections. The trail awaits, ready to unfold its treasures and leave an indelible mark on your spirit.
Ghorepani Poonhill Trek FAQs
What is the best time to undertake the Ghorepani Poonhill Trek?
The optimal times are spring (March to May) and autumn (September to November) when the weather is mild, and the views are spectacular.
Are there any age restrictions for the trek?
There are no strict age restrictions, but a reasonable level of physical fitness is recommended due to the trek's moderate difficulty.
Do I need travel insurance for the trek?
Travel insurance is highly recommended to cover potential medical emergencies, trip cancellations, and unexpected incidents.
How challenging is the trek, especially for beginners?
The trek is suitable for beginners with moderate fitness levels. The gradual ascent allows for acclimatization.
What types of accommodations can I expect during the trek?
Expect teahouse lodges with basic facilities. They provide a cozy shelter and a sense of local hospitality.
Are there vegetarian and vegan food options available along the trail?
Yes, vegetarian and vegan food options are available, but the variety might be limited in remote areas.
Can I trek independently, or is a guide necessary?
From 1st April 2023, it's compulsory for all international trekkers to hire a licensed guide for trekking in Nepal.
How cold does it get during the trek? What kind of clothing is required?
Temperatures can drop significantly, especially at higher altitudes. Layered clothing with warm outerwear is essential.
Are there ATMs or currency exchange services along the route?
ATMs are limited along the route. It's advisable to carry enough local currency and consider exchange services in Pokhara.
Is it possible to customize the Ghorepani Poonhill Trek Itinerary?
Yes, it is possible to customize Ghorepani Poonhill Trek as per your requirements.
What is the significance of Poonhill's sunrise view?
Poonhill offers a breathtaking panoramic sunrise view of the Annapurna and Dhaulagiri ranges, a moment of profound natural beauty.
Are there any cultural norms or customs to be aware of while trekking?
Respect local customs, dress modestly, and ask for permission before taking photos of people.
How do I train physically for the trek?
Engage in cardiovascular exercises, hikes, and strength training to build endurance and stamina.
What vaccinations or health precautions should I consider?
Consult a doctor for vaccinations and health advice. Acquaint yourself with altitude-related health precautions.
Is there mobile network coverage during the trek?
Mobile coverage is available in certain areas along the trail, but signal strength may vary.
How crowded does the trail get during peak trekking seasons?
The trail can get busy during peak seasons, particularly at viewpoints and popular lodges.
What are the alternative trekking routes in the Annapurna region?
Annapurna Circuit Trek, Annapurna Base Camp Trek, and Mardi Himal Trek offer different experiences within the region.
Are there any environmental conservation fees associated with the trek?
Yes, the Annapurna Conservation Area entry fee contributes to environmental conservation and local development.
Can I rent trekking equipment in Pokhara?
Yes, trekking equipment can be rented in Pokhara, ensuring you have the necessary gear without carrying excess baggage.
What are the best ways to prevent altitude sickness during the trek?
Ascend gradually, hydrate well, and consider acclimatization days to minimize the risk of altitude sickness.