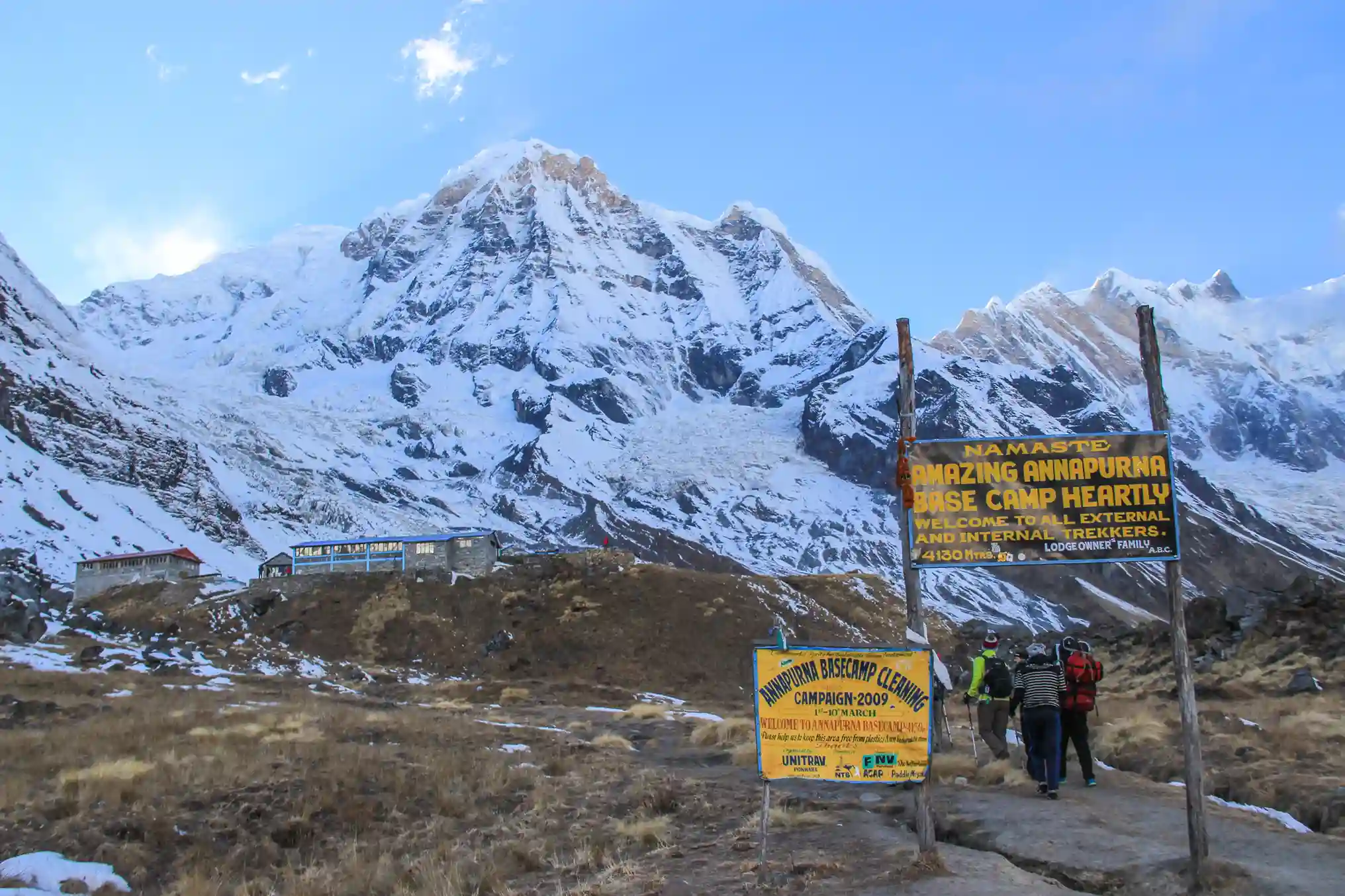 One of the most renowned and stunning trekking adventures in Nepal is the Annapurna Base Camp Trek or ABC Trek. This journey presents astonishing views of the magnificent Annapurna mountain range, several landscapes, and the opportunity to fully experience the vibrant local culture. This trek is situated in the Annapurna Conservation Area. Before boarding on this adventure, it is essential to understand the Annapurna Base Camp Trek Cost breakdown to plan and budget the trek effectively.
Also Read: Everest Base Camp Trek Cost: Ultimate Guide for Budget Breakdown
Annapurna Base Camp Trek Cost: Introduction
Participating in the Annapurna Base Camp trek is a dream come true for adventure seekers. However, to confirm a smooth and enjoyable journey, it is important to have a comprehensive knowledge of the cost breakdown associated with this trek. Budgeting and planning ahead can make a significant difference in the overall experience, allowing trekkers to focus on the breathtaking vistas and unique cultural encounters without financial concerns.
The Annapurna Base Camp Trek comprises a number of costs, including permits, travel, lodging, food, and more, similar to any other trekking adventure. By exploring into the cost breakdown beforehand, trekkers can estimate their budget accurately and make informed decisions about where to allocate their funds wisely. Understanding the expenses involved will help avoid unexpected surprises and ensure that the journey remains within one's financial capabilities.
Moreover, comprehending the cost breakdown enables trekkers to strategize and adopt cost-saving measures, such as choosing the most economical transportation options, sharing accommodation, and packing efficiently. In addition to lowering total costs, this lets trekkers stay longer or partake in other activities while discovering the allure of the Annapurna region. If you have already done Annapurna Base Camp Trek then you can go with Annapurna Circuit Trek or Everest Base Camp Trek.
Annapurna Base Camp Trek Cost: Trekking Permits and Fees
Trekking in the Annapurna region requires getting specific permits and paying fees for those permits. These permits are essential for both environmental conservation efforts and trekker safety.
Annapurna Conservation Area Permit (ACAP)
All adventure seekers trekking in the Annapurna region must have an Annapurna Conservation Area Permit (ACAP). The ACAP aims to conserve the natural biodiversity, culture, and heritage of the region. The cost of the ACAP varies for Nepali nationals, SAARC nationals, and foreign nationals.
For Nepali nationals: NRS 100 per person
For SAARC nationals: NRS 1,000 per person
For foreign nationals: USD 30 per person
Trekker's Information Management System (TIMS) Card
The Trekker's Information Management System (TIMS) card is another essential document for trekkers in Nepal. It helps in maintaining a database of trekkers for safety and security purposes. The TIMS card is available in two categories: Group TIMS and Individual TIMS.
Group TIMS (for group trekkers): NRS 300 per person
Individual TIMS (for individual trekkers): NRS 2,000 per person
Note: Before beginning the journey, it is recommended to confirm the most recent permit costs with the appropriate authorities or your trekking company.
Annapurna Base Camp Trek Cost: Accommodation
Accommodation during the Annapurna Base Camp trek plays a crucial role in ensuring trekkers' comfort and rest after long days of hiking. The trek offers two main types of accommodation: teahouses (lodges) and camping. Each option has its own unique advantages and costs.
Teahouses (Lodges)
Teahouses are small, family-run guesthouses that are strategically located along the trekking route. They offer trekkers basic amenities such as a bed, blanket, and shared bathroom facilities. Staying in teahouses provides an opportunity to interact with fellow trekkers and experience the local culture.
Cost Range: The cost of accommodation in teahouses varies based on the location and level of comfort. On average, trekkers can expect to pay around USD 20 to USD 40 per night for a basic twin-sharing room.
Camping
Setting up camp in authorized camping areas requires bringing your own camping supplies, such as tents and sleeping bags. This option offers greater privacy and flexibility in choosing camping locations.
Cost Range: Camping costs can be higher compared to teahouses due to the additional equipment required. Depending on the camping equipment leased or carried along, the typical cost of camping can range from USD 30 to USD 50 per night.
Hybrid Option
Some trekkers opt for a hybrid option, where they combine teahouse stays with a few nights of camping. With this strategy, trekkers may enjoy the convenience and companionship of teahouses as well as the peace and quiet of camping.
Teahouse vs. Camping
Choosing between teahouses and camping depends on personal preferences, budget, and the level of comfort desired during the trek.
Advantages of Teahouses
Convenience: Teahouses are readily available along the trekking route, eliminating the need to carry camping gear.
Social Interaction: Staying in teahouses allows trekkers to meet and connect with other travelers, creating a sense of camaraderie.
Warm Meals: Teahouses offer hot meals, which can be especially comforting during chilly nights.
Advantages of Camping
Privacy: Camping provides a more secluded and private experience amidst the stunning landscapes.
Flexibility: Campers have the freedom to choose their camping spots, allowing for a customized experience.
Serenity: Camping under the starlit sky offers a unique connection with nature and the mountains.
Regardless of the accommodation choice, trekkers are advised to carry a suitable sleeping bag for added warmth and comfort. It's also recommended to make advance reservations during peak trekking seasons to ensure availability, particularly in popular teahouse locations. By carefully considering the accommodation options and costs, trekkers can tailor their journey to match their preferences and budget, enhancing their overall Annapurna Base Camp trek experience.
Annapurna Base Camp Trek Cost: Food and Water
Availability of Food and Water along the Trek
The Annapurna Base Camp trek offers a variety of food and water options at teahouses and restaurants scattered along the trail. Trekkers will find basic yet nourishing meals to keep them energized during their journey. While the availability of food is generally good, the options might be limited in some remote areas. It's essential to be open to trying local dishes and embracing the cultural experience.
Cost of Meals and Snacks at Teahouses
Meals at teahouses and restaurants along the Annapurna Base Camp trek are reasonably priced considering the remote location. Depending on the location and the cuisine, meal prices might vary slightly. Here's an approximate cost breakdown:
Breakfast: USD 5 to USD 10
Lunch: USD 7 to USD 12
Dinner: USD 8 to USD 15
These costs cover traditional Nepali dishes like dal bhat (rice with lentil soup), momo (dumplings), and noodle soups, as well as a selection of Western-style dishes. Some teahouses also offer snacks and beverages, such as energy bars, chocolate, tea, and coffee, at additional but reasonable costs.
Importance of Packing Water Purification Methods
Access to safe and clean drinking water is vital during the trek. While bottled water is offered in tea houses and restaurants, the usage of plastic bottles makes it more costly and ecologically harmful. Therefore, it is highly recommended for trekkers to carry their own water bottles and purification methods.
Water Purification Options
Water Purification Tablets: These tablets effectively purify water by killing harmful microorganisms. They are a preferred option for trekkers because they are portable and light.
Water Filters: Another effective technique for cleaning water from natural sources like streams and rivers, is to use portable water filters. Without the need for chemical additions, they deliver clean drinking water. They deliver potable water without the need for chemical additions.
Steripen or UV Purifiers: UV purifiers, like Steripen, use ultraviolet light to kill waterborne bacteria and viruses, ensuring safe drinking water in just a few seconds.
By carrying water purification methods, trekkers can refill their water bottles from available water sources, such as streams and taps, without worrying about the quality. This technique not only saves money but also reduces environmental consequences by minimizing plastic waste.
Note: It's essential to stay well-hydrated during the trek to avoid altitude sickness and ensure optimal performance while hiking. At higher elevations when dehydration is more likely, trekkers should strive to consume at least 3 to 4 liters of water a day.
Annapurna Base Camp Trek Cost: Trekking Gear and Equipment
The Annapurna Base Camp trek requires appropriate trekking gear and equipment to ensure comfort, safety, and a successful journey through the rugged Himalayan terrain. Here's a comprehensive list of essential trekking gear required for the trek, along with estimated prices for renting or purchasing the items:
Trekking Clothing
Moisture-wicking Base Layers: These include quick-drying t-shirts and long-sleeved shirts. (Estimated cost: USD 20 to USD 40 each)
Insulating Layer: A warm fleece or down jacket to provide insulation against cold temperatures. (Estimated cost: USD 60 to USD 100)
Waterproof and Windproof Jacket: A durable waterproof and windproof jacket to protect against rain and strong winds. (Estimated cost: USD 80 to USD 150)
Trekking Pants: Lightweight, quick-drying, and comfortable trekking pants. (Estimated cost: USD 30 to USD 60)
Trekking Shorts/Skirts: For warmer days and lower altitudes. (Estimated cost: USD 20 to USD 40)
Warm Hat and Gloves: To keep your head and hands warm during cold weather. (Estimated cost: USD 20 to USD 40 each)
Buff or Scarf: To protect against dust and cold winds. (Estimated cost: USD 10 to USD 20)
Trekking Socks: Moisture-wicking and cushioned socks to prevent blisters. (Estimated cost: USD 10 to USD 20 per pair)
Trekking Boots: Sturdy and comfortable waterproof boots with good ankle support. (Estimated cost: USD 80 to USD 150)
Backpack and Daypack
Trekking Backpack: A durable and waterproof backpack with a capacity of 50-70 liters to carry all essential gear and clothing. (Estimated cost: USD 80 to USD 150)
Daypack: A small daypack (20-30 liters) for carrying water, snacks, camera, and other essentials during day hikes. (Estimated cost: USD 30 to USD 60)
Sleeping Gear
Sleeping Bag: A warm and lightweight sleeping bag suitable for cold temperatures. (Estimated cost: USD 80 to USD 150 for renting, USD 150 to USD 300 for purchasing)
Trekking Poles
Trekking Poles: Adjustable and lightweight trekking poles to reduce strain on knees and provide stability during descents. (Estimated cost: USD 30 to USD 60 each)
Other Essentials
Headlamp or Flashlight: For visibility during early morning or late-night treks. (Estimated cost: USD 20 to USD 40)
Sunglasses: To protect against harsh sunlight and snow glare. (Estimated cost: USD 20 to USD 40)
Water Bottles or Hydration System: To carry sufficient water during the trek. (Estimated cost: USD 10 to USD 30)
First Aid Kit: Including basic medications, bandages, and blister treatment. (Estimated cost: USD 20 to USD 40)
Toiletries: Including biodegradable soap, wet wipes, and hand sanitizer. (Estimated cost: USD 20 to USD 40)
Sunscreen and Lip Balm: To protect against sunburn and chapped lips. (Estimated cost: USD 10 to USD 20)
Note: The previously mentioned costs are approximations that might change depending on the brand, caliber, and location of the purchase or rental. It's essential to invest in good-quality gear to ensure comfort and safety during the trek.
Annapurna Base Camp Trek Cost: Transportation
Reaching the starting point of the Annapurna Base Camp trek requires travelers to reach the city of Pokhara first. Pokhara serves as the main gateway to many trekking adventures in the Annapurna region, offering various transportation options.
Domestic Flights
Kathmandu to Pokhara Flight: Taking a domestic flight from Kathmandu to Pokhara is the fastest and most convenient option. The flight duration is approximately 25-30 minutes, and it provides stunning aerial views of the Himalayan peaks. Relying on the airline, the season, and the availability, a one-way flight ticket may cost from USD 100 to USD 200.
Private Vehicles
Private Car/Van: For a more comfortable and flexible journey, travelers can hire private cars or vans. The travel time is similar to tourist buses, but private vehicles offer the advantage of customized stops along the way. The cost of hiring a private car or van for a one-way trip can range from USD 100 to USD 200, counting on the vehicle and negotiation.
Micro Buses
Kathmandu to Pokhara Micro Bus: Micro buses are smaller than tourist buses and can be slightly faster due to fewer stops. They offer a more local experience of travel. The cost of a one-way micro bus ticket ranges from USD 15 to USD 35.
Tourist Buses from Other Cities
Kathmandu to Pokhara Tourist Bus: Tourist buses are a popular and economical choice for travelers. It can take 6 to 8 hours to go to Pokhara from Kathmandu because the Prithvi Highway continues to be constructed. The cost of a one-way tourist bus ticket varies between USD 10 and USD 30.
Lumbini to Pokhara Tourist Bus: Travelers coming from Lumbini (the birthplace of Buddha) can take a tourist bus to Pokhara. One-way trip from Lumbini to Pokhara might cost you from USD 15 to USD 30 and relying on traffic it can take 6 to 8 hours to reach Pokhara Valley.
Chitwan to Pokhara Tourist Bus: Those visiting Chitwan National Park can take a tourist bus to Pokhara, which takes about 4-6 hours. While talking about travel costs from Chitwan to Pokhara it might cost you between USD 10 and USD 25.
Local Buses
Local Buses: Local buses are the most budget-friendly option, but they may take longer due to frequent stops and crowded conditions. They offer an authentic experience of traveling like the locals. The cost of a local bus trip one way can range from $5 to $15.
Note: The above-mentioned transportation expenses are approximations that might change depending on the season, availability, kind of vehicle, and negotiating prowess. Prices may be slightly higher during peak trekking seasons. It's advisable to inquire about the latest rates and book in advance, especially for flights and private vehicles
Annapurna Base Camp Trek Cost: Guide and Porter Fees
Benefits of Hiring a Guide and/or Porter
Hiring a guide and/or porter for the Annapurna Base Camp trek offers numerous advantages, enhancing the overall trekking experience and ensuring a safer and more enjoyable journey. Here are some benefits of having a guide and/or porter:
Local Expertise: Guides possess extensive knowledge of the trekking route, local culture, and the surrounding mountains. Their knowledge enriches the journey as they provide profound knowledge about the history, flora, animals, and customs of the area.
Safety and Navigation: Navigating through the Himalayan trails can be challenging, especially for first-time trekkers. A guide ensures trekkers stay on the right path, avoiding potential risks and hazards, and providing support in case of emergencies.
Cultural Exchange: Guides facilitate cultural interactions with local communities along the trail. They bridge the language gap and offer opportunities to engage with locals, enriching the cultural experience of the trek.
Assistance and Support: Guides offer encouragement, motivation, and emotional support throughout the trek. They provide advice to overcome the difficulties that trekkers confront on a physical and emotional level.
Lightened Load: Porters help carry the bulk of trekkers' heavy belongings, allowing them to trek with a lighter backpack. This relieves physical strain, increasing trekking comfort and endurance.
Enjoyable Experience: By handling logistical aspects such as accommodation and meals, guides and porters free trekkers to fully immerse themselves in the breathtaking scenery, culture, and camaraderie with fellow trekkers.
Average Costs and Tipping Etiquette for Guides and Porters
Guide Fees
The cost of hiring a guide for the Annapurna Base Camp trek can vary based on experience, language proficiency, services provided, and trek duration. On average, a licensed guide may charge approximately USD 25 to USD 35 per day.
Tipping Etiquette for Guides: Tipping is a customary practice in Nepal to show appreciation for good service. While it is not mandatory, it is a thoughtful gesture to tip your guide at the end of the trek. A recommended tip is around USD 5 to USD 10 per day per guide, depending on their level of service.
Porter Fees
Porter fees depend on the weight they carry and the trek duration. On average, a porter may charge approximately USD 15 to USD 25 per day.
Tipping Etiquette for Porters: Tipping porters is also a considerate gesture. An appropriate tip for a porter is around USD 3 to USD 5 per day, per porter, as an acknowledgment of their hard work and dedication.
Note: It's important to ensure that guides and porters receive fair wages and proper treatment. Hiring from a reputable trekking agency or cooperative that follows ethical practices is recommended.
Additional Expenses
Aside from the core costs of permits, accommodation, food, transportation, and hiring guides and porters, trekkers should be prepared for various miscellaneous expenses during the Annapurna Base Camp trek. These additional expenses may arise from various sources, including extra activities and unexpected needs. Here are some common miscellaneous expenses to consider:
Hot Showers: While some teahouses offer hot showers, they usually come at an additional cost. The cost of a hot shower ranges between USD 2 to USD 5 per usage. Also, keep in mind higher elevation might impact the cost variation.
Battery Charging and Electronics: Charging electronic devices, such as cameras, phones, and power banks, may incur a small fee at teahouses or lodges. The cost for battery charging typically ranges from USD 2 to USD 5 per device.
Wi-Fi and Internet Access: Wi-Fi and Internet facilities are available at some teahouses, but there may be a fee for usage. The cost for Wi-Fi access can range from USD 2 to USD 5 per hour or as a daily package.
Snacks and Drinks: On the ABC Trek journey, Hikers can purchase food, energy bars, chocolates, or drinks such as bottled water, soda, or alcoholic beverages. The cost of these things may vary, so, budget $5 to $10 each day for snacks and drinks.
Personal Medications: If trekkers require specific medications or first aid supplies, they should allocate funds for purchasing these items before starting the trek. Prices can vary based on individual needs.
Trekking Gear and Equipment Rental: For trekkers who prefer to rent trekking gear and equipment instead of purchasing them, rental costs should be considered. The rental price will depend on the type and duration of the gear rented.
Unexpected Expenses: It's always prudent to have some emergency funds set aside for unexpected expenses, such as medical needs, unplanned rest days due to weather conditions, or unforeseen circumstances.
Allocating Funds for Tipping Guides and Porters
Tipping guides and porters is an important aspect of trekking etiquette and a way to show appreciation for their hard work and support. As mentioned earlier, it's recommended to budget around USD 5 to USD 10 per day for tipping guides and USD 3 to USD 5 per day for tipping porters. Trekkers can allocate funds accordingly based on the trek duration and the number of guides and porters hired.
Annapurna Base Camp Trek Cost: Travel Insurance and Medical Expenses
Importance of Travel Insurance for Trekking in Nepal
Having comprehensive travel insurance is of paramount importance for trekkers heading to the Annapurna Base Camp or any other trekking destination in Nepal. Trekking in the Himalayas involves inherent risks, such as altitude-related illnesses, unpredictable weather conditions, and accidents on rugged terrain. Travel insurance provides financial protection and peace of mind in case of unforeseen events, ensuring trekkers can focus on their adventure without worrying about the financial burden of medical emergencies or evacuation.
Coverage Details for Trek-Related Injuries or Illnesses
A robust travel insurance policy for trekking in Nepal should include the following coverage details:
Medical Expenses: Coverage for medical expenses, including doctor consultations, hospitalization, medications, and treatment for trek-related injuries or illnesses.
Emergency Evacuation and Repatriation: Coverage for emergency helicopter evacuation or rescue from remote areas in case of severe injuries or life-threatening conditions.
High-Altitude Sickness: Coverage for medical treatment and evacuation in case of altitude-related illnesses, such as Acute Mountain Sickness (AMS), High-Altitude Pulmonary Edema (HAPE), or High-Altitude Cerebral Edema (HACE).
Trip Cancellation or Interruption: Coverage for trip cancellation or interruption due to unforeseen circumstances, such as flight cancellations, natural disasters, or personal emergencies.
Lost or Delayed Baggage: Coverage for the loss, theft, or delayed arrival of baggage, including trekking gear and essential items.
Emergency Dental Care: Coverage for emergency dental treatment in case of dental issues during the trek.
Personal Liability: Coverage for legal expenses and compensation in case of accidental damage or injury caused to others during the trek.
Budgeting for Medical Expenses and Emergency Evacuation
When budgeting for the Annapurna Base Camp trek, allocating funds for travel insurance and potential medical expenses is crucial. Depending on the coverage limitations, length of the journey, age of the traveler, and the insurance company, travel insurance prices might shift. On average, trekking travel insurance can cost between USD 50 to USD 150 for a two-week trek in Nepal.
It's also crucial to take emergency evacuation costs into account, which in isolated mountain areas might be high. The price of a helicopter rescue or evacuation may range from USD 5,000 to USD 10,000 or more, leaning on the circumstance and location.
By budgeting for travel insurance and setting aside emergency funds for medical expenses and evacuation, trekkers ensure they are well-prepared for any unforeseen circumstances that may arise during their trekking adventure. Prioritizing travel insurance not only safeguards against financial burdens but also prioritizes personal safety and responsible trekking practices in the beautiful yet challenging Himalayan landscape.
Cost-Saving Tips and Strategies
Trekking in the Annapurna region can be an enriching experience without breaking the bank. With some smart planning and budget-conscious choices, trekkers can minimize expenses while ensuring their safety and enjoyment. Here are some cost-saving tips and strategies to consider:
Trek in the Off-Season: Choosing to trek during the off-season (monsoon and winter months) can lead to cost savings on accommodation and permits. However, be prepared for possible weather challenges and limited services during these periods.
Join Group Treks: Joining a group trek can help share the cost of guides, permits, and transportation. Many trekking agencies offer group packages, making them more budget-friendly for solo or small-group travelers.
Be Self-Sufficient with Water and Snacks: Rather than purchasing bottled water and snacks at teahouses, bring a reusable water bottle and water purification tablets or filters to refill at water sources along the trail. Packing your snacks can also save money.
Share Accommodation and Meals: Sharing accommodation with fellow trekkers in teahouses can reduce room costs. Additionally, many teahouses offer large portions of meals that can be shared, further lowering expenses.
Bargain and Negotiate Prices: When renting trekking gear, hiring guides, or booking transportation, don't hesitate to negotiate prices. However, always confirm that quality and safety are not compromised in the process.
Carry Essential Items: Pack essential items like trekking poles, a reusable water bottle, and a basic first aid kit from home to avoid buying or renting them on the trail.
Choose Teahouses Wisely: Teahouse prices can vary along the trek. Opt for teahouses that offer clean and comfortable rooms at reasonable rates. Be mindful of any hidden charges and clarify prices upfront.
Consider Self-Guided Treks: Experienced trekkers with good navigation skills may opt for self-guided treks, eliminating the cost of hiring a guide. However, ensure that you are well-prepared and have reliable trekking maps and information.
Explore Alternative Routes and Shorter Treks: Consider alternative routes or shorter treks in the Annapurna region, such as the Ghorepani Poon Hill trek or Ghandruk trek. These treks offer stunning views and cultural experiences at a fraction of the cost and duration.
Support the Local Economy: Purchase meals and souvenirs from locally-owned teahouses and shops. Supporting the local economy helps sustain the communities and ensures a more authentic experience.
Plan a Hybrid Trek: Opt for a combination of teahouse stays and camping. Camping allows for cost savings on accommodation, and teahouse stays provide comfort and social interaction.
Conclusion
The Annapurna Base Camp trek involves key cost components such as permits, accommodation, food, transportation, and guide/porter fees. Travel insurance and medical expenses are vital for safety. Trekkers should budget for miscellaneous expenses like hot showers, battery charging, and tipping guides/porters. Minimize costs by trekking in the off-season, sharing accommodation/meals, and negotiating prices. Explore shorter treks or join group treks for cost-saving benefits. Prioritize safety and plan ahead to allocate funds for emergency situations. A well-planned budget ensures a smooth and rewarding trekking experience, allowing trekkers to savor the beauty of the Annapurna region without financial worries.
FAQs
What is the total cost estimate for the Annapurna Base Camp Trek?
The total cost varies depending on factors such as trek duration, accommodation choices, permits, guide/porter fees, and additional expenses. On average, budget around USD 800 to USD 1200 for a 10-15 day trek.
Is it possible to do the ABC trek without a guide or porter?
Yes, experienced trekkers can do the trek independently. However, hiring a guide or porter is recommended for safety, local expertise, and comfort.
Are there any hidden costs that trekkers should be aware of?
Some teahouses may charge extra for hot showers, Wi-Fi, or electronic charging. Clarify prices beforehand to avoid surprises.
How much money should I carry in cash during the ABC trek?
Carry enough cash for personal expenses and emergencies. It's advisable to have USD 200 to USD 300 in Nepalese rupees.
What are the visa requirements for trekking in Nepal?
Most nationalities can obtain a visa on arrival at Kathmandu airport. A 15-day tourist visa costs USD 30.
Can I bring my own trekking gear or should I rent it in Nepal?
You can bring your gear, but renting in Nepal is cost-effective. Ensure gear quality and condition if renting.
Are there ATMs or money exchange facilities along the ABC trail?
ATMs are available in Pokhara and some larger villages. Carry enough cash before starting the trek.
What are the most economical options for reaching Pokhara?
Tourist buses or micro-buses from Kathmandu are economical. Flights are faster but more expensive.
Is altitude sickness common, and how can I avoid it?
Altitude sickness is possible. Acclimatize gradually, hydrate, and ascend slowly. Listen to your body and seek medical attention if needed.
Can I customize my meals at teahouses to suit my dietary preferences?
Yes, teahouses offer varied meals. Inform them about dietary preferences or restrictions.
How challenging is the Annapurna Base Camp Trek for beginners?
The trek is moderately challenging. Adequate preparation and a gradual ascent help beginners succeed.
Are there any special permits required for the ABC trek?
Yes, trekkers need an Annapurna Conservation Area Permit (ACAP) and a TIMS (Trekkers' Information Management System) card.
Is it safe to trek in the Annapurna region during the monsoon season?
Monsoon brings heavy rain and landslides, making some trails challenging. Trek with caution during this season.
Are there any communication facilities available during the ABC trek?
Teahouses offer Wi-Fi and charging facilities, but connections may be slow and unreliable.
What should I do in case of an emergency or injury during the trek?
Contact your guide or teahouse owner immediately for assistance. Helicopter rescue is available if needed.
Are there any age restrictions for the ABC trek?
There are no specific age restrictions for the ABC trek, but trekkers should be physically fit and capable to handle the difficulty of the terrain.
How can I contribute to local communities and conservation efforts?
Support local businesses and lodges. Avoid single-use plastics and follow responsible trekking practices.
Can I combine the Annapurna Base Camp Trek with other treks in Nepal?
Yes, you can combine it with the Ghorepani Poon Hill trek or Mardi Himal Trek to extend your adventure.
What are the best ways to prepare physically for the trek?
Build cardiovascular endurance, stamina, and leg strength through regular exercise and hiking.
Is it possible to trek solo or join a group for cost-saving?
Solo trekking is possible, but joining a group can be more cost-effective, enjoyable, and safer with shared expenses.