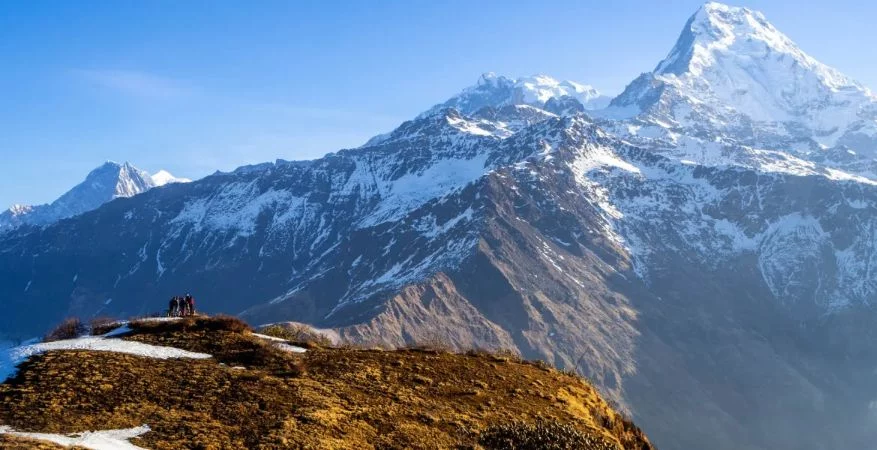 Between Jomsom-Muktinath and the Annapurna Base Camp Trek trail, the Khopra Danda Trek presents an eco-friendly nature alternative. The Panorama Himalayas Viewpoint Trekking spotting point at Khopra Danda is one of the most popular treks in the Annapurna Region, which is connected to two other popular treks: the Annapurna Base Camp and Ghorepani Poon Hill Trek. The Khopra trek is much better than the similar Poon Hill trek for those who do not want to deal with crowds.
In addition to Khayer Lake, a Hindu sacred site, high pastures, and a temporary herder's settlement, we also travel through rhododendron forests and past Tibetan-looking villages. And, of course, we walk along the ridge itself. The Khopra Ridge at 3,660m is at the end of a steady ascent through alpine meadows and pastures, and it offers a superb vantage point overlooking Kali Gandaki River in the world's deepest gorge. From the ridge, magnificent peaks shimmer in snow and ice.
There are several teahouse treks in Khopra Ridge. The trail to Khopra Ridge is also very prominent, although one should be aware of diverting to other villages along the way.
About the Region
During the hike along Khopra Ridge, you can see Mt. Dhaulagiri, Annapurna, Nilgiri, Tukuche Peak, and Dhampus Peak. Additionally, you can see one of the most spectacular valleys on the Kali Gandaki River from this trail. Furthermore, the main attractions of this particular Trek are Khayer Barahi Temple or Khayer Lake, Narchyang village, Tatopani village, and Ghandruk village. 
A spectacular Himalayan panorama can be seen while trekking from the Khopra ridge of Mount Annapurna (8,000 meters), Mount Dhaulagiri (8,167 meters), Annapurna South, Nilgiri, Dhampus peak, Tukuche peak, Himchuli, Gurja Himal. It is favorable to trek to Annapurna Khopra Trek in the months of March to June and September to November because Annapurna Khopra trek weather in these months is excellent.
There is only one long walking day (which can be a challenge, and the view from the summit rivals any viewpoint in the Himalayas). So this Trek is the perfect way to view and experience the beauty of the Himalayas landscape and mountain ranges in a more serene and one-on-one manner. Over nine days, the Khopra Ridge trek covers a distance of 70 kilometers, covering an average of 8 kilometers a day. Your stay for the day usually ends in the early evening.
Permits and Accommodations 
Like any other trekking destination near the Annapurna region, you'll need a TIMS (Trekkers Information Management System) card and the Annapurna Conservation Area Park (ACAP) permit, which can be acquired from the Nepal Tourism Board or with our help. 
In terms of accommodations, Swanta, Christibung, and Khopra Danda each have two or three lodges, each with five to seven rooms, and each room has two to four beds and an excellent heater. Hence, a group of six to ten people can stay comfortably in the same lodge at each location. However, multiple homestays or tea house accommodations are also available on the trekking route.
Preparing for the Trek
The hike from Pokhara to Khopra danda does not contain high altitudes or rugged paths; they are shorter and more relaxing, and you will enjoy the scenery along the way. So it would be best if you prepared accordingly. When we made our first trip to this area, our group of friends brought along the following items with them. We suggest you do the same in order for a similarly comfortable trek.
Energy drink and water bottle

Backpack

Flashlight

Walking stick

Well-fitting gloves, socks, and hiking shoes or boots

First aid kit

Sun Protection cream

Sleeping bag rated to -10°C +

Trekking bag (Rucksack)

Duffel bag

Large plastic bag
Nevertheless, you can easily find these items at the trek shops near the lakeside at the beginning of the Trek if you forget any of them.
The Khopra Ridge Trek Itinerary
You will need to obtain a Nepalese visa if you're a foreign explorer and fly to Kathmandu. Then, after a couple of days of exploring the beautiful Kathmandu valley, you will need to get to Pokhara by flight or by bus. From Pokhara, we will begin our Trek.
Note
The itinerary mentioned above is the general plan arranged by Pokhara Info. The above itinerary is only a guideline; it might change due to the availability of lodging and campsites, fluctuating weather conditions, unforeseen political, trail, and environmental, or any other factors beyond our control. After consulting with the group, your trek leader will decide the best way to reach a final decision if this occurs.
If the itinerary is unsuitable for you, please let us know, and we will customize it. We will be able to make changes to the itinerary if clients want to do so.
In the end, we follow our steps back home via Pokhara from Nayapul. First, however, do not forget to acknowledge and cherish all the beautiful memories and the gorgeous sceneries you experienced during the Trek during your return home.