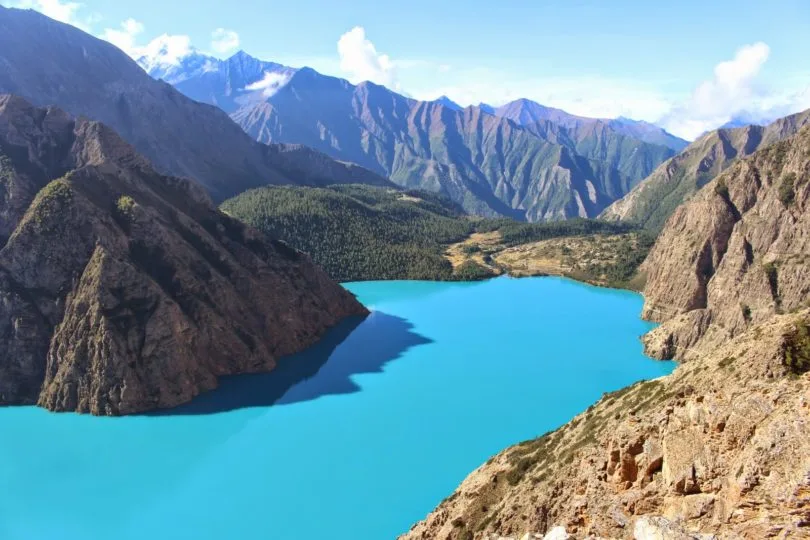 Being Nepal's largest and most magnificent freshwater lakes, the Shey Phoksundo Lake Trek is moderately difficult and lasts around 7 to 12 days, but it can be longer or shorter depending on how much hike an individual wishes to practice each day. Situated in the district of Dolpa, the region around Phoksundo primarily consists of Dolpo, or the people from the Bon community, people who follow Tibetian Buddhism.
As you begin trekking on this trail, you are greeted by turquoise waters mirroring the surrounding snow-capped peaks, dense forests, and the warm hospitality of the local inhabitants. The lake shimmers due to the reflecting backdrop provided by Kanjirowa massif. Offering the most breathtaking scenery in the world.
About Shey Phoksundo Trek from Pokhara
Located in Shey Phoksundo National Park, Phoksundo Lake is the primary destination of our trek. Phoksundo Lake Trek is suitable for adventure enthusiasts wanting to explore the remote and sublime beauty of mother nature. This enchanting journey takes you to the heart of the Shey Phoksundo National Park, a raw corner of the Himalayas known for its breathtaking landscapes, unique culture, and captivating biodiversity. Phoksundo National Park is also home to a wide variety of flora and fauna.
The Shey Phoksundo Lake Trek is a perfect blend of natural beauty and cultural exploration, and in this blog, we are going to take you through the essential information of this extraordinary adventure. To make sure you are well-prepared to embark on an unforgettable journey to one of Nepal's hidden gems.
Highlights of Shey Phoksundo Trek
Suligad Waterfall

Shey Phoksundo Lake

Observe Tibetan culture in the Ringmo Village.

Hike through off the rough terrain exploring the remote Nepal.

Discover untouched beauty and rich biodiversity in Shey Phoksundo National Park.

Witness ancient monasteries and understand the culture and heritage of the Himalayas of Nepal.

Encounter endangered species like Blue Sheep, Musk Deer, Tibetan Argali, and even the Snow Leopard.
Pokhara to Phoksundo Lake Distance
Pokhara to Phoksundo Lake is a captivating journey spanning approx. 148 kilometers of awe-inspiring landscapes. This adventure begins in the bustling city of Pokhara, where trekkers bid farewell to urban life and immerse themselves in the natural wonders of the remote region. As the trail unfolds, hikers traverse through villages, cross suspension bridges over crystal-clear streams, and ascend through dense forests, gradually making their way to the jewel of the trek – Shey Phoksundo Lake. The actual hiking distance covers approximately 70 kilometers, presenting both a physical challenge and an opportunity for trekkers to witness the diverse beauty of Nepal. From lush green valleys to high-altitude plateaus, every step brings a new perspective, making the Pokhara to Phoksundo Lake trek an unforgettable experience for those seeking adventure and natural splendor.
Best time to Visit Shey Phoksundo Lake
Spring
In Nepal, spring starts in March and ends in May and is regarded as the ideal time to trek any trail in Nepal. For Shey Phoksundo Trek, spring is ideal because the temperature is moderate, and the weather is favorable. Spring is also the prime time to bloom the national flower of Nepal, Rhododendrons making the path of Shey Phoksundo vibrant and beautiful.
Autumn
Autumn ( end September to November ) is also a delightful time to trek the Shey Phoksundo Lake trail. During autumn the view of the mountains and surrounding landscapes is clearest as the skies are clear. Trekking trails in Nepal are busy during this time therefore you will get a chance to meet fellow trekkers on your way.
How do I prepare for the trek to Shey Phoksundo?
Fitness:
Incorporate a regular exercise routine into your pre-trek preparations, and practice both cardiovascular and strength training. Building stamina and strength is crucial for navigating the Pokhara to Shey Phoksundo terrains with varying altitudes along the 70-kilometer hiking route.
Gear Up for well:
Understand the climate and pack appropriate layers of clothing for fluctuating temperatures, ensuring comfort throughout the trek. Carry all the essentials such as a water bottle, energy snacks, a first aid kit, and a camera for capturing the stunning landscapes.
Altitude Acclimatization:
Prioritize altitude acclimatization to mitigate the risk of altitude sickness. Spend a few days to acclimate, allowing your body to adjust to the elevation. This not only contributes to your overall physical well-being but also enhances your capacity to enjoy the journey.
Route Planning:
Thoroughly research and plan your route, noting key landmarks and villages. Familiarize yourself with local customs to engage respectfully with the communities you encounter. Carrying local currency is advisable for purchases in remote areas.
Guide:
Consider the invaluable support of an experienced guide, who can offer not only safety but also insights into the local culture and geography. By placing emphasis on physical fitness and combining it with careful planning, you will be well-prepared to conquer the challenges and relish the beauty of the Pokhara to Shey Phoksundo trek.
What to pack for the Shey Phoksundo Lake Trek?
Packing wisely is vital to ensure a comfortable and successful trekking experience. We have created a comprehensive list of essentials to consider when preparing for the Shey Phoksundo Lake trek.
Gear and Clothes:
Sun Cap, knit hat
Sunglasses, rain poncho
Down jacket, fleece jacket
Synthetic fabric-made shirt
Water/windproof hiking pants
Fleece pants/trousers
Hiking boots
Sleeping Bag
Gloves, socks, and walking boots
Essentials:
Soap
Lip balm
Shampoo
Band-aids
Painkillers
Sunscreen
Toilet paper
Trekking pole
Toothbrush/paste
Moreover, Shey Phoksundo lies at an altitude of 3,589 meters. A trip to such an extreme elevation may result in altitude sickness or even breathlessness, so those with serious health problems, lung issues, or similar conditions should avoid this trip. Therefore, if you have any active disease please do not attempt this trek. And if you are a beginner trekker take enough time to acclimatize.
Safety Tips for Shey Phoksundo Trek
Shey Phoksundo Trek is a remote and challenging adventure, so proper preparation and safety measures are crucial for a successful and enjoyable experience. Always prioritize your safety, and take the necessary precautions to decrease risks during your trek.
Make sure to dedicate enough time to acclimatize. 

Take consent from a subject before taking a photograph.

Eat healthy meals and stay hydrated throughout the trek.

Choose a reputable travel organization as your trekking organizer.

Be mindful of the natural, cultural, and historical heritage while enjoying your trek.

Carry the necessary documents like passport, permits, travel insurance, and photos.

It is mandatory to trek this route with a professional travel guide for international hikers.
Pokhara to Shey Phoksundo Lake Trek Itinerary
Let's dive deep into the trek itinerary we prepared for you to take reference for your trek.
Final Say
In conclusion, the Shey Phoksundo Lake Trek allows adventure enthusiasts and nature lovers to immerse themselves in the remote and pristine beauty of Nepal. Shey Phoksundo National Park is filled with breathtaking landscapes, a unique cultural tapestry, and rich biodiversity, offering a special trekking experience like no other route.
Every trekker is captivated by the serene turquoise waters of Phoksundo Lake, nestled between the snow-capped peaks and dense forests. The warm hospitality of the local inhabitants adds a unique cultural dimension to your adventure.
The trek itinerary takes you through spectacular highlights, including Suligad Waterfall, the awe-inspiring Shey Phoksundo Lake, and interactions with the Ringmo Village community. Moreover, you explore remote and rugged terrain, discover untouched natural beauty, and encounter rare species like Blue Sheep, Musk Deer, Tibetan Argali, and possibly the elusive Snow Leopard.
We hope this blog provides you with the essential information and inspiration to embark on an unforgettable journey to one of Nepal's hidden gems.
FAQ's
Is Shey Phoksundo Lake Trek suitable for beginner trekker ?
Yes, beginner trekkers can complete the trek to Shey Phoksundo Lake in about 7-12 days. However, it is essential to keep in mind that the trekking path consists of rough trails and fluctuation in elevation can cause altitude sickness and fatigue to many beginner hikkers. 
Where is Shey Phoksundo Lake?
Shey Phoksundo Lake is located in the Dolpa District of Nepal, inside Shey Phoksundo National Park. The lake is situated at an elevation of 3,611 meters above sea level. There are multiple ways to get to Shey Phoksundo Lake, by road, hiking, or by helicopter. There is no direct roadway to reach the lake, thus, you should take many buses combined with hikes to reach there if you wish to go by road.
What are the accommodation options available during the Shey Phoksundo Trek?
While trekking in the remote path of Shey Phoksundo Lake, accommodation options are local lodges, guesthouses, and teahouses that offer basic facilities such as cozy bedding, good food, and clean washrooms.
Does everyone experience altitude sickness in Shey Phoksundo Trek?
The elevation elevates over 3,500 meters from sea level causing a high risk of altitude sickness for trekkers. To avoid altitude sickness, one should have enough time to acclimatize and stay hydrated throughout the trek. 
Do I need a guide and porters for the Phey Phoksundo Lake route?
Hiring a local guide is mandatory for international trekkers for most of the trekking trails in Nepal. A professional guide can provide you with valuable insights into the culture and terrain throughout the way. While a porter can lighten the burden of your backpack during your trekking journey. The journey can be organized and hassle-free if you hire a guide through a reputable trekking agency.