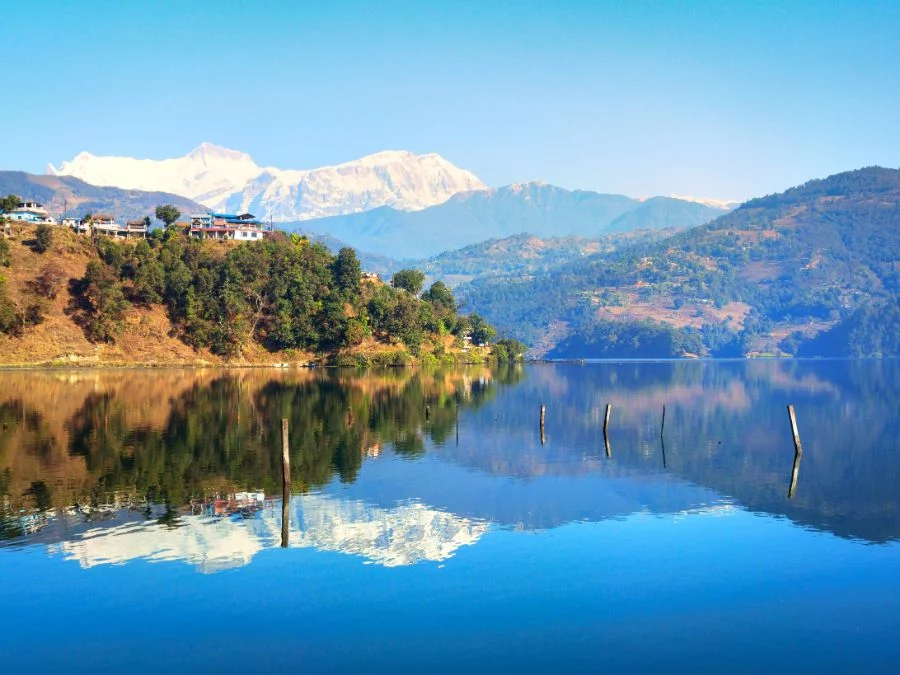 Call it a city of lakes, a holiday paradise or the ultimate tourist destination; Pokhara has all the charms you could ever ask for. Renowned for its magnificent landscapes, Pokhara is the most favored tourist destination in Nepal. It is also Nepal's second-largest city in terms of its population. 
Pokhara is the base city for many majestic trekking trails welcoming the likes of trekkers, backpackers and holidaymakers. One of the best places to rejuvenate your body, this metropolitan city is blessed with varied serene lakes, mountains, museums and the best spots for adventure sports that are sure to add enthralling experiences to your lifelong memories.
Let us dive into the list of top ten places to visit in Pokhara.
F
e
wa Lake 
 Fewa Lake is the second largest lake in Nepal and has a beauty that it's truly overwhelming. The lake encompasses a total area of 4.43 square kilometers. Treating your eyes to the surreal reflections of alluring Mount Machhapuchre on a fine day in a paddling boat while on your way to Tal Bahi temple is a typically touristy thing you can do in Fewa Lake.
This freshwater Lake is one of the places in Pokhara that has visitors crowding the premise even during the week. 
Tal Barahi
Tal Barahi is another spiritual retreat for Hindu pilgrims, which remains at the center of Fewa Lake. You gotta take a boat ride to reach this place of land in the middle of the lake.
The boats are always available; it would take just 10 to 20 minutes to get to the temple from the Bank of Lake. Tal Barahi is a small pagoda-style temple which is dedicated to Hindu goddesses and is popular because of its ideal location and the great religious value that it carries. This temple attracts many Hindu disciples who come to worship the goddess. 
Davis Falls
Davis Falls might not sound new to many, including both the locals and international visitors, but how well do you know the history behind its famous name? Reportedly, a woman named Davi went swimming here on the 31st of July, 1961 but drowned due to the overflow of water. 
To pay respect to his daughter, Davi's father wished the name the place after her, hence the name. This canyon cascades down at the south side of Fewa well Lake. And the water passes through a cave called Gupteshwor Cave. After exiting the tunnel, it is called Patale Chango in Nepali and has scenery that can be used as stunning backdrops for photos and videos.
Gupteshwor Cave
 Gupteshwor Cave is an ancient temple whose history dates back hundreds of years. It's probably one of the longest caves in South Asia, which is located close to Davis Falls on the other side of the world peace pagoda. The passes through this cave are usually damp and dark. Those small light bulbs are facilitated to make them come in handy for tourists.
As you descend deeper, you can find several statues and shrines inside, the largest of which is dedicated to Lord Shiva. 
Mahindra Cave 
Amongst numerous caves in Pokhara, Mahindra cave is a popular site located close to the Seti River. It was named after the late King Mahendra Bir Bikram Shah.
A statue of Lord Shiva can also be seen inside the cave limestones in its natural and rare form of rock structures containing stalagmites. It attracts thousands of tourists every year. Artificial lights lighten the walls of this cave, giving it a shimmery and glittery outlook, which the sight Sears love to admire. A visit to Mahindra Cave is more of an adventure as you move further and deeper down the cave. 
Pokhara Santi Stupa 
Pokhara Santi Stupa is a pogoda-style Buddhist monument nestled in the top of the heel of Pumdikot. It adds yet another beauty to Pokhara and its marvels. The Suppa facilitates the site of the never-ending Himalayan range adoring the spectacular cityscape below while the blue Fewa lake sits perfectly.  You could hike or cycle along the trails or travel by any other means to reach the spiritual retreat. 
Sanangkot
 Sanangkot, situated on Sanangkot hill, is a village of the same name, which is a game place you should not miss out on. When in Sanangkot, you could catch a riveting glimpse of the mountain sweep, including the Machhapuchre and Manaslu. Hiking to Sanangkot is one of the ways you can drown in the heavenly views of sunsets and sunrises. Moreover, the place is also a very popular spot for paragliding. 
Bindabasi Temple
Bindabasi Temple is also known as the guardian deity of Pokhara. The Temple is a white pagoda temple that is situated near the old bazaar of the Pokhara. Goddess Durga, in the form of Parvati, is worshiped in the temple, hence holding a significant religious value. Lying 3000 feet up the sea level, the Bindabasi temple is overcrowded during the day of a major festival of Dashain when several people offer animal sacrifices to the goddess.
With a pleasant scent of loop and panoramic views, a visit to this temple can be accompanied by a stroll around the old bazaar. 
Begnas Lake
Begnas  Lake covers about 3.28 square kilometers of area. The Begnas Lake, or Begnas taal stands in the third position of the largest lakes in Nepal. It with lush Greens forest surrounding this lake and offering you the most tranquil and serene environment.
It is located on the southeastern side of the main city and is tentatively crowded. If you prefer to enjoy boating with a site of snowcap peaks, stand by the taal overlooking the gorgeous forest below with a sip of your preferred drinks. Then the visit to Begnas lake might just be perfect for you. 
Mountain Museum.
The mountaineering museum has a history of its own in Nepal. And this is best showcased in the International Mountain Museum of Pokhara. Mysteries and important figures relating to not only the mountains of Nepal but also Japan, Slovakia, and other countries have been illustrated in this museum.
Additionally, you can find the rarest of Flora and Fauna collected from different parts of Himalayan reasons that are well preserved here. Models of several peaks, including Mountain Everest, mountain gear, and everything and anything associated with mountains are exclusively found. So, that's the end of our list of the top 10 places to visit in Pokhara.
What do you guys think about the list, and what do you like the most about this beautiful valley? If you want to visit Pokhara, we have got you covered.
After you've enjoyed the thrilling and joyful experience, you can choose whether to visit other beautiful places in Nepal or head back home. No matter what you choose, we hope you have a fantastic time.
We can accommodate group tours for this trip; however, you may also opt for a private tour according to your liking. We can arrange private trips at any time of the year at any date of your choosing. Please let us know.