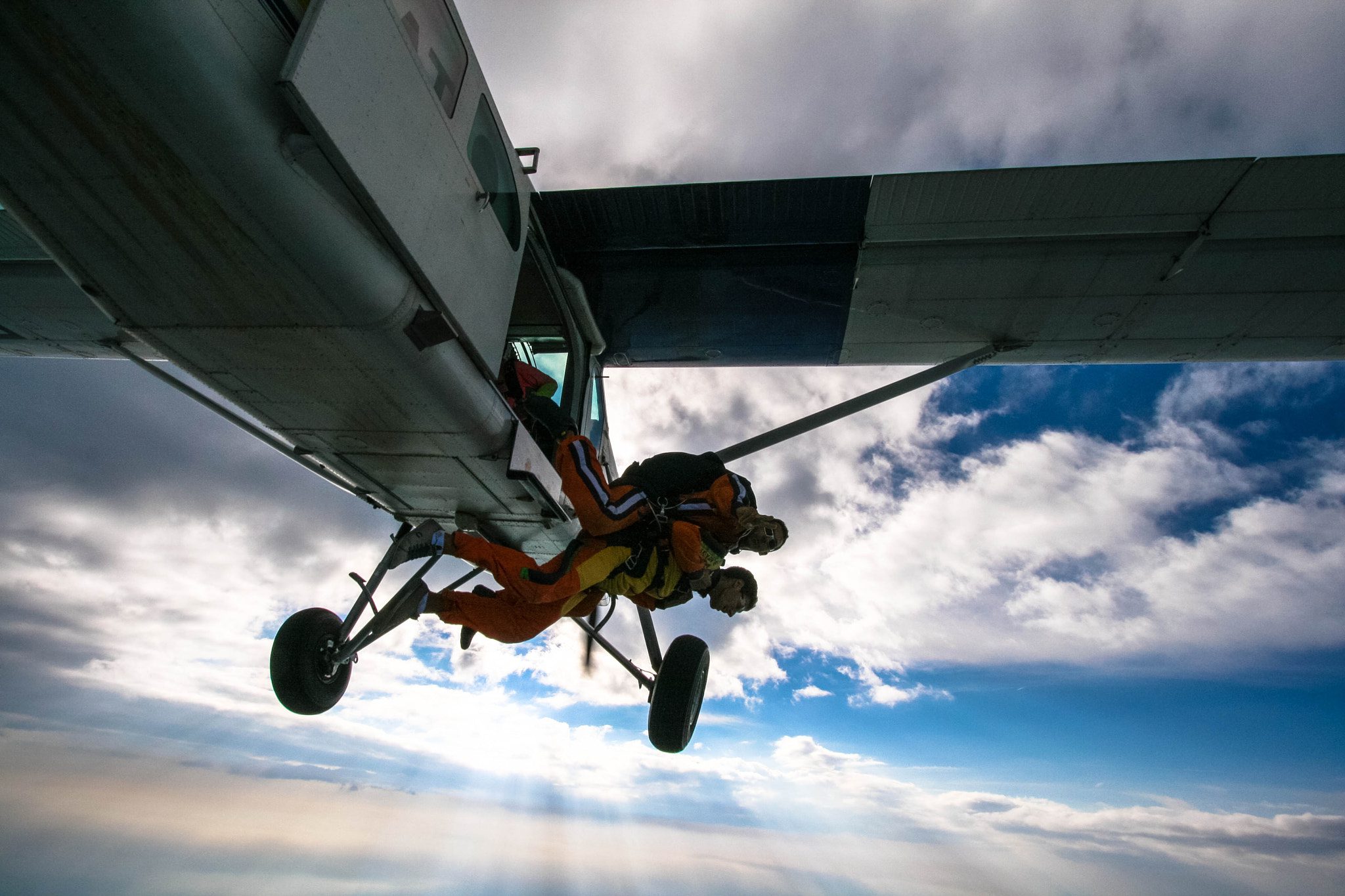 Have you ever dreamed of experiencing the thrill of skydiving? What if you could take that exhilarating adventure to new heights, literally, by skydiving with a breathtaking view of the world's highest peak, Mount Everest? This incredible opportunity is exactly what Skydive Nimsdai offers, a program developed by the legendary mountaineer Nimsdai Purja.
But who is Nimsdai Purja, you may ask? You can have a look at "14 Peaks," a documentary on Netflix. If not, Purja is a former soldier from Nepal who has accomplished some of the most challenging mountain climbs in the world. His extraordinary achievements include holding multiple records, such as being the fastest person to conquer all 14 peaks over 8,000 meters (26,000 feet) in a mere six months and six days. Not only is Purja an accomplished mountaineer, but he is also a skilled skydiver and BASE jumper. His diverse expertise makes him the ideal person to create the Skydive Nimsdai program.
If you're looking for an adventure that will take your breath away and give you a once-in-a-lifetime experience, Skydive Nimsdai is an opportunity not to be missed. And by taking part in this amazing adventure, you'll get to experience the thrill of skydiving with a view of Mount Everest and support an incredible and accomplished individual like Nimsdai Purja.
What is Skydive Nimsdai?
If you're an adventurous spirit seeking a thrilling activity, then Skydive Nimsdai is the perfect choice. This exclusive skydiving program offers a breathtaking view of Mount Everest and the Himalayan mountain range while jumping out of a plane. Whether you're a seasoned skydiver or a first-time jumper, Skydive Nimsdai has got you.
Its unparalleled view makes Skydive Nimsdai stand out from other skydiving programs. The sight of Mount Everest and the Himalayan range from the air is nothing short of awe-inspiring. You'll get a bird's-eye view of the highest peak in the world and the stunning mountain range surrounding it, making it a once-in-a-lifetime experience.
The program is headed by Nimsdai Purja, a world-renowned mountaineer and skydiver. With his vast expertise and experience, you can rest assured that your safety is his top priority. Nimsdai and his team of skilled instructors will guide you through the entire process, ensuring that you have a safe and enjoyable experience.
Skydive Nimsdai is more than just a skydiving program. It also provides an opportunity to experience Nepali culture and hospitality. Based in the picturesque city of Pokhara, participants can immerse themselves in the city's natural beauty and rich cultural heritage. From exploring the city to trying local cuisine, the program offers a chance to enjoy the unique charm of Nepal.
What can you expect from Skydive Nimsdai?
When you book a Skydive Nimsdai adventure, prepare for an unparalleled lifetime experience. Nimsdai has made a career out of thrill and passion. And this is what he aspires to provide. Depending on your preferred package, you can choose to jump in tandem with a qualified instructor or independently.
To ensure your safety, you will first receive a detailed safety briefing and training session to familiarize yourself with the equipment and procedures. After that, you will board a plane and ascend to the jump altitude, where you will take a leap of faith and experience a few seconds of exhilarating freefall before the parachute opens. As you glide through the air, soak up the breathtaking views of the magnificent Mount Everest and the stunning Himalayan mountain range.
Once safely landed on the ground, you can reflect on your experience with fellow adventurers. The fun continues as you can also spend time exploring the charming town of Pokhara and its environs. You can engage in various outdoor activities like hiking, boating, and visiting ancient temples and monasteries.
Tandem Skydiving
If you are a beginner or simply prefer to skydive with a professional, tandem skydiving is an excellent choice for you. This type of skydiving involves being fastened to an experienced instructor who leads you through the entire process, from the pre-flight safety briefing to the moment you land on the ground.
Skydive Nimsdai offers tandem skydiving to individuals of all levels of expertise. The program has been thoughtfully designed to prioritize safety and convenience for all participants, whether you are a newcomer to the sport or an accomplished skydiver.
Solo Skydiving
At Skydive Nimsdai, seasoned skydivers and beginners alike can indulge in the exhilarating activity of skydiving. For those who want to take their skydiving experience to the next level, solo skydiving is an option that's available.
However, it's important to note that solo skydiving requires a higher level of expertise and familiarity with the sport than tandem skydiving. Therefore, prior skydiving experience is crucial before attempting solo jumps. At Skydive Nimsdai, individuals interested in solo skydiving must complete a series of training jumps to ensure they are comfortable with the equipment and the procedures involved.
If you're an experienced skydiver, solo skydiving with Skydive Nimsdai provides a unique opportunity to freefall while taking in the breathtaking view of the majestic Mount Everest and the Himalayan mountain range.
Packages and Pricing
At Skydive Nimsdai, you have a range of packages to choose from, tailored to your experience level and budget. These packages come with different offerings, including the number of jumps, photos and videos, and cultural experiences, catering to your preferences.
If you are a novice, the basic package is a perfect fit. You will get to experience a tandem jump with an instructor, and the thrill of the jump will be recorded in a video that you can cherish for life. For those seeking a more intense experience, the premium package offers three tandem jumps with an instructor, two solo jumps, and a range of cultural activities.
The prices of the Skydive Nimsdai packages are variable and depend on the package you select and the time of the year when you plan to visit. Nonetheless, the cost is competitive compared to other skydiving programs worldwide.
Safety
At Skydive Nimsdai, safety is a paramount concern. The program employs cutting-edge gear and skilled instructors to guarantee that all participants enjoy a secure and pleasant adventure.
To begin with, before each jump, participants undergo a comprehensive safety briefing and training session to ensure they are at ease with the equipment and the procedure. Moreover, the program maintains strict safety protocols, including thorough inspections of weather conditions and equipment before every jump.
At Skydive Nimsdai, the well-being of participants is never compromised, and every precaution is taken to provide them with a memorable and risk-free experience.
Cultural Experiences
Skydive Nimsdai offers a distinctive opportunity to immerse oneself in the Nepali culture and hospitality. The program is situated in Pokhara, a city renowned for its stunning natural scenery and significant cultural legacy.
Apart from skydiving, participants have the chance to discover the city and its environs. They can visit ancient temples and monasteries, go on exhilarating hiking or boating expeditions, or delve into the local cuisine and traditions.
Indeed, Skydive Nimsdai is more than just a thrilling adventure; it provides an all-encompassing experience that enables visitors to gain a deeper appreciation of the Nepali way of life.
FAQs
Q: Do I need any previous skydiving experience to participate in Skydive Nimsdai?
A: Whether you are an experienced skydiver or a beginner, you can enjoy both tandem and solo skydiving experiences. Nevertheless, it is important to note that solo skydiving is only suitable for individuals who possess prior skydiving experience.
Q: What cultural experiences are available?
A: At Skydive Nimsdai, the adventure doesn't stop at skydiving. This thrilling experience is complemented by a diverse range of cultural activities for participants to indulge in. Along with exploring the beautiful city of Pokhara and its scenic surroundings, guests can also immerse themselves in the local culture.
From visiting ancient temples and monasteries to hiking through lush forests and boating on pristine lakes, there is something for everyone. Adventure enthusiasts can satiate their adrenaline rush with skydiving while culture lovers can delve deeper into the local traditions, cuisine, and way of life.
Guests at Skydive Nimsdai can savor local delicacies, interact with the friendly locals, and get a taste of the rich heritage and customs of the region. With a plethora of cultural experiences on offer, the adventure at Skydive Nimsdai is not limited to just one activity.
So, whether you want to challenge yourself with a thrilling skydiving experience or immerse yourself in the vibrant local culture, Skydive Nimsdai has got you covered.
Q: How many jumps can I do in a day?
A: The number of jumps you can do in a day depends on the package you choose and your experience level. Typically, participants can do one or two jumps per day.
Q: Is there an age limit for participants?
A: Participants must be at least 18 years old to participate in Skydive.
Q: What if the weather is bad on the day of my jump?
A: Safety is a top priority for Skydive Nimsdai, so if the weather conditions are not favorable for jumping, your jump will be rescheduled for a later date.