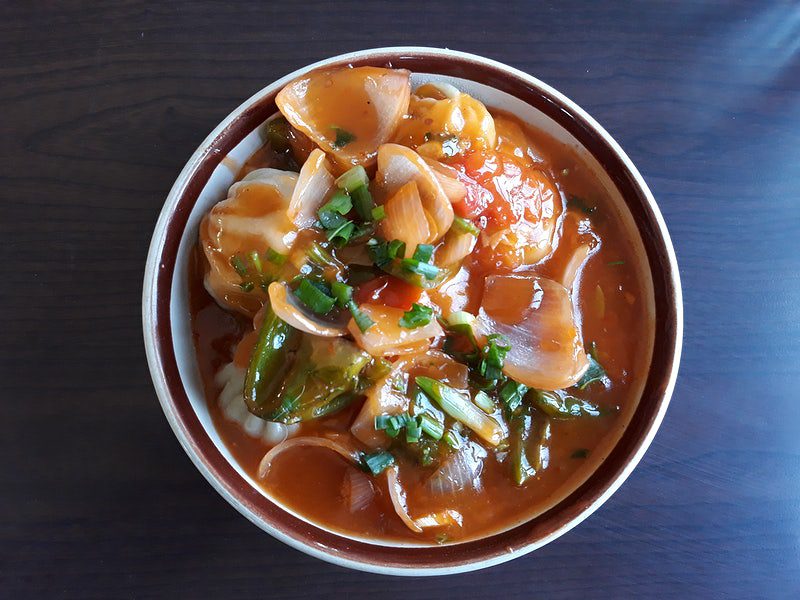 Every travel experience is all about the destination, the culture, the journey, activities, and most importantly, the food. No trip is totally complete without trying the local delicacies that a given place has to offer. Nepal is one such country that has lots to offer in terms of street food and local cuisine. Kathmandu's street food is renowned for its diverse flavors, so savor them while wandering around the streets.
For interested travelers looking into planning a trip to Nepal, The following are some of the top food items a foodie can find in Kathmandu's streets. On your next visit, be sure to try all of these mouthwatering dishes:
Momo
The most popular street food in Kathmandu is momos. Known by many names today, including dim sums and dumplings, momos are our own version of Nepalese food in Kathmandu. Street vendors, restaurants, hotels, and roadside carts sell these steamed dumplings filled with meat and flour.
The average Nepali consumes four plates each week. Besides the vegetarian variety, pork, chicken, and buff momos are available with equally tasty sauce or chutney. They can be consumed steamed, fried, or in a soup.
As the country's most recognized dish, the momo is a dish that should not be missed when you find yourself in Nepal. You can find this staple food of the country in every house in Kathmandu. The red chili chutney served alongside makes this Kathmandu food stand out from the rest.
Chatamari
Chatamari is a dish made from rice, also known as Newari pizza. Previously made during festivals and special occasions, Chatamari is now a popular snack among Kathmandu's Newar population. You can find mouthwatering Chatamari with egg or ricotta cheese toppings in a variety of small eateries and stalls.
Bara
Traditional Newari snacks such as Bara are healthy alternatives to other fast foods. They are made from yellow or black lentils and are fried to make them look like pancakes. They can be both deep fried or fried in the pan. Although it is a vegetarian dish, you can also add eggs and meat to it.
Thukpa
You will be craving something warm and satisfying when it is cold outside in Kathmandu. A hot bowl of thukpa is the answer. It is a Tibetan noodle soup with boiled noodles, broth, meat, and vegetables. Garam masala in thupka adds a little bit of spice and flavor.
However, there's no special occasion necessary to savor this bowl of delight. It's a portion of comfort food that can fill you up and give you a full meal by itself. You can find it in the local shacks of Kathmandu's streets and in the city's food trucks.
Sel Roti
Sel Roti is a sweet street snack available in Kathmandu. It resembles a slim doughnut and is usually made with rice flour, rendering the exterior as crispy and tender as the interior. With this dish and your morning milk tea, you'll have the energy to begin your day to the fullest.
Although Sel Roti can be found on street vendors, it is usually prepared during the Hindu holidays Dashain and Tihar. Sel Roti is now the most popular sweet street food in Kathmandu. It is made from rice flour and can be flavor customized.
Sekuwa
When you love barbequed meat, going to a restaurant that serves Sekuwa is a wonderful option. You can easily find one place which has a grill outside its door. With so many spices, this food has a distinct Nepali flavor.
Roasted in a natural wood fire, Sekuwa is originally the traditional snack of the Limbu people in Nepal. Today, it is popular street food in Kathmandu, finding its way to the local stalls. Spices and herbs are mainly used in seasoning this meat dish.
Lakhamari
If you have a love for sweets, you will be delighted to find the Lakhamari on the streets of Kathmandu. It is soft, crispy bread made of flour, butter, and sugar. The Newar culture considers it an important sweet and presents it at their weddings. The treat is popular among all Nepalese ethnic groups nowadays.
Samosa
Similar to the samosa found in India, a takeaway snack is common on the streets of Kathmandu. The potato filling is usually tantalizing as the outer layer, which is flour-based, is crisp. Onions, ginger, peas, and chilis can usually be added to the stuffing. Samosa is commonly served in Kathmandu valley with chutney.
Pani Puri
You can find the most popular street food in Kathmandu in the form of pani puri. It's essentially two elements- pani and puri. Pani is heavily seasoned water, while puri is a crisp, puffed, deep-fried bread. Before serving, the puri is dipped into pani and stuffed with potatoes, chili, and onion.
However, it can be very spicy. It is found in almost every part of the Asian subcontinent. Aside from Pani Puri, Dahi Puri is another popular street food in Kathmandu that is similar to Pani Puri, although it is filled with curd rather than water.
Alu Chop
It is a delicious Nepalese croquette made from potatoes that you can easily find at Nepalese shacks. It is served with tamarind chutney and is a popular street snack among locals and tourists.
Khajuri
Khajuri is a popular sweet available in different parts of Nepal and, of course, Kathmandu. Although they are made of wheat flour, ghee, and sugar, they are not overly sweet or oily. They are available in most bakeries all the time in Nepal.
Lassi
Despite its origin in India, Lassi is popular in Kathmandu. It is made of sweetened yogurt and topped with pistachio, raisins, and cashew nuts.
Samosa Chat
Kathmandu's Samosa Chaat is a popular Indian snack. Samosas are split open and topped with tomato, onion, yellow peas, curd, and coriander. Spices such as chili powder, Himalayan salt, and cumin powder enhance the flavor.
Choila
Choila is traditional Newari street food in Kathmandu. It consists of a spicy grilled buffalo meal eaten with onion flakes and chiura and is hot and spicy. It is served with chicken, mutton, or duck and is mostly available in local restaurants.
Sadeko Gundruk
It is known as gundruk ko achar, a pickle made of fermented green vegetables. Gundruk is popular Nepalese street food and goes well with dal bhat and curries. Gundruk is made by fermenting green vegetables.
Yomari
In Nepal, Yomari is a special food celebrated with a festival named Yomari Punhi. It marks the finishing of the rice harvest season, and sweet yomari is consumed on this day. The fish-shaped sweet dumplings are made from rice flour and stuffed with sweet molasses or coconut.
Finally, while in Kathmandu on holidays during the winter season, you should definitely try Aloo Chop and Samosas while they're hot, which are more affordable and can be obtained from street vendors.
Furthermore, It is possible to eat pure vegetarian food from many street food vendors and restaurants in Nepal, including Khas, Newars, and Thakali cuisine, all of which are popular.
Regardless of your preference, check out the variety of street food at local restaurants, street carts, and stalls in Nepal, especially Kathmandu. We do not know about every one of them, but you'll certainly enjoy most of these amazing cuisines, and you might even want to take some home with you.