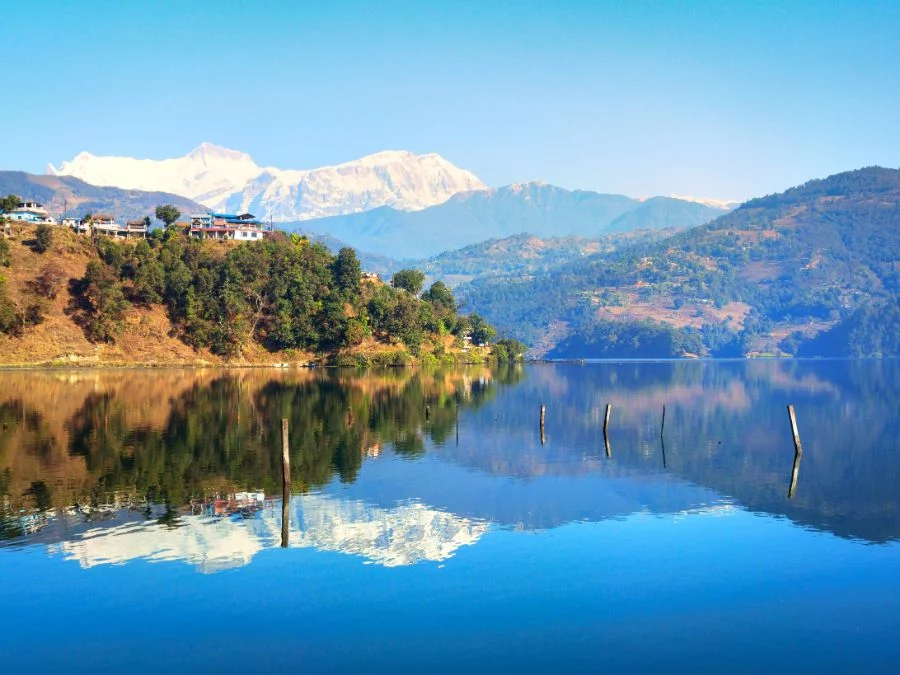 The Pokhara Valley is located among magnificent lakes at the foot of the Annapurna Mountain Range, which is home to three of the ten tallest mountains in the world. Pokhara is a beautiful location with the ideal balance of activity and rest. Visitors and nature lovers must visit this city in the foothills of the Himalayas because of the stunning snow-capped mountains and crystal-clear lakes that surround it.
Reasons to Visit Pokhara
Every type of traveler can find something to enjoy in Pokhara. It is a popular destination to visit whether you want to view the mountains, lakes, or all of its numerous attractions. It is the second-largest city in Nepal. Everything you require to have a memorable trip is in this city. This applies regardless of your preferences—adventure, a love of nature, or a quiet break. Following are some of the main motives people travel to Pokhara:
Adventure Activities
Pokhara is a haven for adventure enthusiasts. You can try anything from paragliding, bungee jumping, and zip-lining to rafting, kayaking, and rock climbing. So, you now know that the city offers a variety of thrilling activities that are sure to get your adrenaline pumping.
Scenic Beauty
The city is surrounded by stunning natural beauty that will take your breath away. Everywhere you look you'll see clean localities with green hills surrounding the valley. You;'ll also see snow-capped peaks of the Himalayas, the pristine lakes, and the lush green forests make for a breathtakingly beautiful landscape that is hard to beat.
Relaxation
Don't mention the relaxing activities you can indulge in while you're in the city. From eastern yoga classes to western spa treatments, there are plenty of opportunities to unwind and recharge your batteries.
Cultural Experience
The city has a lots of temples and a rich cultural heritage. Furthermore, there are many monasteries, and museums allong with the hindu temples to explore. You can also participate in traditional festivals and events, and sample the local cuisine, to get a true feel for the local culture.
Must-Visit Places in Pokhara
Pokhara has many breathtaking attractions that are sure to leave you in awe. Here are some of the must-visit places in the city:
Phewa Lake: This magnificent lake is Pokhara's focal point and is encircled by forested hills, snow-capped mountains, and temples. It is the second largest lake in Nepal, measuring roughly 4 km in length and 2 km in width. You may take a leisurely boat ride on the lake after paying a small fee. when you do so, you can visit nearby temples like the Tal Barahi Temple, or just rest by the shore and take in the stunning scenery.
Sarangkot: This tiny settlement perched atop a hill provides sweeping views of Pokhara and the Himalayas. At 1,592 meters above sea level, the hill is situated. Since Sarangkot offers some of the greatest views of the sun setting and rising over the Himalayas, many people consider it to be the ideal place for paragliding. Both domestic travelers and tourists from foreign countries like visiting Sarangkot.
Annapurna: One of the most beautiful mountain ranges in the world, the Annapurna Range is easily reachable from Pokhara. Some of the most well-known hiking routes in the world may be found in this range, which is home to over 20 peaks, including the 8,091-meter Annapurna I. There are many trekking opportunities available, ranging from short, easy climbs to multi-day treks, whether you're an experienced hiker or simply enjoy picturesque walks.
Davis Fall: Nature lovers should definitely visit Davis Falls, a magnificent waterfall that is only a short stroll from Pokhara's downtown. The waterfall creates a tranquil and beautiful ambiance as it flows into a large pool. Davi and his wife, a Swiss couple who are believed to have passed away close to the falls, gave the falls their name. Visitors can get near to the roaring water because the falls are situated in a small gorge and are reachable by a number of bridges and walkways.
How to Get to Pokhara
Pokhara is easily accessible from Kathmandu, which is the capital city of Nepal. The distance between the city full of lakes and Kathmandu is roughly 190–200 kilometers. You have the option of traveling there by plane, bus, or private vehicle. You can also stop along the way and visit the attractions on the road if you pick the option of roadways. The flight from Kathmandu to Pokhara lasts for around 30 minutes, while the bus ride lasts for almost 7-8 hours.
Conclusion
In conclusion, Pokhara is a place that combines natural beauty, adventure (if you're ready for it), and cultural experiences in the ideal way. This hidden gem offers plenty to offer everyone, whether you're an adventure seeker, a wildlife enthusiast, or just searching for a calm escape. Why not book your next trip to Pokhara right away and experience the splendor of this undiscovered treasure for yourself?